Have you ever wondered how to quickly prepare delicious juicy roasted bell peppers in your air fryer? In a matter of minutes we'll show you how to prepare and cook savory bell pepper with olive oil and herbs. It turns out it's super easy and blazing fast. Air fryers truly are a great invention! Let's get straight to the recipe and the video with all the steps included!
Can you roast peppers in an air fryer?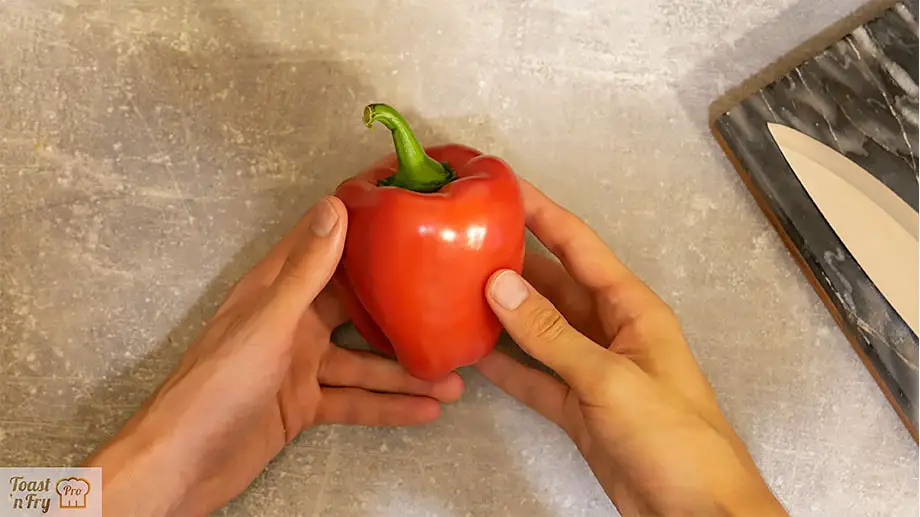 Yes! You certainly can, and we're about to show you how to do just that! In a matter of around 12 minutes your roasted bell peppers will be ready to eat!
How Do Air Fryers Actually Work? – Quickly Explained!
This process is extremely simple, and in fact it's so easy that you don't have to have any previous air frying experience before attempting to roast your fresh peppers. Roasted bell peppers are in fact one of the best little snacks to start off your air frying adventure with!
If you're eager to begin you can skip straight to the recipe here, or watch the short recipe video here.
Roasting bell peppers in an air fryer – a perfect snack!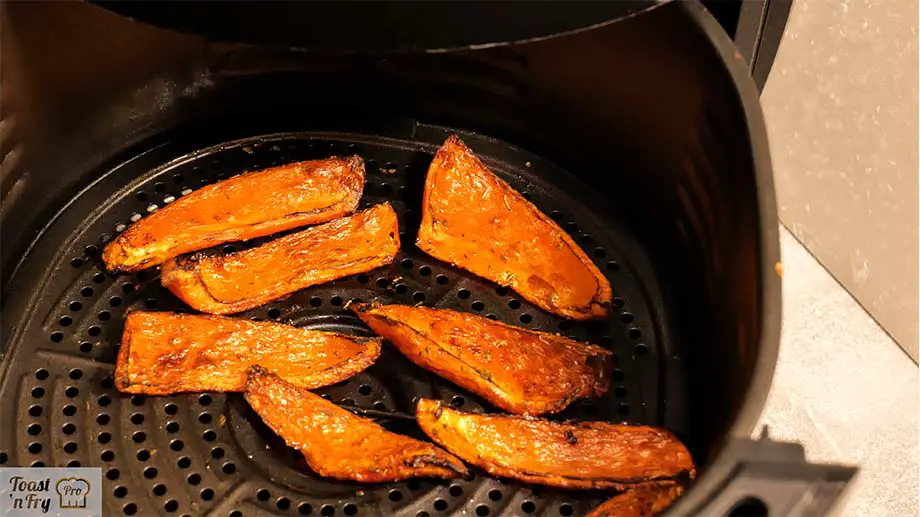 If you need a quick snack after work, a nice addition to your child's lunchbox or a simple light appetizer to go before your main course you've come to the right place.
Roasted bell peppers are in general one of the simplest vegetable goodies you can prepare using an air fryer or a convection oven. They taste best while still hot, however you can just as easily cool them down and eat them later on, or use them in sandwiches, grilled sandwiches or even paninis!
There are two main reasons for adding the small amount of olive oil to the peppers before the cooking process.
Top 5 Best Recipe Websites For Air Fryer Lovers!
First one, is that even the smallest amounts of olive oil are great at carrying the taste of vegetables during the roasting process. If you don't believe it, do a quick experiment and roast one of your peppers completely dry alongside the ones prepared with oil. It really makes a large difference!
The second reason for using olive oil when roasting your bell peppers in an air fryer, is to make sure that the dry herbs we're gonna use stick nicely to our pepper stripes when they are put inside the appliance.
Inside an air fryer, the air current can get so strong, that it can even make smaller pieces of food fly around and disturb the cooking process. This is why in general you should avoid using loose dry herbs when preparing food using an air fryer. In this case, you are completely safe! The olive oil will make our dry herb mix stick right to our peppers and this will further add to the taste qualities of this simple dish.
How long does it take to roast bell peppers at 400°F?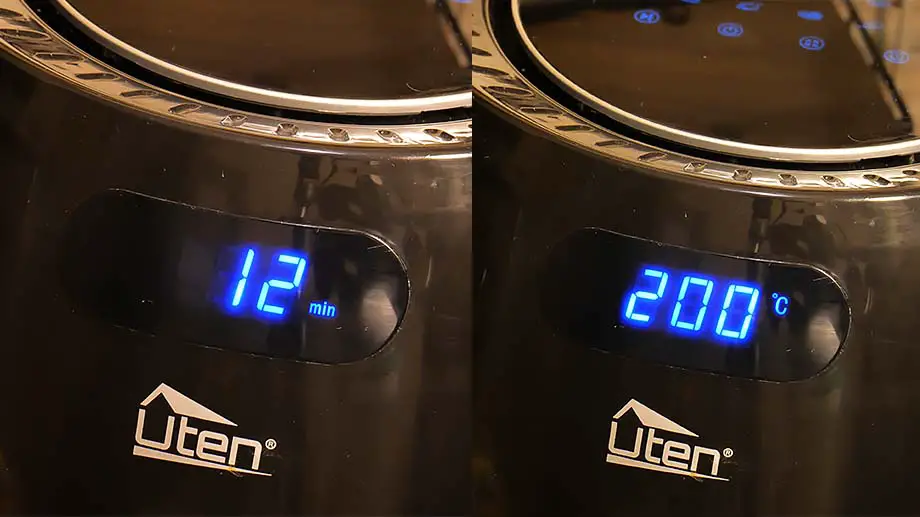 How long to roast peppers in an air fryer? This might be a tricky question.
Although the value in our air fryer recipe is around 10-12 minutes in 400°F / 200°C, the general length of the air frying process in these temperatures may highly depend on the peppers you chose (their type and size), and the particular air fryer you are using.
In a regular convection oven, the overall bell pepper roasting time might be longer than in an air fryer, as it features both a larger cooking chamber and usually a much weaker convection fan. It can take even up to 25-30 minutes to achieve a satisfying result here.
Some air fryers can for instance have smaller cooking chambers and more efficient convection fans which can cause your peppers to come out burnt after roasting them for a seemingly short time.
The best trick here is to keep in mind the general 10-12 minutes in 400°F / 200°C rule, and check on your peppers at least twice during the cooking process.
The only downside of taking out your air fryer's basket during the air frying process is a small momentary drop of temperature in the cooking chamber. The one huge upside is that when remembering to check on your food you won't risk accidentally burning it.
If after checking the basket you'll see that your peppers are getting too black for your liking (they can get a little black on edges during the roasting process), simply take them out of the basket and turn your air fryer off.
Air fryers are really efficient when it comes to their heat distribution capabilities. It's certainly much easier to accidentally burn food in an air fryer than in a regular convection oven, especially when you can't control what's happening with your food without pulling the basket out. Be careful!
Do you have to peel bell peppers before roasting?
No, peeling the bell peppers before roasting them in your air fryer or a convection oven is not necessary.
If you peel the peppers before cooking, it will give them a new taste quality as the, you could certainly try that! Keep in mind though, that this will also make them roast a little bit quicker. Always remember to check on your roasted vegetables if you're using an air fryer!
With that said, leaving the skin on the bell peppers is perfectly fine and healthy. You don't have to peel them before roasting.
Air fried roasted bell peppers quick video recipe
The best thing about this, is that making roasted bell peppers in your air fryer can take as little as 10 minutes! It's easy, blazing fast and it tastes just so good. Let's take a look at the recipe, shall we?
Here is a short video going through all the steps on how to successfully prepare air fried bell peppers in a matter of minutes. Fast and straight to the point, be sure to give it a quick watch if you're in a hurry!
If the video doesn't load, you can watch it here.
Air fryer roasted bell pepper recipe – how to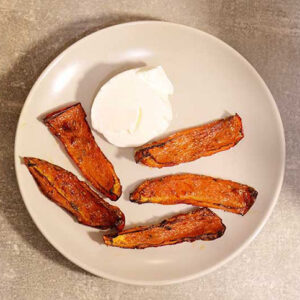 Quick Air Fryer Roasted Bell Peppers
Did you know that roasting bell peppers in your air fryer takes no longer than 10 minutes? Whatever color you'll pick, the air fried bell pepper is a quick and delicious snack that can be a great addition to almost every meal. Take a look!
Equipment
Air Fryer

(Can also be done in a simple convection oven, although you will need to add a little more cooking time.)

A mid-sized bowl

A knife and a cutting board
Ingredients  
1

Bell Pepper

(Choose any color you like!)

~2

tsp

Olive Oil

(Almost any other kind of cooking oil will work here.)

~2

tsp

Herbs de Provence

(Or any other herb mix of your choice!)

1

tbsp

Strained Yogurt

(Also called "Greek Yogurt".)
Instructions 
Take your bell peppers, wash them, cut off their stems and get rid of the seeds.

Cut each pepper in 4 wide stripes.

Put the peppers in a bowl and add the olive oil and then the herbs.

~2 tsp Olive Oil,

~2 tsp Herbs de Provence

Using your hands mix up the pepper pieces so that the olive oil coats them nicely and the herbs will start sticking to them.

Put the pepper pieces inside your air fryer basket the "inner" side up in a way so that they don't touch each other.

Set your air fryer to 400°F / 200°C and cook for 10-12 minutes.

Don't forget to check on your peppers at least once during the cooking time! Depending on your type of peppers and your air fryer they might cook a little faster and you don't want them to burn!

It's ready! Serve with a tablespoon of strained yogurt (also called Greek yogurt).
Air fried roasted bell peppers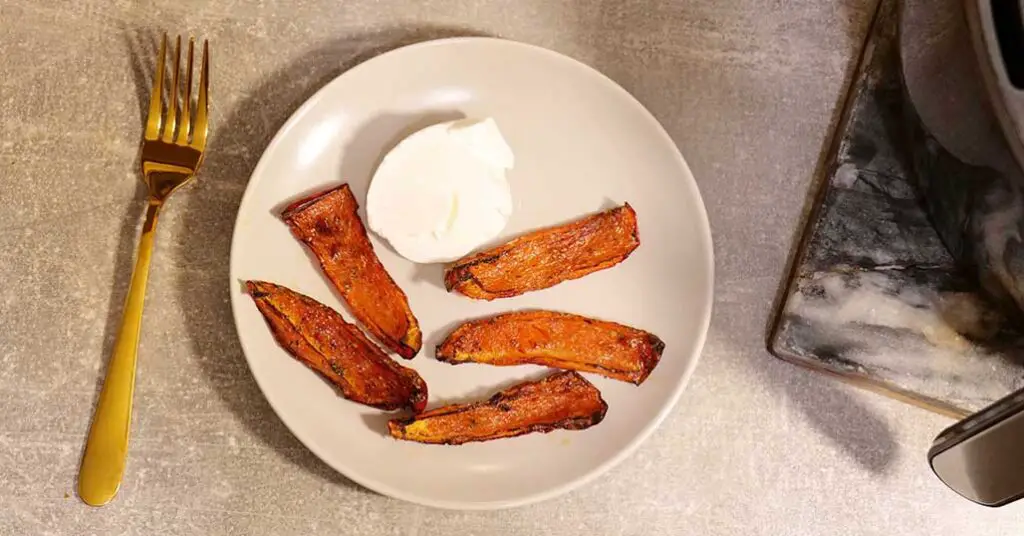 So that's it! We hope you enjoyed our recipe – its short and super easy to replicate. Now you've added a great addition to your arsenal of 5-min meals and snacks. We hope to see you again! Until next time!