Looking for best accessories and kitchen gadgets to enhance your air frying experience? Want to find a perfect practical gift for a person owning an air fryer? Look no further! Check out our top 10 list of must-have accessories for air fryer owners, including non-stick silicone mats, oil spray bottles, metal racks, and much much more. It's the most complete list out there!
You might also like: 8 Absolute Best Meat Snacks Out There (Tasty!)
[this article features Ebay & Amazon affiliate links]
1. Non-Stick Silicone Mats
Non-stick silicone mats are a must-have accessory for every air fryer owner. These mats are perfect for cooking these types of food that might otherwise stick to the bottom of your air fryer's basket and make a huge mess. They are also great for cooking foods that are prone to dripping, like bacon or chicken wings.
The non-stick surface of the mat ensures that your food won't stick, making cleanup a breeze. Plus, these mats are reusable and dishwasher safe, so you can use them again and again.
Overall, non-stick silicone mats are a great little investment for any air fryer owner who wants to make cooking and cleanup easier.
2. Air Fryer Parchment Paper Liners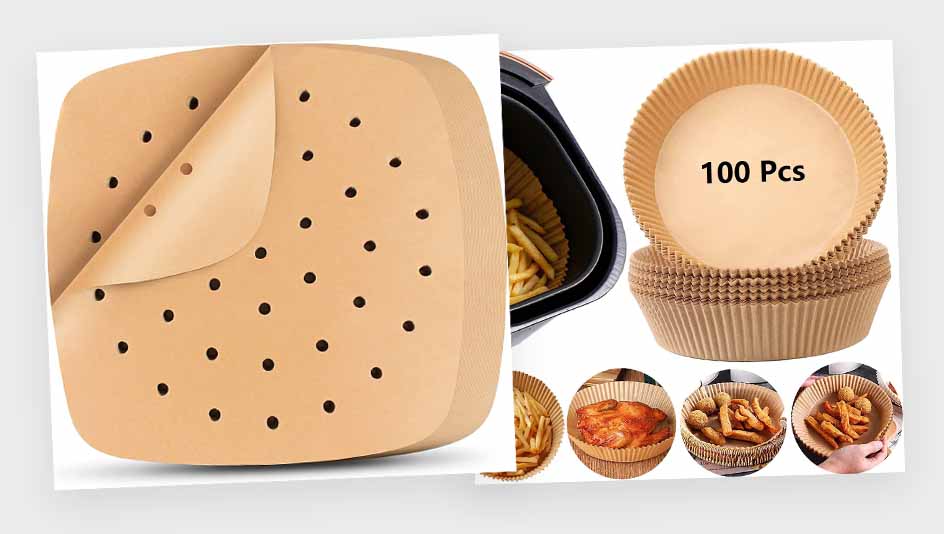 Air fryer sized parchment paper sheets are the second essential accessory for any person owning an air fryer. These pre-cut sheets can be perfectly sized to fit the basket of your air fryer, making the cleanup process much easier.
The baking parchment paper prevents food from sticking to the basket and allows for easy removal of food when its done cooking. Plus, it helps to prevent any potential messes or spills in your air fryer.
Safety first! – Baking Parchment Paper Max Temperature – How High?
Remember – whatever you do, don't ever attempt to use wax paper inside of your air fryer – here is why.
Investing in air fryer parchment paper sheets will save you time and effort in the kitchen. No more scrubbing or soaking your air fryer basket to remove stuck-on food. Simply remove the parchment paper and dispose of it. It's that easy!
3. Oil Spray Bottles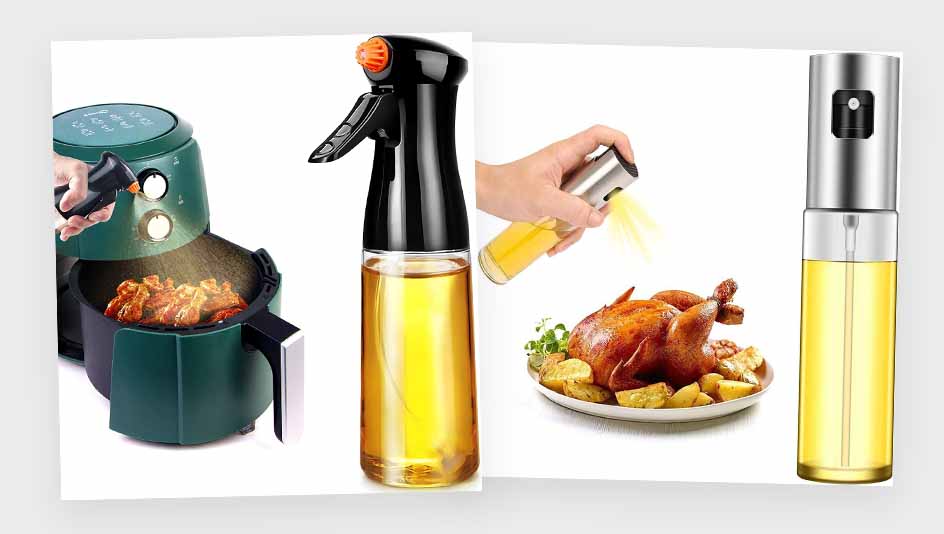 Oil spray bottles are the third must-have accessory for air fryer cooks who want to reduce the amount of oil they use in their cooking but still want to use some amount of it to carry the taste of the food nicely. These bottles allow you to evenly distribute oil over your food without overdoing it. They are also great for adding flavor to your food by using flavored oils.
Look for bottles that are easy to refill and have a fine mist spray nozzle. You can even consider purchasing multiple bottles to have on hand for different types of oils. With an oil spray bottle, you can enjoy healthier and tastier meals with your air fryer. This simple little gadget is my personal favorite!
4. Silicone Inserts For Easier Cleanup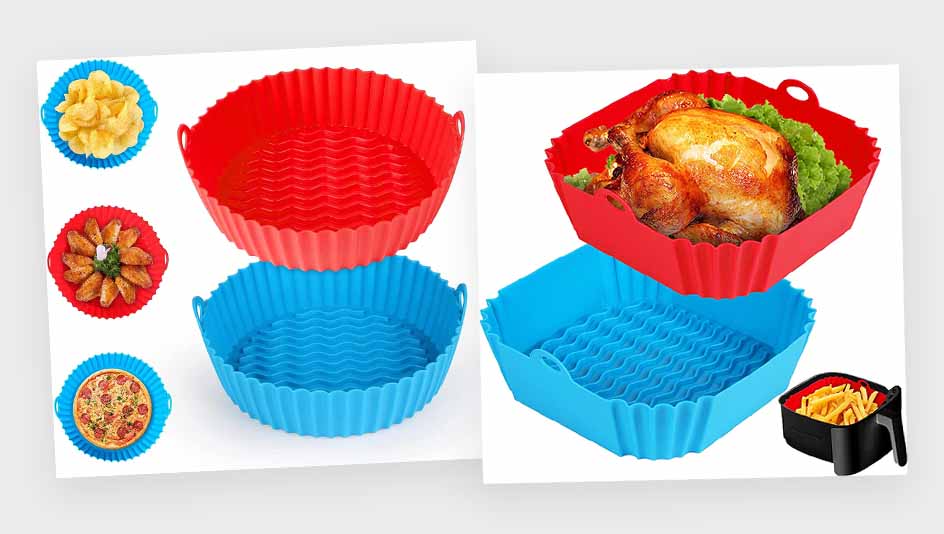 As we all know, one of the most annoying parts of using an air fryer is the cleanup process. However, with air fryer silicone inserts, you don't have to worry about that. These inserts which are pretty similar to the mats we mentioned before, fit perfectly into the air fryer basket and catch any food debris or grease, making it easy to dispose of them. Plus, they are dishwasher safe, so you can simply toss them in with your regular dishes to wash them.
Not only do they make cleaning up easier (yes, even easier than the previously mentioned flat mats), but they also extend the life of your air fryer by protecting the basket from scratches and damage. You can find silicone inserts in various sizes to fit your specific air fryer model, so go ahead an get yourself a few!
5. Magnetic Air Fryer Cheat Sheets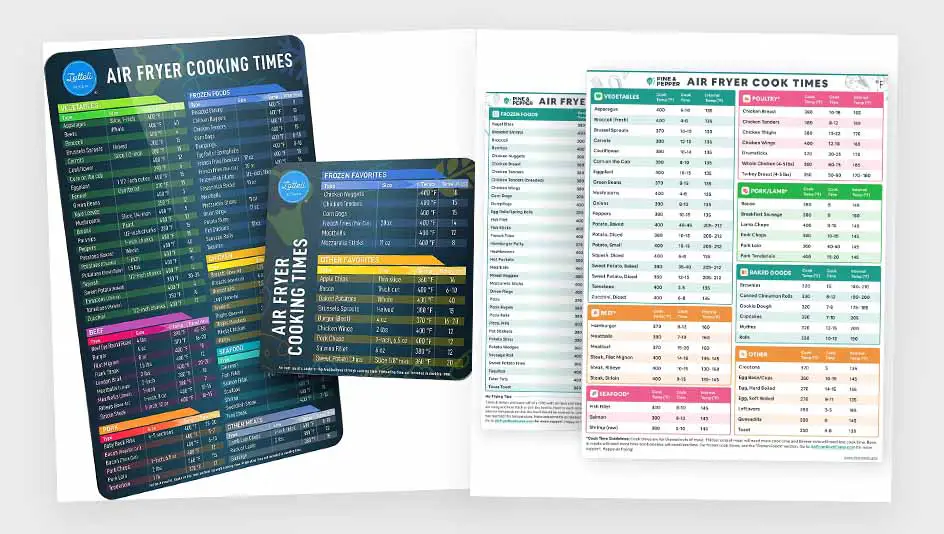 If you're new to air frying or want to try new recipes, magnetic air fryer cheat sheets are pretty useful. These handy sheets attach either to the side of your air fryer or to your fridge, and provide cooking times and temperatures for a variety of popular foods. They're easy to read and follow, and they take the guesswork out of cooking. They are also great when you want to save a few seconds on a quick cooking time Google search on your smartphone!
Magnetic air fryer cheat sheets are available in lots of different sizes and layouts, and they really do present themselves very nice when put up on a fridge. With these cheat sheets, you'll be able to cook your favorite foods to perfection every time. We already have ours, so go ahead and get yourself one too!
Check this out: Cheese Gift Baskets – All You Need To Know (Best Cheese Boxes)
6. Metal Racks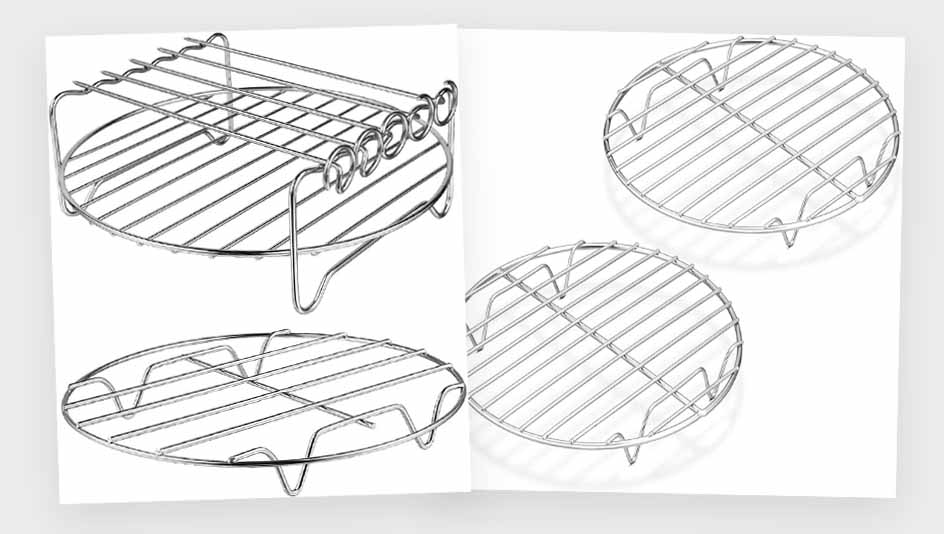 Metal racks are a great thing. They allow you to cook more food at once in your air fryer by placing the food items on different levels. Metal racks are great for air frying foods that need to be elevated, such as chicken wings or bacon, as it allows the hot air to circulate around the food, resulting in a crispy texture – and this is actually why many air fryers do come with some sort of a metal rack out of the box.
Some metal racks are designed to fit perfectly in specific air fryer models, while others are adjustable and can fit in various sizes of air fryers. Make sure to check the size of your air fryer before purchasing a metal rack to ensure a proper fit.
7. Silicone Tongs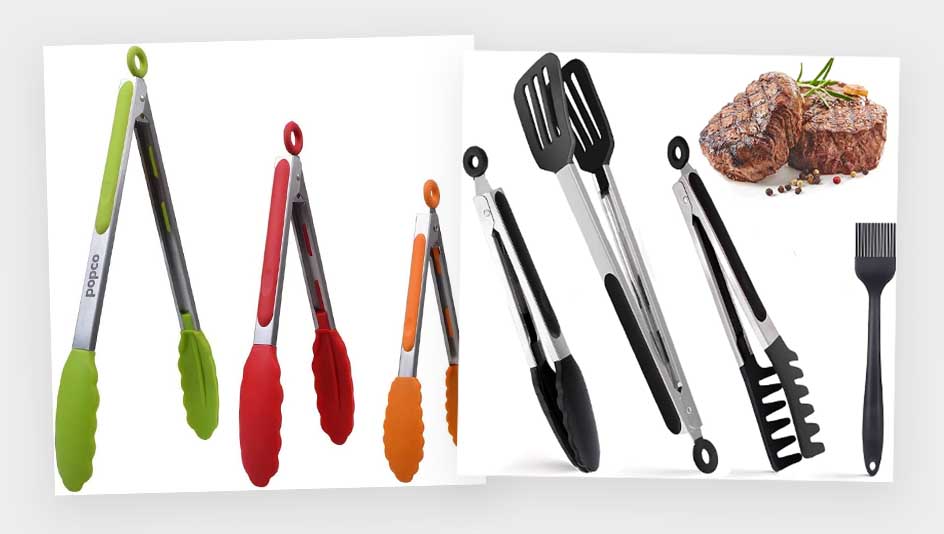 Silicone tongs are a pretty universal kitchen gadget. They are heat-resistant and soft, and they won't scratch or otherwise damage the non-stick coating of your air fryer basket. They are perfect for flipping and turning food items while cooking in the air fryer, as well as removing the food from the air fryer after cooking.
Silicone tongs come in various sizes and shapes, making it easy to find the perfect pair for your air fryer. They are also dishwasher safe. If you don't already have them on hand, you can get them here.
8. Muffin / Cupcake Pans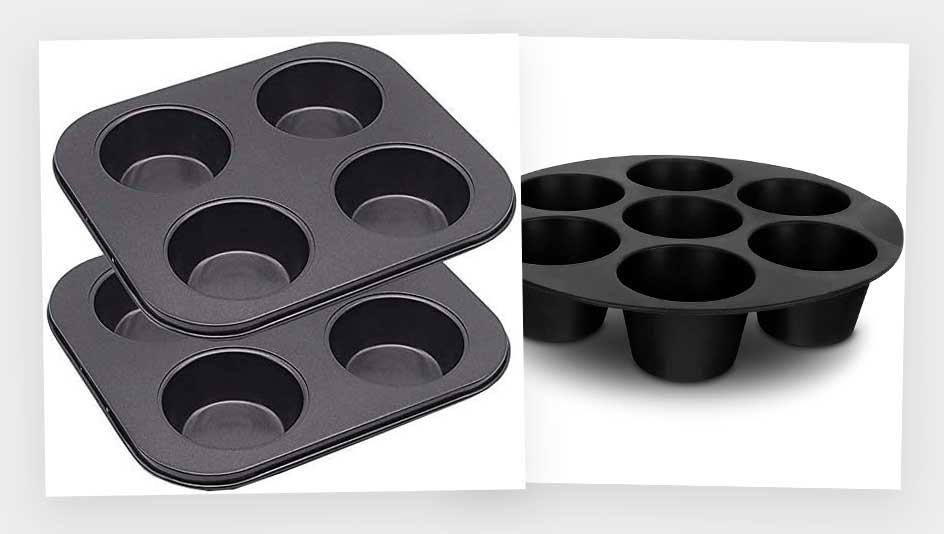 If you're looking to make muffins or cupcakes in your air fryer, then a muffin or cupcake pan is quite obviously another must-have accessory. These pans come in various sizes and shapes, so you can choose the one that works best for your needs. They are typically made with non-stick coating on, which makes them easy to clean and ensures that your baked goods come out perfectly every time.
When choosing a muffin or cupcake pan for your air fryer, make sure to choose one that fits properly in your air fryer basket. You don't want a pan that won't fit in your particular appliance. Additionally, look for a pan that is dishwasher safe for even simpler cleaning.
If you'd like to get yourself one, they are available both in metal and silicone variants.
9. Meat Thermometers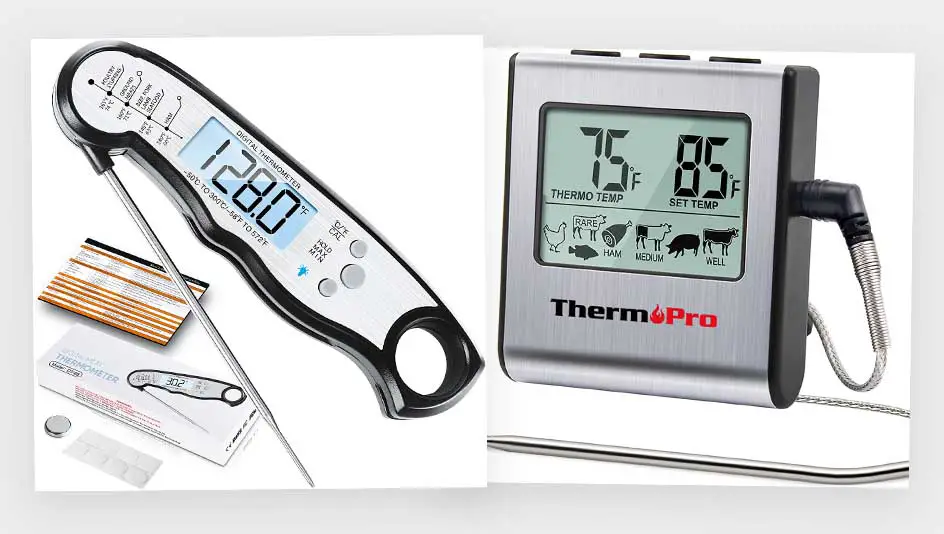 One of the most important things to consider when cooking meat in an air fryer is ensuring that it is cooked to the proper temperature. A meat thermometer is a thing that can help you with that quite easily!
There are many different types of meat thermometers available, but the most common and reliable ones are the simple handheld ones. They are easy to use and provide accurate readings in just a few seconds.
When choosing a meat thermometer, make sure to look for one with a long probe, so you can easily insert it into the thickest part of the meat. If you decide on getting a meat thermometer it can also help you when preparing other kinds of meals. It's a really nifty device overall!
10. Air Fryer Cookbooks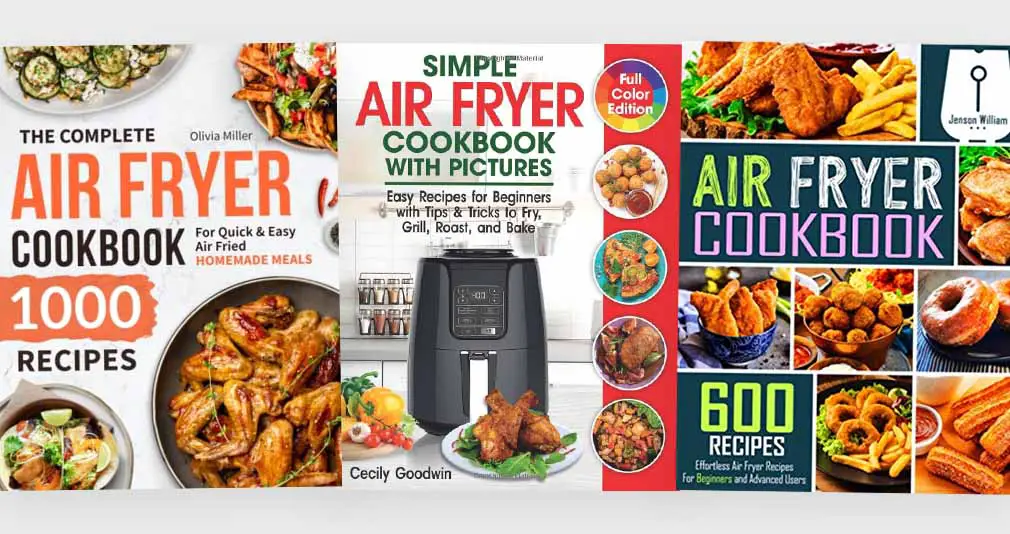 When you're still new to air frying or looking to expand your air fryer recipe collection, investing in an air fryer cookbook is a great idea. These cookbooks are specifically designed for air fryer users and offer a wide variety of recipes to choose from. It's always nice to have your recipes available in physical form with high quality images attached!
You can find cookbooks with recipes for everything from appetizers to desserts, and they often include helpful tips and tricks for getting the most out of your air fryer. Some popular air fryer cookbooks include "The Complete Air Fryer Cookbook" by Linda Larsen and "Air Fryer Revolution" by Urvashi Pitre. There are also great air fryer cookbooks for Keto enthusiasts available out there. Whether you're a beginner or an experienced air fryer owner, a good cookbook can help you take your air frying skills to the next level.
Check out also: Are Egg Cookers Really Worth It? – Our Honest Take