Yes, you can get an actual bar drink serving experience without ever leaving your living room! Discover how to choose the perfect bar unit for your home with our comprehensive buyer's guide. Explore the latest trends, size considerations, placement options, durability, storage, design, functionality, and more. Whether you're looking for a mini bar for a party, or a professional bar unit for enthusiasts, we've got you covered. Upgrade your hosting game today!
Tip: Click the images in the article to see the products over on Amazon!
Check out also: 6 Best Small Kitchen Step Stools (And How To Choose One)
[this article features Ebay & Amazon affiliate links]
The Growing Trend of Modern Home Bar Units
Home bars in form of bar unit furniture offer numerous advantages. They provide a dedicated space for your wine, spirits, and cocktail accessories, keeping everything organized and within reach. They can also add a touch of sophistication to your home, impressing guests with your taste and style, and for me that is one of the best advantages of having one!
But perhaps the most appealing aspect of home bars is their affordability. While some high-end models can cost a pretty penny, there are plenty of budget-friendly options available. In fact, you can find stylish and functional bar units with cabinets for way under $200.
Whether you're a cocktail connoisseur or simply enjoy hosting parties, a home bar can elevate your entertaining game to new heights. So why not jump on this growing trend and add a touch of class to your home? Read on to learn more!
How To Choose The Best Mini Bar For Your Home?
Choosing the best mini bar for your home is not as simple as picking the first one you see. There are a number of factors to consider to ensure you get the best fit for your needs.
First, you need to consider the purpose of your mini bar. Is it for hosting parties? Or is it just for your own personal use? If you're planning on hosting parties, you might want to consider a larger mini bar that can accommodate more drinks and accessories.
Second, consider the location of your mini bar. If you're living in an apartment, space might be a constraint. In this case, a compact mini bar would be ideal. This can also decrease the overall costs. On the other hand, if you have a spacious living room, you have the luxury to go for a larger mini bar stand – more on these later!
Third, consider the type of drinks you'll be serving. Different mini bars come with different features. Some have built-in wine racks, while others have compartments for storing cocktail accessories. Choose a mini bar that suits your drink preferences.
Lastly, consider your budget. Mini bars come in a wide range of prices. As you've already learned, you can find affordable options under $200, or you can splurge on a high-end bar unit with all the bells and whistles. More on commercial bars in your living room in a short while!
1. Size and Space Considerations
Firstly, consider the counter size. This is the area where you'll be preparing drinks, so it needs to be spacious enough to accommodate your bottles, mixers, and bar tools. If you're a cocktail enthusiast, you might need more space for additional accessories, than someone who primarily serves wine or beer.
Next, think about the overall dimensions of the bar unit. Measure the area where you plan to place the bar and compare it with the dimensions of the bar unit. Remember to account for the space needed to open any doors or drawers on the unit.
Accessibility is another key consideration. You want your guests to be able to reach the bar without difficulty, and you also need to be able to move around behind the bar easily. If you're considering a bar unit with bar stools, make sure there's enough space for people to sit comfortably without feeling cramped.
In short, the size and space considerations will greatly influence your choice of bar unit. It's a balancing act between choosing a bar that fits your space, meets your needs, and still feels spacious and welcoming to your guests.
2. Where To Place It?
It's important to consider the layout of your home and where the bar will fit in and be the most functional and aesthetically pleasing. If you have a spacious living room, placing your bar unit next to a wall can be a great option. This allows for easy access and doesn't obstruct the flow of the room.
Don't forget about seating! Depending on the size and style of your bar, you might want to consider adding bar stools. These provide a comfortable place for guests to sit and enjoy their drinks. If your bar has a footrest (and many mini-bar models do), make sure there's enough space for stools and for people to comfortably rest their feet. Placement is key to creating a home bar that's both functional and inviting during social gatherings.
3. Durability and Sturdiness
Look for a unit with a solid base and adjustable feet. This allows you to ensure the unit is level, even if your floors aren't.
A good mount is also important. This refers to how the unit is secured to the wall or the floor. A poorly mounted unit can be a safety hazard, especially if you have children or pets around.
Quality materials are another key factor. A bar unit made from solid wood or metal is likely to be more durable than one made from low-quality particle board or plastic. However, keep in mind that the quality of the materials will also affect the price.
Remember, a bar unit is an investment. You want something that's going to last, not something you'll have to replace in a couple of years. So don't skimp on quality!
4. Storage Capacity and Organization
Different models offer different storage options. Some have open shelves for easy access, while others come with cabinets or drawers for a more organized look. If you're a wine lover, consider a bar unit with a built-in wine rack. If you have a large collection of glasses, look for a unit with stemware racks.
Remember, the goal is to have everything you need within arm's reach. This not only makes it easier for you to mix drinks but also adds to the overall experience for your guests.
And don't forget about the top of the bar. This is where you'll be preparing drinks, so you want enough space to work comfortably. When choosing a bar unit, think about what you'll be storing and how you want it organized. This will help you choose a model that meets your needs and fits your style.
5. Design and Style Options
The material of the bar unit is another important consideration. A wooden bar unit can add a touch of elegance and sophistication to your home, while a simple metal rack can give a more modern and industrial feel. You can also find bar units in a variety of colors, so you can choose one that matches your existing decor or stands out as a statement piece.
Remember, the design and style of your bar unit should reflect your personal taste and the overall aesthetic of your home. After all, this is a piece of furniture that you'll be using and looking at regularly, so it's important that you love it.
6. Functionality and Additional Features
When it comes to the functionality and features of a home bar unit, there are a few more things to consider.
Keep in mind that some bar units come with additional features such as footrests, bottle storage displays, additional storage compartments/drawers, or built-in wine glass holders. These can greatly enhance the usability and convenience of your home bar.
Wine glass holders for one, are a really useful feature. They not only provide a safe and convenient place to store your wine glasses, but they also add a touch of elegance to your bar unit when it's not in use.
Consider your needs and keep an eye on these neat little additions that can make your living room bar experience even better. More about this in the next paragraph!
Optional Purchases – Get The Full Bar Experience!
Next, consider investing in rubber spill mats. These mats not only protect your bar and floors from spills, but they also add a professional touch to your bar. Remember to choose the right size for your bar countertop!
Speaking of professionalism, you might want to consider purchasing some bartender accessories. A cocktail shaker, jigger, muddler, and strainer are just a few of the tools that can elevate your cocktail-making game.
Additionally, ice shape molds can be a fun addition to your bar. These molds come in various shapes and sizes, allowing you to create ice cubes that match the theme of your party or the type of drink you're serving. Skulls, giant ice balls, roses or diamonds – there are so many to choose from!
Lastly, don't forget about the glassware. Different drinks require different types of glasses, so make sure you have a variety on hand to cater to all your guests' preferences. From wine glasses and beer mugs to cocktail glasses and shot glasses, having the right glassware can make all the difference in your home bar experience and make it even closer to your favorite bar out there!
Can You Buy a Professional, Commercial Bar Unit For Your Home?
There's a common misconception that commercial bar units are exclusively for restaurants, pubs, and clubs. However, they can also be a fantastic addition to your home, especially if you're a serious entertainer or cocktail enthusiast and you have the space and money to spare!
Commercial bar units are designed to handle high volumes of use and offer a plethora of features that can elevate your home bar experience. They often come with more storage space and much larger counter areas for easier beverage handling. And most importantly, compared to mini-bars we mentioned in this article, they are much more sturdy and more like actual pieces of furniture which adds to their unique style!
While they may be a bit more of an investment compared to mini bars, commercial bar units can be surprisingly affordable. There are many options available under $1000, and even more high-end full-fledged bar unit models that are still well under the price of a full kitchen remodel.
Remember, a home bar is not just a place to store your alcohol; it's a statement of your lifestyle and a reflection of your personal taste. If you're passionate about creating a professional-level cocktail experience at home, a commercial bar unit could be the perfect fit for you.
Just make sure to consider the size and space requirements, as commercial units are typically larger than mini bars. But if you have the space and the budget, a commercial bar unit can transform your home into the ultimate entertainment destination.
To Sum It All Up – A Neat Checklist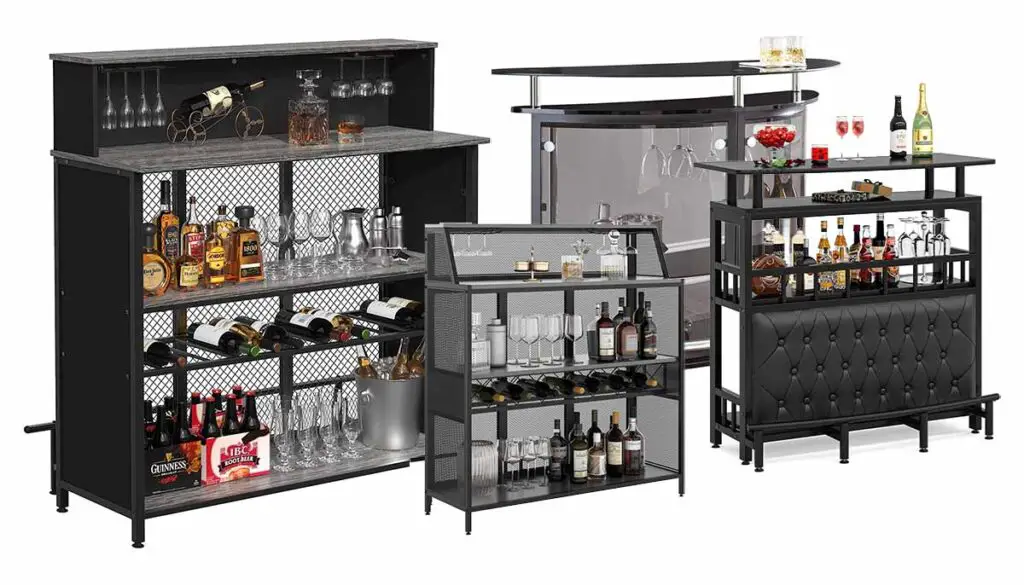 Choosing the best bar unit for your home can seem like a daunting task, but by keeping a few key factors in mind, you can make the process much easier. Here is our official home bar unit buyer's quick checklist!
Understand your needs: Whether you're looking for a mini bar for your apartment or a professional, commercial bar unit, it's important to understand what you need from your bar unit. This includes the size, storage capacity, and functionality.
Consider the space: The size and location of your bar unit will greatly depend on the space available in your home. Make sure to measure your space and consider the accessibility of the bar unit.
Durability and sturdiness: A good bar unit should be sturdy and durable. Look for features like adjustable feet and quality materials.
Design and style: The design and style of your bar unit should complement the rest of your home decor. Consider whether you want a closed front or an open front with display, and the type of material (wood or metal) and color that suits your style.
Functionality and features: A good bar unit should have enough storage space and counter space. Additional features like bar stools, footrests, and wine glass holders can enhance the functionality of your bar unit.
Optional purchases: To complete your home bar, consider purchasing stylish bar stools, rubber spill mats, bartender accessories, ice shape molds, and glassware for particular drinks.
Remember, the best bar unit for your home is the one that meets your specific needs and fits well within your space. Happy shopping! Check out some of the best bar units here.
You might also like: First Time Cooking Burgers? – 12 Tips From The Pros!