How to prevent soggy burger buns? With our set of a few vital burger preparation tips you will be able to say goodbye to wet and soggy bread once and for all! Now we'll quickly jump into one of the most commonly discussed problems with preparing delicious homemade hamburgers. Let's begin!
Check out our quite surprising burger recipe here: Delicious Burgers With No Lettuce And No Pickles – The Secret Recipe!
How To Make a Burger Bun Not Soggy?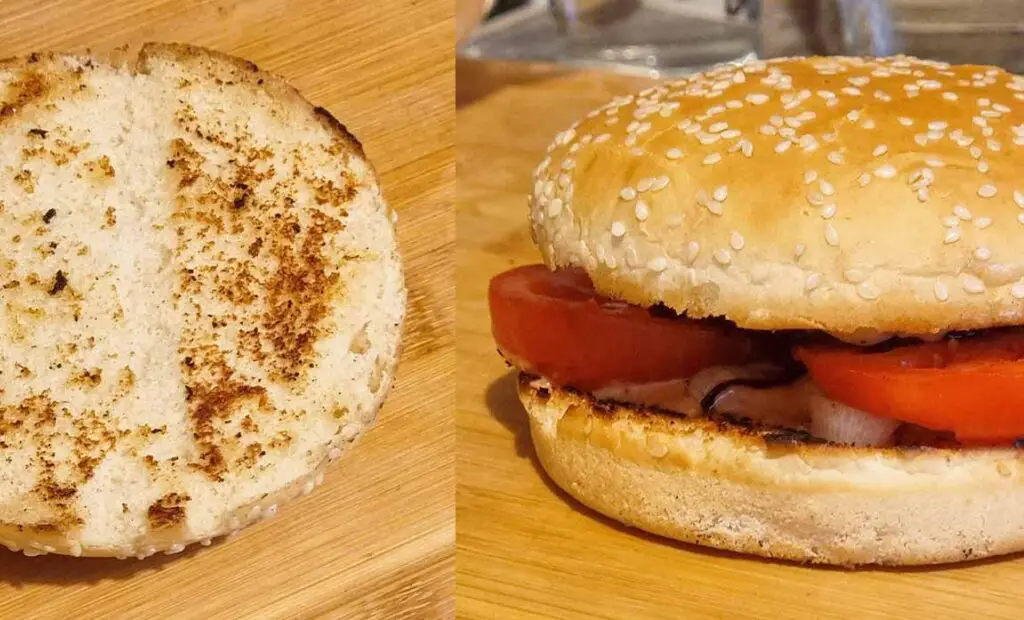 There are actually quite a few ways you can prevent the bread in your hamburgers from getting wet, soggy and ultimately falling apart in the worst possible moment when you're enjoying your meal.
We're about to let you in on a few secrets that will help you ensure that your burger buns stay dry and will help retain all of the additional taste coming from both the sauce and the juices from the freshly cooked meat patty.
The Less Popular Problem – Buns Soggy After Thawing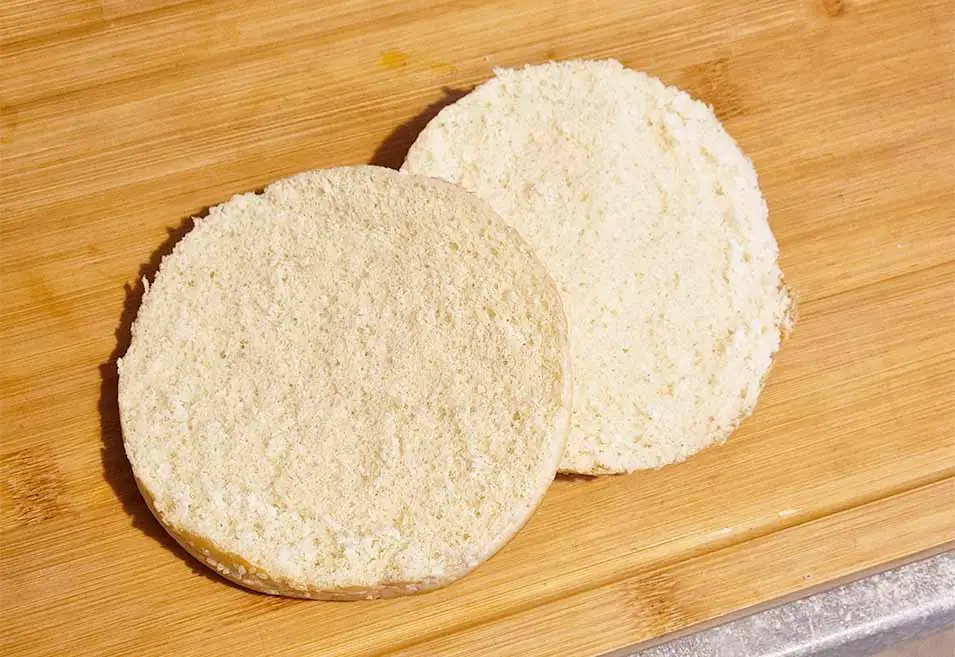 How do you thaw hamburger buns without them getting soggy? If you were storing your buns frozen, you might find yourself in a situation in which the thawed bread will come out wet and rather unpleasant in texture.
The solutions to this problem are generally pretty simple, and so, here are two most popular ones.
Defrost the buns on a tea towel, so that the excess moisture will gradually soak into the fabric while the bread thaws. You can also use a paper towel.
Thaw the buns in a toaster oven or regular oven on a low heat setting.
There is also a chance that your burger buns could become soggy if you store them in your fridge. Given certain storage conditions, the condensation inside your fridge can make parts of your burger buns a little bit moist. If they are not moldy, they are still ok to use – you can toast them a bit to get rid of the excessive moisture.
If any bread you want to use in your burgers comes out wet out of the storage, be sure to check the buns for any signs of mold before attempting to use them. If you notice that anything is off, including the smell, it's best to discard the buns altogether.
Buns Soggy After Assembling The Burger? – Try This!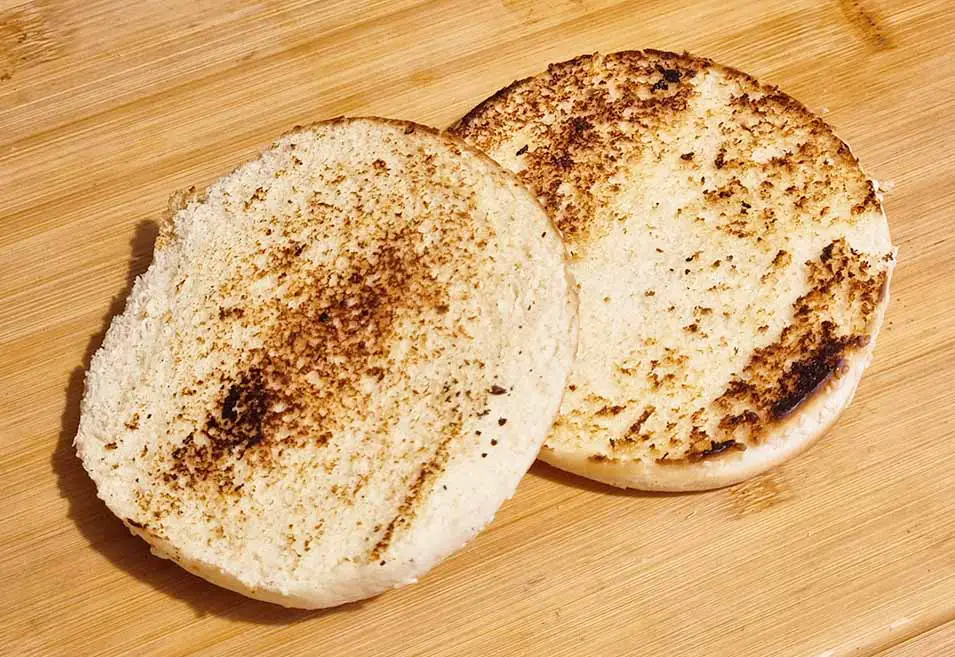 If your hamburger buns always turn out wet and soggy, you might want to try out these neat tricks.
Here is a list of our best solutions for burger buns getting soggy and falling apart when eating.
Spread lettuce directly on the bottom burger bun first, and only then spread the burger sauce and place all the remaining ingredients on top of it. This will prevent the meat juice and sauce from getting to the bottom bun too fast.
Toast the burger buns and make sure that the bottom bun is a little bit more toasted than the top one.
Spread a thin layer of butter on the burger buns, this will provide some isolation for the bread, while still leaving the overall taste of the burger largely unchanged. You can also use mayo here.
Use thicker sauces – if you're making your own burger sauce, make it thicker. In the classic hamburger sauce, you can do that for instance by using more mayo!
The last solution would be to simply – eat it quick! It's best to eat your burgers right after assembly. There is nothing better than a fresh and hot hamburger, and the longer you wait after assembling it, the higher the risk of the bottom bun of the burger getting wet and soggy.
Read on for even more interesting tips, including the info on why you shouldn't always pat dry the burger meat before putting it inside your burger!
Check out also: How To Use a Power Meter Energy Monitor Plug? – Quick Guide!
Should You Put Butter On Burger Buns?
This is quite an important question, and the short answer is: you can, but you absolutely don't have to.
Putting butter on the burger buns can both add to the overall taste of your finished burger and help to prevent the bread from getting soggy. There are also another things you can use for this purpsose!
Alternatives for spreading butter on your burger buns are for instance using a thin layer of mayo for the very same purpose. In general it all comes down to your taste preferences!
Do You Have To Toast Burger Buns?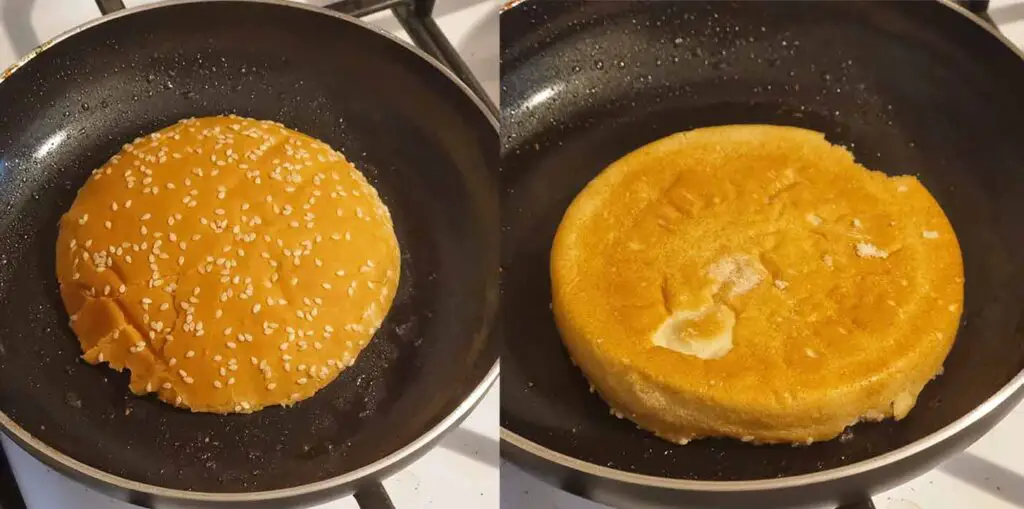 Should you heat or toast burger buns? In our opinion – it's a strong yes!
After toasting the burger buns on the pan you've prepared you meat and onion on, they will neatly soak up their flavor and gain nice crunchy on the inside part, and retain their outside softness, just like it should be in the classic and tested hamburger formula.
Toasting the bread on the pan will not only give your burger additional taste qualities, but it will also help the bread getting more resistant to both the sauce and meat juices that will come in contact with it.
Placing The Burger Meat On Paper Towels?
A tip that is often shared online and by the word of mouth is placing the burger patties on a layer of paper towels right after cooking them on a pan, or simply pat them dry. This is said to soak up the grease and juices from the meat and ensure that it won't affect the hamburger bread in a negative way.
While this is a common thing to do for many people, we generally don't endorse it. This makes a large amount of meat juices which a very important part of the hamburger adding to its overall flavor essentially go to waste.
If there aren't excessive amounts of grease on your burger patties, in our honest opinion you shouldn't bother soaking it up.
Still, if, your burger meat is very much greasy after cooking (it's possible when you've for example used too much oil on your cooking pan), soaking the surplus grease using paper towels can be a viable strategy.
Can You Fix a Soggy Burger Bun?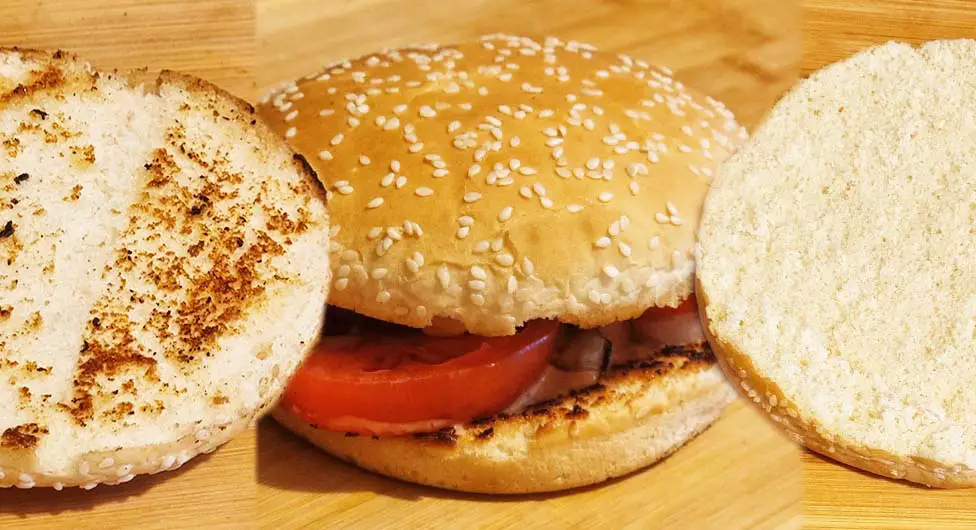 Long story short: If a bun is soggy after thawing, you can most of the time simply toast it and the sogginess will no longer be an issue. If however, the bun gets soggy after you assemble the burger, your best bet would be to attempt to replace the bottom bun with a new one, which can be a messy and largely unreliable solution.
Adhere to the rules that we've laid out in this article, and you will be sure to get your burgers perfect every time! No more wet, soggy or falling apart bread or burger buns in your homemade hamburger creations!
You might also like: 8 Ways To Make Raw Veggies Tastier (You Wouldn't Guess!)