We're about to let you in on our secret recipe! Can you make perfect burgers without lettuce and no cucumbers/pickles while maintaining the classic taste of a traditional burger and avoiding soggy buns? Yes, and you're about to learn how to do just that! Let's get straight to the no-lettuce burger recipe we've prepared just for you!
Check out also: How To Prevent Burger Buns From Getting Soggy – Our Best Tested Ways!
Can You Make Burgers Without Lettuce?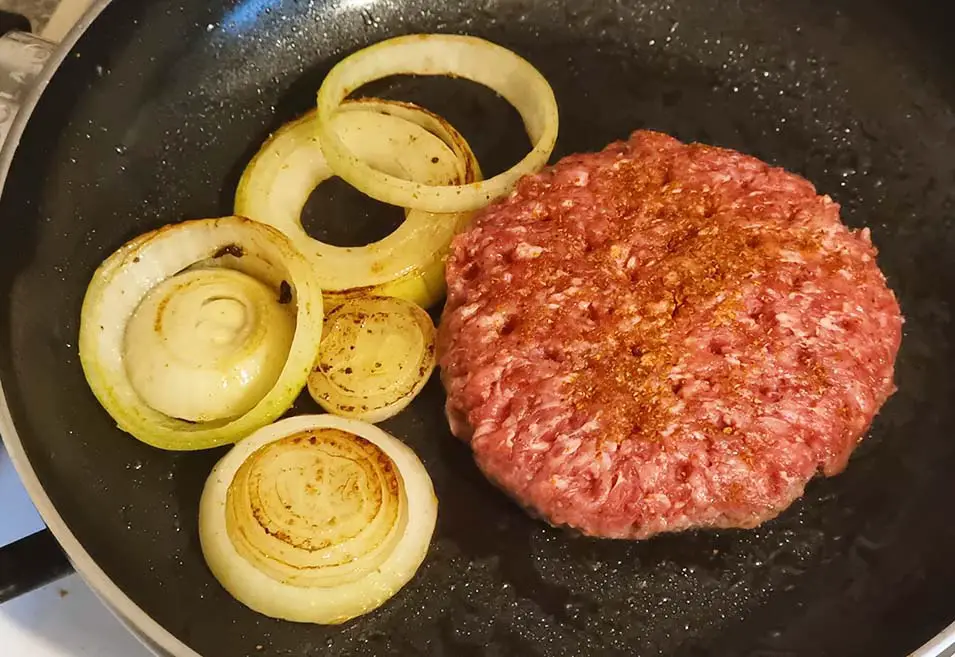 Making hamburgers with no lettuce – Is that a viable strategy? Lettuce actually plays a pretty important role when preparing burgers. In a classic hamburger formula, lettuce is often placed between the bottom bun and the sauce and meat – this makes it perfect for separating the bread from both the sauce and the grease from the meat.
While lettuce is a pretty important ingredient in a classic hamburger or cheeseburger that helps preventing issues with soggy buns, you can easily prepare a burger without it. This way you can also avoid the potentially time consuming process of portioning the lettuce for the burger if you've bought a whole lettuce head.
We'll show you how to do just that in this recipe!
Why Do You Usually Put Lettuce On The Bottom Of a Burger?
As we've already mentioned, one of the roles of lettuce being placed on the bottom burger bun is to separate the bread from the sauce and the juices that will come down from the burger meat when it's placed on top of it.
If a bread bun retains contact with both the sauce you used in the burger and the juices and grease from the cooked meat, it can easily get wet and soggy and this can make it easily fall apart ruining the otherwise delicious meal. This issue can get even worse when the burgers aren't served right away after assembly.
The second role of lettuce in burgers is to actually cath and soak up the juices from the cooked hamburger patty and retain them inside the burger, which can further add to the overall taste of your fresh made burgers.
As you will see in a very short while though, using lettuce in your burgers isn't at all mandatory!
You might also like: Chunky Guacamole With Sour Cream Recipe – Quick & Easy
Classic Hamburgers With No Pickles?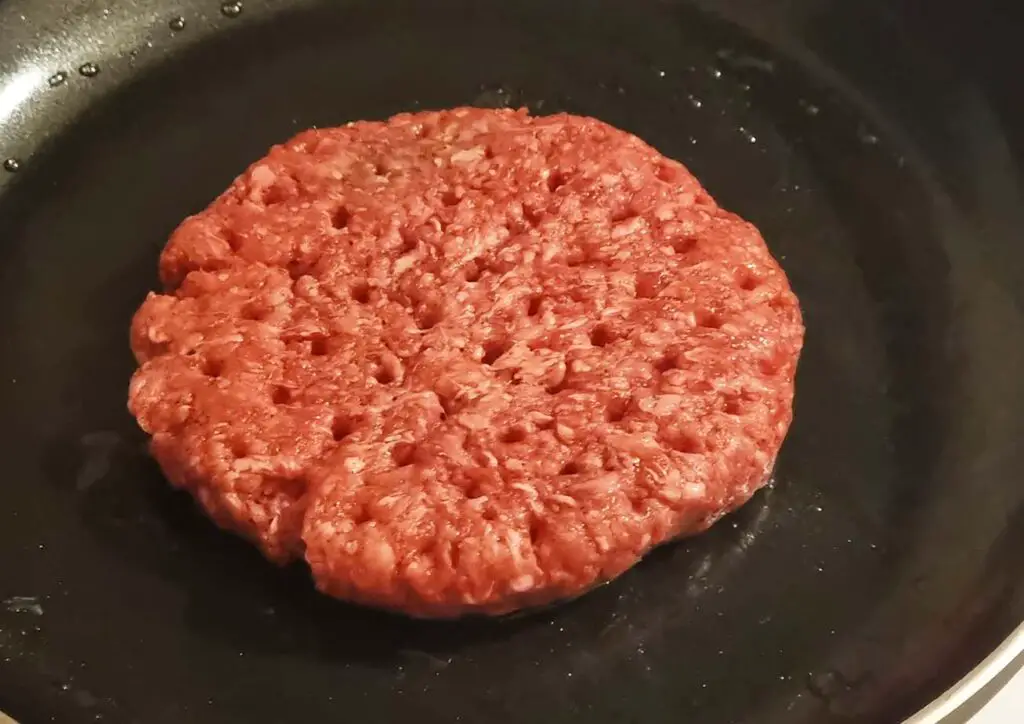 Neither pickles, nor fresh cucumbers aren't a necessary part of a hamburger, however they might add some extra taste to the meat when used in a right way. Making a burger without pickles is perfectly possible and in our recipe we
Remember that hamburgers are all about bringing forth the taste of the heart of the burger – the meat. Some people actually prefer their burgers without pickles as a rule. This is because the sourness of pickles doesn't always have to compliment the taste of the meat, to say the least. At times it can even be overpowering it, if for instance you've used too many pickled cucumbers in your burger, or their taste ends up being too strong.
Either way, the taste qualities of burgers without lettuce and pickles are on par with the "full-fledged" classic burger formulas, and we are about to prove that with our recipe!
How To Prevent Soggy Burger Buns?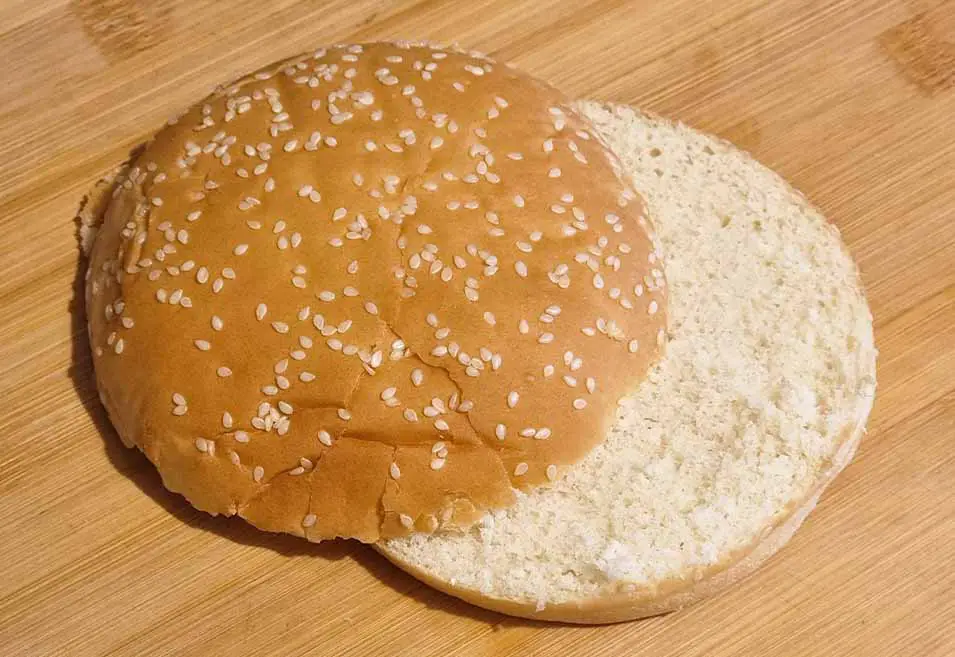 So, the first way of protecting your burger buns from getting soggy is lining the bottom bun with lettuce so that it catches all the meat juices and sauce that will eventually make its way down the burger. Here are some more creative workarounds that will help you prevent wet bread burger emergencies.
Another way to prevent the burger bun from falling apart is making sure that the bottom bun is a little bit more toasted than the top one. This will ensure that it will be more resistant to the meat juice and burger sauce. Yet another tip is In our recipe we will show you exactly how to do just that!
Here is our full take on this topic with much more important info to take in! – How To Prevent Burger Buns From Getting Soggy – Our Best Tested Ways!
Yet another way to protect your burger buns from getting soaked is spreading a thin layer of butter or mayo on the top and bottom bun. This will nicely isolate the bread from the grease and sauce and will add to the overall taste of your burger while not changing it by a whole lot
With these neat tips you'll be able to avoid wet and soggy burger buns altogether! Now let's move on to the lettuce alternatives.
What Can You Use Instead Of Lettuce In a Burger?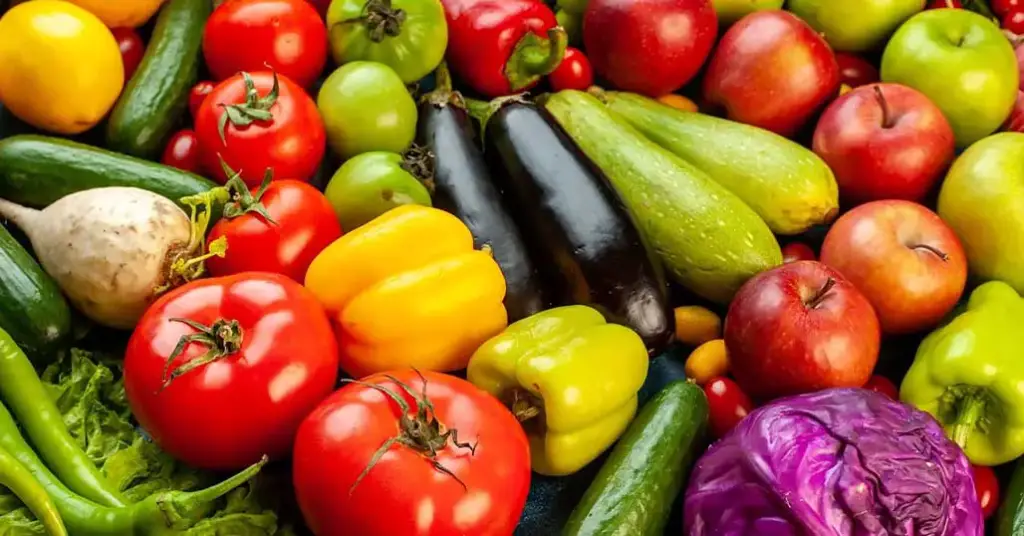 Green leaf lettuce, iceberg lettuce and romaine lettuce are among the most commonly used types of lettuce when it comes to hamburgers. What can replace lettuce in a burger? Well there are quite a few things you can use instead of lettuce here.
Spinach: Spinach leaves offer a mild and slightly earthy flavor. They are rich in nutrients like iron and vitamins A and C, providing a healthier twist to your burger. Their tender texture complements the meat and other toppings without overpowering the overall taste.
Arugula: Arugula brings a peppery, slightly nutty taste to the burger, which pairs exceptionally well with the meat. It adds a burst of freshness and an elegant touch to your creation.
Kale: Kale, with its robust and hearty leaves, can handle the juicy goodness of a hamburger. It has a slightly bitter taste that contrasts nicely with the savory patty and other toppings.
Watercress: Watercress offers a subtle, peppery kick and a refreshing crunch. It adds a nice contrast to the richness of the burger and complements the other ingredients beautifully.
Cabbage: Shredded or thinly sliced cabbage adds a fantastic crunch and subtle sweetness to the burger. It's a great alternative for those seeking a different texture.
Grilled Portobello Mushrooms: If you're looking for a meaty and umami-rich alternative, grilled Portobello mushrooms are an excellent choice. Their juicy texture and savory flavor make them a great substitute for lettuce.
Caramelized Onions: Sweet and tender caramelized onions add a rich, sweet taste to your burger. They complement the meat and cheese, adding depth and complexity to each bite.
Avocado: Sliced or mashed avocado adds creaminess and a buttery taste to the burger. It provides a healthy dose of good fats and nutrients while enhancing the overall flavor profile.
Roasted Red Peppers: Roasted red peppers contribute a smoky sweetness to the burger, which harmonizes with the meat and cheese. They add vibrant color and a touch of elegance to your creation.
When selecting a lettuce alternative, consider the flavor profile you want to achieve, the texture you desire, and the overall harmony with the other toppings and condiments. Experiment with different combinations to find the one that suits your taste preferences best. All of these propositions can also be considered great alternatives for pickles in a burger!
It goes without saying that you can easily mix and match these alternatives to create your own homemade craft burger style. Get creative!
You might also like: 10 Best Healthy Vegetables That You Can Eat Raw!
What If You Want No Greens At All In Your Hamburger?
Although this may seem like a bit of a challenge, you actually can prepare a delicious burger without using any green vegetables. Here are some things you can use as an alternative to lettuce and greens when preparing a hamburger.
Pickles: Tangy and crunchy pickles offer a delightful contrast to the meat and cheese.
Radish: For a more spicy approach, this is always a great option.
Avocado or Guacamole: If you enjoy creamy textures, avocado or guacamole can be a satisfying addition.
Fried Egg: A fried egg with a delicious runny yolk can introduce a nice twist to your burger.
…and much more!
Remember, the beauty of customizing your hamburger is that you can tailor it to your specific preferences. If you prefer a no-greens burger, you can enjoy all the delicious flavors and textures without any leafy additions. The key is to experiment with different toppings and combinations until you find the perfect balance that satisfies your taste buds. Happy burger building!
No-Lettuce No-Pickles Hamburgers Recipe – Step By Step How To
Here comes our burger recipe without lettuce and without pickles. Make sure that you have all the ingredients listed below at the ready, and you can begin preparing your perfect hamburgers right away!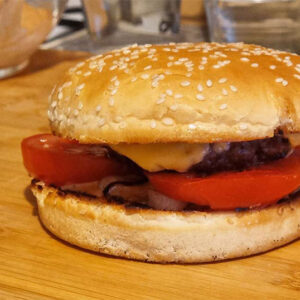 Delicious Burgers Without Lettuce And Without Pickles!
We are about to show you how to prepare rich tasting burgers without using any lettuce and cucumbers or pickles at all! All this while avoiding soggy buns and finishing the whole process in about 20 minutes total. Let's get straight into our lettuce free hamburger recipe!
Equipment
1 Non-Stick Frying Pan

1 Plate

(keep it at the ready next to the stove for caramelized onions)

1 Silicone Spatula

(Use silicone utensils so as not to damage the non-stick coating on your pan)
Ingredients  
1

tbsp

Ketchup

1

tbsp

Mayo

1

tbsp

Wholegrain Mustard

1

Burger Bun

1

Hamburger Patty

(We used pre-made ones here)

1/2

slices

Cheese

1

Onion

1

Tomato

1

tsp

Olive Oil

(Optional if you have a non-stick pan)

Salt & Pepper

(To taste)
Instructions 
First, let's quickly make our burger sauce. Put a tablespoon of mayo, ketchup and wholegrain mustard into a bowl and mix them up using a spoon.

For a thicker consistency of the sauce we're going for here, you should use a little bit more mayo than the other two ingredients.

1 tbsp Wholegrain Mustard,

1 tbsp Ketchup,

1 tbsp Mayo

Once you've mixed the ingredients your sauce is done. Set it aside for now.

Cut the tomato into pieces.

Next, cut the onion just like shown on the image.

Heat up the pan over a small flame for a short while and then, pour a little bit of olive oil on it. Next, place the meat in the center of the pan.

1 Hamburger Patty,

1 tsp Olive Oil

The meat will start to slowly cook. Now, place your cut onion pieces on the pan next to the meat. Don't worry about their shape – they will soon easily separate when moved.

Sprinkle a little bit of salt and pepper on top of the meat (to taste).

While the meat is cooking, move the onion around a little bit so it's able to cook evenly and so that it won't get burnt on one side – it will start to separate as you move it.

As we're going for a medium done burger, we're going to cook one side for about 3 minutes.

Once one side of the burger is done cooking, flip it to the other side. Ideally, for best results you want to flip the burger meat only once during the entire cooking process.

Remember to keep moving the onion around so that it doesn't get burnt.

If the onion is done quicker than the burger, remove it from the pan and place it on the side. The rings should be separated and the onion should be soft.

When both of the sides of the meat are ready, it's time for quick cheese melting!

Place a slice of cheese on top of the meat and keep heating the meat on the pan until the cheese melts down. You can use one or two slices.

Then take the meat with the cheese off the pan and set it aside.

Now without turning off the stove, take your burger buns and place them the white side down on the very same pan you cooked the meat on.

The bread should take up to a minute to toast just how we want it.

The toasted buns should look something like this. Make sure that the bottom bun is a little bit more toasted than the top one.

This will help prevent the bottom of the burger from getting soggy.

Take the sauce that we've just made, and spread it on the bottom of the bun.

Place the onions on top of the sauce.

Next, place the tomatoes on top of the onions.

Finally, place the meat with the melted cheese on top of the tomatoes.

Don't worry if the meat is much smaller in diameter than the buns. This is actually good as it will make the burger much easier to handle and eat.

Spread the rest of the sauce on top of the cheese, and then close your burger with the top bun. Gently press down on the top bun to compress the ingredients and you're done!

Our burger without lettuce and cucumbers is ready! And it's really good!
There It Is! – All Ready!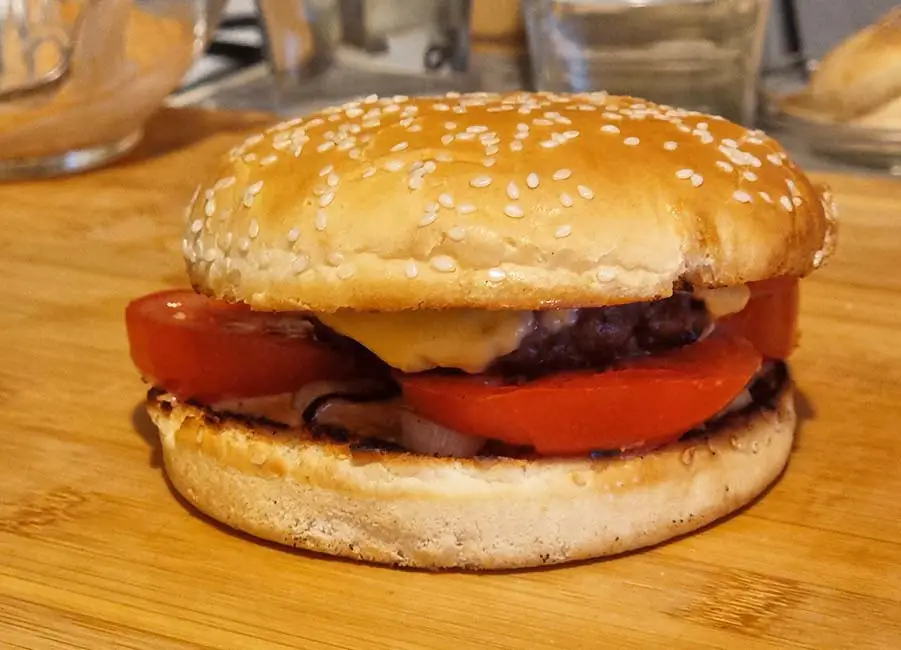 So there you have it! A full on juicy and delicious burger without using lettuce and pickles at all! And it really does taste the same as a regular burger! While for some making a burger without seemingly must-use ingredients might not seem like a good idea, we've just proven that this is not necessarily the case. Enjoy your tasty hamburger and come back for more nifty recipes. See you soon!
You might also like: Air Fried Zucchini Slices Quick Recipe! – No Breading