How to prepare chunky and creamy guacamole from half-ripe avocados with avocado pieces and sour cream? Here is our secret recipe. Can you make delicious guacamole from a half-ripe avocado? Turns out you can and it can even help you get more tasty avocado chunks in your guac in a natural way! In this recipe we will show you how to prepare delicious guacamole using an avocado that is not yet completely ripened. We have a few tricks up our sleeve to make this creamy avocado paste with avocado pieces extra tasty! Grab your avocados and let's begin!
Check out also: Why Are Avocados So Expensive? – The Main Reasons
[this article features Ebay & Amazon affiliate links]
How to prepare delicious chunky guacamole paste with sour cream?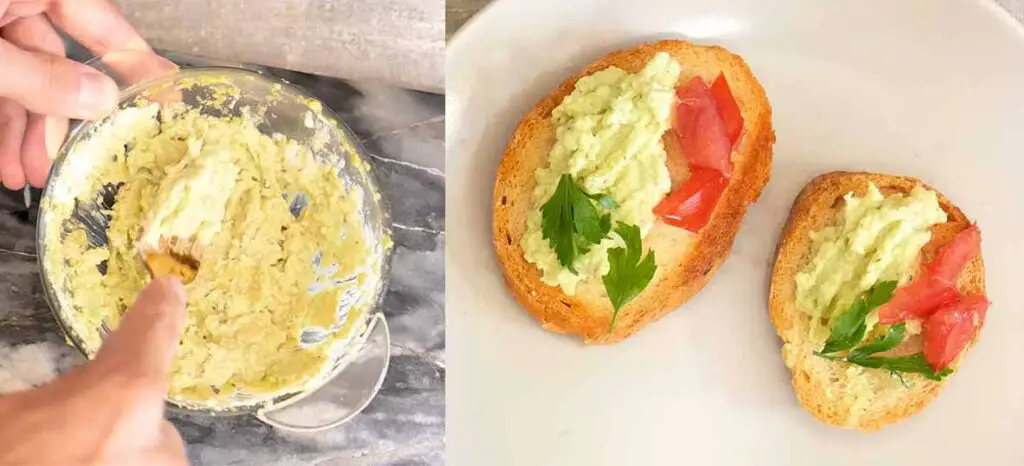 There are a few ways you can achieve chunky guacamole with extra tasty avocado pieces in it. One of these is cutting part of avocados you're using for the guacamole before mashing the fruit, and then after making your guac, putting them into the final mix.
The second way, a bit better for some, is to use not yet fully ripe avocados while making your guacamole, and by doing that make use of the naturally harder pieces of the half-ripe fruit that will be left after attempting to mash it. That's exactly what we did!
Our guacamole avocado paste will be made from a half-ripe avocado and thus will have natural chunks of the avocado fruit in our paste from the get go.
Can you make guacamole from unripe, half-ripe or underripe avocados?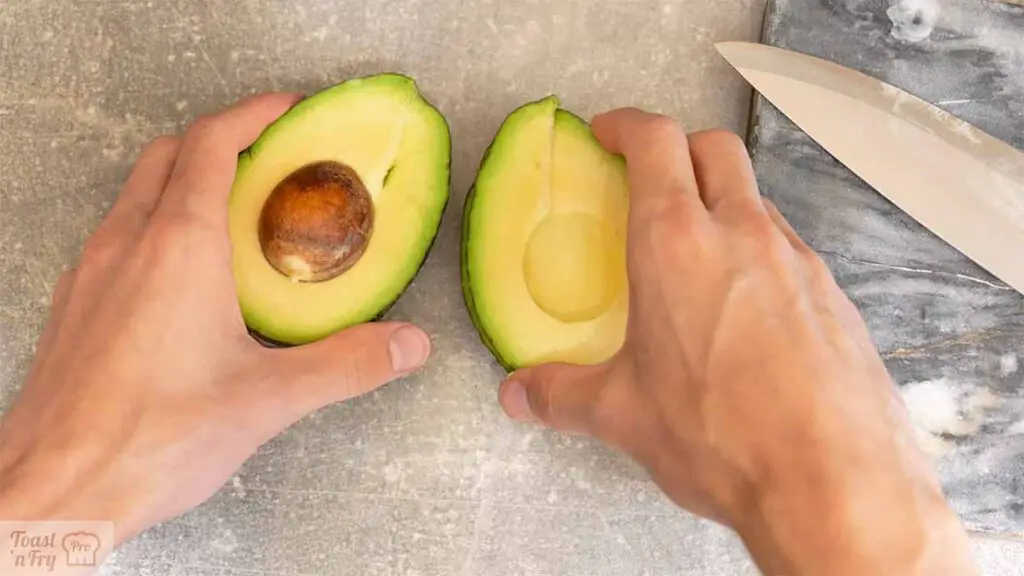 Making guacamole or avocado paste out of underripe avocados is perfectly possible, but its best to make sure that you're not using completely unripe avocado fruit. If you do, you'll risk two things: first, having lots of trouble with scooping up and mashing the fruit (underripe avocados tend to be very hard inside), second: your guacamole might simply taste bland or bitter, as completely unripe avocados tend to have much less taste qualities than fully ripe or at least half-ripe ones.
A much important thing to keep in mind here, is that once again, in this recipe we're talking specifically about half-ripe, but not completely unripe avocados.
Remember to season your guacamole well, especially if you're using underripe avocado fruits to make it. In our take on the sour cream avocado spread we've used salt, a simple Herbs de Provence mix and garlic powder. You can mix in any of your favorite ingredients in! A few ideas here would be black pepper (if you'd like your guac to be a little bit more spicy) or red pepper powder.
Yet another delicious recipe: Air Fried Fresh Cucumbers – No Breading! – A Quick Snack (Video!)
So, what are the best ways to mash an half ripe avocado?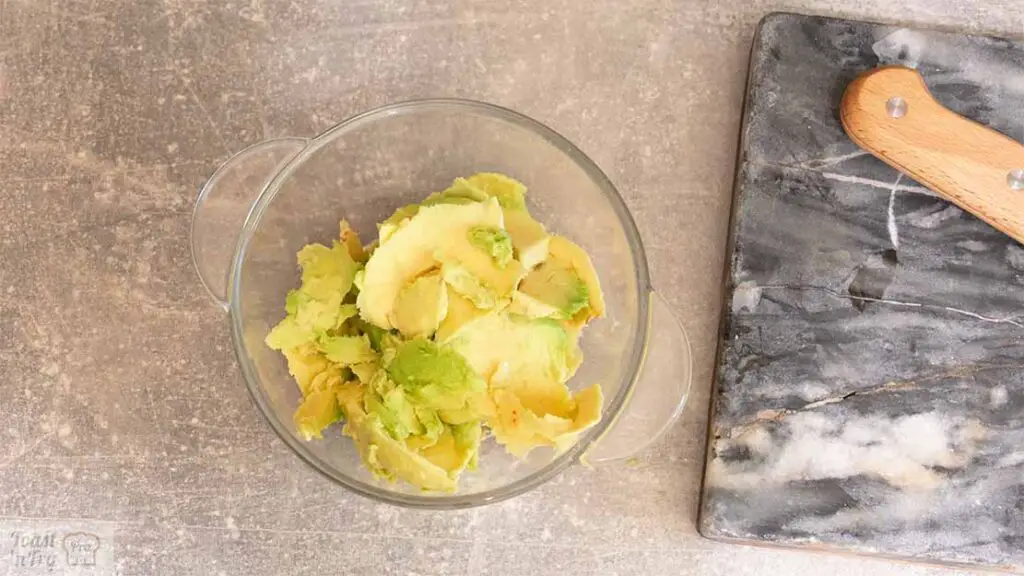 Half ripe and underripe avocados can be really hard to mash properly in comparison to fully ripe avocado fruits which typically can be easily mashed even just a simple fork.
For mashing hard half ripe avocados we recommend using either a simple potato masher you can find in almost every kitchen, or more originally a mortar and pestle – a tool that is quite a nice addition to your kitchen utensils arsenal if you don't already own one.
Remember that with half-ripe avocados, not all the avocado pieces will be able to be fully mashed even with much effort – this is alright! This will ensure the chunkiness of our guacamole paste which is a good thing here!
What can you eat guacamole with? – Best additions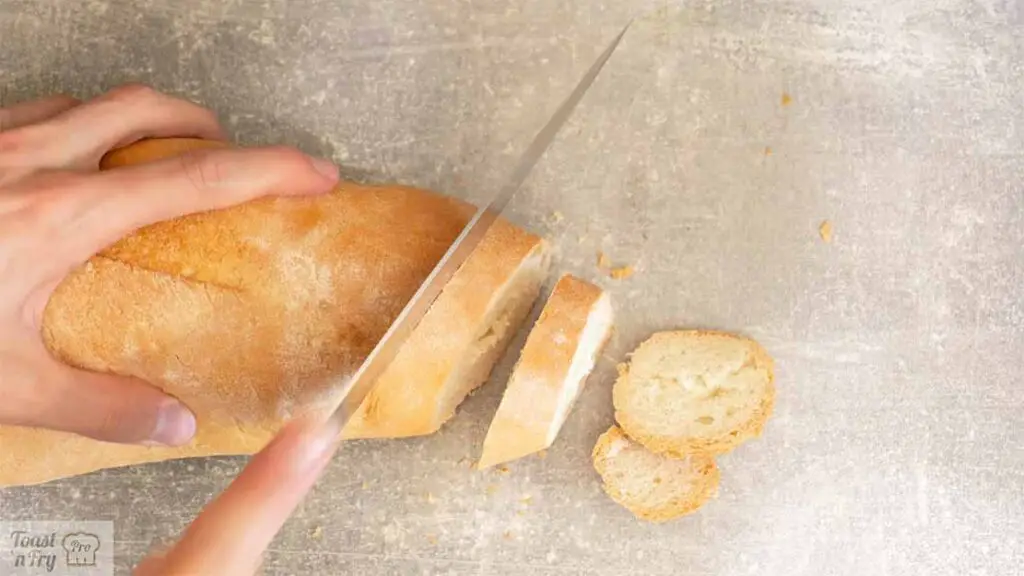 What goes best with guacamole? What do you typically eat guac with? Well, in our case we prepared some small delicious toasted bread treats smeared with olive oil, with a little bit of cut tomatoes and green parsley on top. Let's look into other things that taste great when enhanced with the guacamole goodness.
If we were to list other things that go really great with fresh guacamole and avocado paste, we would surely include:
Toasted bread
Baguettes
Nachos
Rustic bread
Classic Mexican tacos
Many kinds of cheese (experiment!)
Are you doing it right? – How To Eat Camembert Cheese (Best Ways!)
Sour cream guacamole from an underripe avocado – a quick video recipe
Here is a short video in which we prepare our delicious sour cream guacamole all while using half-ripe avocados. It's only over a minute long, so be sure to give it a watch!
If the video doesn't show, you can also watch it here: Chunky Guacamole With Sour Cream – Short Recipe Video
Chunky guacamole with sour cream – a quick & simple recipe
And at last, here is our recipe – in about 10 minutes we were able to prepare tasty sour cream guacamole with chunky avocado pieces and serve it on delicious little toasted bread treats. We hope you'll find these instructions helpful!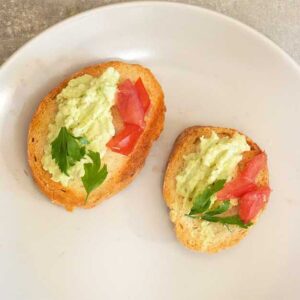 Guacamole With Sour Cream – Extra Tasty!
In this simple recipe we will show you how to prepare delicious sour cream guacamole using avocados that are not fully ripened yet. Turns out that you can easily make guac with unripe avocados and make it just as tasty as avocado paste made from fully ripe avocado fruit. Let's not waste any time and get straight to the recipe!
Equipment
1 Potato masher / Mortar and pestle

For mashing your avocados.

1 Bowl

For mixing all the ingredients.

1 Spoon

For scooping up the avocados.
Ingredients  
2

Avocados

2

tsp

Olive oil

1

tbsp

Sour cream

1/2

Lemon

1/2

tsp

Powdered garlic

1

tsp

Salt

1

tsp

Herbs de Provence

Or a herbal mix of your choice.
Instructions 
Cut your avocados in half and remove the pits.

Scoop up the avocados and put the green avocado pieces inside the bowl (don't worry about the larger size of some of the pieces).

When you've scooped up all the avocado, discard the leftover avocado skin.

Use a potato masher, a mortar and pestle, or a utensil of your choice to mash the avocado into a pulp.

Unripe avocados will be much harder to mash than ripe ones. There will be pieces that won't be able to be mashed completely, but don't worry about these – these will actually be an important part of our guac.

During the mashing process, we'll add our other ingredients.

After adding each ingredient mix the guacamole using the spoon and/or your hands.

Fist, add a little bit of salt to taste.

Then add some Herbs de Provence or a herbal mix of your choice.

Add around 1 small tsp of garlic powder.

Now it's time for one small spoon of olive oil per one used avocado.

Add 1 large tbsp of sour cream (or more if you'd like your guac to be more creamy).

At last, squeeze around 1 teaspoon of lemon juice into the bowl and mix it all up once again.

All ready! You can now put your guacamole on toast, baguette pieces or use it as a dip for tortilla chips.

If you want to refrigerate your avocado paste, it will generally hold in the fridge for around 4 days when stored in an airtight container.
All ready! – Our sour cream guacamole using a half-ripe avocado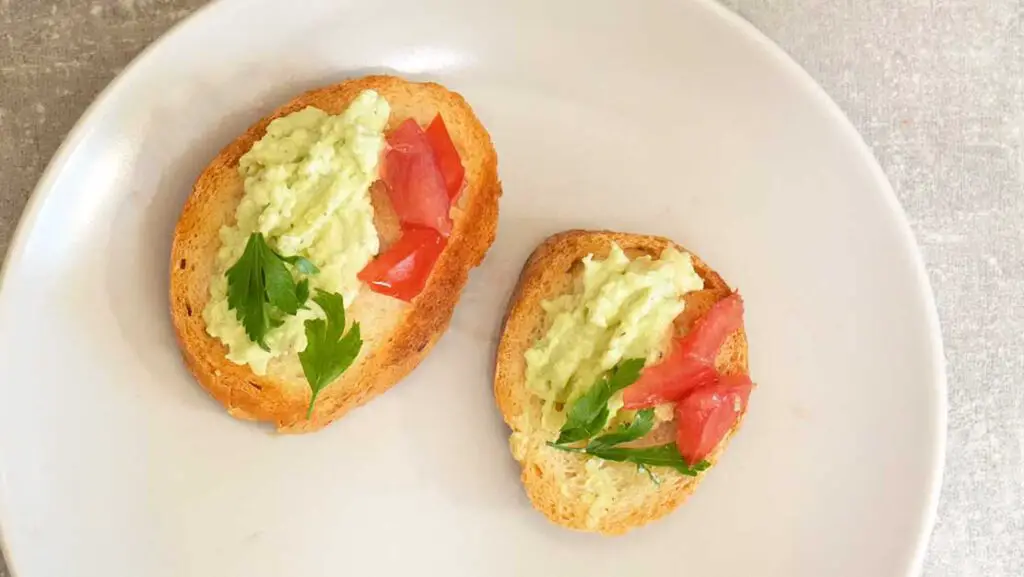 So there, we're done! Our sour cream guacamole is ready. You can now use it as an appetizer, as a nice addition to your toasties and toasted bread in general, or as a perfect spread for your breakfast sandwiches. It also makes for a perfect addition for a bowl of store-bought or homemade nachos. We hope that you found our little recipe useful!
Should you refrigerate guac? Well, yes. Although the addition of lemon juice to the guacamole paste will ensure that the browning of the avocado fruit will be slower than it would be without it, it will still happen over time. To slow down this process even further, put your guacamole in your fridge an air tight container. In general, you can refrigerate guacamole for up to 4 days until it starts discoloring.
Check out also: How To Store Avocados Longer – A Few Simple Ways