How to prepare beef tartare from pre-made store bought tartare meat? How do you serve beef tartare and what goes best with the regular tatar? There are a lot of great and simple ways to enjoy this delicious yet quite uncommon dish. We'll now share our tips and tricks and advice that's vital when considering trying beef tartare for the first time. Here is our take on the classic Polish Tatar made from fresh minced beef. Enjoy!
[this article features Ebay & Amazon affiliate links]
Beef tartare, steak tartare – what are the origins?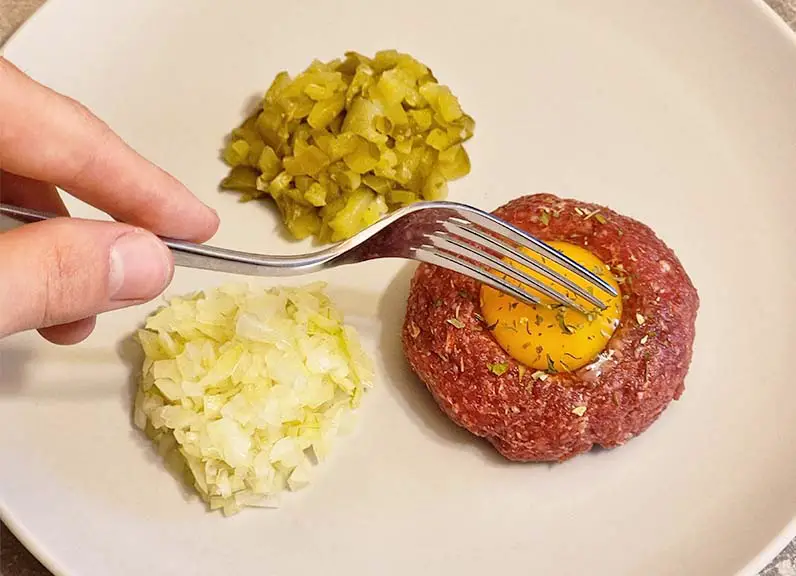 What are the origins and brief history of the tartare as a dish? Well, the sole word tartare originally comes from the French language and it refers to the Tatar people coming from west/central Russia. While there is an ongoing debate on whether or not the original "tartare" has anything to do with the Tatar culture, the very first dish appearances alongside with its oldest history are largely unknown.
The first mentions of tartare as it is today, first can be traced to the XIX century, actually referring not to the beef tartare dish, but rather to the tartar sauce you may have already seen in its modern variants somewhere on a supermarket shelf. This terms was only much later used for the tartare we know and love today.
Today's meaning of beef tartare which we'll be talking about, refers to a meat dish made from beef chopped into a hash and served with various additions. Typically, tartare is made using carefully picked pieces of sirloin or tenderloin, but in this article we've used pre-processed store bought tartare meat for the sake of saving ourselves some time (tartare purists, we're sorry!)
The meat – much important remarks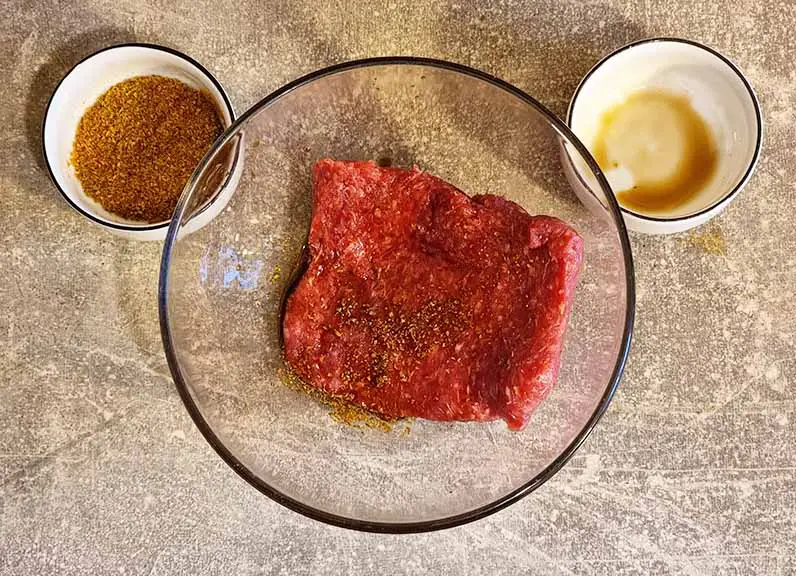 What kind of meat is used to prepare the classic tartare? As we've already mentioned, traditionally sirloin or tenderloin cuts are used to make high quality beef tartare. This is the most common way, however keep in mind that not all kinds of meat are suitable for preparing tartare. Raw meat can always come with the risk of containing dangerous. It's vital to choose your meat well and only get it from trusted sources. This way your can ensure minimizing the said risks.
Our tartare however is made from pre-minced store bought meat made specifically for quick tartare preparation. This makes the prep process faster, at the arguable cost of the taste qualities of the heavily processed meat.
While choosing meat for your beef tartare, be sure that either you have sufficient skill and knowledge to buy the right kind of meat do do your own cut, or get a pre-cut or pre-minced tartare meat pack.
These are most often lower in overall quality as they are already heavily processed, but can be safer than going the first route (as they are vacuum-sealed and specifically designated for raw consumption).
The meat we bought was a 200g pack of pre-processed tartare meat which in the end translates to exactly two portions of tartare.
While you're at it, before we begin you can grab some tartare sauce, it also goes great with tartare and makes it go down even easier!
What goes good with tartare?
What can you eat tartare with and what are the best toppings here? There are quite a lot of great additions to tartare as a dish that can make it tastier and easier digestable. Among them, the most popular are:
Tartare sauce.
Pickles, cornichons.
Chopped onion.
Fresh cut chives.
Toasted baguettes and toasted bread.
In our quick tartare recipe we've simply used fresh diced pickles and onion.
There are two ways to add these to your tartare. The first one is to mix them into the meat – in that case you might want to use smaller amounts. The second one is the classic way we went about it – to place the cut toppings beside the meat.
What about the egg? – Can you prepare tartare without it?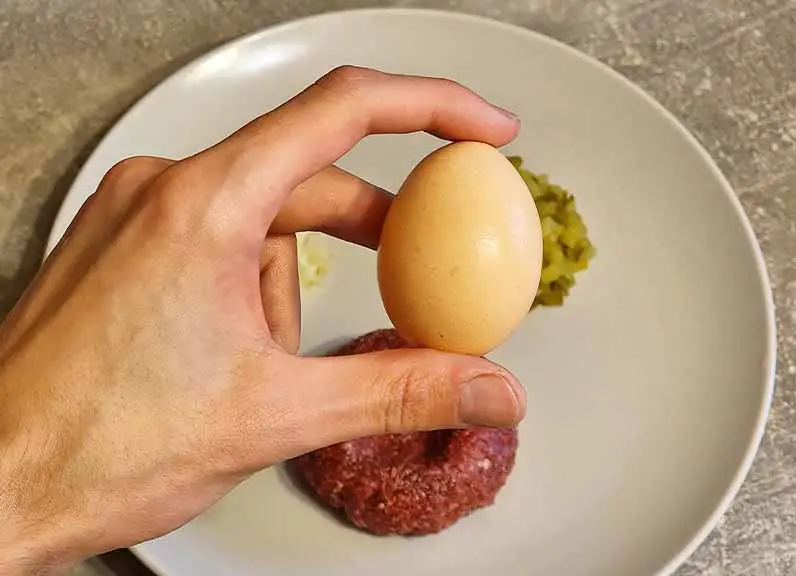 While a raw egg seems to be a much important part of almost every kind of tartare out there, you don't have to use it if you don't really like the idea. If you decide not to do that, simply omit the part where you prepare the place for the egg in the middle of your newly formed piece of meat.
In current times sadly there is some risk connected with raw egg consumption mostly related to the bacteria which can develop on the eggs surface in commercial farm environments.
When it comes to the safety of raw egg consumption, we recommend you to check out this extensive article over on healthline.com – Is Eating Raw Eggs Safe and Healthy? Be sure to give it a quick read to learn about all the risks and possible benefits here!
Quick beef tartare from pre-minced meat – the recipe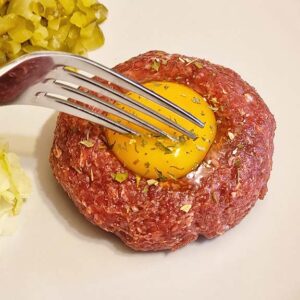 Quick & Simple Beef Tartare – Pre-minced Meat
Here is how to prepare a quick beef tartare from store bought minced meat designated for tartare use.
Equipment
1 Bowl

For mixing ingredients.

1 Smaller bowl

For separating the egg yolk (optional – if you want to use an egg in your tartare).

1 Kitchen knife
Ingredients  
1

Pre-made store bought beef tartare meat

Make sure that the meat you got is designated for tartare preparation (It will be clearly stated on the package) – this is not a recipe in which we use regular unprepared raw meat.

2

tsp

Soy sauce

We'll use it instead of salt.

1

Pickled cucumber

1

Onion

Herbs or herbal mix of your choice

1

Egg

Pepper
Instructions 
Prepare all your ingredients. Make sure that the meat you got is designated for tartare preparation – you're safer and better off this way.

Once again – this is not a recipe in which we use regular raw meat.

In our case, we used just half of our 200g tartare meat package. The amount will vary with your desired serving size.

Put the meat inside your mixing bowl and prepare the pepper and soy sauce.

Put the soy sauce and a small amount of pepper inside the bowl.

Mix the meat using your hands and form it into a small burger patty-like disc.

Cut the onion and the pickled cucumber in small pieces, as seen on the image.

If you're planning to use an egg in your tartare, you need to prepare the place for the egg yolk to settle in without flowing out – use your fingers to do just that (as shown on the photo).

Then, place your cut vegetables on a plate in two heaps, beside the meat.

As not everyone is fond of an egg on their beef tartare, and some people may be reluctant to enjoy raw eggs overall, this step is optional.

Wash the egg, crack it open and separate the yolk, placing it carefully in the place you've made for it on top of the meat. It's best to do that when the tartare is already on the serving plate.

When separating the yolk, do your best not to let it touch the outer shell of the egg, that's where all the bacteria reside, many of them left even after washing the egg under water.

This part is tricky – it's really easy to let the yolk go all around the tartare, so do it carefully!

All ready! Add a little bit of your favorite dry herb mix on top of the meat and the egg yolk. You're now ready to enjoy your quick beef tartare!

You should eat your tatar right away, and don't let it sit for too long.
All ready! – How to serve the beef tartare?
Our quick beef tartare is ready! While this is a fairly simple recipe, as it makes use of pre-made tartare meat mix that you can get in most stores, its great advantage is that you can prepare it without cutting and mincing meat by yourself, and that can save you a lot of time and trouble.
The classic way of serving we propose – egg yolk on top and the toppings beside the meat is usually the best way to enjoy tartare (our humble opinion).
As you've learned, mixing the toppings in the meat is also an option, however depending on the meat it can make it a little bit harder to form. In some tartare recipes the egg yolk is also mixed into the meat to keep it together. There are so many ways to enjoy it!
Using preprepared tartare-designated meat also can help keep you safer, as these kind of mixes are actually already made with raw consumption in mind. With that said – choose your meat carefully!
We hope you enjoyed our little recipe and the set of tartare related tips. If you have any questions, don't hesitate to ask them in the comments below. Stay tuned for more recipes to come!