We're here to show you the best way to bake Camembert without a wooden box that in some cases comes with the piece of cheese to hold it together when it melts in the oven. Baked Camembert is a great starter, a perfect appetizer and actually, an amazing quick 5-minute snack you can enjoy at home. Let's see how exactly you can prepare delicious hot melted Camembert at home without making a mess in your oven.
[this article features Ebay & Amazon affiliate links]
If you want to know what goes best with Camembert and what to serve Camembert cheese with, be sure not to miss this short guide: How To Eat Camembert Cheese (Best Ways!)
Can you bake Camembert cheese without a box?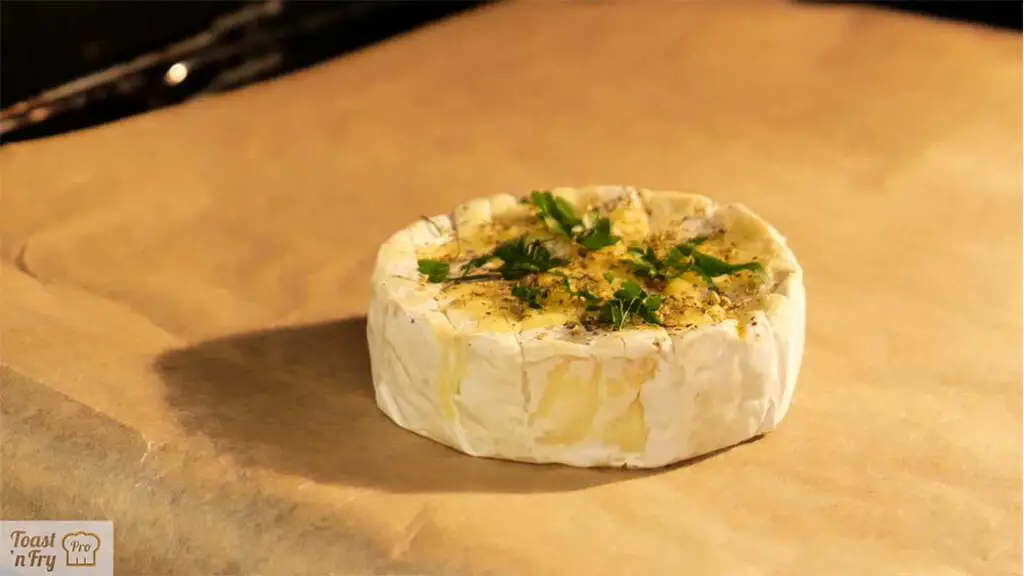 Yes! Although baking Camembert in the oven-safe wooden box it's often sold in is often more convenient because the cheese will be less likely to spill when it melts, baking it without a box is possible and just as easy!
In this short, quick and easy recipe you'll be able to bake your store bought Camembert without a box or any kind of oven-safe dish, and in less than 15 minutes overall! Let's not waste any time and get straight to the important info before we begin the process!
The Président Camembert cheese you can see on the right will work for this recipe just fine!
Baked Camembert cheese in a convection oven
To bake your piece of Camembert cheese you need nothing more than the Camembert itself and a convection oven (even a small one!). Our baked Camembert recipe however, also makes use of olive oil and Herbs de Provence to make the final result even tastier and more classy!
Air Fried Fresh Cucumbers – No Breading! – A Quick Snack (Video!)
While technically you could also bake your Camembert using your air fryer or a regular oven without any convection capabilities, this recipe relies solely on a classic convection oven to get the job done. If you're planning to use another appliance to prepare your baked Camembert, remember that you need to adjust the cooking time accordingly.
How long should your Camembert stay in the oven?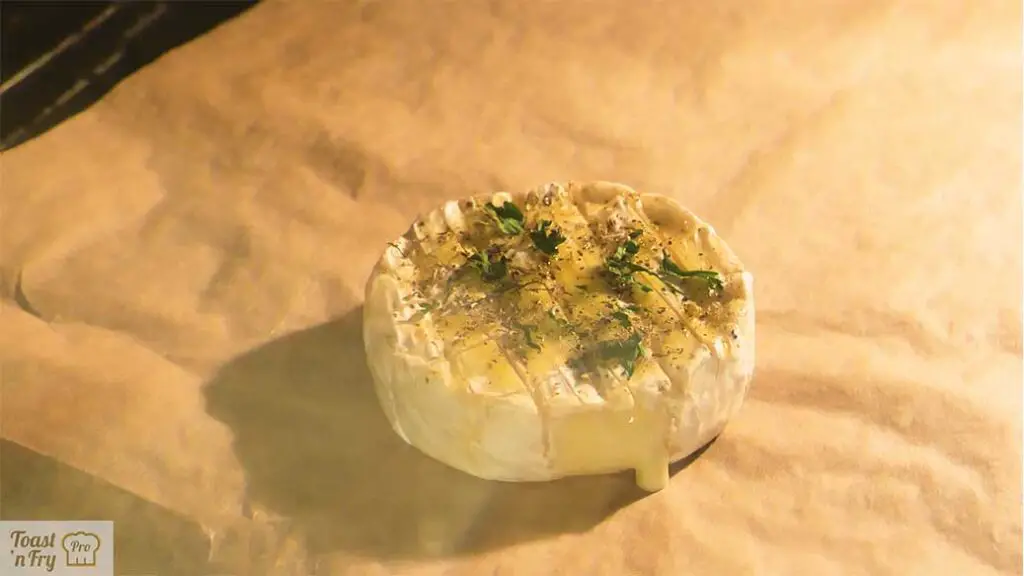 How long do you bake Camembert cheese for? This is actually a pretty tricky question, as convection ovens are many times over almost too good at baking and melting various cheese products. The piece Camembert is ready when it softens and its insides melt completely.
In general, the best and foolproof rule here is to bake Camembert just until it's about to spill out and leak. How you ask? Well, it requires some experience – luckily, after baking your first two pieces of Camembert cheese you should easily catch the drift.
Air Fried Roasted Bell Peppers Recipe – Quick & Easy (Video!)
Note that even if your Camembert cheese stays in the oven for a bit too long, it's still good to eat (although it might be kind of all over the place by now 🙂
Keep your Camembert cheese in the oven for around 10 minutes and try to take it out just a while before it starts to spill out.
In our usual quick video recipe, we let the piece of Camembert to leak a bit before we take it out of the oven. Keep in mind that this is not a big issue, as the round piece of cheese usually gives out to the pressure in a single place that's the most thin, and it doesn't cause any issues with its taste qualities. Unless it goes too far and ends up melting all over your oven tray that is!
Why is my baked Camembert not runny and soft enough?
If your piece of Camembert is not runny enough after taking it out of the oven, there is a chance that you simply haven't baked it for long enough. If Camembert cheese is kept in the oven for a short time, it might simply not melt or melt only "halfway" so to speak. Also, the less ripened the piece of Camembert is, the slower it will melt, albeit this doesn't make for that much of a time difference.
If that's the case, you need to leave it in the oven for just a little bit more, or simply enjoy it that way if that doesn't bother you and you don't plan to dip any kind of bread in it.
How To Store Avocados Longer – Few Simple Ways
How do you know when Camembert is cooked? As we've mentioned before, knowing when the Camembert is fully cooked comes with experience and in general you should take your piece of cheese out of the oven just before it starts spilling out. If you're doing this for the first time though you can either rely on your intuition and stay somewhere in the ~10 min mark, or wait just until the cheese starts to leak out and take it out immediately.
Baked Camembert without a box – video recipe
Here is the short recipe video to show you in short how to prepare delicious baked Camembert in your convection oven at home. Take a quick look!
If the video doesn't show, you can watch it here.
Baking Camembert cheese in a convection oven – how to – recipe
Baking Camembert without a box is perfectly possible and in fact quite simple. Here is the baked Camembert recipe with exact preparation steps and more detailed instructions, enjoy!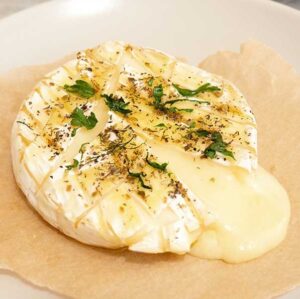 Easy Baked Camembert Cheese Without a Box – How To
Are you looking for the best method to bake Camembert cheese at home without having the oven safe box that comes with some store bought Camembert pieces? Well, here is a short video recipe in which we'll show you exactly how to prepare tasty baked Camembert in your convection oven in a matter of minutes. Let's begin!
Equipment
1 Convection Oven

(If you're using an oven without a convection fan, you'll have to adjust the cooking time accordingly – it will typically take just a little more time)
Ingredients  
1

Piece of Camembert cheese

~2

tsp

Olive oil

~2

tsp

Herbs de Provence

Just

Enough

Parsley & dill
Instructions 
Prepare your Camembert piece by cutting its surface in a grate pattern as shown on the image.

Don't go too deep with the cuts, as it's just meant to ensure that the cheese doesn't leak in the oven too soon and that all the toppings will stick to it easier.

1 Piece of Camembert cheese

Spread some olive oil on top of your piece of Camembert – this will ensure that all the toppings will stick even better, as well as make it bake nice and gold in the end.

Once you're done with spreading the olive oil, sprinkle some Herbs de Provence on top.

Next, cut just a little bit of parsley and dill and put it on top of the Camembert for decoration.

Just Enough Parsley & dill

Put a new piece of baking parchment in your convection oven.

Put the piece of Camembert into the oven for around 10 minutes.

Ideally you should take the piece of cheese out of the oven just before it starts leaking out.

In our case we were a bit late, but it doesn't really matter for anything other than aesthetics!

Tip: Take your piece of Camembert out of the oven on the sheet of baking paper. Then you'll be able to cut the paper around the cheese and put it on the plate. This way you won't risk the piece of runny cheese falling apart when being taken out.

All done! You can now enjoy your baked Camembert cheese (try it with toasted garlic bread or baguettes!).
Enjoy your hot cheese – all ready!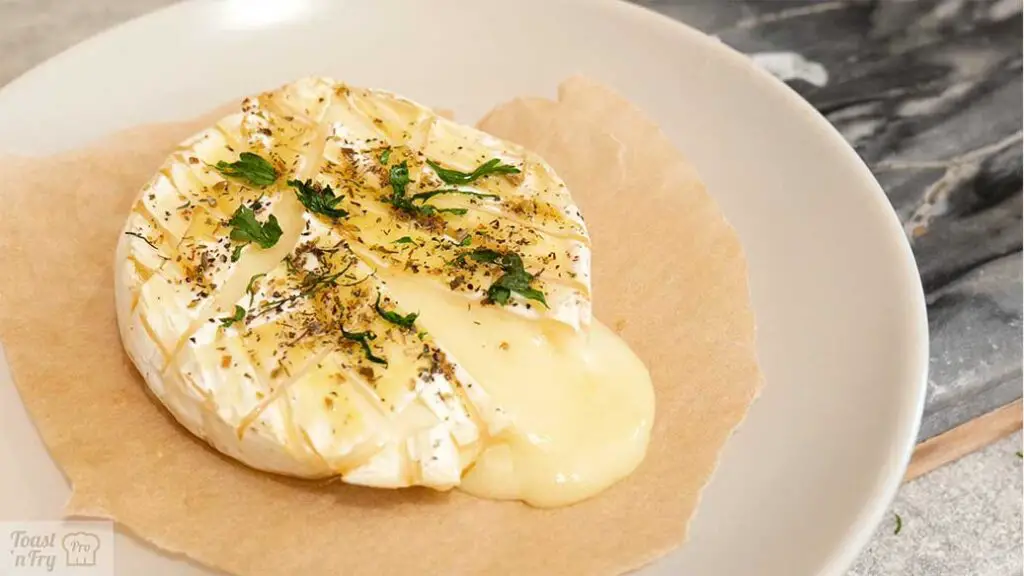 There you go! Now you can enjoy your hot piece of Camembert with your favorite toppings. As we've mentioned it goes great with toasted garlic bread or baguettes so you gotta try that!
If you want even more tips on what goes great with Camembert cheese (both baked and served at room temperature), you might want to check out this quick guide: How To Eat Camembert Cheese (Best Ways!)