You might just be interested in getting yourself a brand new SodaStream machine. But is it really worth to get right now, or is it all just a simple gimmick? We will go into the most important ins and outs of the SodaStream machines, and over all the things they have to offer while answering all of your questions. Let's begin!
[this article features Ebay & Amazon affiliate links]
Check out also: Top 10 Air Fryer Pros And Cons (Should You Get One?)
So, Is SodaStream just about clear soda water?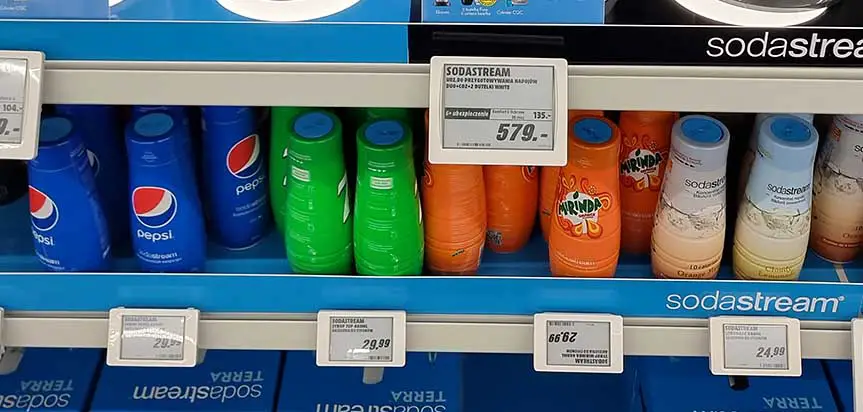 Well, yes and no. SodaStream devices, while meant mainly to make traditional soda water, can also work with many official and unofficial syrups available in lots of different flavors.
In the picture above you can see some examples of syrups we found alongside SodaStream equipment in our local electronics store. This includes Pepsi Cola, 7UP, Mirinda soft drink syrups, as well as quite a few more subtle soda water flavorings.
More on the actual taste of these in a short while. Keep in mind that they do differ a bit from their original store-bought beverage counterparts, which might be disappointing if you're not ready for that.
Does SodaStream have anything to do without sparkling water? The answer is surprisingly – no. Sparkling water is water that is naturally carbonated, while various types of soda water are different kinds of regular water that is carbonated artificially by humans.
Does SodaStream use electricity or batteries?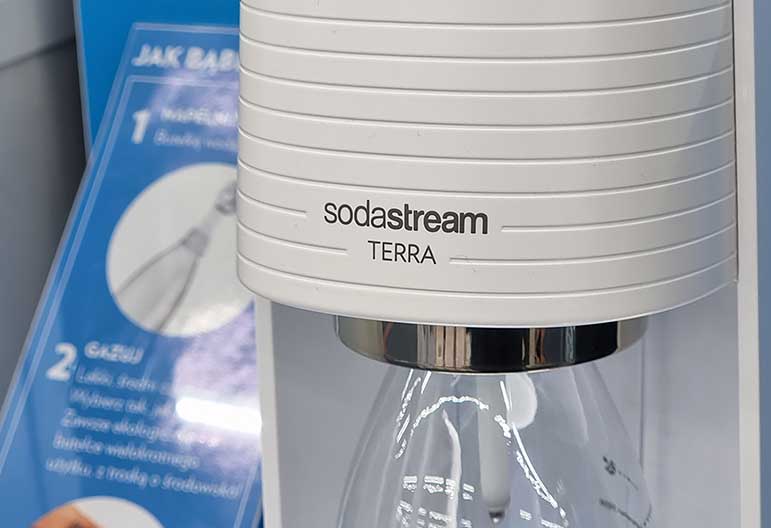 No, most SodaStream devices do not require electricity to function. In most cases neither electric power, nor batteries are required to start carbonating your water. SodaStream Terra, Duo, Aqua Fizz and Art all do work without electricity just fine.
There are some exceptions from the rule though. For instance, SodaStream Source requires a small 3V battery to operate. SodaStream Fizzi One Touch on the other hand, needs to be plugged into the outlet to work.
Most popular SodaStream models use a simple mechanism to carbonate your water by releasing the co2 from the replaceable cylinders with a push of a button or a lever. No part of this process needs additional electronics to be present in the design.
What kind of syrups are available for the SodaStream devices?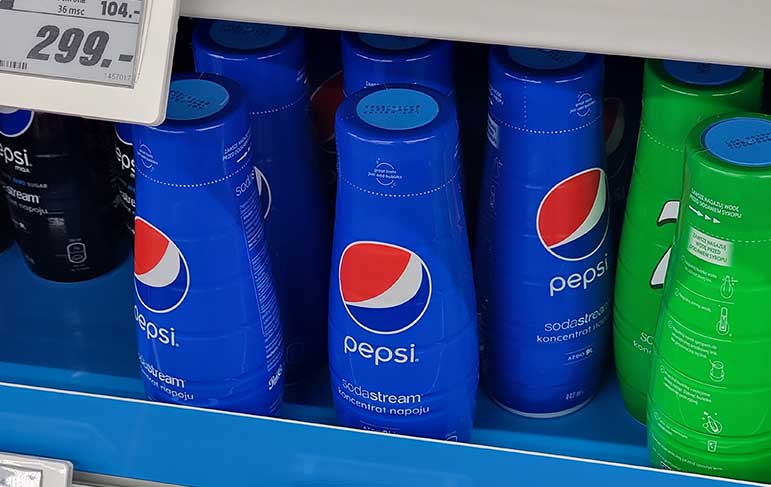 SodaStream officially distributes more than a dozen of flavoring syrups of different tastes. Among them you can find the Pepsi flavor, 7UP flavor, Diet Cola, Ginger Ale, Lemon & Lime and much more.
Most of the official flavoring syrup bottles allow for up to 36 servings of flavored soda – so somewhere around 9 liters of carbonated drinks.
You can find the extensive list of all the official SodaStream approved syrup flavors along with their current prices in their official Amazon store here.
One important side note here, is that while these syrups do carry the official licenses of popular carbonated drinks, their taste is known to slightly differ from their original counterparts. Keep that in mind when purchasing them, so as not be let down that your beverages do not taste exactly as store bought Pepsi, 7UP or Mirinda bottled drinks.
Which SodaStream model should you choose?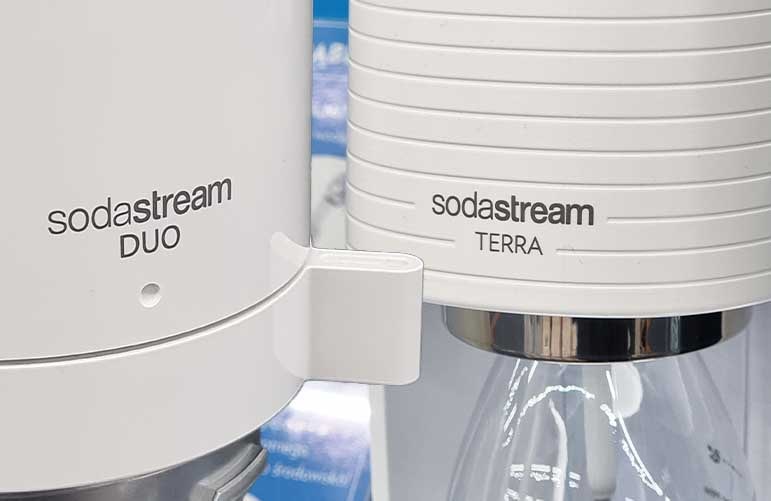 The basic SodaStream models, namely the SodaStream Terra, Duo, Art, One Touch, Aqua Fizz and the rest may at first seem pretty similar to each other. If you're wondering which one of these should you pick up, take a look at this neat summary of all three of the above.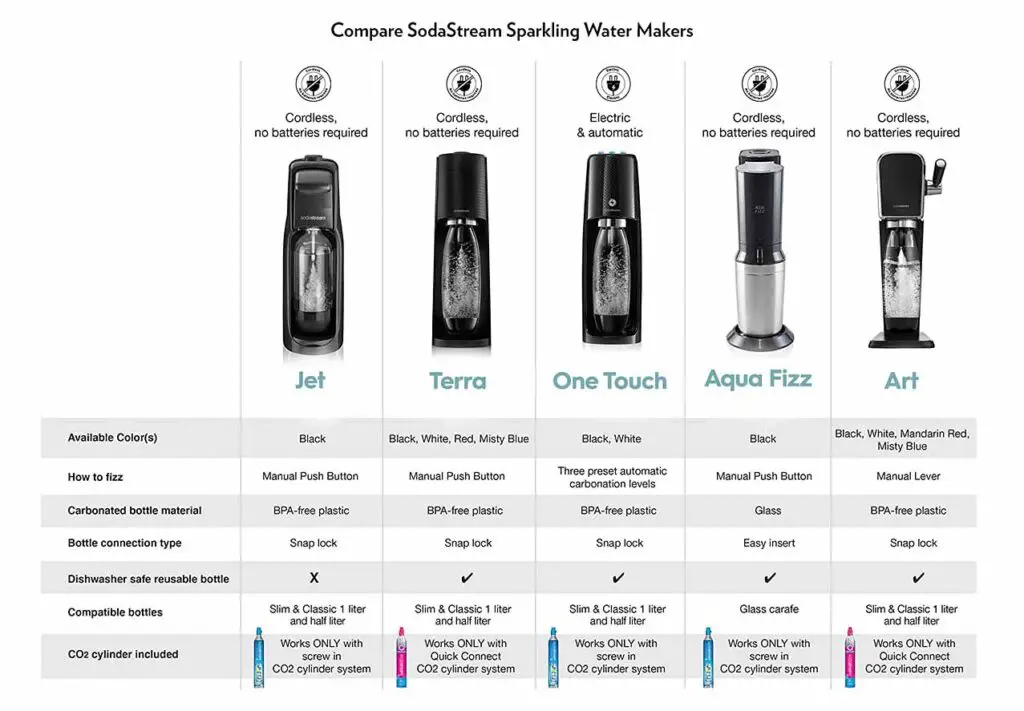 And here is our quick summary of all the available SodaStream models you can find on Amazon:
Model:
Features:
Price:
SodaStream Terra:
– Super easy to use.
– Comes with an eco dishwasher safe refillable bottle.
– The most basic and affordable model out there.
Check price on Amazon
SodaStream Art:
– Nice & sleek design.
– A lever mechanism that's satisfying to use.
– Doesn't take a lot of space.
Check price on Amazon
SodaStream Jet:
– Manual pump instead of auto carbonation button.
– Screw-in bottle mechanism.
– The included bottle is not dishwasher safe.
Check price on Amazon
SodaStream Fizzi One Touch:
– Three carbonation level presets available.
– Comes with an eco reusable glass water.
– Needs to be plugged in to work.
Check price on Amazon
SodaStream Aqua Fizz:
– Elegant glass carafe.
– Premium look & feel.
– Doesn't need electricity to function.
Check price on Amazon
All the most popular SodaStream carbonated water maker models – quick feature summary.
Learn more on all of the SodaStream models on the official SodaStream website here. Feel free to check the official SodaStream Amazon store for even more info!
Can you re-carbonate flat soda with your SodaStream?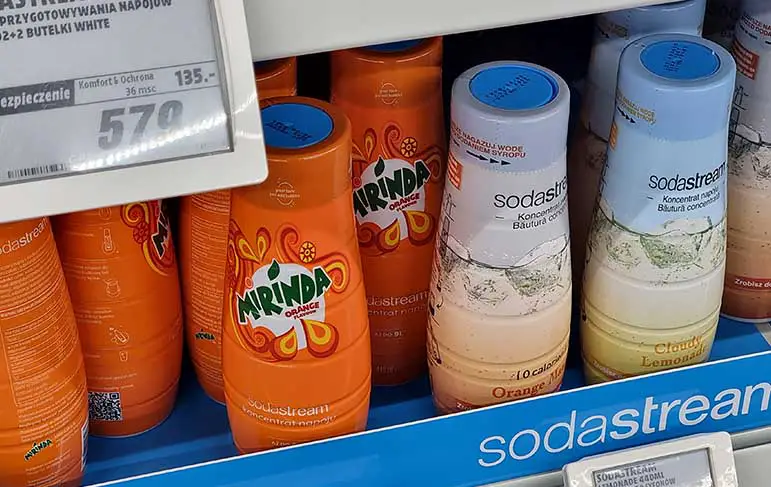 This is quite a common question among people considering to purchase one of these neat devices. Although the manufacturer does not recommend it, in theory you can certainly re-carbonate some drinks using your SodaStream – with various outcomes.
With all that in mind you need to know this: according to the official SodaStream website, if you try and carbonate any liquid other than water in your SodaStream, you will void your SodaStream warranty and lose your rights to the money back guarantee that they offer.
And here is the direct source for this information on the official SodaStream website: Can I recarbonate a drink that has gone flat and can I carbonate drinks other than water? Worth a read!
In our online research, we've already heard about re-carbonating beer, carbonating fruit juices and flat Coca-cola – although the last one does seem to lose its taste qualities permanently when losing its fizz just once.
Will SodaStream actually save you money?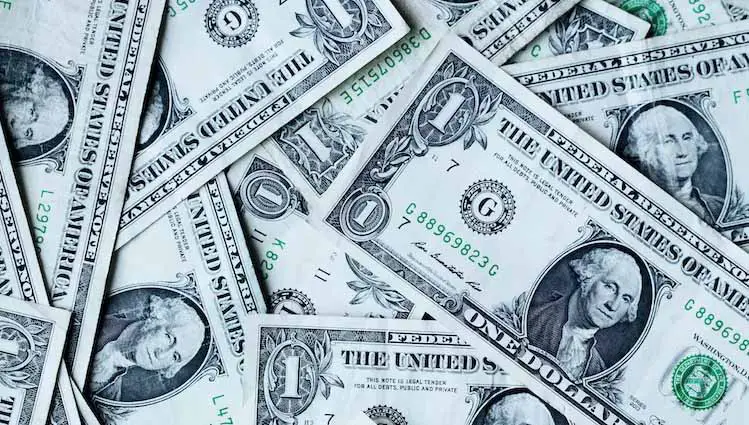 If you or your family are huge fans of soda water, and you consume large amounts of it every month, the SodaStream is likely to be cost-effective for you. If you know you're going to use soda flavorings, you also need to take these into account. Remember – one syrup bottle will let you make around 9 liters of flavored soda water.
In the case when you drink soda water only occasionally, from time to time, when it comes to cost-effectiveness you just have to consider the initial costs of your chosen SodaStream model, as your savings on carbonated water simply won't be adding up that fast.
Good news is, the SodaStream co2 canisters do not expire. Note that there are two kinds of co2 cylinders supported by different SodaStream models – the Quick Connect ones, and the screw-in ones. Make sure that you get the ones that are compatible with your device.
How long will one co2 cylinder last in your SodaStream? Well, this depends on how often you're going to use your SodaStream, and on the settings you're going to use the most (when using Fizzi One Touch). In general, one SodaStream cylinder is expected to be able to produce around 60 liters of soda water.
If you want more actual numbers, and much more insight into the overall cost-effectiveness of the SodaStream devices, we have a nice resource for you. It would be pointless for us to repeat all this valuable information here, the guys over at gobankingrates have got you covered: Does SodaStream Actually Save You Money?
How To Make Ice Cubes Without Ice Machine, Tray Or Molds
The verdict – Is SodaStream actually worth it?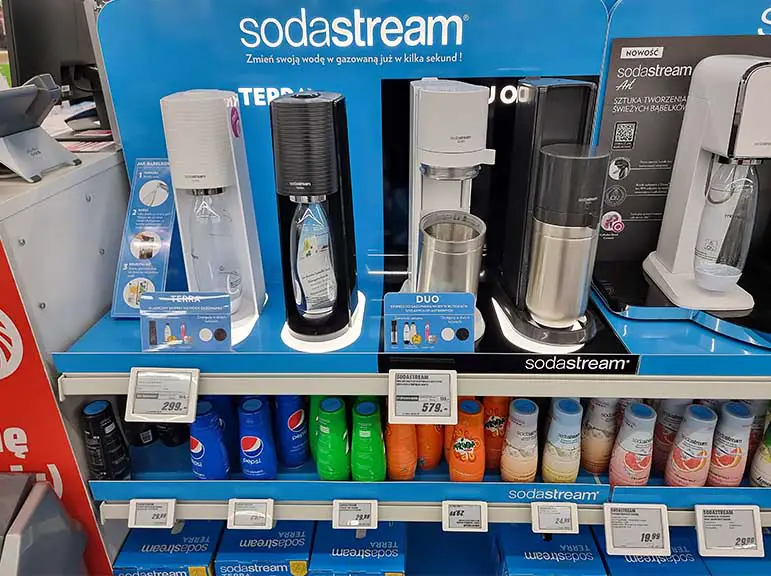 So, in short summary: SodaStream offers great and efficient solutions for all soda lovers, both when it comes to traditional clear soda water and various flavored soft drink variations. In the macro scale, it proves to be cost efficient, provided you use it instead of purchasing regular, average-cost soda water in a store. Most SodaStream devices do not need electric power to run, are very small and easy to fit everywhere in your kitchen, all while being extremely easy to use.
Is it worth it in the end? If you're a soda water connoisseur, and you can afford to place another small appliance somewhere in your kitchen, go for it! Not only is it quite convenient, but it's also really fun to use. Remember, that SodaStream in some of their offers also give you the money-back guarantee for up to 30 days from the time of purchase if you'd like to return your device.
Where can you get your first Sodastream device?
As always, we recommend you to look into the official SodaStream store over on Amazon. There you can find all the SodaStream models, alongside with all the official flavoring syrups, reusable bottles, co2 cylinders and various accessories. Be sure to check their "Deals" tab for seasonal discounts!
| SodaStream Terra: | SodaStream Art: | SodaStream Terra Bundle: |
| --- | --- | --- |
| | | |
SodaStream Terra & Art on Amazon.
Check out also: Air Fryer Buyer's Guide – How To Choose Your First Air Fryer (Quick & Easy)