Learn how to effectively use a power meter energy monitor plug to track and manage your appliance power consumption. Understand how these plugs work, what information they provide, and how to correctly interpret it. Discover the maximum safe wattage for these neat tools, and learn where to buy the best energy monitoring plugs out there. Follow our clear usage example and calculate your energy expenses to save money in your kitchen and home! Get started with our quick tutorial now!
You might also like: 8 Easy Ways To Save Money In Your Kitchen (Must Read!)
[this article features Ebay & Amazon affiliate links]
How To Check an Appliance Power Consumption?
Checking the power consumption of your appliances is an essential step in understanding your general household energy usage and making informed decisions about the electrical energy use in your home. Fortunately, with the help of a simple power meter energy monitor plug, this task becomes a breeze.
By checking the power consumption of your appliances, you can identify the most energy-hungry devices and appliances and make informed decisions about their usage. This knowledge lets you take steps towards reducing your overall energy consumption, saving money on your utility bills.
How Exactly Do Plug In Energy Monitors Work?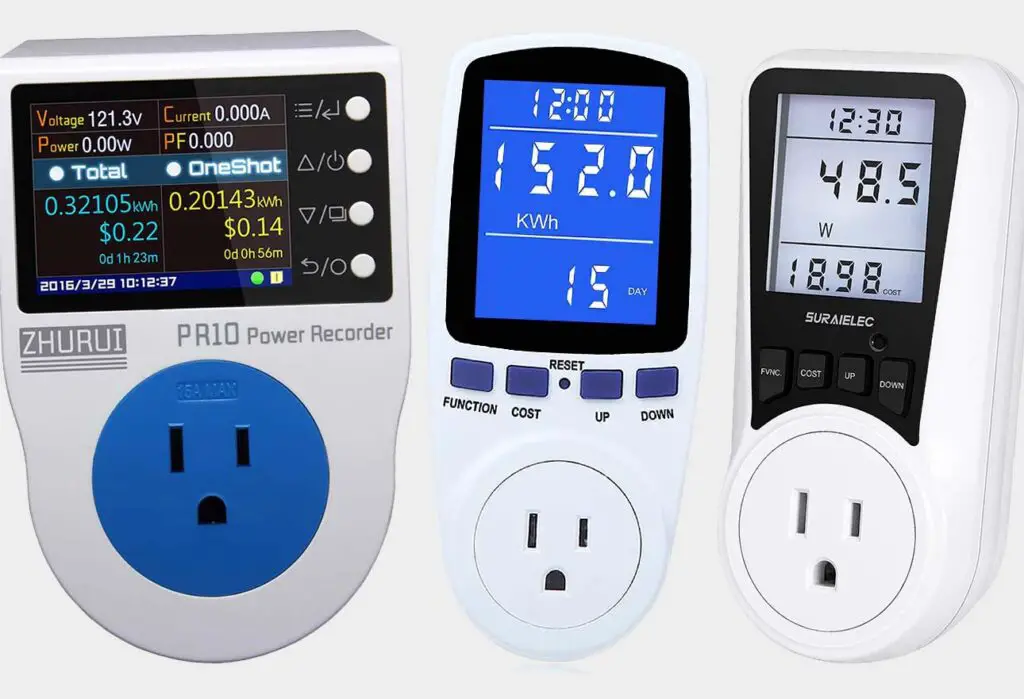 Plug-in energy monitors, also known as power meter energy monitor plugs, are devices designed to measure the energy consumption of electrical appliances. These monitors work simply by plugging them into a standard electrical outlet and then plugging the appliance you want to monitor into the monitor itself. Once connected, the energy monitor will start measuring and displaying various metrics related to the appliance's power consumption.
The energy monitor works by measuring the electrical current flowing through it. It uses this information to calculate the power usage of the appliance in real-time. This data is then displayed on the monitor's screen, allowing you to see how much energy the appliance is consuming at any given moment.
Many plug-in energy monitors are able to provide additional information such as current voltage (V), frequency (Hz), power factor, kilowatt-hours (kWh), maximum and minimum power draw, and even the estimated amount of carbon dioxide emissions (KgCO2) produced by the appliance. This data can help you understand not only the energy consumption but also the environmental impact and cost associated with running the appliance.
By using a plug-in energy monitor, you can gain valuable insights into your appliance's energy usage and make informed decisions about energy conservation. Whether you want to identify energy-hungry appliances, monitor the effectiveness of energy-saving measures, or simply become more aware of your energy consumption, these devices can be a very helpful tool in your quest for a more sustainable lifestyle.
What Can a Power Meter Plug Actually Tell You?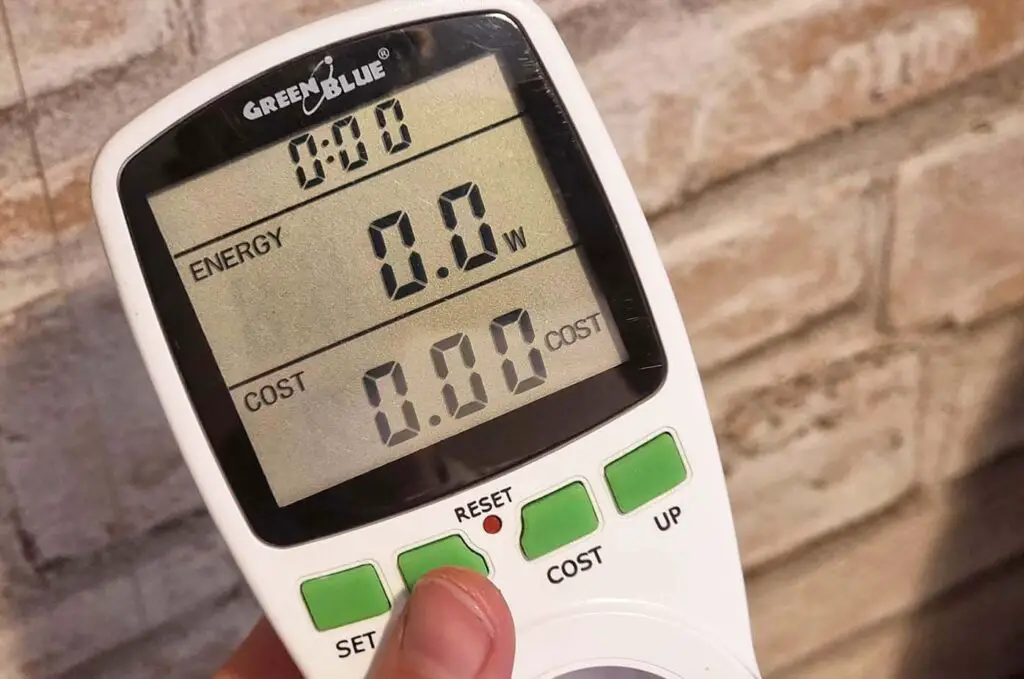 A power meter plug can provide you with valuable information about the energy usage of your appliances, however some of the plug-in power meters are able to show some additional info during the measurement process.
How To Read a Plug In Power Meter?
Here are the most common metrics that you can monitor using most widely available power meter plugs.
Wattage (W): The power meter plug can tell you the wattage of the appliance connected to it. Wattage represents the rate at which the appliance consumes electricity. The observed momentary wattage of the monitored appliance might vary by a bit from the wattage shown on the box, but in general when an appliance like a sandwich grill we tested is in use, its wattage should be somewhere around that value.
Amperage (A): Another crucial parameter that a power meter plug can measure is the amperage. Amperage represents the amount of current flowing through the appliance. It helps you understand the electrical load of the device.
Frequency (Hz): The power meter plug also provides information about the frequency of the electrical supply. Frequency is measured in hertz (Hz) and represents the number of cycles per second. In most countries, the standard frequency is 50 or 60 Hz.
Voltage (V): Voltage refers to the electrical potential difference between two points in a circuit. The power meter plug can tell you the voltage at which the appliance is operating. It is measured in volts and denoted with the symbol "V".
Kilowatt-hour (KWh): One of the most important pieces of information provided by a power meter plug is the energy consumption in kilowatt-hours (KWh). This measurement tells you how much energy the appliance has consumed over a specific period. It allows you to track your energy usage and identify energy-saving opportunities. In most cases, the plug-in energy meters feature a built-in timer which enables these devices to measure how much energy a plugged in device has used over the time of your measurement.
Carbon Dioxide Emissions (KgCO2): Some more advanced power meter plugs can estimate the carbon dioxide emissions associated with your energy consumption. By understanding the environmental impact of your energy usage, you can make conscious choices to reduce your carbon footprint.
Cost: Many power meter plugs also have the capability to calculate the cost of energy consumed by an appliance. By inputting your local electricity rate, the plug can tell you with how much money you've spent on using the measured device over a specific period of time.
In summary, a power meter plug can provide you with quite a lot of interesting and useful information about your chosen appliance's power consumption. Keep in mind though, that features such as KgCO2 emission and cost estimations may not be available on cheaper power meter plug models out there.
How Do You Use a Power Meter / Energy Monitor Plug?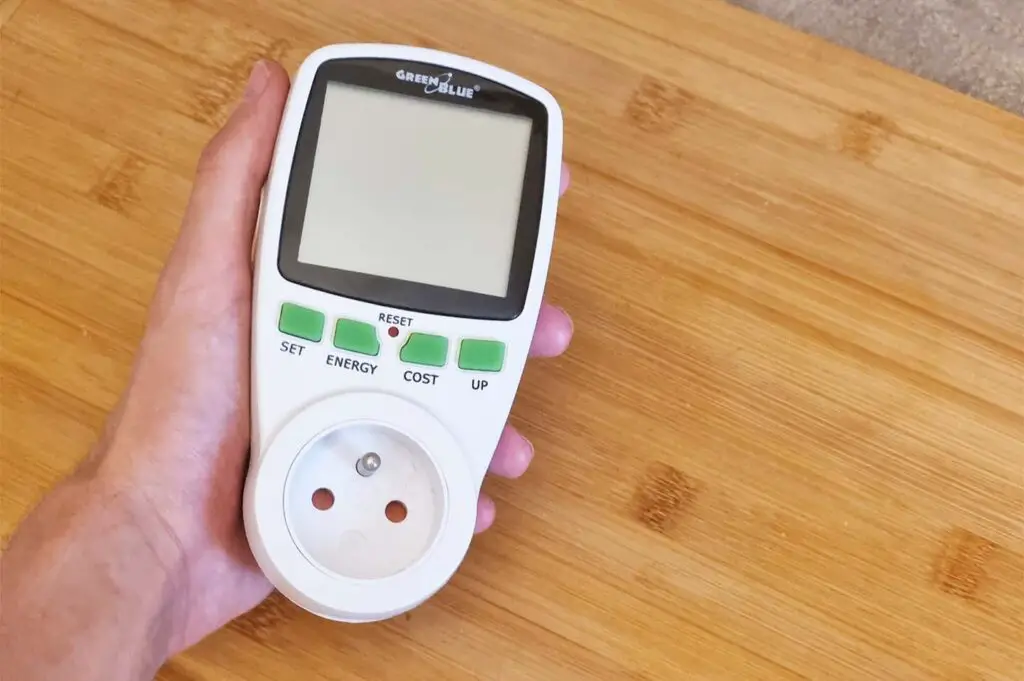 Using a power meter or energy monitor plug is a straightforward process that can provide valuable insights into your energy consumption. Here's a simple step-by-step guide on how to use a power meter or energy monitor plug effectively:
Plug it in: Start by plugging the power meter or energy monitor plug into a standard electrical outlet. Make sure the plug is securely and fully.
Connect your appliance: Once the power meter plug is plugged in, connect the appliance or device you want to monitor to the power meter plug.
Turn on the appliance: Switch on the appliance or device you want to measure. If the appliance begins power draw only in certain conditions (such as an air fryer, or an oven, which draw power only when they are heating up), ensure that the appliance is in the state you want to measure your energy usage in. The power meter plug will start recording the energy consumption as soon as the appliance is connected.
Monitor the readings: Keep an eye on the readings displayed on the power meter plug's screen. You can observe how the energy consumption changes when you switch the appliance on or off, switch around its operation modes, or adjust its settings.
Calculate energy usage: If your power meter doesn't feature a built-in energy usage calculator, you can use the recorded data to calculate the energy usage of the appliance over a specific period by yourself. Multiply the wattage (W) by the number of hours the appliance was in use to determine the kilowatt-hours (kWh) consumed.
Analyze the data: Once you have gathered enough data, analyze it to identify any energy-hungry appliances or patterns of high energy consumption. This information can help you make further decisions about energy-saving measures and potentially reduce your electricity bills.
Important: Do not connect power measurement plugs to a multi plug outlet (if you attempt to measure multiple devices this way you can easily cause and overload and possibly a short circuit), and do not use it in wet environments (as you would not do with any other electrical device).
That's how you can safely check the energy usage for all your kitchen appliances, but also all of the other electrical devices in your house, such as a vacuum cleaner, electric piano, and even your desktop computer!
Always mind the maximum safe wattage that your energy monitor plug can handle. We're going to talk about this next!
Check out also: The Very Best Tips On Grilling Vegetables – Our Ultimate Guide
What Is a Max. Safe Wattage For Most Energy Monitor Plugs?
When it comes to using power meter or energy monitor plugs, it's essential to consider the maximum safe wattage. The max safe wattage refers to the highest power consumption level that the energy monitor plug can handle without any risk of damage or malfunction.
In most cases, modern energy monitor plugs can handle up to ~16A / ~1800W in temperatures up to around 120°F / 50°C. Always consult the manual first before using a power monitor plug, as the limits on different models can oftentimes differ. Our model for example safely supports appliances even up to 3600W – not many cheaper monitor plugs do.
The specific max safe wattage can vary depending on the brand and model of the energy monitor plug, although most modern power monitors do feature in-built overload protection. It's crucial to check the manufacturer's specifications to determine the maximum wattage capacity of your particular device.
Usage Example – Measuring Our Sandwich Grill Power Usage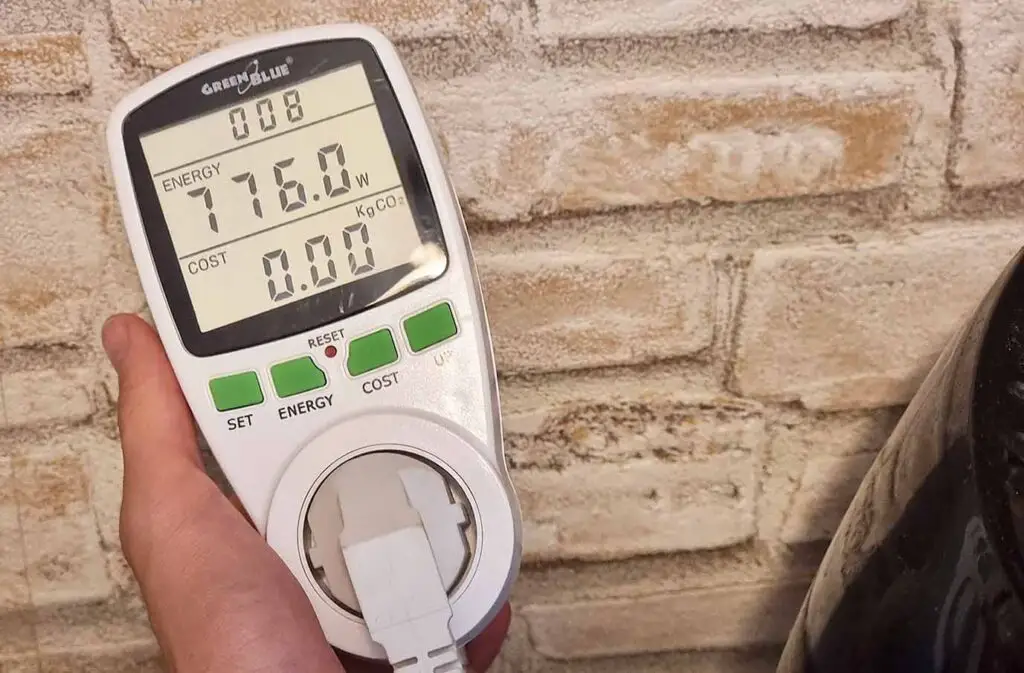 As a usage example, we decided to measure the power usage of our generic sandwich toaster grill to gain insights into its energy consumption.
Armed with a GreenBlue GB202 power meter, we plugged in the appliance to obtain readings. So, how much power does a sandwich grill use?
The power meter promptly displayed essential data, revealing that the sandwich grill was drawing approximately 776 Watts of power and consuming around 3.26 Amperes. Moreover, it was evident that the toaster operated on the standard electrical frequency of 50Hz and was designed to run on a voltage of 240 Volts, as our studio is based in an European country.
With the power meter's assistance, we observed how the wattage and amperage fluctuated during the toasting process, providing us information on how and when the appliance draws power.
If we wanted to, we could easily input the price of electric energy in our area into the meter, measure the power consumption during the whole process of making delicious toasties and then note the estimated cost of the energy needed to prepare a neat set of grilled sandwiches. We'll leave that up to you as an exercise though!
Where Can I Get Energy Monitoring Plugs?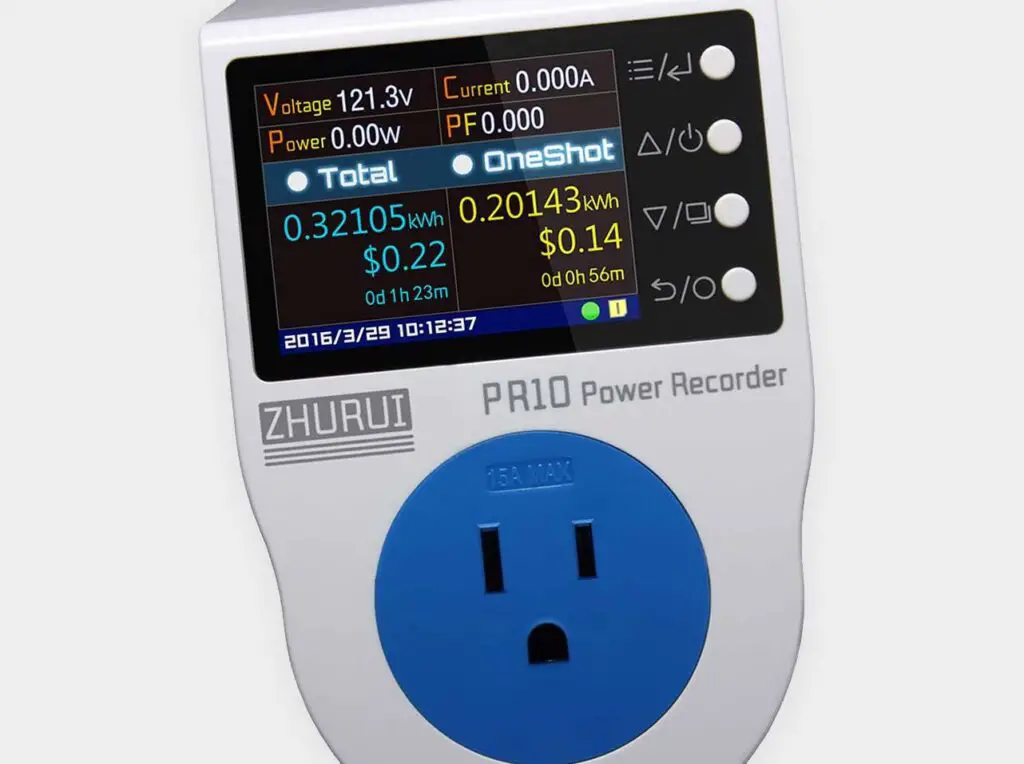 While we got our energy monitor plug in our local store, you can get yours over on Amazon and over on Ebay. There is an excellent choice of devices on these sites that are both affordable and offer many additional features we mentioned earlier. Some of them you can even incorporate into your smart home setup!
= Grab your own energy monitor plugs now! =
The Conclusion – Calculate Your Energy Expenses!
Using a power meter energy monitor plug can be a valuable tool in managing your energy consumption and reducing your environmental impact. By understanding how much energy your appliances are using, you can make informed decisions and consciously and responsibly take steps to reduce your energy usage and save money on your utility bills.
We hope we were able to help. Until next time!
Check out also: Kettle Under Cabinet – Should You? – Well…