Learn all about non-stick cooking sprays – what they are, how they differ from regular oil, when to use them, and much more. Discover the best brands and get answers to common questions about cooking sprays in this comprehensive guide. Let's begin!
Check out also: All In One Breakfast Makers – Should You Bother?
[this article features Ebay & Amazon affiliate links]
Non-Stick Cooking Sprays – What Are These Exactly?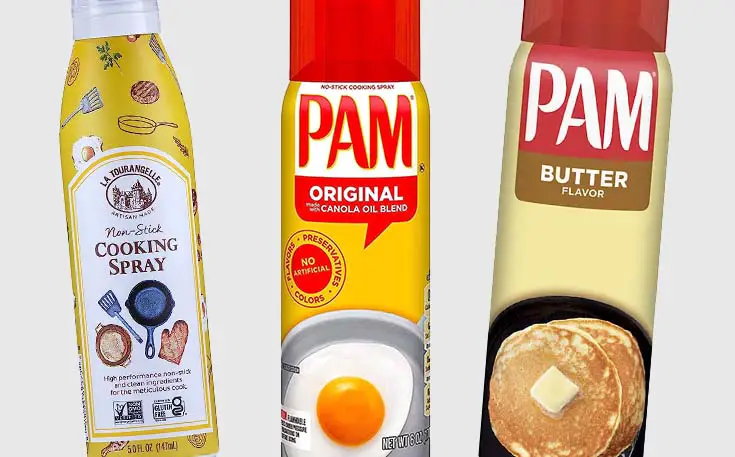 Non-stick cooking sprays are essentially food-grade aerosol sprays that are designed to prevent food from sticking to cookware or baking surfaces during cooking, baking or grilling.
These sprays typically contain a combination of vegetable oils or other types of oils, lecithin (an emulsifier), and a propellant (usually a gas like butane or propane) that allows the oil to be sprayed evenly onto the cooking surface.
The purpose of using non-stick cooking sprays is to create a thin, even coating of oil on the cooking surface, which helps to reduce the friction between the food and the pan. This reduces the likelihood of food sticking and makes cooking and cleanup easier.
Non-stick cooking sprays are commonly used on baking sheets, cake pans, griddles, frying pans, and other cookware to prevent food from adhering to the surface.
It is important to use non-stick cooking sprays sparingly and follow the manufacturer's instructions, as excessive use, or use on certain non-stick surfaces can lead to a buildup of residue on cookware, which might negatively affect their factory non-stick properties.
One of the most well-known brands of non-stick cooking spray is PAM, which has been used in many American kitchens for long years.
What Are Cooking Sprays Made Of?
Cooking sprays are made of a combination of ingredients that vary depending on the brand. However, most cooking sprays contain a blend of oils, lecithin, and a propellant.
The propellant is usually a gas that is used to push the oil out of the can. The most common propellants used in cooking sprays are propane, butane, and isobutane.
While the little amount propellant used in cooking sprays is considered safe, there are certain risks associated with inhaling these gases in large amounts and very high concentrations. However, the amount of propellant used in cooking sprays is always very very small, and there is no risk of direct harm when using the cooking spray in a standard way.
Cooking Spray vs. Oil – Most Important Differences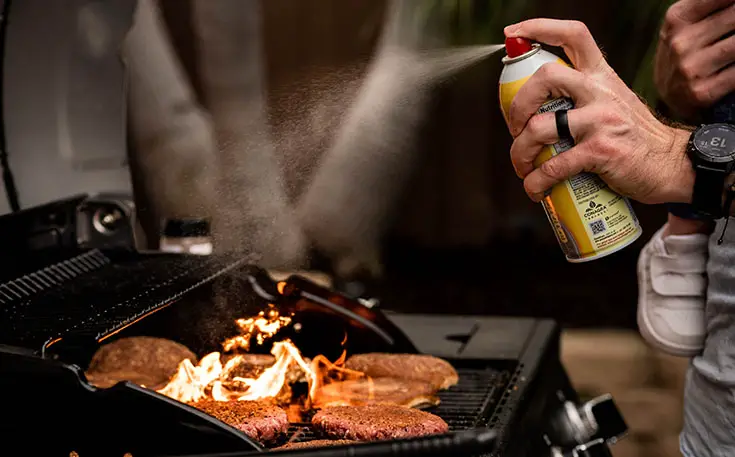 How do Non-Stick Cooking Sprays Differ From Regular Oil? Cooking sprays are not a direct substitute for cooking oil, in a sense that their only purpose is to prevent food from sticking to cooking surfaces. You can't fry or deep fry using a simple non-stick cooking spray.
Cooking sprays contain emulsifiers, which help to distribute the oil evenly across the cooking surface. This results in a more consistent coating of oil, which helps to prevent food from sticking. Cooking sprays are designed to be used sparingly, solely for making various surfaces less prone to food sticking, and are unfit for frying or deep frying.
Overall, while both cooking sprays and oils can be used to prevent food from sticking to cooking surfaces, you can't really cook meals requiring larger amounts of oil using non-stick cooking sprays alone.
When Should You Use a Cooking Spray?
Cooking sprays are a great option for several cooking scenarios. They are perfect when you want to quickly grease a pan without a non-stick coating for cooking or baking. Cooking sprays are also great for grilling, as they can easily help to prevent food from sticking to the grill grates.
Additionally, cooking sprays are ideal when you simply want to add a light coating of oil to your food, such as when roasting vegetables or making air-fried dishes without also adding many extra calories to your meal.
They are also great for adding a bit of extra taste to your dishes when it comes to the flavored variants. But remember, for that you can also use a regular cooking oil spray bottles with the oil of your choice!
When Not To Use Cooking Sprays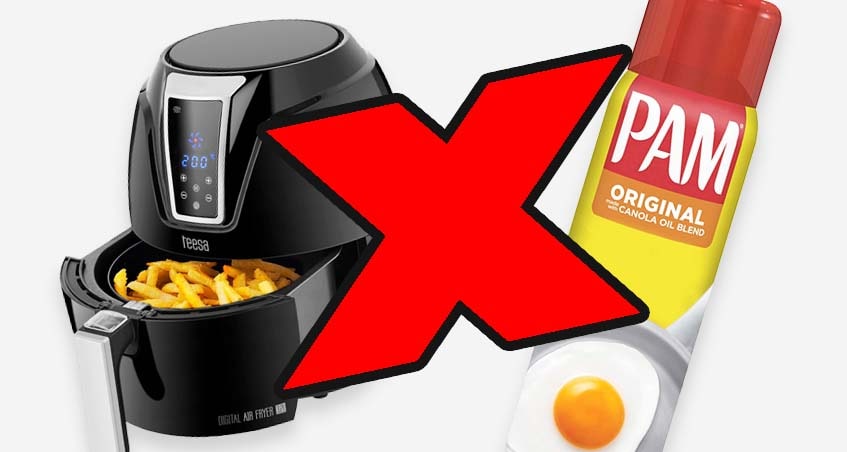 Although cooking sprays are a convenient way to make various cooking surfaces less sticky, they are not always the best option. One of the main reasons for this is that cooking sprays can actually damage some non-stick surfaces over time.
If you are cooking with a non-stick pan, it is best to use a small amount of oil or butter instead of a cooking spray.
Check out also: How To Prevent Food Sticking To An Air Fryer? – Simple Solutions!
Are Cooking Sprays Really 0 Calories?
Most cooking sprays available in the stores are marketed as having zero calories per serving, but is this really true? While it is true that a single small serving of cooking spray can contain less than ~5-8 calories, it is important to remember that this is for a very small serving size. In general though, this is very little compared to regular oil.
As advertised, the "0 calorie guarantee" most often refers to less than a single spray of a chosen non-stick spray. Most of the time while the number of calories in a standard serving of average cooking spray used to grease up your pan is not exactly zero, it's still relatively low when compared to smearing your cookware with oil.
Cooking Sprays – Best Brands
There are a lot of different brands of cooking sprays available in the market nowadays, and they are more or less equally good. Some cooking sprays come in flavored variants to add some extra taste to your food, while others are aiming to be more or less tasteless.
Among the most popular and effective brands is the PAM Non-Stick Cooking Spray, which has been around for over 50 years. It is also available in a variety of different flavors, such as butter and olive oil, which can add a delicious taste to your dishes.
Other popular brands of cooking sprays include Spectrum, Crisco, and Mazola. When choosing a cooking spray, it is important to read the label carefully to ensure that it is a good choice for your specific cooking needs.
What Are Some Alternatives For Non-Stick Cooking Sprays?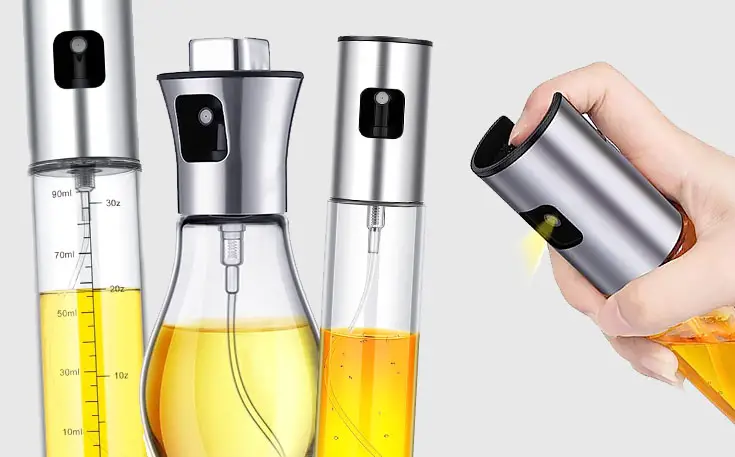 The main alternative to non-stick cooking sprays are actually refillable oil spray bottles, which are by the way also often referred to simply as "oil spray bottles" in various online stores.
You can fill these bottles with any kind of cooking oil such as canola oil or olive oil and then use them either to grease up your pans or other cookware for the non-stick effect similar to the one you get with "dedicated" non-stick sprays, or to lightly spray your food with oil before cooking it in an air fryer on in an oven.
A nice thing with those is that they are easily reusable, and they can be filled with all different kinds of flavored cooking oil with ease!
The Summary – Cooking Spray In Your Kitchen
While cooking sprays are a great option for most cooking needs, there are some situations where they should be avoided. For example, when cooking at very high temperatures or on non-stick surfaces, cooking sprays can break down and leave a residue that is difficult to remove. In these situations, it's best to use a high-heat oil like coconut or avocado oil.
Other than that, in most cases you can use both regular oil in a reusable spray, or a dedicated non-stick spray such as PAM to make your cookware less sticky when cooking.
We hope we were able to help! Until next time!
You might also like: 11 Best Healthy Fruits To Grill – Our Top Selection!