Here are the 10 most popular kitchen countertop materials – which one should you choose? If you are lucky enough to be remodeling your kitchen or at least thinking about it, you may be wondering what type of countertops would work best for you. There are so many styles, materials and colors to choose from, the whole process can become overwhelming. Choosing the right material for your kitchen counter might not be an easy task, but don't worry – we're here to help you out!
Check out also: How To Protect Your Kitchen Countertop From Heat
The type of countertop you choose should depend on your budget, the amount of use and abuse your countertop usually gets and the looks and design that you prefer. Kitchen counters and countertops are available in a wide variety of colors and patterns, but most importantly, they are made of different materials which can have vastly different properties.
These materials differ in their heat resistance, surface resistance to scratches, cuts, overall sturdiness and ease of cleaning. That's why choosing the best countertop material is so important whether you're planning out your new kitchen, or looking forward to a full kitchen remodel.
Let's get straight to the pros and cons of each kitchen countertop material, starting with the most popular ones.
Plastic Laminate
Plastic laminate countertops are sold under brand names such as Formica. These countertops are usually the cheapest. They come in variety of different colors and styles, which quite often try to resemble more expensive natural stone counters in terms of their looks.
They are affordable, but with that come some drawbacks. Plastic laminate countertops do not withstand heat well, they stain and they do scratch fairly easily.
Plastic laminate countertops can be easily cleaned with a mild detergent and water, but you should remember to dry them quick and well after you're done cleaning up. Wet spills left on a laminate covered counter can cause its surface to lift, wrap and bubble. Although as we said they get relatively cheap, they are among the least durable ones on this list.
Hardwood
Wooden countertops are made from hardwood and come in a limited variety of natural hardwood colors. Cleaning them is a matter of wiping them with a mild detergent and water. Hardwood butcher block style countertops need to be finished with a food grade mineral oil before use, and re-finished fairly often to keep them undamaged.
These countertops can range from reasonably priced to expensive depending on the choice of wood and their thickness. Scratches and nicks can most of the time be sanded out with a fine grade sandpaper. Deeper scratches can also be sanded smooth using appropriate tools, but quite often the entire countertop has to be sanded down for it to maintain an even surface. The drawbacks for wooden countertops are they stain quite easily when the finish is not in its peak state, and they can crack and get damaged during prolonged contact with water. They are also prone to cuts.
Granite
Granite countertops are one of the popular and affordable choices when it comes to kitchen countertops. They should be sealed using an appropriate sealing solution before first use (and resealed from time to time) to prevent staining.
You shouldn't use any acid based cleaners on granite because it can easily etch the stone's structure. Granite countertops are in general very much heat resistant. In general, you can safely place a hot pan on top of a granite countertop, although we always recommend to use special heat-resistant mats and coasters to be absolutely sure you won't damage your countertop with items that are too hot for it to handle. Scratches on granite counters can be sanded down with some effort, but that job is relatively hard and expensive, and is usually best left to a professional. Granite countertops can crack if you drop heavy items on top of it under just the right angle – be careful.
Slate
Slate countertops have basically the same maintenance and care guidelines as granite countertops. They can get pretty expensive and they share similar properties. They are also available in quite many natural color shades. Slate however, does not stain as quickly or easily as granite because compared to granite, slate is non-porous. It's still is prone to scratches and cuts under certain conditions.
Marble
Marble countertops are a beautiful addition to a kitchen with their distinct shiny white surfaces. They come in a limited variety of colors. Marble countertops are very prone to stains, they are easily scratched, nicked and chipped if you drop heavy objects onto them. They are prone to heat damage and yet, can get very expensive. While they are all in all considered high maintenance countertops, they also are quite unique when it comes to their looks.
Marble countertops cannot be cleaned with any acid based products and acid based spills will in most cases result in etching on your countertop. Clean them with a soapy water or just a simple damp rag. Damage such as etching, scratches or nicks could potentially be sanded and refinished by a professional, although this is by no means an easy and cheap process. Marble is porous, can easily stain when the finish wears off and is very prone to cracking. If you don't absolutely have to, we generally do not advise going for a marble countertop.
Soapstone
Soapstone countertops are very resistant to damage from heat and they do not stain easily, as soapstone is a non-porous stone much like slate. For regular cleaning soapstone should be wiped down with a mild detergent and a rag. Soapstone does scratch fairly easily, but these scratches can be sanded out with a fine grade sandpaper with some effort. Cracks can in theory be filled, but as with most stone countertops this is not an easy or cheap process at all.
Concrete
Concrete countertops are available in many different colors and designs. There are many custom concrete countertop offers out there and in general they are pretty affordable when compared to other types of stone. These countertops face the same staining and scratching issues as other porous stone countertops, and they do need sealing for protection. Concrete countertops stand up to heat very well, although always remember that while the countertop material might be heat resistant, your sealant might not. Whenever in doubt – use protective mats and coasters to be safe.
Ceramic Tiles
Ceramic tile countertops can look pretty fancy depending on what design you choose. They range from moderately priced to pretty expensive depending on the tile sizes and design options. They can also be more troublesome to set up than a simple stone or wooden countertop. Ceramic tiles are available in a wide variety of colors and patterns.
The grout in between the tiles needs to be sealed to prevent staining and the growth of bacteria and mold. Ceramic tile countertops are heat resistant and in general can handle hot pans and pots well. With all that goodness however, they are prone to scratches and chips.
Chipped or badly scratches tiles can be replaced with some effort, provided you have spare tiles on hand and you are ready to redo the grout sealing around the new replaced tile. The surface of ceramic tile countertops is in general not level and even because of the grouts, which is another thing to keep in mind if you decide to go with smaller tile sizes.
Engineered Stone (Quartz)
Engineered stone countertops, also called quartz countertops are sold for instance under brand names such as Silestone. Engineered stone countertops are available in many different colors and are made out of crushed stone, rather than from a natural cut piece of stone. Engineered stone designed solely for kitchen use can get expensive, but is in general easy to maintain and stays are one of the most popular choices these days – for a set of good reasons.
Quartz countertops are reliable and durable, easy to clean and in general heat resistant. Definitely one of our first choices on this list!
Stainless Steel and Zinc
Stainless steel countertops and zinc countertops are very easy to maintain, and maybe that's why they are so popular in the context of many gastronomy-related businesses out there. Even metal countertops however, still can be scratched and dented. The dents may be able to be fixed by a professional depending on the extent of the damage.
Steel counters generally do not rust, corrode or stain, but they will easily accumulate fingerprints and grease stains if not cleaned and wiped-down often. Most stainless steel countertops are almost fully heat resistant for all kitchen-related purposes. Stainless steel and Zinc countertops can be cleaned with most mild detergents and non-abrasive cleaners.
Their only disadvantage for some might be their looks. They can look really crude and bare-bones in a modern kitchen. But still, they are very convenient overall.
Kitchen Countertop Materials – Quick Summary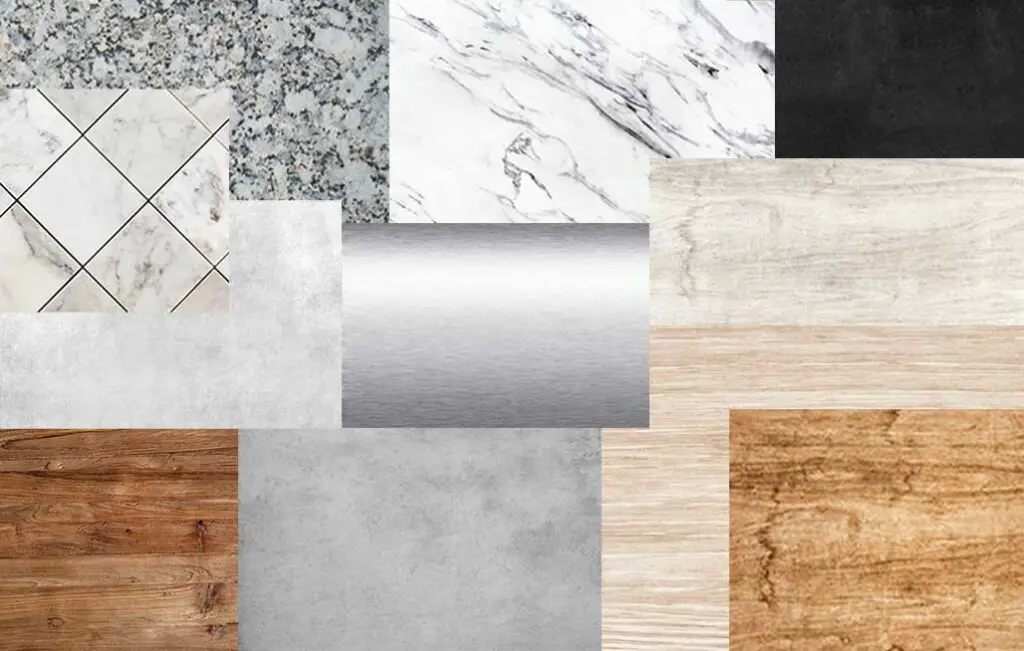 So, here's a quick summary of the most common kitchen countertop materials:
Plastic Laminate Countertops: The cheapest option, in general not heat resistant and easily damaged by water. The least durable option on the list.
Wooden / Butcher Block: Made from wood, stylish with a unique natural look. It requires regular oiling to prevent drying and cracking. Can get expensive, prone to cuts.
Granite: Heat-resistant. Requires periodic sealing to prevent staining.
Slate: Similar to granite, although less prone to staining – non-porous.
Marble: Distinct looks, but prone to staining and scratching. Generally requires more maintenance than other materials.
Soapstone: Resistant to heat, hard to stain – non-porous, can be prone to scratches and cuts.
Concrete: Affordable, popular, customizable, they do need sealing.
Ceramic Tile: Affordable and easy to install, ceramic tiles come in a variety of colors and patterns. However, the grout can be difficult to keep clean and may stain over time. Prone to cracks. Heat resistant.
Engineered Stone / Quartz: Non-porous, durable, heat resistant and low-maintenance. Comes in a wide variety of colors and patterns. One of the most popular choices these days.
Stainless Steel: Resistant to heat, extremely easy to clean, popular choice for professional commercial kitchens. Pretty crude when it comes to the design.
In the end, choosing the right kitchen countertop material is an important decision that can greatly impact the look and functionality of your kitchen. Each material has its own unique advantages and disadvantages, and it's important to consider your personal preferences, lifestyle, and budget when making a decision.
Granite, marble, quartz, solid surface, butcher block, concrete, stainless steel, and ceramic tile are just a few of the most popular options on the market. By considering the durability, maintenance requirements, and aesthetic appeal of each material, you can make an good final decision that will best suit your needs.
Whether you prioritize durability, style, or ease of maintenance, there is a kitchen countertop material out there that is perfect for you. With so many options available, you're sure to find one that will make your kitchen a functional and beautiful space for years to come.
You might also like: Is a Panini Press Worth It? (An Honest Opinion)