How do you protect your kitchen countertops from heat? This task requires more than just good intentions. Heat from hot pans, pots, and sometimes even from kitchen appliances can cause discoloration, cracking and warping that can easily ruin the look of your kitchen counter. Fortunately, there are a few simple steps that you can take to protect your countertops from unwanted heat damage and ensure they remain looking great for years to come.
You might also like: Can Food Go Bad In The Freezer? – Yes – Here Is How To Prevent It
[this article features Amazon and Ebay affiliate links]
From techniques such as using special heat resistant trivets or coasters to more advanced methods like applying sealants or investing in temperature-resistant materials, this article will discuss the various strategies one can use to safeguard their countertop from heat damage. With these tips in mind, you will quickly be able to learn how to protect your investment and keep your countertops looking beautiful for years down the road.
Types of countertop materials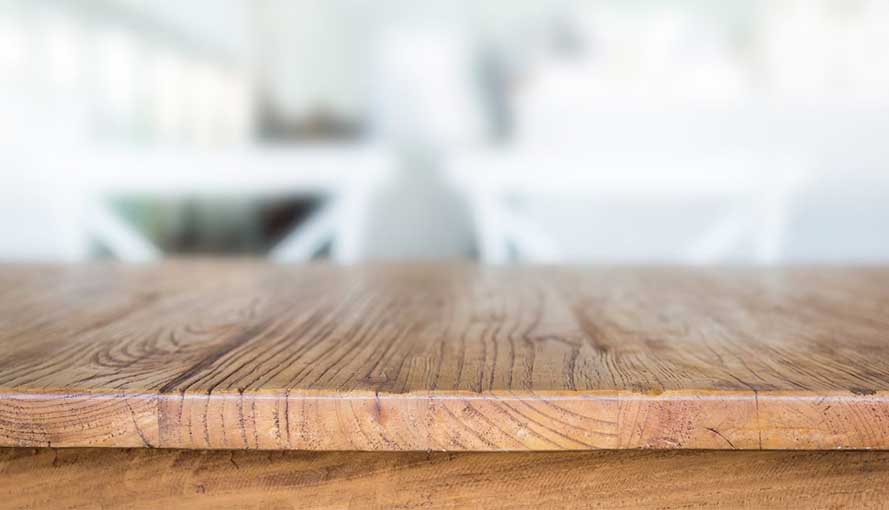 Different types of materials are used to make countertops, and these materials naturally vary in their resistance to heat damage. Simple laminate countertops are most often composed of several layers of rather weak materials such as plywood, making them way less prone to heat damage than say natural stone countertops which in most cases are way better at handling hot temperatures. Ceramic tile countertops as another example, offer a unique look and good head resistance, but can crack if exposed to extreme temperature changes.
The only types of countertops that are considered almost totally immune to heat damage are pure granite countertops. If you own one of these, you're in luck!
In the end, whether you know what material your countertop is made of or not, it's always important to take the necessary precautions when using hot items on any type of kitchen counter. There are a few things that you can do in order to minimize the risk of heat damage which whether we like it or not is still there regardless of the material your countertop is made of.
Potential causes of heat damage
Heat damage is one of the most common types of damage that can occur to a countertop. It can be caused by placing hot items directly on the surface, such as pans and pots straight from the oven or stovetop. Heat from these items can cause discoloration, warping, and cracking when it comes to certain countertop materials. Additionally, heat generated from appliances such as toasters, coffee makers, and kettles may also cause heat damage if these are left on the countertop for an extended period of time, although this is much more rare.
The best way to reduce the risk of heat damage is to use simple countertop protective mats when handling hot items in your kitchen. The mats should be large enough to cover the entire area where hot items are placed and should be made of a safe material that can withstand high temperatures without melting or burning. These protective mats will provide a barrier between the hot item and the countertop surface, significantly reducing the chances of heat-related damage occurring, regardless of the material your counter is made of.
Important note: Even if your chosen countertop material is graded as heat-resistant, know that some materials (such as concrete for instance) need sealing for stain protection. Make sure that the sealing that is used on your countertop (if any) can stand up to heat as well. If it cannot, placing for example a hot pan on your counter's surface can cause discoloration and damage to the sealant, even when your countertop material by itself is deemed heat resistant. Keep that in mind!
Heat resistant countertop protectors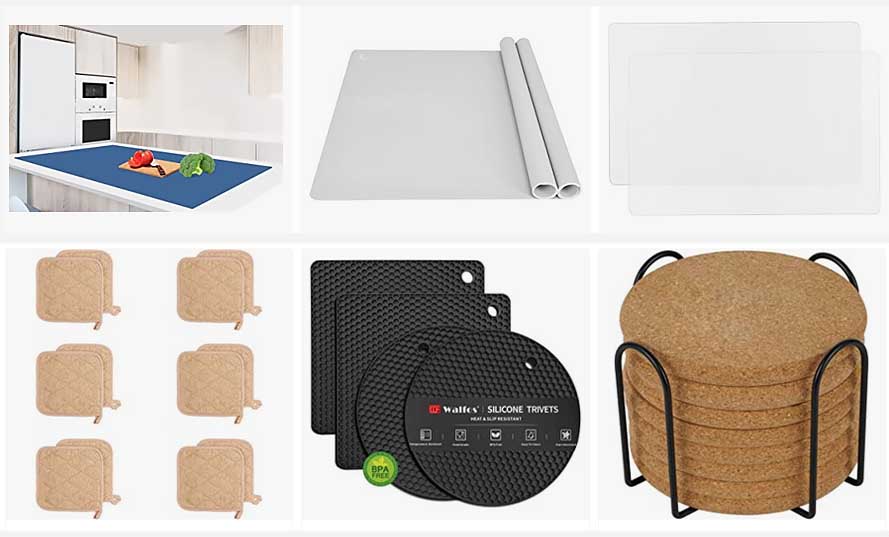 In order to protect your countertop from heat damage, it is important to take preventative measures. The first step is to make sure that hot items are never placed directly on the surface of a countertop without any protection. The items that are most likely to be troublesome here are hot pans that you've just taken off the stove. Here is what you can do.
Using protective mats or pads can help you simply prevent the heat damage from occurring. These mats are designed to absorb and disperse the heat away from the surface of the countertop, thus letting you put blazing hot pans on their surface without any trouble.
Many of these mats, such as the AECHY Silicone Mats, are able to withstand temperatures as high as 482°F / 230 °C.
Another way is to place simple heat resistant trivets between hot dishes and the surface of a countertop as an extra layer of protection.
In addition to using these simple accessories, another way to protect your countertop from heat damage is to invest in a larger full-size heat-resistant countertop protector. Such products are designed to absorb and disperse the heat away from the surface of the countertop AND cover a substantial part of your countertop (or its entirety).
Investing in one of these countertop protectors is an effective way to safeguard your surfaces from potential damage caused by extreme temperatures, while also giving you a chance of adding an extra layer of style and sophistication to your home décor. Many heat resistant mats, pads and trivets are also available in lots of different colors and designs!
Can you put hot pans on countertops at all?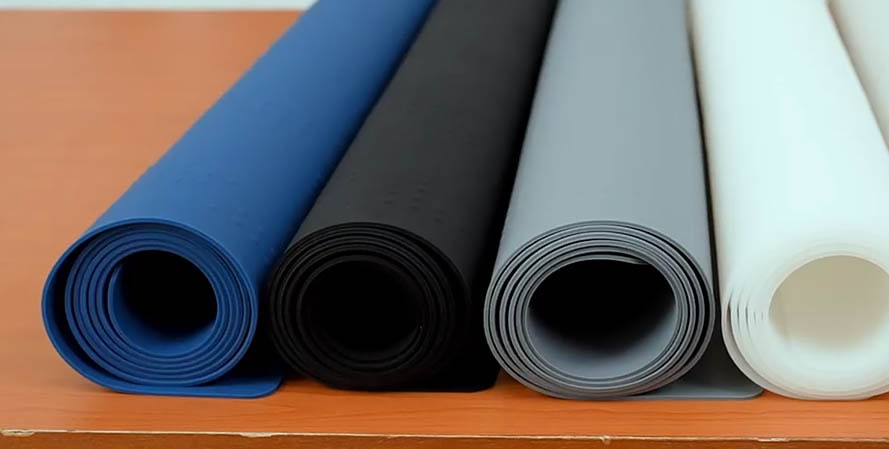 Heat damage can be a major issue for countertops. While various materials may be more or less heat resistant than others, it is generally never recommended to place hot pans directly on the countertop's surface without any additional layer of protection.
Using a trivet or protective mat is strongly advised when placing any items that have been heated in an oven or on a stove top on a non heat-resistant countertop.
It is also important to remember that certain kitchen appliances like crockpots, mini ovens or air fryers can generate ample amounts of heat over long periods of time. Therefore, if you're worried that these will pose a risk for your counter's surface you can also use a trivet or heat mat and place it under these types of appliances, just for the peace of mind.
Cleaning and maintenance tips for countertops
Countertops are an important part of any kitchen, providing both a functional and aesthetically pleasing surface. While countertops in general are durable and relatively low maintenance, it is important to properly care for them in order to keep them looking like new. Here are some tips for cleaning and maintaining your countertop surfaces:
Firstly, it is essential to clean up spills as soon as they occur. Spills can cause staining if left on the surface too long, so wiping up messes right away is key to keeping your countertop in good condition. Additionally, use a gentle cleaner such as dish soap when washing the surface. Harsh chemical cleaners should be avoided, as they can damage the finish of your countertop over time.
Secondly, as we've already said, it is important to protect the surface from heat damage. Placing hot items directly onto a countertop with certain types of countertop materials can cause discoloration or warping of the material over time. To prevent this type of damage, make sure to always use a trivet or pot holder when setting down pans or pots that are still hot from cooking. This will help ensure that your countertop remains in pristine condition.
Heat damage to countertops – summary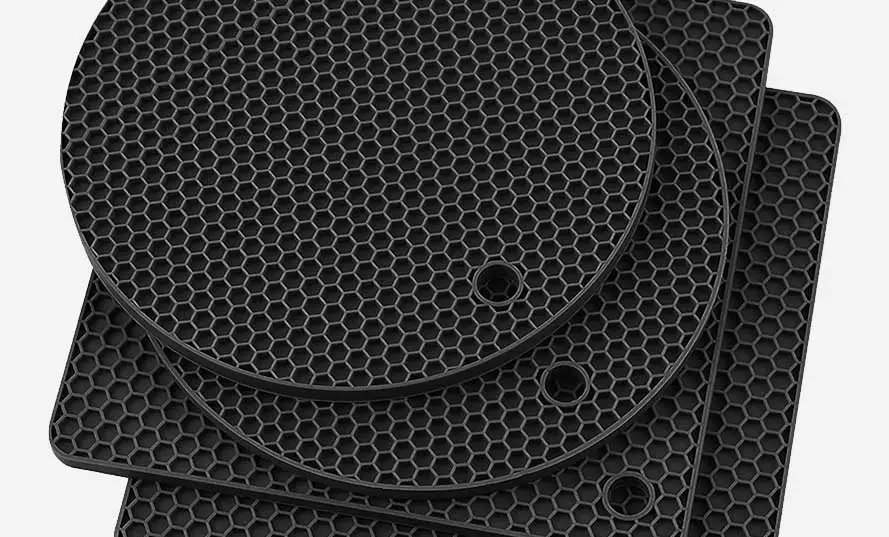 Countertops are an integral part of any kitchen, and their beauty and durability depend on proper maintenance. Keeping countertops safe from heat damage is essential for preserving their longevity and function. By understanding the types of countertop materials, potential causes of heat damage, signs of heat damage, preventive strategies, repair solutions for damaged countertops, and cleaning and maintenance tips, homeowners can protect their countertops from the effects of heat.
With regular care and attention to the prevention strategies listed above, you will be able to keep your countertop looking beautiful while keeping it safe from the potentially damaging effects of heat.
Overall, protecting your countertop from heat damage is essential if you want it to last a long time without degrading in quality or function. By taking proactive steps such as being mindful of where hot items are placed on your countertop's surface and integrating protective heat-resistant mats into your kitchen, you can safeguard your investment for years to come.
You might also like: Are Egg Cookers Really Worth It? – Our Honest Take
Main article image: Sidekix Media