White sausage baked in the oven is one of my favorite simple meat dishes that doesn't require much work and can be easily prepared by anyone. Simple marinade and tasty meat, that's what cooking white sausage its all about. This recipe will work with German Weisswurst, Polish white sausage (biała kiełbasa) and unsurprisingly – all other kinds of regular sausages! Let's get straight to the recipe!
You might also like: Polish Oscypek Cheese – All You Need To Know!
[this article features Amazon and Ebay affiliate links]
What is white sausage? – Polish vs. German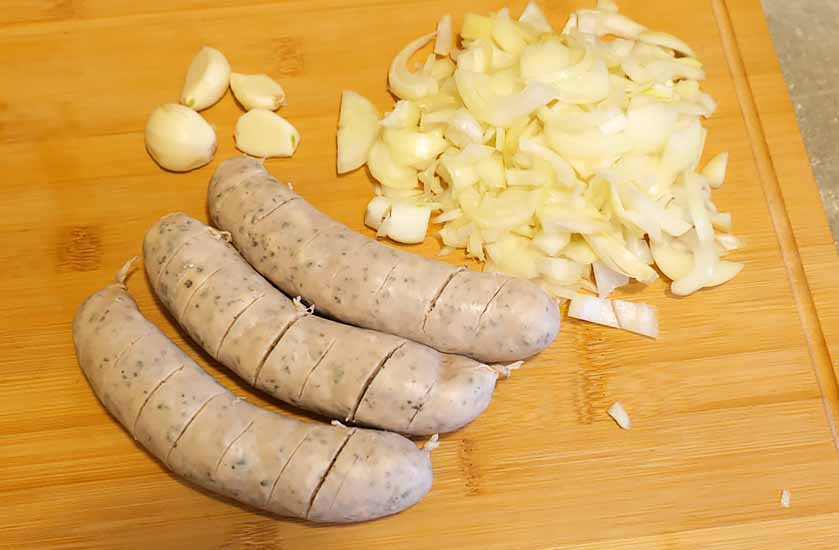 White sausage, also known as "Weisswurst" in German and "Biała Kiełbasa" in Polish, are two most popular different types of traditional white colored sausage that is popular in both German and Polish cuisines.
In Germany, white sausage is typically made from veal and pork back bacon, and is often served as a breakfast or a brunch dish. It is oftentimes boiled or simmered in water, and then served with sweet mustard, pretzels, and beer.
In Poland, white sausage is usually made from pork or combination of pork and beef, and is often served as a traditional Easter dish, but it's also commonly enjoyed as a part of a regular Polish dinner. It is typically boiled, grilled or baked, and then served with horseradish sauce and other traditional Polish side dishes. It's also a inseparable part of the traditional Polish żurek soup – yum!
While both German and Polish white sausages are similar in appearance, they do differ slightly in taste and serving methods. However, both are highly valued for their unique flavor and cultural significance in their respective cuisines.
You can use both Polish and German white sausage for our recipe, although both the cooking time and spices here have been adjusted to the somewhat more firm and dense Polish white sausage. Keep that in mind!
How do you cook Polish white sausage?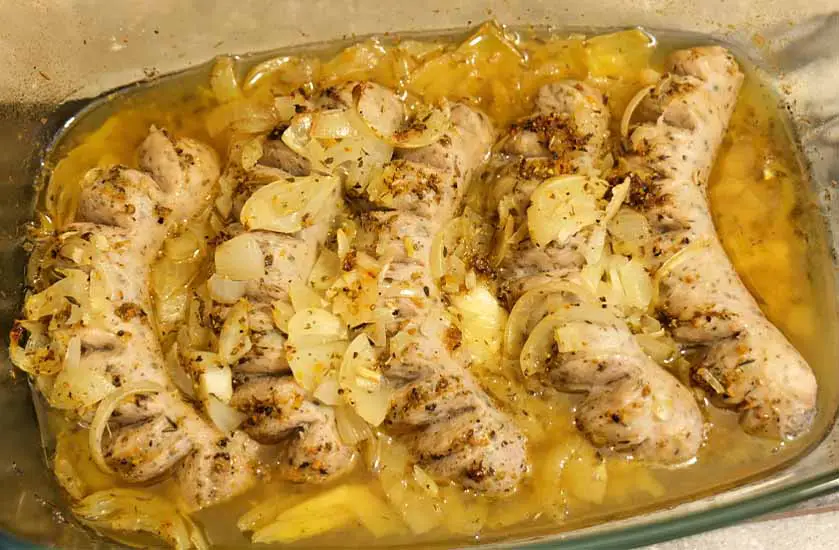 How to eat Polish white sausage? Well, you can either eat it solo, cook it as a part of your dinner, put it on a grill just as you would with a normal sausage, or bake it in the oven – just as we're gonna do now.
There are many different ways to cook traditional white sausage including simply boiling it it water, frying it on a pan, grilling it or baking it in the oven. All those ways are equally valid and can yield really interesting results.
As a Pole in my honest opinion Polish white sausage is best enjoyed when served in żurek sour soup! This is definitely my favorite way to enjoy it besides having it baked!
Enjoying this recipe? You will like this one even more: How To Bake Camembert Cheese Without a Box! (Quick & Easy)
How long should you bake the sausages for?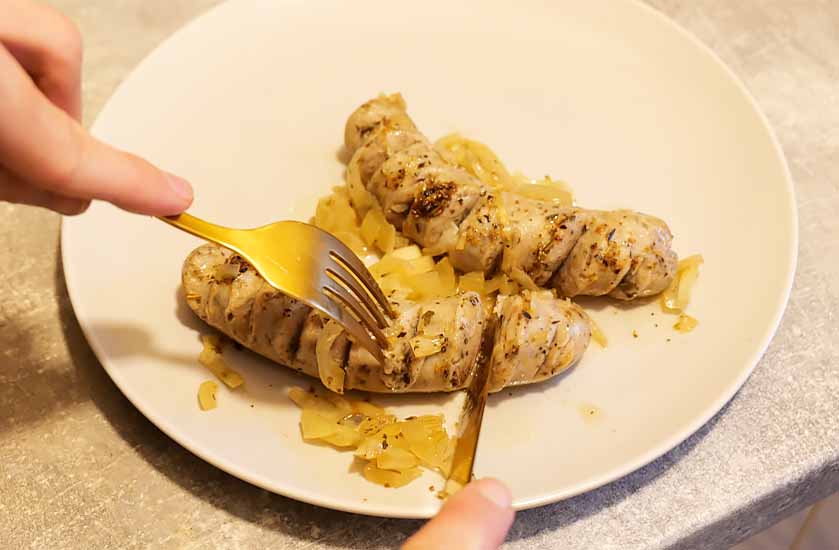 If we were to give you the general time/temperature values, we'd say 25-30 minutes in 400°F / 200°C should be enough for most standard-sized sausages. There are no real differences between white sausage and regular sausages here.
To be more specific however, you should always bake your sausages until they become soft, but not to the point where they start to fall apart. In our recipe, a neat indicator of the sausage cooking time are the onions that are placed on top of them. One the onions are soft, there is a high chance that your sausages are almost done too.
Remember to always check the softness of the sausages during the cooking process. The best way to do this is to simply poke one of them with a fork to see if they've become soft enough for you. Remember to use cooking gloves when cooking using an oven safe dish. They get very hot!
What do you need for the recipe? – Item list
There are quite a few things we need to prepare before we get into the recipe itself. Here is what you need to get before you begin!
Click the links above to view the mentioned products right on Amazon!
Cooking white sausage in the oven – step by step recipe
We know you're excited to how exactly to prepare white sausage in your oven in a matter of around 30 minutes total! So, without further ado let's get to the step-by-step recipe instructions!
Simple Oven Baked White Sausage
White sausage is delicious! Not only that, it can also be easily baked in the oven with some delicious toppings to take your dinner to the next level! Simple marinade, tasty meat and a mix of garlic and onion – that's what makes this little recipe so simple yet so unique. These instructions will work with German Weisswurst, Polish white sausage (biala kielbasa) and all other kinds of delicious sausage! Let's begin!
Equipment
1 Oven Safe Dish

– you will bake your sausages in it.

1 Small Bowl

– for preparing the marinade.

1 Silicone Brush

– for spreading the marinade.
Ingredients  
5

White Sausages

2

Onions

1

Head of Garlic

1

tsp

Mustard

1

tsp

Red Pepper Powder

2

tsp

Herbal Mix of Your Choice

~8

tbsp

Oil
Instructions 
Cut the onions into small pieces.

Take the white sausage and cut it crosswise like shown on the picture. Don't cut in too deep.

Prepare the marinade: first, pour a little bit of oil into a bowl (how much oil you'll use depends on how much marinade you want to make). In our case we used around 8 tablespoons of oil.

Add the following ingredients into the oil – red pepper powder, your chosen herbs, salt, pepper and a little bit of mustard like shown on the image.

Mix all the ingredients together to finish your marinade. We will spread it on the sausages and the oven safe dish really soon. Prepare your silicone brush.

Take the oven safe dish and spread the marinade on its bottom. Use a fair amount – it will carry the taste nicely.

Now, place your sausages inside the oven safe dish and smear the marinade on top of your sausages.

Put the small cloves of garlic in between the sausages and place your freshly cut onions on top.

Pour the remaining marinade over the onions, add your favorite herbs on top and lastly add a little bit of water in to the dish – ~1/4 cup will be alright.

Pre-heat your oven to 400°F / 200°C. Close the dish and bake for around 25-30 minutes until both the onion and the sausages are soft.

During the baking process a little bit more water and juices might leak out of the sausages, don't worry – it's perfectly normal.

All ready! Best served with steamy cooked potatoes!
What to serve oven baked white sausage with?
Your sausage is cooked and ready to eat! But what should you serve it with? Well, if we were to go the traditional Polish way, we'd serve it with some steamy hot cooked potatoes and a vegetable salad of your choice!
You can also eat it solo, or use it as a part of a larger dish, such as for instance, potato casserole. The possibilities are nearly endless.
We hope we helped you make good use of the white sausages you've bought. There are many ways to prepare it including cooking it on a pan and boiling it, but baking it is still our favorite way to go! Until next time!
See also: How To Prepare Yerba Mate With Just a Teapot (No Strainer!)