Delicious air fryer cucumber with no breading. This is a short and simple recipe for one of the easiest and quickest snacks you can prepare using your air fryer. Keep in mind however, that there are some things you should know so that your cucumber pieces won't come out burnt or soggy. Let's take a closer look on the recipe and learn how to prepare delicious roasted cucumber chips in your air fryer. Let's begin!
[this article features Ebay & Amazon affiliate links]
Air Fried Roasted Bell Peppers Recipe – Quick & Easy (Video!)
Can you put fresh cucumbers in an air fryer?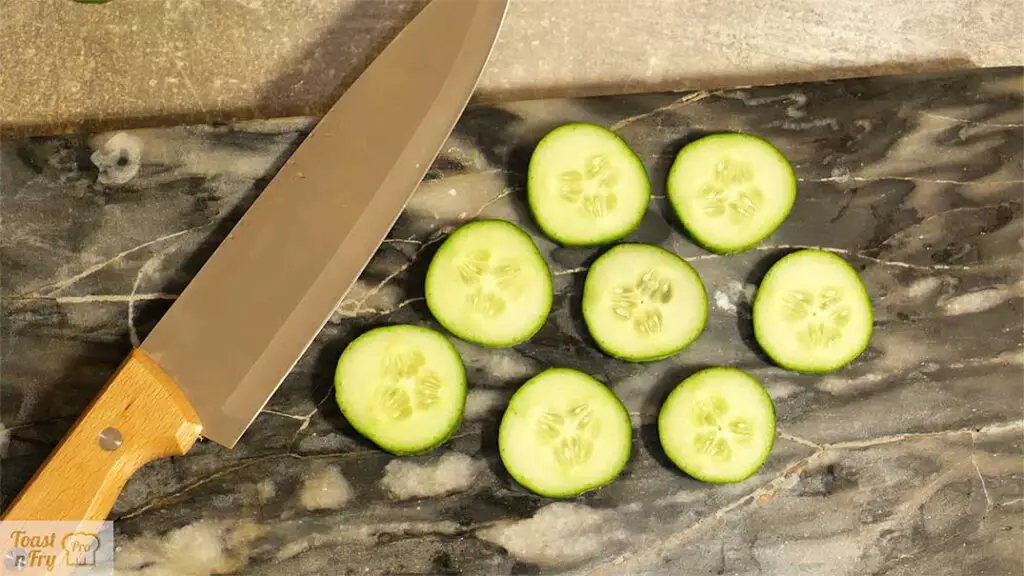 Can you air fry fresh cucumbers? Fresh cucumbers are just as good for roasting in an air fryer as as any other fresh vegetables (check out our delicious roasted bell peppers recipe here).
Air frying fresh cut green cucumbers in a correct way and with correct seasonings, will result in tasty cucumber chips that are a great addition to any meal and a perfect low-calorie snack.
There are quite some things to know when you're attempting to roast cucumber pieces in your air fryer. A few of these are: how large should the cucumber pieces be, what seasonings are the best to use and how to prevent your cucumbers from coming out soggy or burnt.
We'll go over all of these things here, keep on reading!
Air fried cucumbers with no breading?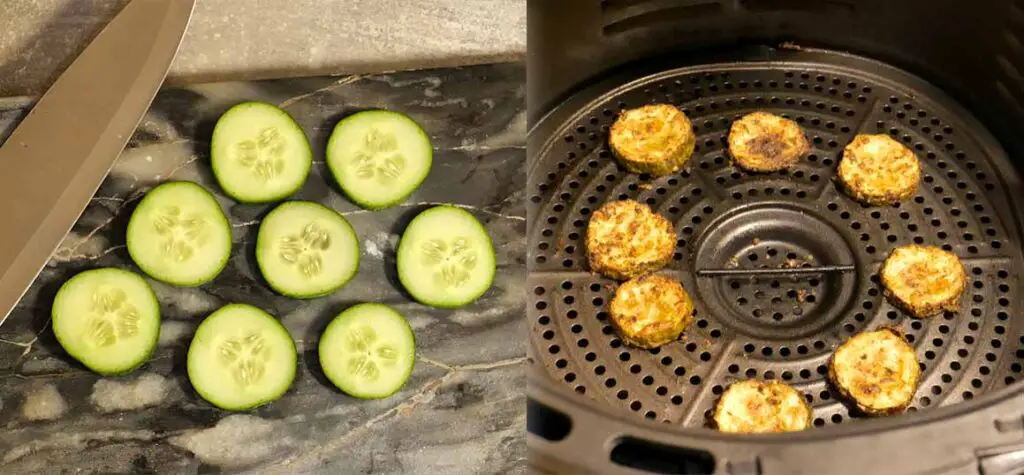 Most recipes for air fried cucumbers make use of some kind of breading to make the prepared chips crispier and make them have a more interesting texture which in turn makes them better to serve with all kinds of sauces.
Breading however will cost you some additional time to prepare and in fact isn't necessary to achieve good results with your air fried cucumbers. In our case, the olive oil will make the spices stick to the cucumber pieces just as good as it would with the covering that breading would provide, and it will give the chips a nice golden finish. If you don't believe us, just try by yourself!
In conclusion, you don't have to use any breading when air frying cucumbers, and this way you will be able to achieve more chips-like texture provided you dehydrate your cucumber pieces properly.
Will fresh cucumbers fully dehydrate in your air fryer?
When air frying cucumbers, there is always a risk of the cucumber pieces coming out somewhat soggy. Ideal air fried cucumbers should be relatively dry, and oftentimes when you realize that the cucumbers you've just taken out of the air fryer aren't dry enough, you can't really leave them in for longer because you'd risk them getting burnt.
There are three things you can do to help your cucumber slices to dehydrate faster.
The first one is to use a simple paper towel after cutting your cucumber. Place your cucumbers on a paper towel and place another piece on top of them. Then, gently press the top paper towel and leave them be for a while. You can repeat the process a few times for the paper towels to soak up some of the water from the cucumbers. Be careful not to leave any pieces of paper on your food though!
Another way is to experiment with longer air frying times with lower temperatures. If you're able to find a sweet spot that works for you, you will be able to prolong the air frying process, which in turn will dry out the vegetable pieces much better than during our time saving approach of putting your air fryer on the max temperature for a short amount of time.
The third way is to use a dehydrator for a short time before air frying your cucumbers. This is kinda risky if done wrong (or for too long), as cucumber pieces that are too dry will not hold much taste, will be hard to mix with any spices and can get burnt extremely quick in your air fryer if you're not careful.
Experiment a bit and you'll be able to achieve your perfect balance between completely dry and crispy cucumber chips and a little bit more juicy cucumber snacks!
Air fried cucumber chips – a great quick snack!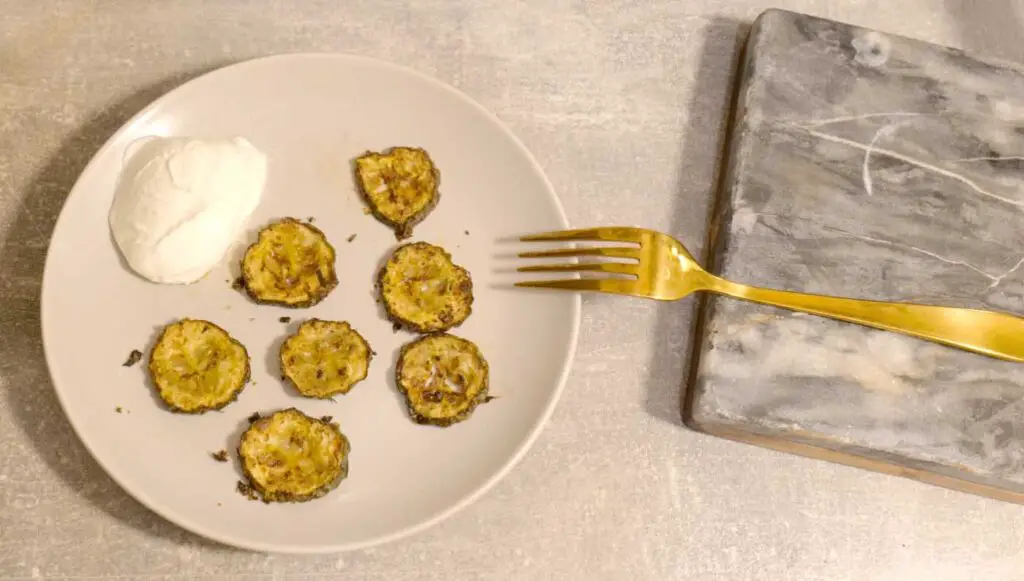 This recipe is just perfect for every one who likes a quick, healthy snack that doesn't require much prepping work, complicated cooking process and long cooking times.
The whole roasting process including preparing your cucumber pieces can take as little as 14 minutes and you can prepare lots of cucumber pieces at one time. Not to mention, you can experiment with different spices as much as you want. We even recommend that you make two batches of cucumbers at your first try – each with different mix of spices!
Air Fried Roasted Bell Peppers Recipe – Quick & Easy (Video!)
Roasting vegetables in an air fryer is not only healthy, but it also allows you to use minimal amounts of cooking oil. For this recipe we recommend using your chosen brand of olive oil. It will carry the vegetable's taste nicely, and ensure that the spices will stick to the cucumber's surface and won't fly around inside the air fryer's cooking chamber.
How long should you air fry fresh cucumbers for?
This largely depends on two things. First, the thickness of your cucumber pieces – which is entirely up to you, and your air fryer model and settings.
Air fryers are great and all, but they can also prepare food blazing fast – in fact a lot faster than you would think (both an advantage and a disadvantage for some). As in every recipe that involves using an air fryer we repeat – always check on your food at least once halfway through the air frying process to ensure that your veggies won't get burnt inside your appliance.
5 Things You Cannot Cook In Your Air Fryer
One disadvantage of air fryers is that unlike convection ovens, they (in most cases) don't feature any kind of transparent window to let you on what's currently happening inside the cooking chamber. This means that to check on your food you need to temporarily take the cooking basket out.
We recommend you do that more often if you're not experienced with your air fryer yet!
Fresh cucumbers air fried without breading – video recipe
Here is a short video recipe in which we'll show you how to quickly prepare your perfect air fried cucumbers without using any kind of breading. Give it a watch, it's only over a minute long!
If the video doesn't show, you can watch it here.
Air fryer roasted cucumbers recipe – how to
Now here comes the time for the exact steps you need to follow to achieve your perfect results when it comes to your air fried roasted cucumber chips. Let's jump straight to the air fried cucumbers recipe.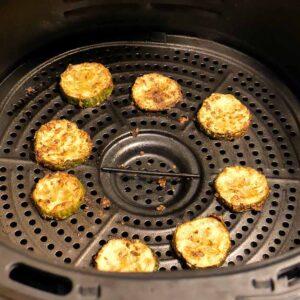 Air Fried Fresh Cucumbers – No Breading
Prepare a batch of fresh air fryer roasted cucumbers in minutes without using breading! A quick snack and a perfect little appetizer – so, here is the recipe.
Equipment
Air Fryer

(Can also be done in a convection oven, but you'll need to adjust the cooking time accordingly)

1 Bowl

(For mixing the ingredients)
Ingredients  
1

Fresh Cucumber

~2

tsp

Olive Oil

~2

tsp

Herbs de Provence

(Other herb mixes will also work)

~2

tsp

Powdered Bell Pepper

1

tbsp

Strained Yogurt / Greek Yogurt

(Optional for serving)
Instructions 
Cut your cucumber into small pieces (approx 0.4 in / 1 cm tall).

Put your cucumbers in your prepared bowl and add 1tsp of olive oil per 8-10 pieces of cucumber.

Add your spices to the bowl – Herbs de Provence & Powdered Bell Pepper in our case!

~2 tsp Powdered Bell Pepper,

~2 tsp Herbs de Provence

Mix the spices and the olive oil with the cucumber pieces using your hands.

Evenly distribute the cucumber pieces in your air fryer.

If you're trying to prepare larger batches of air fried cucumber, be sure to check if no cucumber pieces are covered by the others. If that's the case they might not roast evenly.

Air fry for around 8 minutes in 400°F / 200°C. Important: check on your cucumbers at least once during the cooking process.

Small cucumber pieces can easily get burnt in an air fryer and the cooking time can differ from appliance to appliance.

It's done!

If you find your cucumbers to still have too much water in them you can either leave them in for a little bit longer in a much lower temperature (careful not to burn them), or eat them as they are – it won't affect their final taste.

As with all roasted vegetables, we recommend you to snack on your air fried cucumber with a tablespoon of strained yogurt (also called Greek yogurt). Yum!

1 tbsp Strained Yogurt / Greek Yogurt
Air fried fresh cucumbers – that's it!
Hopefully now you know exactly how to prepare delicious mouth watering air fried cucumber using your air fryer. A great 5-min snack, a perfect appetizer and an outstandingly simple treat. If you have any further questions, don't hesitate to ask in the comments below. All the best!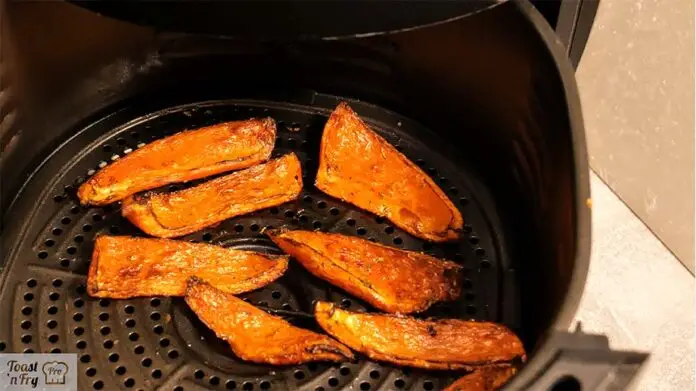 The process of air frying fresh red bell peppers is just as easy, and the results are equally great! Check out the Air Fried Roasted Bell Peppers Recipe – Quick & Easy (Video!)