Trouble waking up in the morning? "Wake to light" alarm clocks, "sunrise lamps" or "sunrise alarm clocks" are one of the most popular home gadgets that can actually aid you in getting up in the morning while feeling well rested. In this article we will show you the very best handpicked artificial sunrise alarm devices so that you can choose one for yourself. Let's get straight into the topic!
[this article features Ebay & Amazon affiliate links]
List updated: 09.02.23 by TS.
How do sunrise alarm clocks work?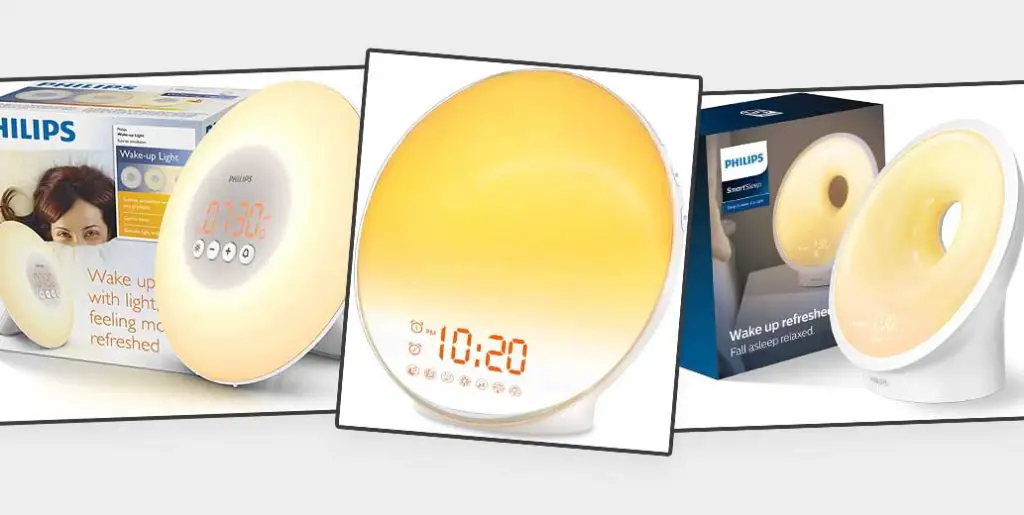 The so-called "wake to light" alarm clocks are products that are meant to help you wake up in the morning without feeling startled by your regular traditional alarm clock.
Sunlight alarm clocks work by simulating a sunrise colored hue and providing you with artificial sunlight gradually filling your room, waking you up in a more natural and pleasant way than classic noisy alarm clocks.
The main goal of sunrise alarm clocks is to wake you up slowly and gradually, while trying to not cut off a deep sleep phase (so the REM phase) short and abruptly.
Sunrise alarm clocks have many benefits over traditional alarms (be it phone alarms or regular alarm clocks) and you would be surprised on how well they can work in ideal conditions!
Sunrise alarm clocks are oftentimes used alongside sound machines that can make both falling asleep and waking up in the morning a breeze. Many of the sunrise alarm models we list below already have the sound machine option built-in!
Do sunrise alarm clocks really work?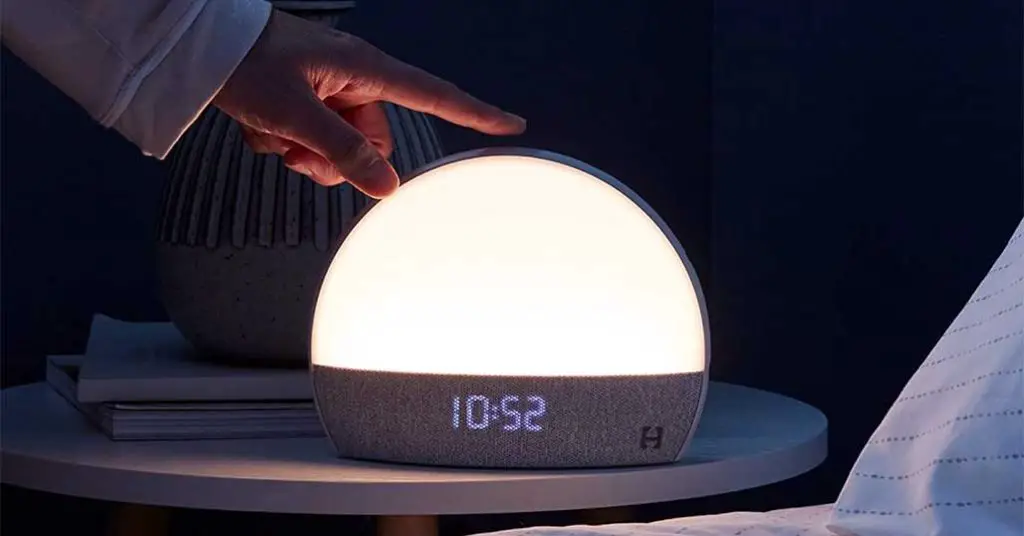 So, are sunrise alarm clocks a simple gimmick? There are many documented testimonies about sunrise alarm clocks doing wonders for people using them, but keep in mind that the quality of your sleep first and foremost depends on the amount of sleep you're getting (~8 hours should be your goal), then your diet and various daytime and evening habits.
Knowing the complexity of sleep care is important, and while sunrise alarm clocks can be very helpful for you (and they've certainly helped me), they are really just one of the factors in a good night's sleep and energetic morning.
After a short research through various social media we've found many people responding very positively to sunrise alarm clock usage overtime. Still, the only way to see if it's good for you is to try one yourself!
We will now take a look at the very best new sunrise alarm lamps we were able to find just for you!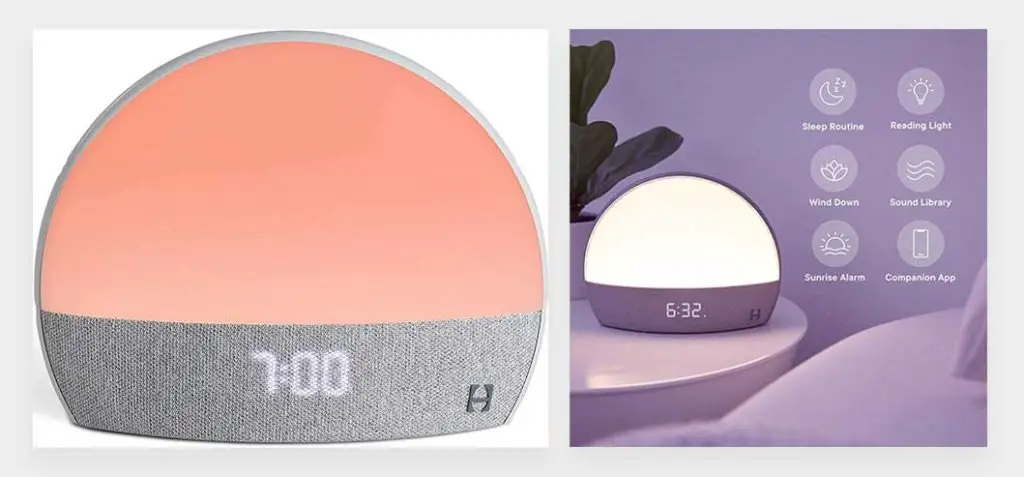 The Hatch Restore alongside with its mobile app does a great job on personalizing sleep routines and on providing you with both sunrise simulations and static light (for example for short in-bed reading sessions).
The Hatch Restore features a standard sunrise alarm function that will help you to wake up gradually and without being startled by a traditional alarm. The functionality of the device can be further configured and tinkered with using the special Companion App.
Hatch also offers a 60-night money-back guarantee if you're not happy with your purchase, and a 30 days trial for the Hatch Sleep Membership.
There is an additional option of purchasing the said Hatch Sleep Membership, that will give you access to music, dreamscapes, guided rest and meditation exercises and much more. This service however is sadly only available through a subscription.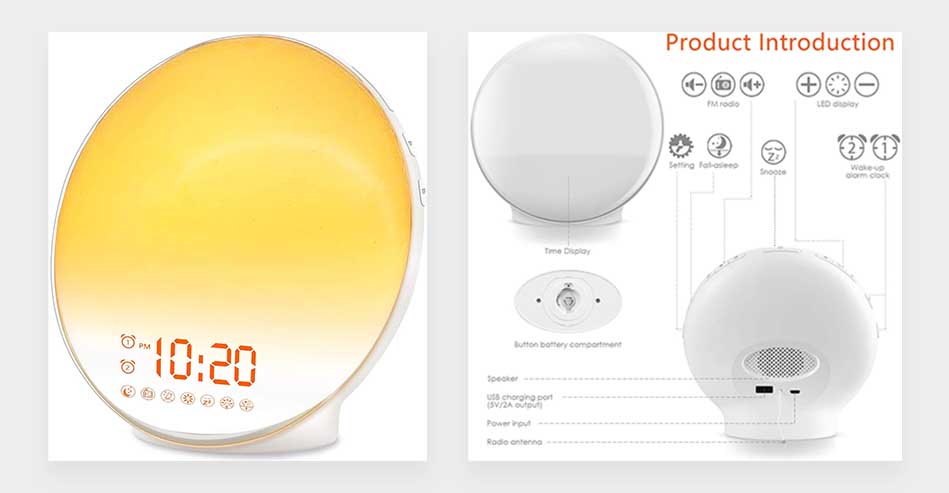 The JALL Sunrise Alarm is one of the more affordable sunrise alarm clocks out there. Aside from being a sunrise alarm and a bedside lamp, it also features an FM radio and built-in background soundscapes.
It also allows you to set dual alarms and has a USB charging port for recharging your mobile devices overnight.
Although the quality of the speaker isn't exactly the best (it's still acceptable though), this device has quite a few extra features that you can make use of. Definitely worth a look!
Note that this device does not feature a Bluetooth module, so you won't be able to play any custom audio from your phone through the built-in speaker.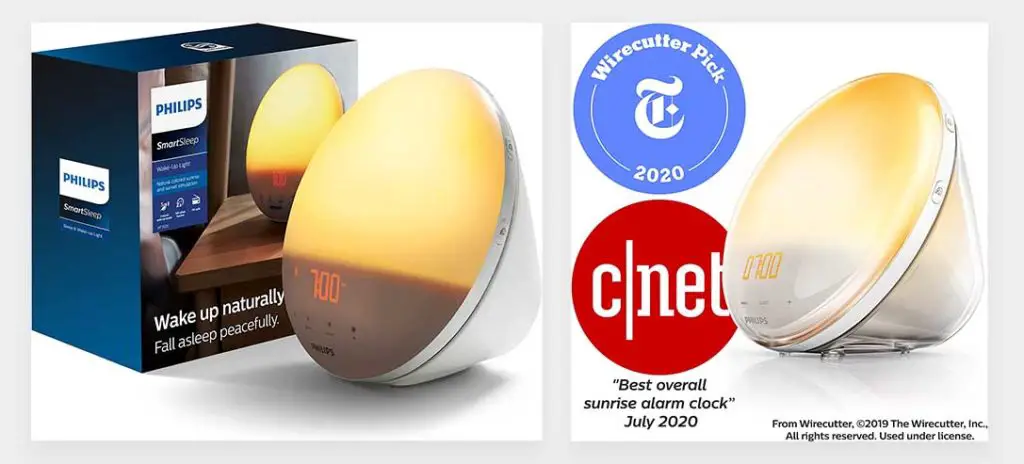 Philips is a brand that has produced numerous sunrise alarm clocks in the classic SmartSleep sunrise alarm series.
This particular model (HF3520/60) has a great online reputation and for a good reason. It features lots of color and brightness settings and features a midnight lamp feature (a dim warm light after tapping the device).
What's even better, it has an FM radio module, 5 high quality nature atmosphere audio loops built-in, and its speaker is really quite good.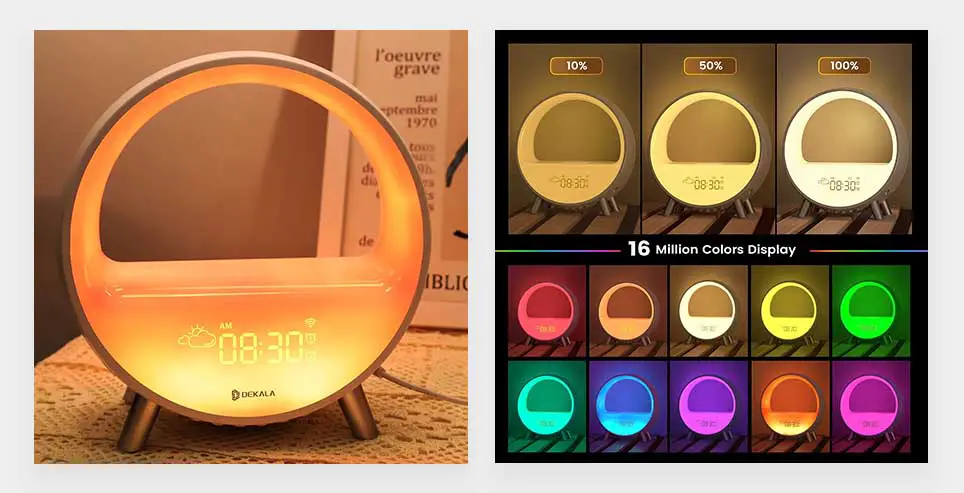 The Dekala Arches Sunrise Alarm with its quite original form is another one of the most popular sunrise alarm clocks out there.
This one features a Bluetooth speaker, so you can easily use your own audio for your relaxation sessions, it has a large lighting surface with adjustable brightness, and it allows you to set it to whichever light color you like.
One of the most important upsides of this alarm light is the built-in wireless charger that allows you to place your compatible mobile device on it, and it will begin charging right away.
The Dekala Sunrise Alarm can be controlled using an app, that unlike some of the other sunrise alarm devices, is completely free for life.
This device also supports Alexa and Google Assistant if that's what you need.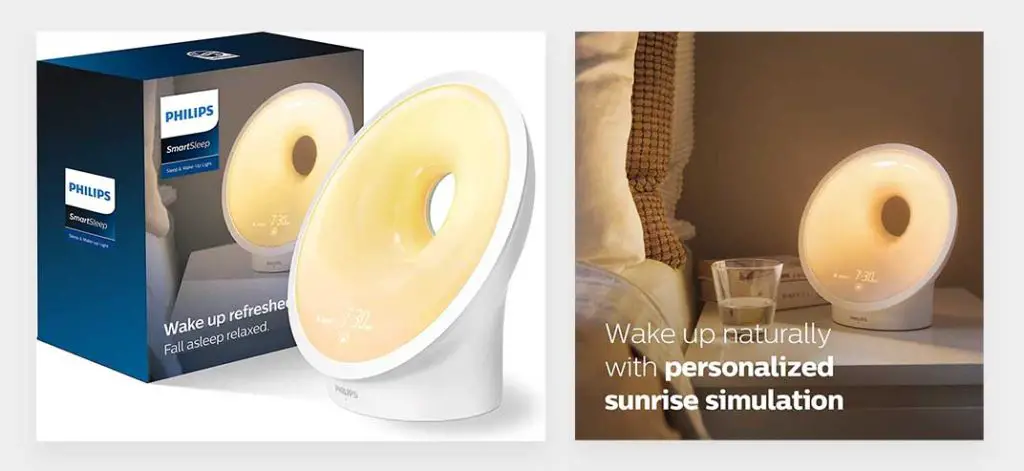 This rather interestingly shaped device is the flagship model of the Philips SmartSleep sunrise alarm clocks fleet.
The Philips HF3670/60 is currently one of the most popular high-end sunrise alarm clocks on the market. It features a sunset and sunrise simulation programs, 10 built-in relaxation atmosphere sounds and has an outstanding light intensity of 315 lux (the light of course can be easily dimmed – there are 25 brightness settings in total).
The HF3670/60 also has FM radio functionality and it can easily charge up your mobile device overnight, as it features a convenient phone charging dock.
It even has a backup battery that will make sure that you get woken up even when there is a power outage!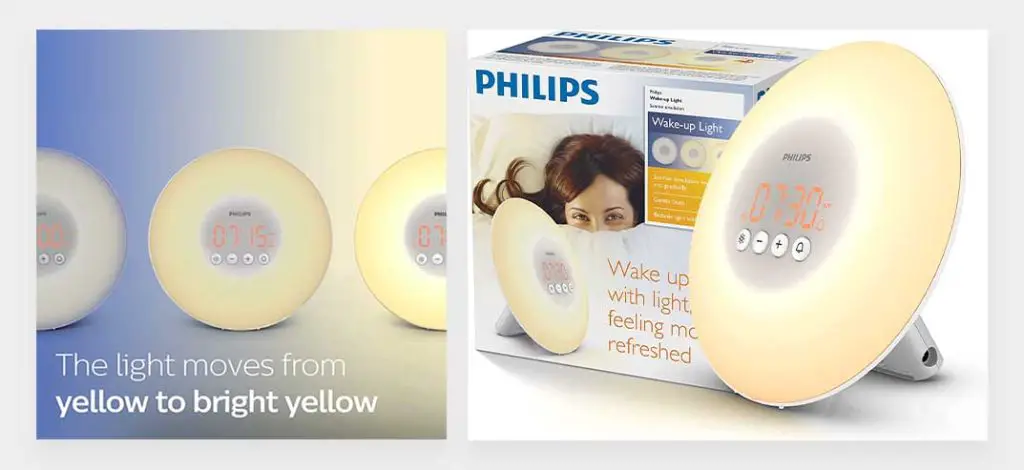 If you're searching for a more affordable solution, the Philips HF3500 might be a device for you.
Keep in mind though, that this little alarm unlike the previously mentioned devices alongside its sunrise emulation options, features a traditional "loud beep" style alarm that cannot really be fine tuned or turned off easily.
It's an interesting device at this price point, but we certainly wouldn't recommend it over the other devices on this list.
Sunrise alarm clock models summary:
Sunrise alarm clocks top list.
What are the alternatives to sunrise alarm clocks?
Smart bulbs are one of the most popular alternatives to sunrise alarm clocks or sunrise lamps. Ideally you'd have to find one that enables you to emulate the sunlight hue and is controllable by an app.
Alarm apps with sophisticated waking methods such as Alarmy are also an option here. Some of these apps will even allow you to gradually lighten your mobile device's screen to wake you up.
All in all, a sunrise alarm clock is always a great and useful gadget to try by yourself or give to someone as a gift. We hope we helped you with your research!