If you've just thought of making yourself some loose leaf yerba mate, don't have a traditional gourd and bombilla, and all you're left with is a simple teapot without a strainer and with no infuser, don't worry! With our quick & simple step-by-step how to preparation guide you'll be able to enjoy a delicious and energizing cup of yerba mate right away – no additional equipment needed. We fully understand that if you're new to this unique South American beverage, you might want to try it as quickly as possible, so let's get straight into the topic!
[this article features Ebay & Amazon affiliate links]
Yerba mate – the traditional way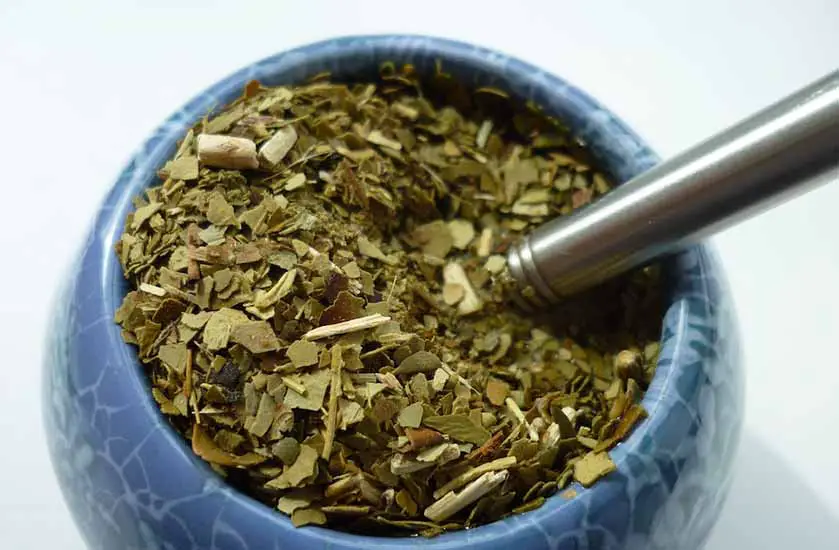 Yerba mate is a traditional South American drink made by steeping the dried leaves of the yerba mate plant in hot water. In a way, it's kind of similar to tea, but has a distinct flavor and aroma, and is often consumed through a metal straw – a bombilla, from a distinctly shaped container called a gourd.
Yerba is a natural source of caffeine and other stimulants like theobromine and theophylline, which can provide an energy boost and improve mental focus.
Additionally, yerba mate has important cultural significance in South America, particularly in countries like Argentina, Uruguay, and Paraguay, where it's a much popular social drink best enjoyed with close friends and family.
It's also quite recently gaining popularity worldwide due to its distinctive flavor and unique drinking practices associated with it, making it a great alternative to coffee or tea for people looking for a new beverage experience.
Can you prepare yerba mate with just a teapot?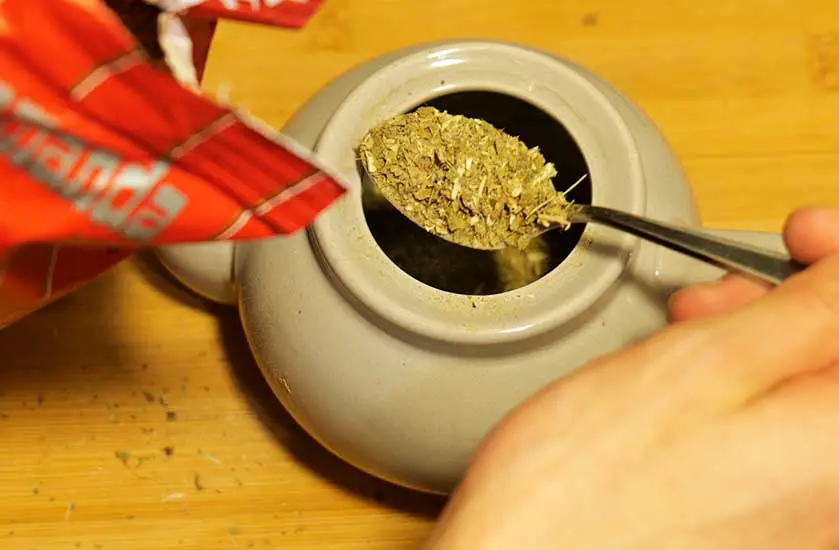 While this is by no means a traditional way of preparing your store-bought yerba mate, it's still a perfectly viable method of getting your yerba drink quick and without using any additional equipment other than a simple teapot you may already have in your kitchen. Not having either a strainer or an infuser on hand is not a problem at all too!
This method is quick, doesn't require a tedious cleanup after the yerba preparation, and the only important thing to mention here is that it most of the time works best with larger leaves rather than yerba grinded down to really small particles. On the photos you can see which type of yerba we used for the experiment! Spoiler: It's our trusted Amanda yerba mate!
Once again, this way of yerba mate preparation might not be the most elegant one, but it's definitely the quickest and most accessible way for an average person to get started with this quite unique drink without much hassle and additional gadgets.
Where to get quality loose leaf yerba mate quick?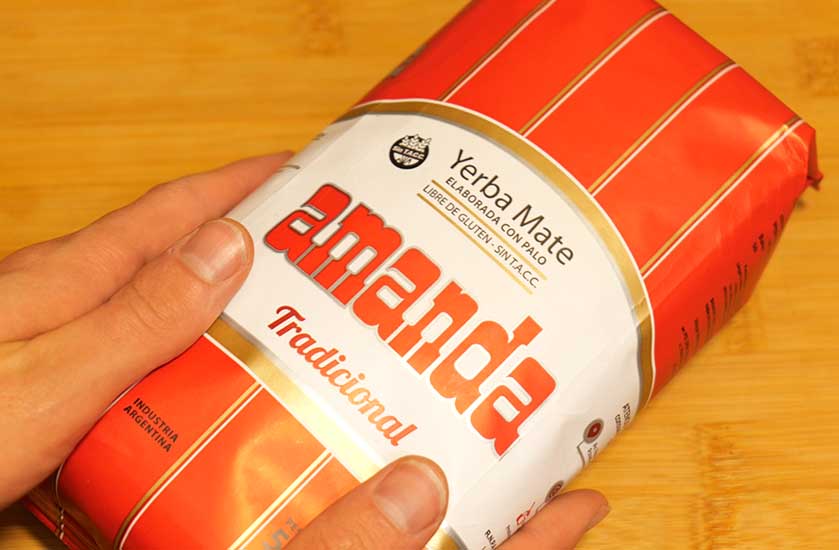 We're glad you asked! Here is the Amanda yerba mate we used for our little experiment. You can also find many similar packs of loose leaf yerba mate on Amazon, but we found this brand to be the best for our purposes.
It's also available with 1-day delivery so if you're in a hurry you can come and grab it here!
Yerba mate with a teapot and no strainer – step-by-step
And here is our short recipe styled how-to guide for just that. The process is really simple, but be sure to give it a thorough read, as there are some important remarks here that can really make or break your first experience.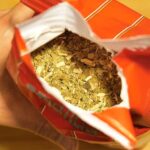 Print
Yerba Mate With a Teapot and No Strainer
Here are the exact step-by step instructions on how to quickly prepare your newly bought loose leaf yerba mate using just a simple regular teapot and no strainer, just as you would prepare a regular loose leaf tea. No gourd and bombilla needed! This method while certainly not classified as traditional is fast, reliable and requires minimal cleanup after. Ready to prepare your delicious yerba without the use of any additional equipment in around 5 minutes? Then let's begin!
Equipment
1x 12 ounce / 350 ml teapot

, or any other kind of teapot really

1x Cup
Materials
3-4

tsp

Yerba Mate

Depends on your preferred ratio.
Instructions
Take your teapot and put a few teaspoons of yerba mate inside it.

The best proportions with the traditional method are said to be ~1-3 tablespoons of yerba per one cup (8 ounces / 230 ml) of water, but in our example we're only using 4 full teaspoons of yerba in our 12 ounce teapot.

It very much depends on your preferred ratio, just as with regular loose leaf tea!

Fill the teapot with water that is around 160 to 180 °F (70-80 °C).

Do not fall into temptation and simply use boiling water straight from the kettle!

If you attempt to use boiling water with yerba mate, you really risk ruining it! If you burn your yerba it will taste bitter and this might really throw you off as a first timer!

Just as if you were preparing green tea, make sure that you don't use the water right after boiling it. Wait a while until the water cools down a bit and if you really want to be sure, you can optionally use a thermometer to quickly check the water's temperature.

Close the teapot and steep the yerba for around 3-5 minutes.

Now, the important part. Carefully fill a cup with your yerba. Don't go too fast, as right now you're using your teapot's spout as a simple strainer.

Once you're done, you'll most probably notice that there are still quite a few yerba leaf particles floating around in your drink – this is perfectly normal!

As we're using a teapot without any kind of a strainer, infuser or filter, some yerba leaves are bound to get into your cup. Don't worry about it, as these are perfectly safe to ingest while they are floating in your prepared drink.

What you want to do now, is to simply let your yerba sit in the cup for a short while, until the largest particles float down to the bottom of the cup.

All ready! Enjoy your very first home prepared teapot yerba mate!

You can safely refill the teapot with 160-180 °F water a few times just as you would while steeping regular loose leaf tea.
Is floating stuff in my yerba mate normal?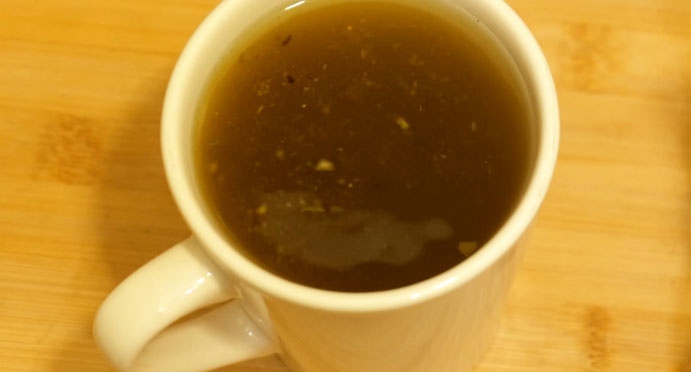 Yes, the leaves and small leaf particles floating in your fresh cup of yerba mate are perfectly normal, especially when you're preparing loose leaf yerba in this rather unconventional way.
Again, just as with regular loose leaf tea, some floating leaves are to be expected if not using a strainer or infuser during the preparation process. These are completely safe and you don't need to worry about them.
If you'd like, you can wait a short while 1-2 minutes for the small yerba particles to drop down to the bottom of your cup just as we advised before. Totally up to you!
Final tips and tricks – teapot yerba mate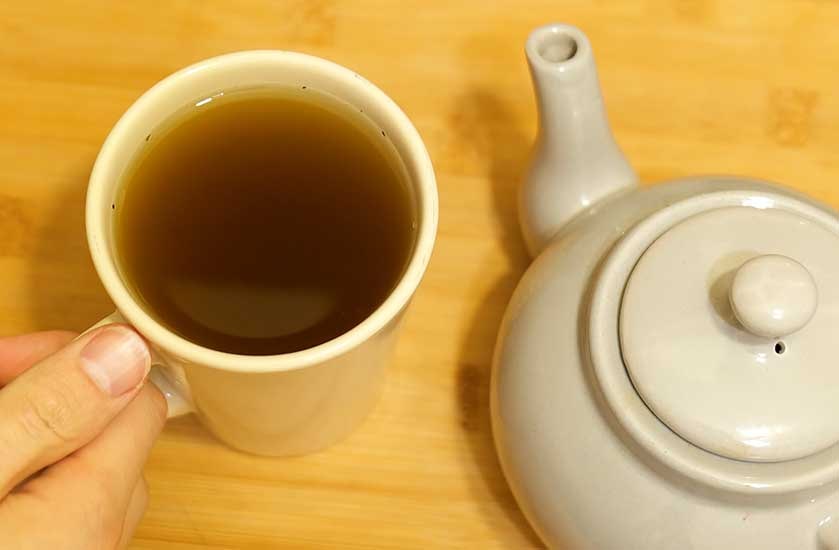 Here are some much important remarks you want to keep in mind when preparing yerba mate in a simple infuser-less teapot.
Use a teapot with a fine spout to prevent a large amount of loose yerba mate leaves from getting into the cup.
Experiment with the amount of yerba mate and steeping time to find your preferred strength – just as you would with regular tea!
Once again, do not get tempted to use boiling water straight from the kettle! Burnt yerba leaves are bitter, taste bad, and will ruin your first contact with this unique beverage. We don't want that!
Don't let the yerba mate sit in the teapot for too long, as this way it can also become bitter and lose some of its taste qualities.
And before all of this: you should really consider trying preparing yerba mate in the traditional way it's meant to be enjoyed!
You can get a pack of yerba and a basic gourd and bombilla for a really good price – these are available all over Amazon these days.
Get into the actual yerba experience and you'll be thankful you did! Click the button down below to get started!