Thinking about getting an all-in-one breakfast maker? Read this article to find out if these machines are worth it, what they can do, and which ones are the best on the market. Discover the pros and cons of the so-called "breakfast stations" and decide if they're the right fit for your kitchen.
Check out also: Top 10 Instant Pot Pros & Cons – Before You Buy!
[this article features Ebay & Amazon affiliate links]
How To Prepare Your Breakfast Faster?
How can you prepare your breakfast quicker? There are situations in which you wish you know of a way to prepare the first meal of the day faster. There are a few things that can help you with that. Here are a few neat tips!
First way is to simply prepare your breakfast the day before. This however doesn't always work out that well, as some food products don't really taste all that well and fresh the next morning.
Another good solution is to prepare the "building blocks" for your breakfast on the previous day. Prepare slices of cheese, meat, cut veggies and other ingredients you use to make your sandwiches beforehand, and store them in one designated containers in your fridge.
When the morning comes you will be able to prepare your breakfast much quicker! And now comes the third solution, the one that we found to be the most interesting one.
The solution we're gonna talk about in this little article are the "All-in-one" breakfast makers – appliances which let you prepare your breakfast quickly and efficiently. Read on!
More about sandwich storing here: Will Sandwiches Get Soggy Overnight? – Sandwich Storing 101
What Are All-In-One Breakfast Makers?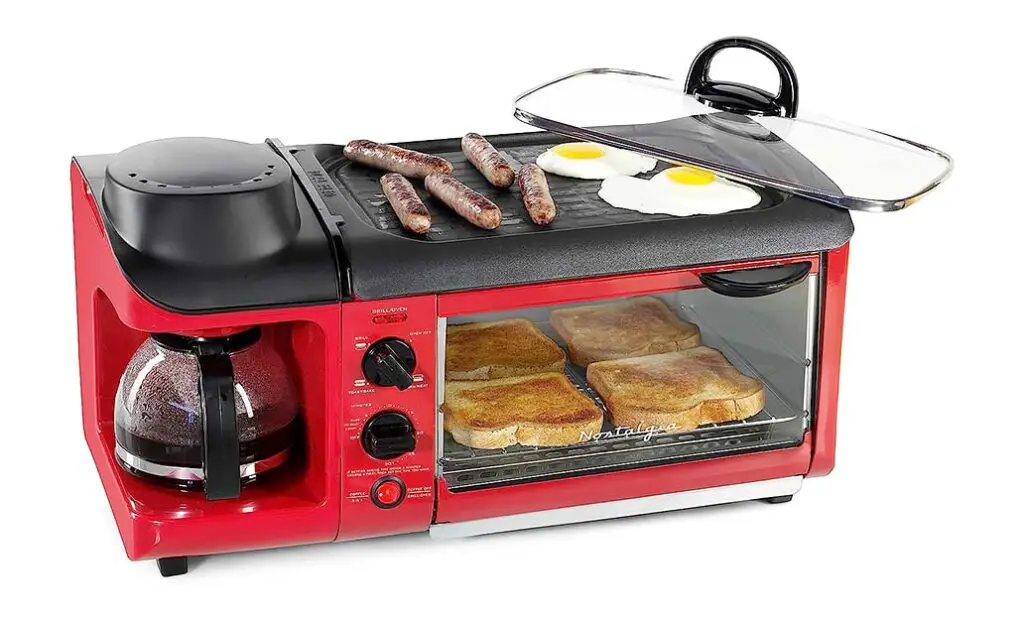 All-in-one breakfast makers, also known as breakfast machines or 3-in-1 breakfast makers, are kitchen appliances that combine multiple breakfast-making functions into one machine. The most common breakfast stations include a combination of a coffee maker, a toaster oven, and a griddle or grill. Some models also come with additional features like egg cookers or waffle makers.
All-in-one breakfast makers are generally designed to make breakfast preparation faster and more convenient, merging a few kitchen appliances using during an average breakfast-making process into one. But are they worth the investment? Let's find out.
What Can You Do With a 3 in 1 Breakfast Maker?
So, What can you use a breakfast maker for? There are a few more and less obvious thing you can use a breakfast station for. Here are some of the basic things you can do using a simple 3-in-1 breakfast maker:
Brew coffee: The coffee maker component of the breakfast maker allows you to brew a fresh cup of coffee while you cook the rest of your breakfast. While in most breakfast stations the included coffee maker is very much simplified, in our opinion (huge coffee lovers) it's the most vital part of the appliance.
Toast bread: The toaster oven component of the breakfast maker can be used to toast bread, bagels, baguettes, English muffins, or any type of bread you prefer. Most breakfast makers feature a temperature setting dial alongside a timer knob – like most small toaster ovens do.
Cook eggs and bacon: The griddle component of the breakfast maker can be used to cook eggs, bacon, pancakes, or any other breakfast food that requires a flat surface. Some models even have a lid, so you can cook your food on both sides at the same time. In case of most breakfast maker models it heats up rather slow, and if you're used to cooking on gas, you might have a hard time adjusting to longer pre-heating times on electrically heated surfaces.
Warm up food: The toaster oven component of the breakfast maker can also be used to warm up leftovers or frozen foods. It's a great way to repurpose last night's dinner into a quick and easy breakfast.
First, The Convenience – Pros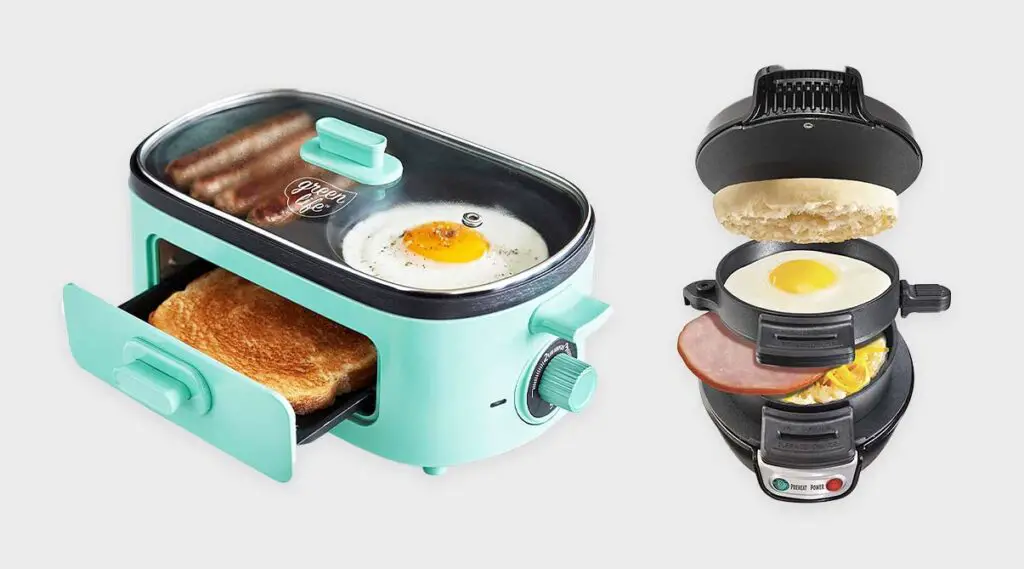 An all-in-one breakfast maker is a kitchen appliance that combines multiple functions in one machine, in its most popular form including a simple coffee maker, a small electric grill surface, and a toaster oven. With such an appliance, you can prepare your entire breakfast in one place, saving you much time and some effort.
These machines are really quite affordable, considering the number of functions they provide. Larger models are also reasonably capacious, so you can make breakfast for more than one person at a time. The all-in-one aspect of these appliances makes them great for a holiday cottage or a small apartment where space is limited. Yes, any small remote kitchen with power access can benefit from an all-in-one breakfast maker if you don't already own appliances the machine consists of, and if you're short on space.
In addition to being all in all quite practical, all-in-one breakfast makers are also a neat gadget to surprise your friends – both when they get to see your kitchen for the first time, and if you decide to get a breakfast maker for your friend as a gift.
This might also interest you: The Very Best Tips On Grilling Vegetables – Our Ultimate Guide
Where The "Breakfast Stations" Fall Short – Cons
While all-in-one breakfast makers have their advantages, they also have some drawbacks. Here are a few things to consider before purchasing one.
First, the most simple con of a breakfast maker if that it simply might be redundant in your kitchen. If you already have a coffee maker, a toaster, and a grill, an all-in-one breakfast maker might not be necessary.
Second, these machines can take up a lot of counter space, which might not be ideal for smaller kitchens. Having a breakfast maker on your main kitchen counter at all times might simply not be the best solution for those of you who already don't have much space in your kitchen.
The last prominent disadvantage of these machines would be their limited capacity. While you can attempt to prepare a small breakfast for two people in one go using an average breakfast maker, keep in mind that these appliances while bulky, usually feature both a small top grilling surface, and a rather small toaster oven. This might just not be enough for some of you out there.
The Usage In Practice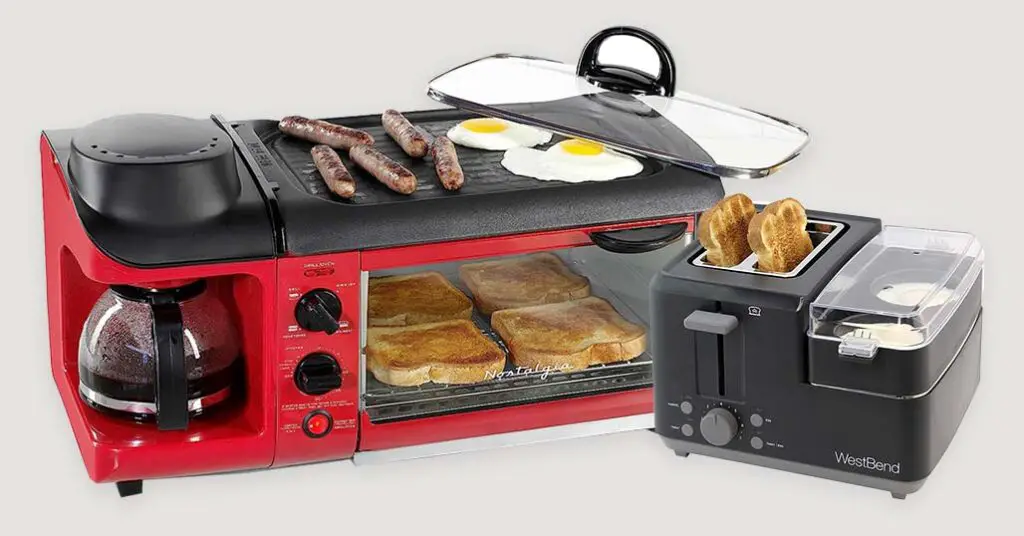 One common issue that is often mentioned is that the top grilling surfaces on the classic breakfast makers were not always evenly heated, resulting in unevenly cooked food – it wasn't like that in our case, although the top surface did heat up somewhat slow. Some customers also report that the non-stick coating on the grill wore off quickly, making it difficult to clean – again, this didn't happen for us.
Based on our experience, we found that the all-in-one breakfast makers are indeed convenient and easy to use for preparing simple breakfasts, but some models were indeed quite bulky and took up a lot of counter space, which could be an issue for those of you with smaller kitchens who plan to keep their breakfast maker on the counter at all times.
Another thing is, that some of the 3-in1 breakfast stations only allow you to activate the top grill and the toaster oven together – this is because of how the heating parts are positioned in the classic breakfast maker design. If you'd like to be able to control these parts separately, make sure that your chosen model supports that.
If you'd like your breakfast without coffee, almost all breakfast stations give you the option to turn the coffee machine during operation.
All in all, the most prominent advantage an all-in-one breakfast maker gives you, is the ability to do a few breakfast-making tasks in parallel, saving you some time, money and enabling you to limit your final cleanup to one kitchen appliance. Pretty neat, isn't it?
If you want to make breakfast faster and with less hassle, you might be interested in getting yourself one!
Top All-In-One Breakfast Makers on the Market
After researching and analyzing various all-in-one breakfast makers, we have compiled a list of the top-rated options available. Our recommended breakfast makers have been selected based on their features, reviews, experience, and their overall value for money. Take a look!
These breakfast makers are affordable, versatile, and have received positive reviews from customers. However, it's important to consider your own needs and preferences before making a purchase.
Final Verdict: Are All-In-One Breakfast Makers Worth It?
All-in-one breakfast makers are a great addition to any kitchen, especially for those who are short on time in the morning and like novelty gadgets like these. They generally offer a convenient way to prepare a quick breakfast without having to use multiple appliances during the process.
If you already have a coffee maker, toaster, and grill, then an all-in-one breakfast maker might not be necessary. However, if you are looking for a space-saving solution or a gadget that can do it all, then an all-in-one breakfast maker might be a perfect fit for you.
After researching and testing various models, we have compiled a list of the top all-in-one breakfast makers available on Amazon. These models offer a range of features and price points, so there is something for everyone.
In conclusion, all-in-one breakfast makers can be a great investment for those who want to save time and space in the kitchen. However, it is important to consider your individual needs and preferences before making a purchase. We hope this article has provided you with the information you need to make an informed decision.
You might also like: Oven Baked Polish White Sausage Recipe (Simple 'n Tasty!)