Air fryers have been storming the kitchen appliance market for quite some time now. Perhaps you've found your way here wondering whether or not it would be beneficial to get yourself a brand new one for your kitchen. Before making a purchase, you really should look into all the benefits of owning an air fryers and consequentially, all the disadvantages of this unique way of preparing food. Luckily, we're here to quickly help you out! Let's begin starting with listing the pros and cons of this intriguing kitchen appliance!
[this article features Ebay & Amazon affiliate links]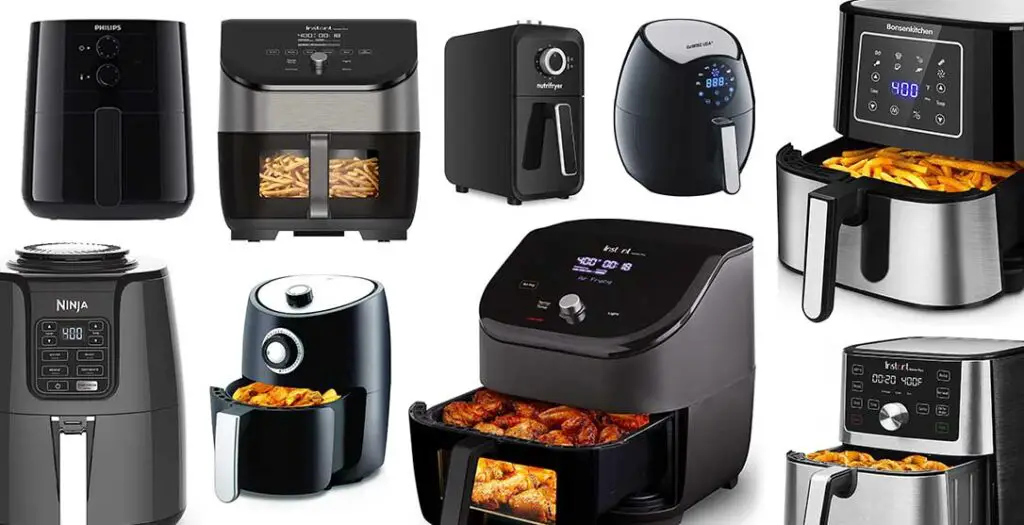 Air fryer pros:
1. Ability to prepare emulate frying without using cooking oil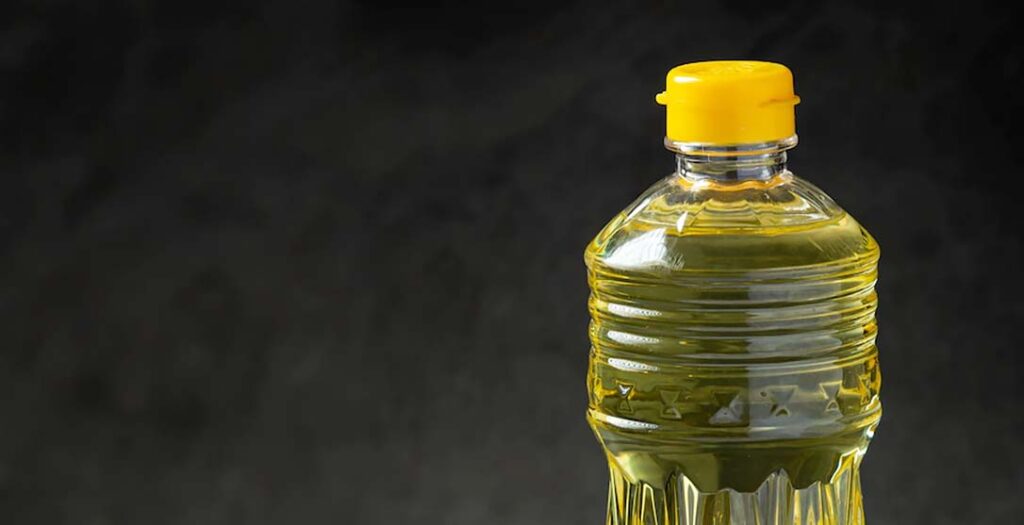 One of the main benefits of owning an air fryer, is the ability to prepare meals that usually require extensive use of cooking oil, without using any cooking oil at all.
Meals such as chicken wings, french fries, meatballs, shrimp and so on, can come out exquisitely good when prepared in an air fryer.
It's still a matter of personal tastes when it comes to comparing meals prepared by deep frying and those prepared with the aid of air frying, but an air fryer undeniably brings in unique taste qualities into the freshly prepared crispy food.
This does not only constitute a great health benefit for some, but it also means that the cleanup is much easier in comparison for instance to the cleanup required after any kind of deep frying. Trust us on this one!
2. Crispy food without deep frying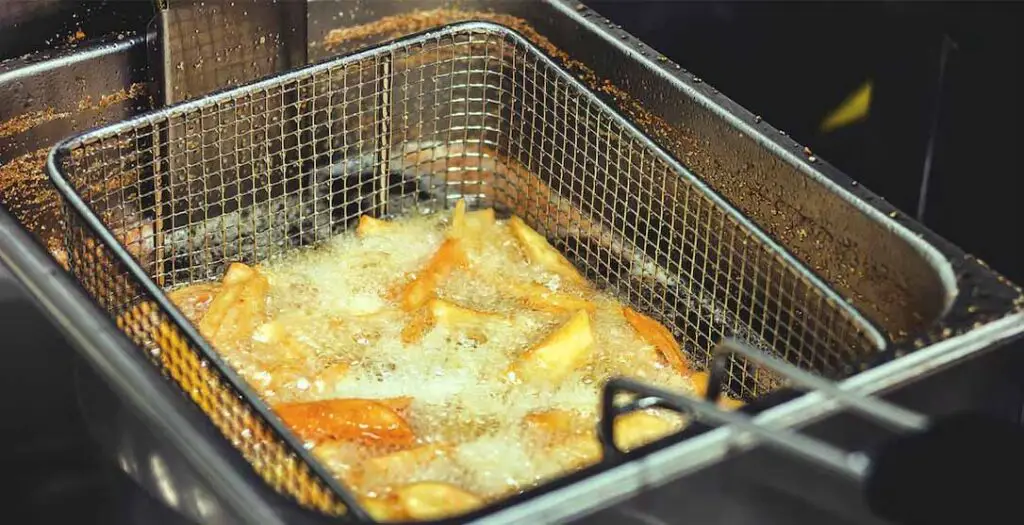 Emulating the crispiness of deep fried food is one of the main tasks that an air fryer can excel at. Be it french fries or breaded chicken, achieving a similar level of crispiness without additional fats is really easy when you have an air fryer on hand.
Although there still are some quite major differences in taste between deep fried and air fried food (as the fats tend to carry taste really well), an air fryer can be a really interesting alternative to deep frying when it comes to most common dishes. Prepare to be pleasantly surprised with the results!
3. There's no need, to pre-heat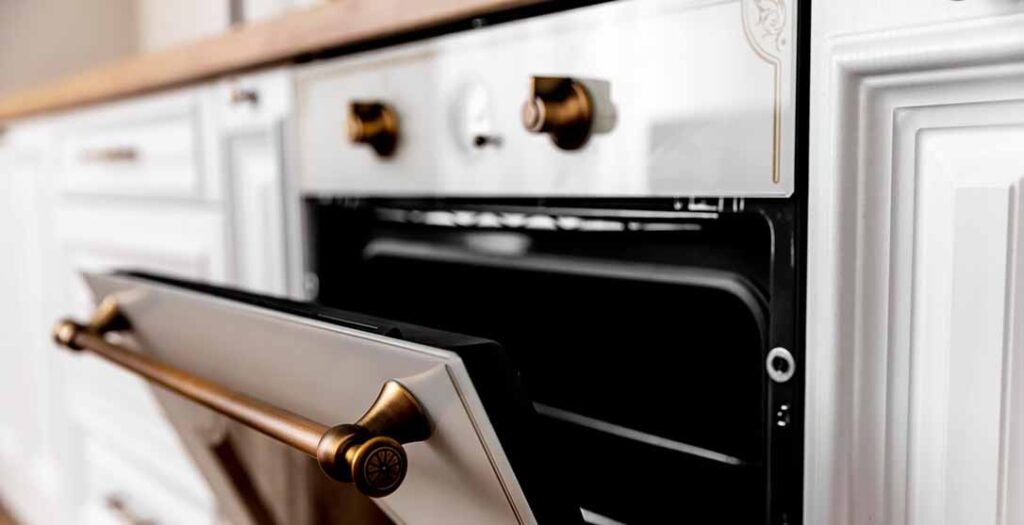 While pre-heating an air fryer is practiced by some air fryer users, it's really not necessary most of the time. Most modern air fryers heat up extremely fast and can reach their maximum temperature in the span of 4-5 minutes after beginning the air frying process.
This adds to the quick meal preparation point which we cover in the next point on this list. As an everyday user of a regular convection oven, I can really feel the difference here!
4. Much quicker than a regular convection oven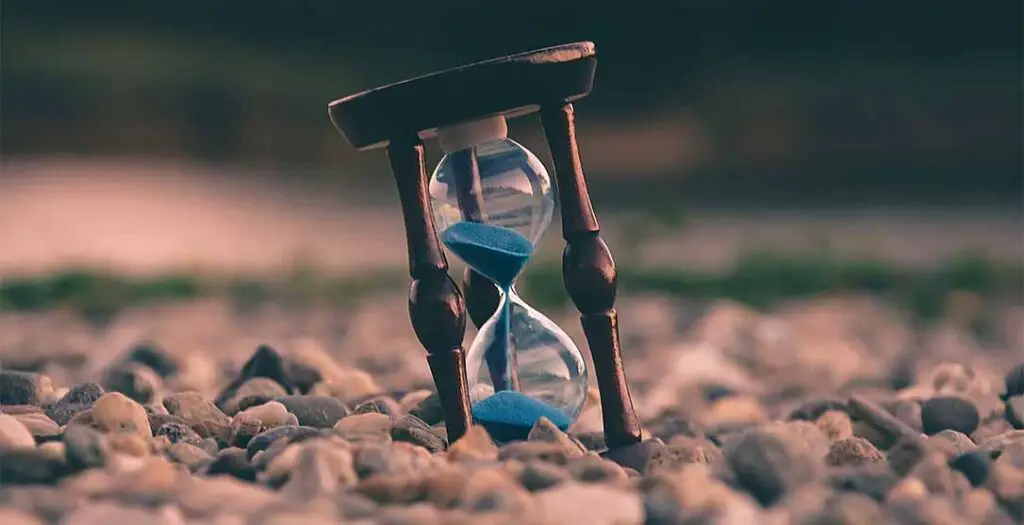 Air fryers, mainly because of their smaller size and usually bigger convection fans, are known for being around 20-30% faster than regular convection ovens when it comes to preparing food.
This, paired with the fact that you don't really need to pre-heat your air fryer before beginning the cooking process, ensures really great results when it comes to the overall shortened cooking time.
Convection Oven vs. An Air Fryer (What's The Difference?)
Here are some real-life examples from my experience to give you an overall view on this:
Frozen french fries (without thawing and pre-heating the air fryer) – 12 minutes in 400°F / 200°C.
Frozen fish sticks (without thawing and pre-heating) – 10 minutes in 400°F / 200°C.
Roasted red peppers (without pre-heating) – 8 minutes in 360°F / 180°C.
For me personally, as I'm a fairly really busy person, quick food preparation is one of the best advantages an air fryer has when compared to a regular convection oven.
5. Quick and simple cleanup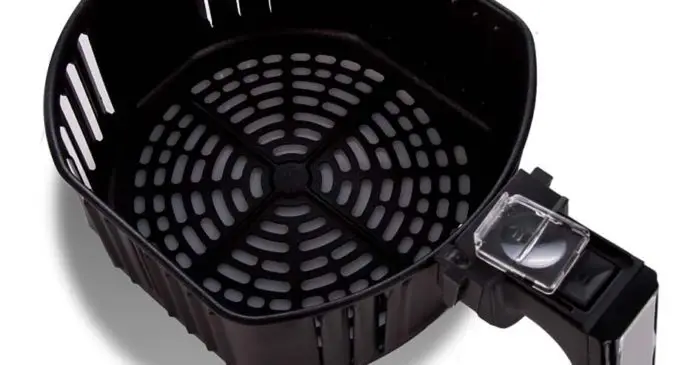 Easy cleanup after air frying is one of the most commonly referenced advantages of this handy appliance.
The only thing that really gets dirty during the air frying process is the food basket which can be easily removed and cleaned either by hand, or in some cases even in a dishwasher.
Keep in mind that the cleanup process might slightly differ from one air fryer to another. In general however, most air fryer baskets feature non-stick surfaces that are a breeze to clean if you know how to do that correctly.
The basic air fryer cleanup process might sound pretty standard at first, however it really shines in comparison to cleaning a regular deep fryer. Not having to deal with the cooking oil residue is great news all by itself!
Air fryer cons:
1. Low capacity issues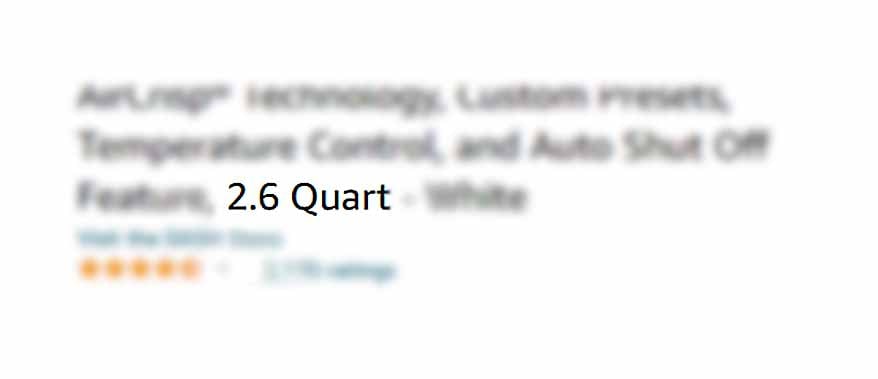 Air fryers may be fast and energy efficient, but they are still relatively small when compared to a regular convection oven.
Most common air fryer capacities are anywhere from around 2.6 quarts to 6 quarts (approx. 2.5 liters to 6 liters).
This really isn't much when paired with the fact that you cannot really stack food inside of a regular air fryer's basket without causing air flow obstruction which will affect the efficiency of the appliance. The smallest air fryers really aren't capable of preparing large amounts of food in one go.
A standard convection oven, although much slower than an average air fryer, will always allow you to prepare much larger food servings. You may have a hard time when trying to prepare a meal for a large family in one go when using most commercial air fryer models.
2. Some air fryers can get loud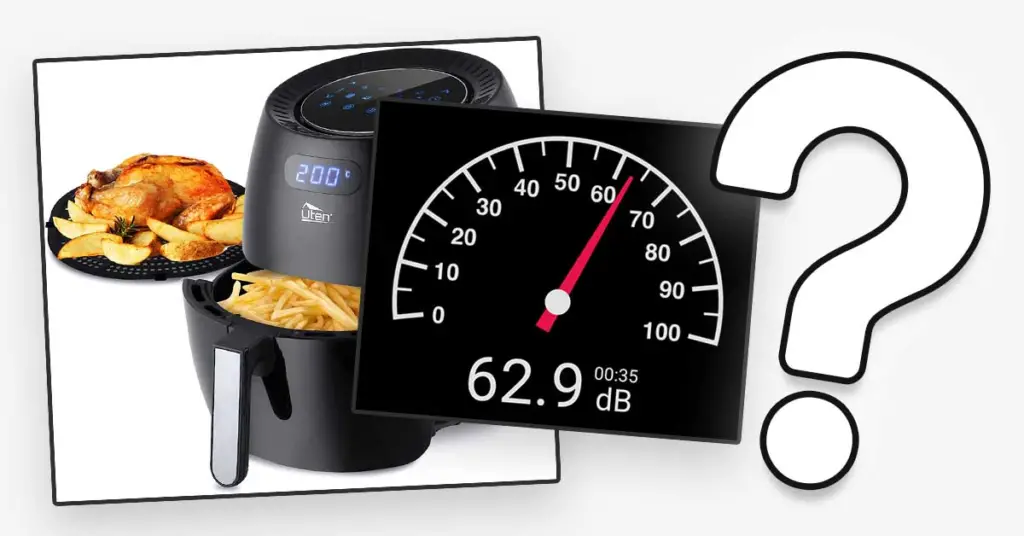 Although this isn't really a rule, and there are lots of relatively quiet air fryers out there, many cheaper air fryer models can get pretty loud during operation.
Are Air Fryers Loud? (New Actual Hum Noise Sound Example)
This may be a disadvantage for some, although I personally have found the generic air fryer noise to be pretty pleasant to the ear. Then again, the distinct hum of the appliance can really only be assessed individually to decide whether or not you find it to be obnoxious or unpleasant.
Luckily, just to address this common issue, we have recorded short sound examples with our quite powerful 1700W Uten air fryer. You can check out the recordings paired with actual noise measurements here.
3. It's quite easy to burn your food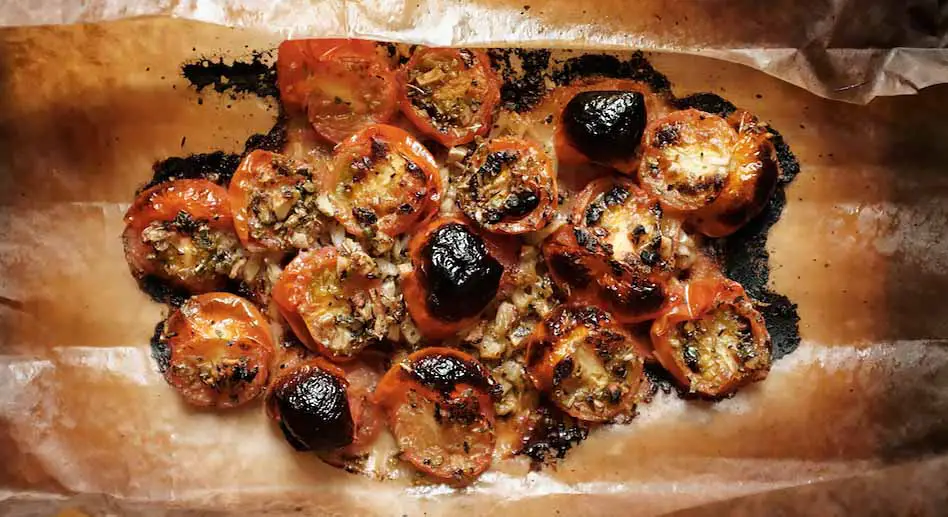 As we saw, air fryers can prepare food fast. So fast in fact, that they make it really easy to burn your food when you're not careful. It's hard to be careful here too, as most air fryer models do not feature any sort of glass window to help you assess the state of your food without taking out the basket and temporarily suspending the air frying process.
Pulling out the basket also makes the air fryer lose some of its internal temperature, which in turn if you're checking on your food too often can make the air frying process longer.
Bigger air fryer ovens with glass windows help mitigate this issue, but they are still the less popular option on the market.
4. There are quite a few things you cannot cook in an air fryer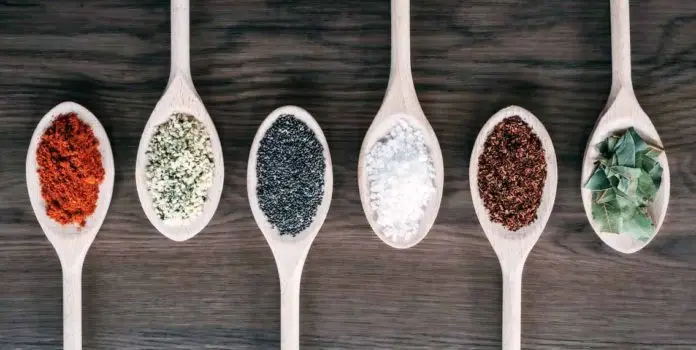 Despite an air fryer being advertised as an all-around multi purpose kitchen appliance, there are quite a few dishes you can't prepare using it. These things include batter, lightweight food, dry seasonings and then some more.
Air Fryer – What Not To Cook – Do Not Put These Things In!
If you're considering getting yourself a brand new air fryer, be sure to check if the list of things you can't really cook in an air fryer doesn't contain your favorite dishes. You might get disappointed!
5. Relatively large size of the appliance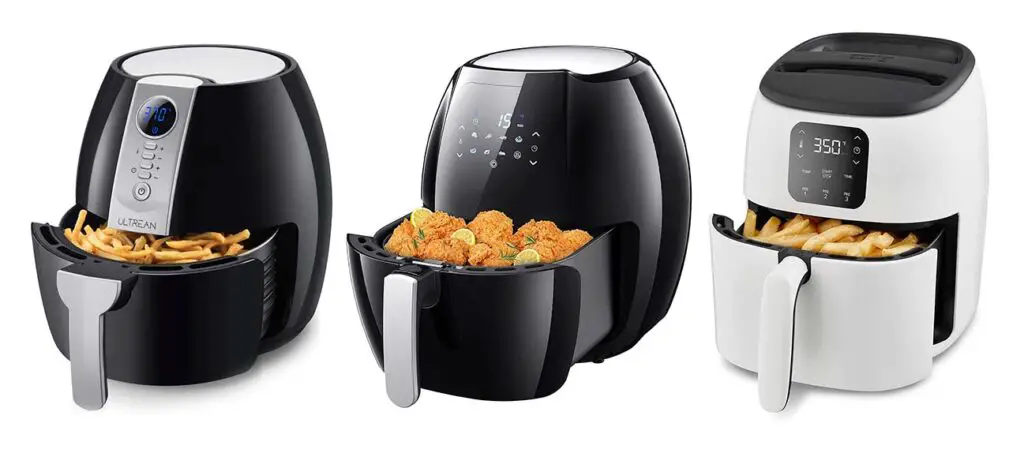 Whether you decide to get a smaller or higher capacity air fryer, the overall size of the appliance won't be that much different in the end.
Air fryers in general are pretty bulky and you need to think twice about the place you want to dedicate to your new air fryer way before you decide on your final purchase.
Most common types of air fryers are barrel-shaped, and need ideally to be placed in such a way that their air exhaust doesn't end up right against a wall.
If your kitchen isn't that big and you're not ready to make compromises when it comes to kitchen counter space management, you might have to think your purchase through carefully.
The conclusion – should you get yourself an air fryer?
All in all, if you can afford an extra kitchen appliance and fit it in your kitchen, and you're interested in the unique features that an air fryer can offer, we'd say go for it!
Air fryers are great nifty kitchen appliances that possess many qualities that a regular convection oven or toaster oven don't have. If we got you curious, you might want to check out air fryers over on Amazon and over on Ebay to get started and choose the best air fryer for you. Here are some links for your convenience:
If you want to know more about air fryers, feel free to check out these:
– Toast 'n Fry Pro – Air Fryer articles & guides.
– Convection Oven vs. An Air Fryer (What's The Difference?)
– How Do Air Fryers Actually Work? – Quickly Explained!