How to toast bread using an air fryer? Why does the bread move around in your air fryer? There are some things you should know before attempting to toast bread in this peculiar kitchen appliance, but it's perfectly possible! Let us show you how to make delicious toasted bread in a matter of minutes (and teach you a neat little trick to prevent bread from moving around in the air fryer's basket!).
[this article features Ebay & Amazon affiliate links]
Why does the bread fly around in an air fryer?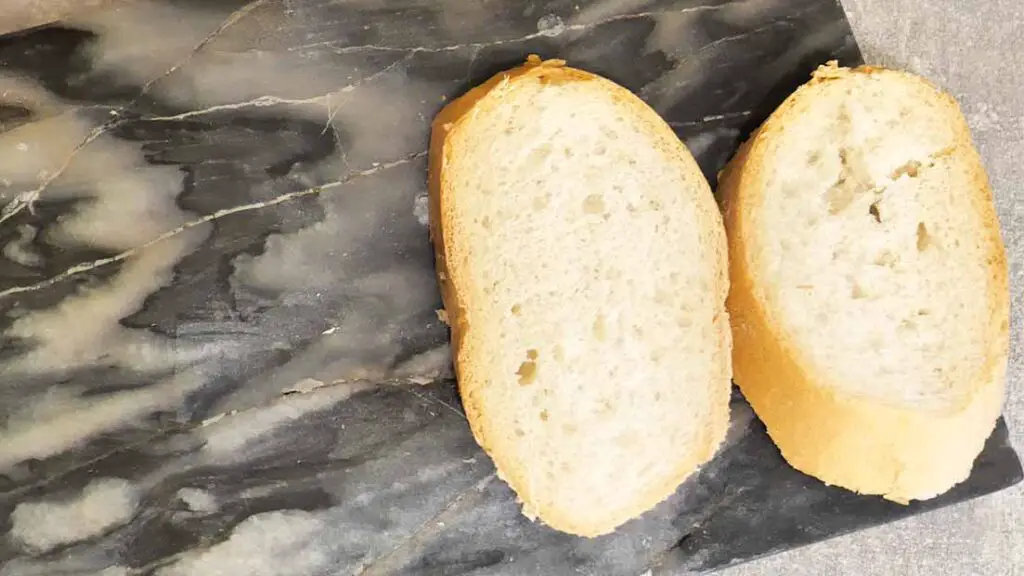 Perhaps you've already attempted to toast bread using your air fryer. You might have found out then, that in certain air fryer models there is a high risk of your light bread pieces to move around in the air fryer's basket.
The air circulation inside the air fryer makes it extremely easy for light things inside to move around. This is why you really shouldn't put some things inside your air fryer to avoid causing a mess and potential damage.
More on that topic here: 5 Things You Cannot Put In Your Air Fryer
If pieces of food or other debris get into the fan or on the heating coil inside your appliance you may risk damaging it, so be careful!
Lear how air fryers work in under a minute: How Do Air Fryers Actually Work? – Quickly Explained!
How to stop bread from flying around in an air fryer?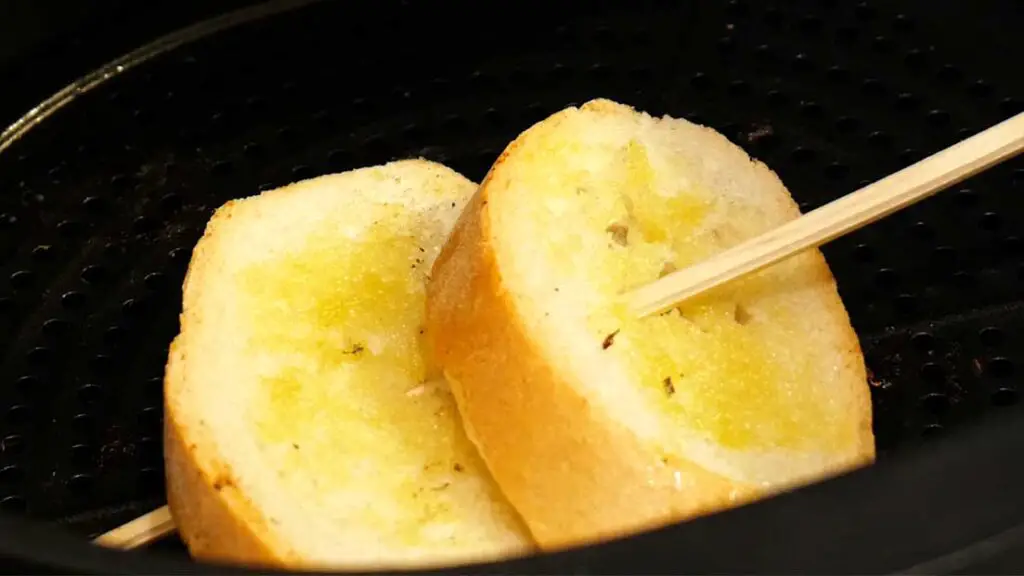 So, how to prevent that? Our neat trick is to use wooden skewers, or, if you don't have them on hand – simple plain wooden chopsticks. For example ones taken from a cheap convenience store sushi set if you have these on hand.
Don't worry, wooden skewers and chopsticks won't get burnt inside the air fryer, as the temperature or the heating time required for making toasted bread are not nearly enough for accidentally igniting wood.
Important: Make sure you don't use any kind of painted wood or wood covered in any chemical substances inside your air fryer. These should never be exposed to high temperatures!
Put the wooden skewers or a wooden chopstick through your bread pieces and place them at an angle inside the air fryer's basket. Then, you can turn on the air fryer on with your desired settings and you will be able to toast bread without it moving and being pushed around by the circulating air.
You might need to adjust the bread or the skewer positioning if the bread still moves around in the basket. You can also put more bread slices on the skewer to weigh it down even further – this works 90% of the time!
Check out also: Best Affordable Sandwich Grills With Removable Plates
The other way to go about this is to put some weight on your bread using an oven-safe dish of your choice. When doing this however, be sure that you won't obstruct the air fryer's internal air flow by putting the dish directly on the bread. If you do, your bread may not toast properly (or won't toast at all).
How to toast bread in an air fryer? – exact steps
While this isn't exactly a "recipe", here are all the steps to successfully make delicious toast in your air fryer without the bread flying inside the cooking chamber.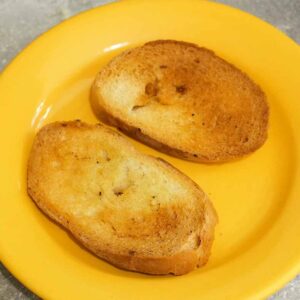 Air Fryer Toasted Bread
A short instruction set on toasting bread in an air fryer without risking it flying around in the basket and causing a mess.
Equipment
1 Air Fryer

x Wooden skewers or wooden chopsticks
Ingredients  
2

Slices of bread of your choice
Instructions 
Get your slices of bread

Spread some olive oil on both sides of the bread slices (optional).

This will give the toasted bread a nice golden coloring and make it a little bit more crispy.

Put the wooden skewer or the wooden chopstick through the slices of bread (~2-3 pieces of bread for 1 skewer for best results).

Put the wooden skewer with the bread slices on it inside the air fryer basket and air fry for around 5-8 minutes depending on your air fryer model and how you enjoy your toasted bread.

If you don't hear the bread jumping around the air fryer's basket – success! Now just wait until the bread is toasty enough for you!

All ready! – Enjoy your toasted bread straight from your air fryer!
With this little hack you will be able to toast bread in your air fryer without any trouble! But did you know you can also make air fried grilled cheese? See the next paragraph!
Check out also: Why Are Avocados So Expensive? – The Main Reasons
Can you make grilled cheese in an air fryer?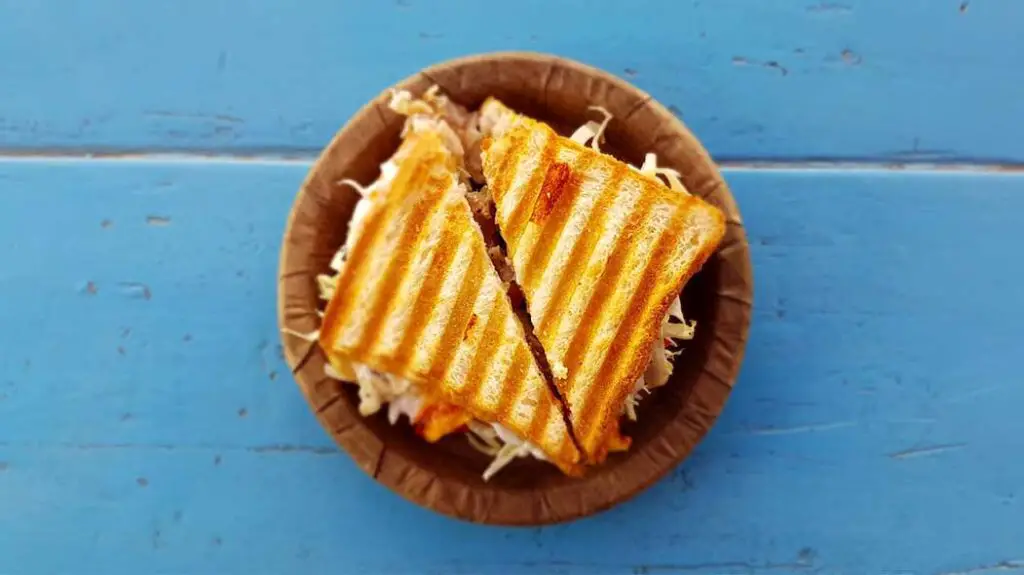 The short answer is: yes, it's possible to make grilled cheese in your air fryer and use it instead of your sandwich maker in that way. As always, there are some minor air fryer related quirks here.
The longer answer would be that while making air fried grilled cheese you need to keep some additional things in mind. In general, you should put the sandwich inside your air fryer for around 8 minutes in 400°F (200°C), although the exact cooking time will depend on your air fryer model and both the thickness and contents of your grilled cheese sandwich.
Is a Panini Press Worth It? (An Honest Opinion)
For best results with air fried grilled cheese you can:
Turn your grilled cheese around halfway through the air frying process (don't just let it sit on one side for the whole time – it needs to be heated from both sides for the best effect).
Spray or smear olive oil on both sides of your grilled cheese before air frying it to give it a nice golden coloring and crispier texture.
Make sure that the cheese is not close to the edge of the pieces of bread – this will ensure easier cleanup, as when the cheese melts, it will have a lower chance of leaking into the air fryer's basket.
So, can an air fryer replace a sandwich maker?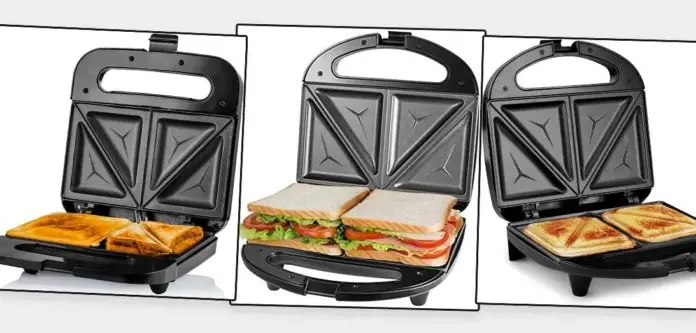 Could an air fryer replace a toaster or a sandwich maker? Well, not exactly. An air fryer in most cases will be able to toast bread and help you make mouth watering grilled cheese sandwiches, but it's not exactly the best at any of these things.
If we were to compare an air fryer to a traditional sandwich grill, a toastie maker would have a few qualities that an air fryer doesn't have.
So why would a sandwich maker be better than an air fryer for making toasties and grilled sandwiches?
Sandwich makers are usually easier to clean – especially the ones with removable plates
An air fryer won't be able to nicely press your sandwiches together, sandwich makers or panini presses are designed to do that with ease.
A strong air flow inside most air fryers will make small and light pieces of bread fly around in the air fryer's basket. As we've seen, this is a common issue that you need to take care of each time you toast small pieces of bread.
With that being said, you shouldn't really try and replace a toaster or a sandwich maker with an air fryer – it's simply not worth it!
Check out also: Sandwich Maker vs. A Panini Press (Which One Is Better For You?)