Sandwich toaster vs. a panini press. Which one is better? Which one should you choose? In this article we will go over the most important features of both simple regular sandwich makers and seemingly more complex panini presses. Let's dive into all the pros and cons and help you decide on getting one of these kitchen appliances!
[this article features Ebay & Amazon affiliate links]
What is a panini press and how it's different from a sandwich maker?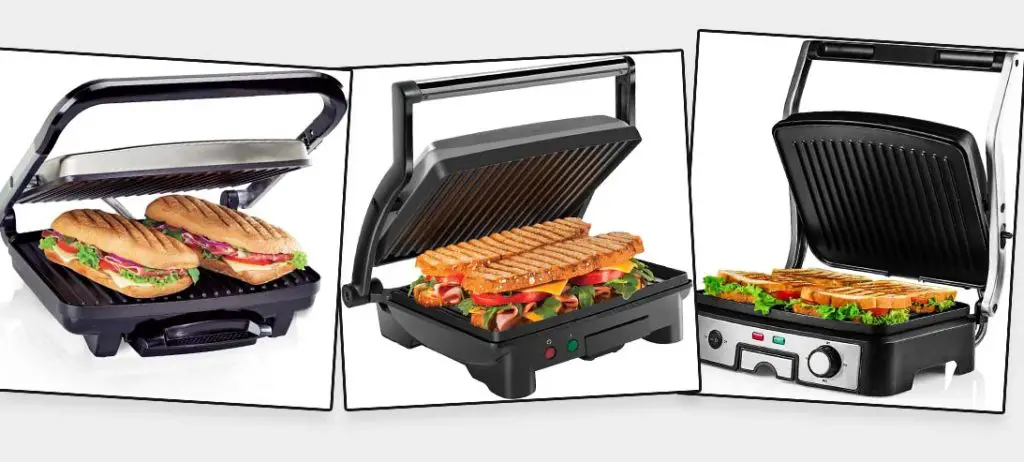 Everyone knows a plain good old sandwich maker or how some people like to call it – a sandwich grill or a sandwich toaster. It's a simplistic kitchen appliance with two heating surfaces, usually featuring special cutouts inside, for dividing the your sandwiches in two halves during the grilling process.
A panini press is a little bit different. If you don't own a panini press, you've most probably seen one in your local store or a gas station, they are most commonly used there to heat up pre-made and pre-packed panini sandwiches that are usually being sold in these kind of places as a quick snack.
Is a Panini Press Worth It? (An Honest Opinion)
Panini presses most of the times can not only be used for preparing grilled sandwiches, but also for grilling vegetables and meat, defrosting some food products and more. They can also depending on a specific press model be much more capacious than your regular plain sandwich maker.
If you're curious about a panini press with lots of great features check out the Taylor Swoden 10 in 1 panini press. It even features a built-in LCD screen, buttons for regulating the grilling plates temperature and a nifty timer!
Good to know: Commercial panini sandwiches are stereotypically known to be somewhat longer and larger than regular grilled sandwiches. You should remember though, that what truly makes a panini sandwich is the use of Italian bread (ciabatta, rosetta, etc.). Nowadays in many countries, almost any grilled sandwich is deemed a "panini" sandwich, regardless of the bread type used.
Sandwich makers vs. panini presses – main differences: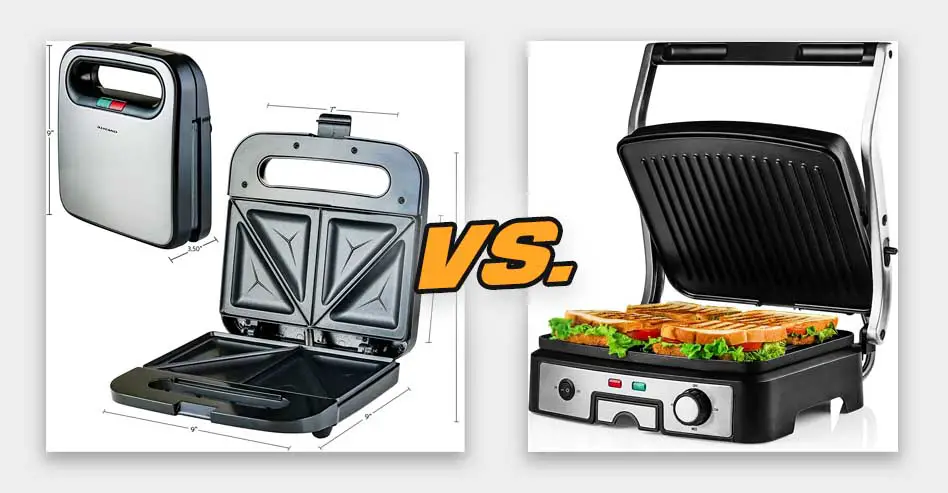 Most differences between a panini press and a sandwich maker come from the way they're built, as their basic functionalities are in places really similar.
Here are the main differences between an average sandwich maker and a panini press:
A panini press will let you grill thicker sandwiches with more fillings without worrying about breaking a hinge when forcing the appliance closed, or without having the ingredients spill out.
Same goes for the serving size – most of the time panini presses will allow you to prepare longer and overall larger sandwiches.
Panini presses often have additional features on board, such as temperature control knobs, removable plates or floating hinges (although that depends on a specific press model).
Regular plain sandwich makers are in general really affordable. If money is an issue you would probably want to grab a good old sandwich maker for a few bucks rather than go for a more advanced panini press.
Panini presses are pretty versatile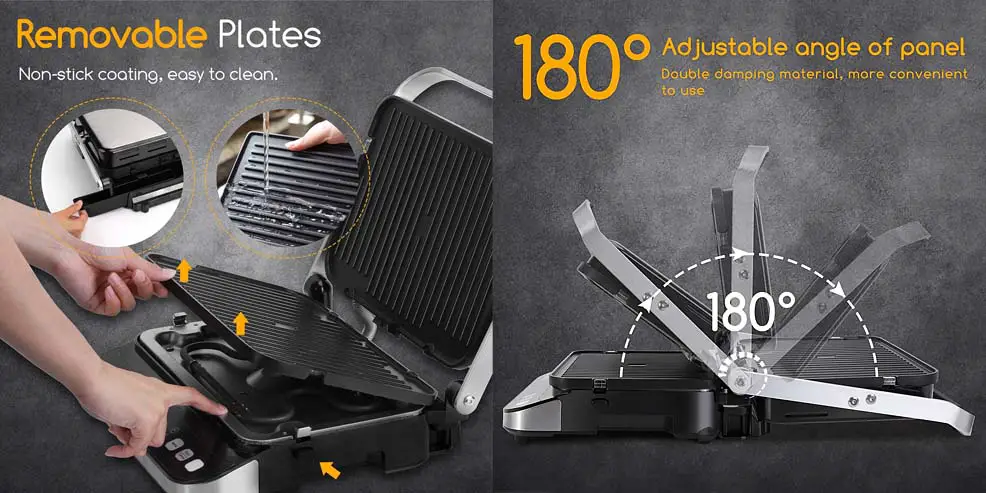 A panini press can not only help you make regular small toasties or grilled cheese, but also grill bacon, vegetables or extra large sandwiches.
Convection Oven vs. An Air Fryer (What's The Difference?)
Moreover, Many panini presses can actually be opened to expose both heating surfaces – this way you can grill things like vegetables or bacon using double the space that would be normally available to you in a regular sandwich maker. Defrosting some food products is also possible.
Often, some more advanced panini press models like this one, will offer a temperature regulation knob so you can have more control over the grilling process.
| Chefman Panini Press: | Ovente Panini Press: | Hamilton Beach Press: |
| --- | --- | --- |
| | | |
A floating hinge mechanism that is present on most panini presses, ensures that you will be able to prepare thick sandwiches with many ingredients and fillings, that you wouldn't be able to fit in your regular sandwich maker.
On the other hand, some simple sandwich makers also come with removable cooking plates, enabling you to prepare not only simple toasties, but also waffles or grilled vegetables. You can learn more about these here: New Best Quality Affordable Sandwich Grills With Removable Plates.
Yes, you can make regular grilled sandwiches in a panini press
You can easily grill regular sandwiches using a panini press. In that sense, a panini press is when it comes to its core functionality pretty much the same as a regular sandwich maker or sandwich toaster.
The main difference between a sandwich maker and a panini press when it comes to making grilled sandwiches is the capacity of the appliances.
Is a Panini Press Worth It? (An Honest Opinion)
Another thing is that a regular panini press by default will feature simple, close to flat grilling surfaces, while a regular sandwich maker will most of the times feature specially cut out heating surfaces that are made to help divide toast bread pieces in half during the grilling process. These may make for example grilling vegetables in a sandwich maker very hard or simply impossible.
Panini press will allow you to go for more filling and thicker sandwiches
As we've mentioned before, a floating hinge mechanism used in most modern panini presses lets you prepare much thicker sandwiches with more fillings.
With a regular sandwich maker you can often struggle to close the lid when making a larger, thicker toastie, and when trying to close the lid by force you risk damaging the appliance.
If you're interested in panini presses capable of grilling plus size sandwiches you can check out our recommended model – it will suit you if you like your toasties nice and thick!
Sandwich makers are usually really cheap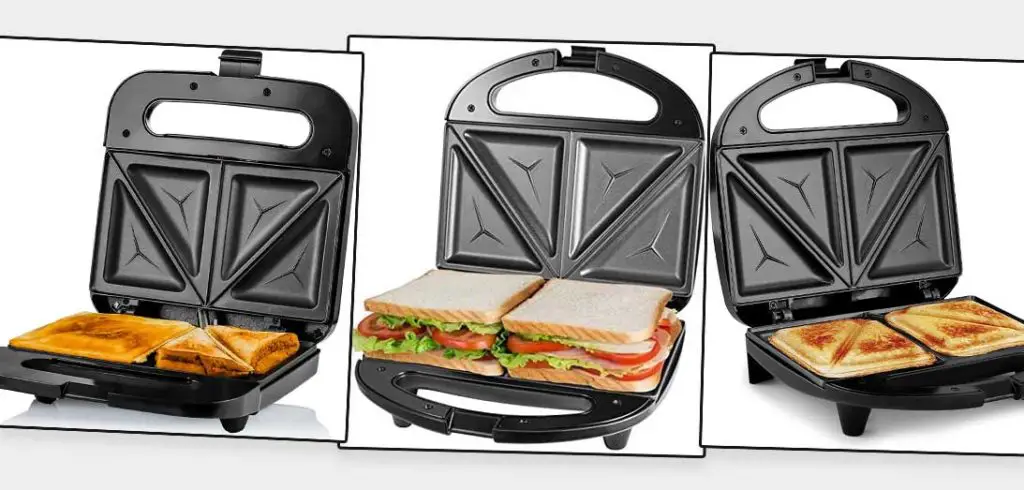 Sandwich makers, especially the most simple ones will in general always be cheaper than panini presses. It's not usually a huge difference, but it may be important for you if you're for example a student on a tight budget.
| Ovente S. Maker: | OSTBA S. Maker: | GOTHAM S. Maker: |
| --- | --- | --- |
| | | |
A panini press can be often considered a "more advanced" appliance and the average price of a panini press reflects that being a bit higher than an average price of a simple sandwich maker.
Rest assured though, that paying a bit more for a panini press will be worth it in the end. We strongly recommend you do just that if you're unsure which appliance to choose, you won't regret it! Check out the Taylor Swoden 10 in 1 panini press on Amazon!
The conclusion – which one should you get?
Generally a good panini press will always be more versatile than a simple cheap sandwich maker with plates designed only for grilling plain bread toasties. This however depends on the specific panini press model you'll decide to settle on.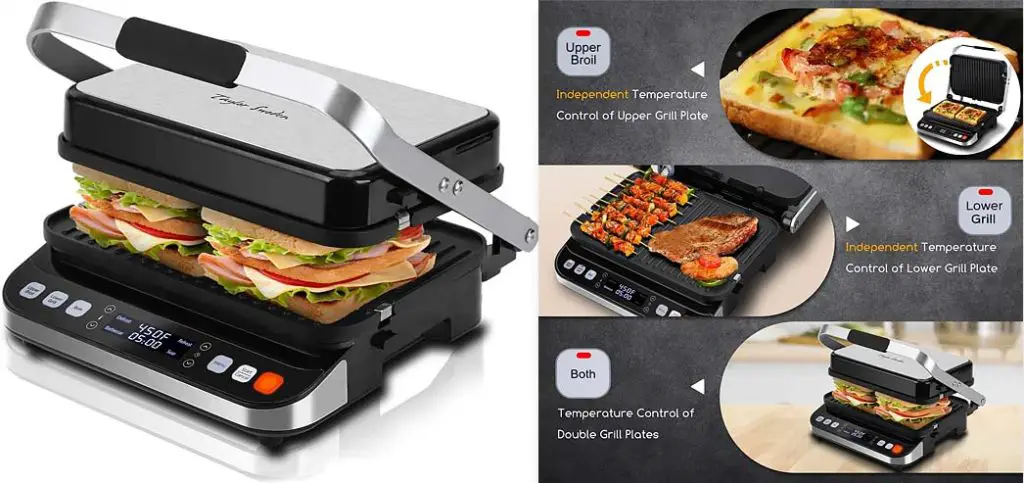 After some research here at toastnfry we strongly recommend you to check out the Taylor Swoden 10 in 1 panini press. This stainless steel non-stick press has a small screen, temperature controls, features a floating hinge and can open 180 degrees exposing two grilling plates. Great value for money!
Check it out here on Amazon, be sure to read the reviews too, they nicely sum up all the great things about this feature packed appliance.