On your search for best high quality affordable sandwich grills you might have come across sandwich grills with removable and replaceable plates. This is a trend that's been in the sandwich maker business for a while now. Presence of an removable plate not only makes it possible for you to prepare other kinds of snacks than simple grilled sandwiches (such as grilled vegetables or sweet waffles) but also makes your sandwich grill super easy to clean. Let's take a look at 3 best models we've found online.
[this article features affiliate links]

This little variation on the classic sandwich grill comes with 3 replaceable plates.
This device has to offer:
Classic sandwich grill feature
A simple waffle maker
Mini-grill plate functionality
Removable plates are not only great because of the versatility they give you in terms of quick meals you can prepare, but also because of how much they improve the cleaning experience.
You can easily unmount each of the plates and then wash them with ease.
Other features of these grill are: LED indicator light, safe cool touch handle and 4 sturdy rubber feet.
This device is a great quality mini indoors grill at a really low price point. Perfect for university students!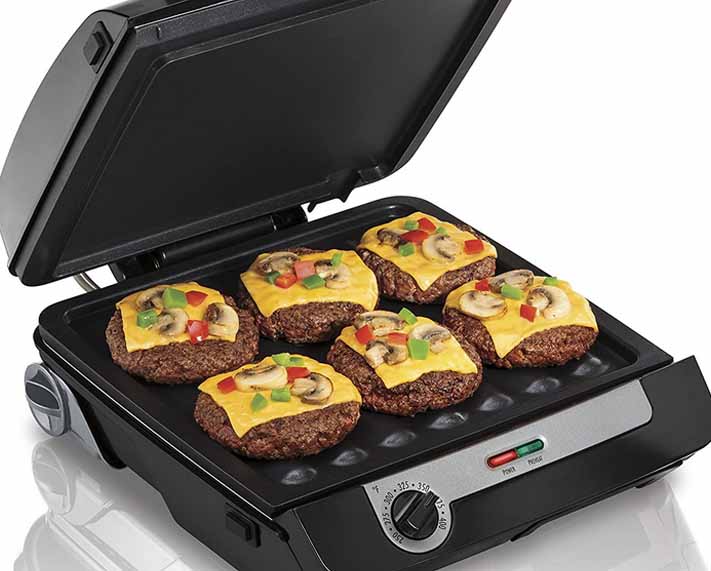 This little sandwich grill comes with removable non-stick plates and more importantly, with a temperature setup knob, which is rare when it comes to sandwich grills on the cheaper side.
You can set the temperature ranging from 250 to 400°F.
A major feature of this grill is that besides it functioning as a standard sandwich grill, this device opens up in such a way that it can offer to you 2 separate flat cooking surfaces if you would like to utilize the mini electric grill functionality to its fullest.
Above that, there are two indicator lights, one signalling if the device is on, the second one, whether the pre-heating has finished.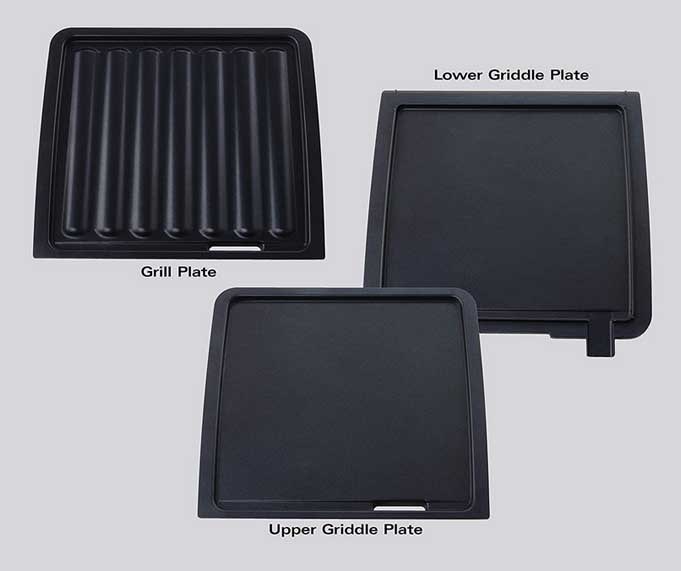 The plates included in the set are also dishwasher safe, so that's a great bonus when it comes to cleaning.
This one, while being a little bit more expensive than the Ovente sandwich grill, offers you similar functionality with more sturdy material design.
It comes with 3 standard removable interchangeable metal cooking plates, and it comes in two color variations: black and red.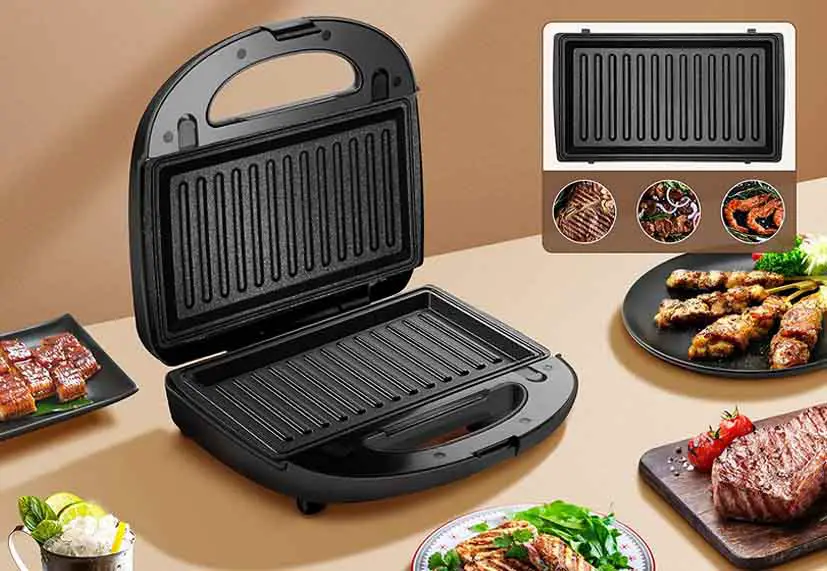 Current prices:
Here are all the electric grills featured in this article. You can follow these Amazon links to check the current prices if you're planning on getting yourself a brand new mini grill:
| Ovente Grill | Hamilton Beach Grill | Homever Grill |
| --- | --- | --- |
| | | |
Pioneer DDJ-Rev7 and the Rane One prices on Amazon.
The conclusion – product summary
All of these devices are a great bang for buck and will surely serve you for a long time. Interchangeable metal cooking plates are one of the best features that a sandwich grill can have as they give you much more possibilities while retaining a low price of the appliance.
Get your brand new sandwich maker with removable plates now, worry less about cleaning and be more versatile. You won't regret it!
Grill
Features
Price
Ovente Electric Indoor Sandwich Grill:
– 3 interchangeable plates
– Simple grill functionality
– Great price!
Check price on Amazon
Hamilton Beach 4-in-1 Indoor Grill:
– Temperature control knob
– Can fold out offering two flat cooking surfaces
– Lots of positive reviews
Check price on Amazon
Homever Sandwich Grill:
– Simple build
– A bit pricier than the Ovente solution
Check price on Amazon
Top sandwich grills with removable plates.
Note: Before making a purchase, please check the outlet type and voltage compatibility with your home electrical installation to avoid getting a device that won't work in your country.
Article photo: Shanice Garcia