Uten 1088TS Uten 6.9 qt / 6.5 l 1700W Air Fryer review – This particular air fryer model has caught our eye from the start, and we were delighted to put it through extensive tests here at toastnfrypro. This air fryer model manufactured by Uten is not only a high capacity one safely fit for a family of 4, but also it's relatively cheap for a high powered 1700 W appliance. Moreover, it also has quite a few neat features and quality-of-life solutions on board that will enhance your experience and make air frying large amounts of food a breeze. Let's get straight into the review!
[this article features Ebay & Amazon affiliate links]
High Capacity Uten 1088TS Air Fryer – features
| Device: | Uten 1088TS Air Fryer |
| --- | --- |
| Photo: | |
| Price: | Check price on Amazon | Check price on Ebay |
| Capacity: | 6.9 qt / 6.5 l (XXL) |
| Power: | 1700 W |
| Voltage: | 120V and 230V models available |
| Weight: | 14 lbs / 6.30 kg |
| Controls: | LED touch screen, no physical buttons |
| Temperature: | 180-400°F / 100-200°C |
| Max cooking time: | 0-30 min |
| Additional features: | 8 food type presets, shake reminder (in 5, 10, 15 min) |
| Safety features: | Auto-pause when the basket is removed |
| Non-stick coating: | Yes |
| Dishwasher safe basket: | Yes |
Uten high capacity 6.9 qt / 6.5 l 1700 W air fryer features + price and availability.
The high capacity & XXL size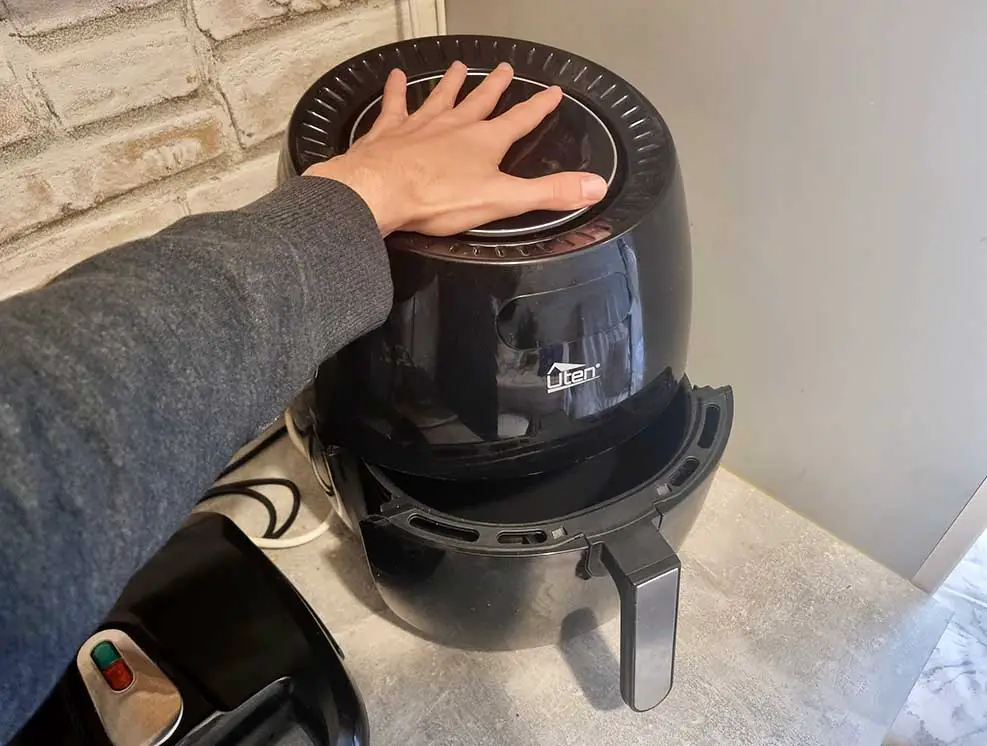 This Uten 6.9 qt / 6.5 l air fryer is one of the biggest air fryers we were able to test recently. Its capacity is certainly more than that of your average air fryer, and its overall size does reflect that as you can see on the image above.
For a family of 4 and above, if you're prepared to make some sacrifices and prepare your meals in more than one go, the Uten air fryer will be perfect for you. It can fit surprisingly large amounts of food.
Preparing more than 2 lbs (~1 kg) of frozen french fries in one go is perfectly possible here – without any compromises!
With that said, while this air fryer does feature a large capacity cooking chamber and basket, it's also really bulky. On our counter it took up a large amount of space, and keep in mind that with its hot air exhausts positioned on the lower back part of the appliance you have to make sure that it won't get obstructed – ideally it would need to be placed at least a few inches from the wall.
Consider checking if you have enough space on your countertop to fit this rather large appliance before making a purchase. If you feel like you would prefer a smaller one, you can check out the Ninja AF101 Air Fryer – perfect for one person use and a small family of 2!
Main features, functions and ease of use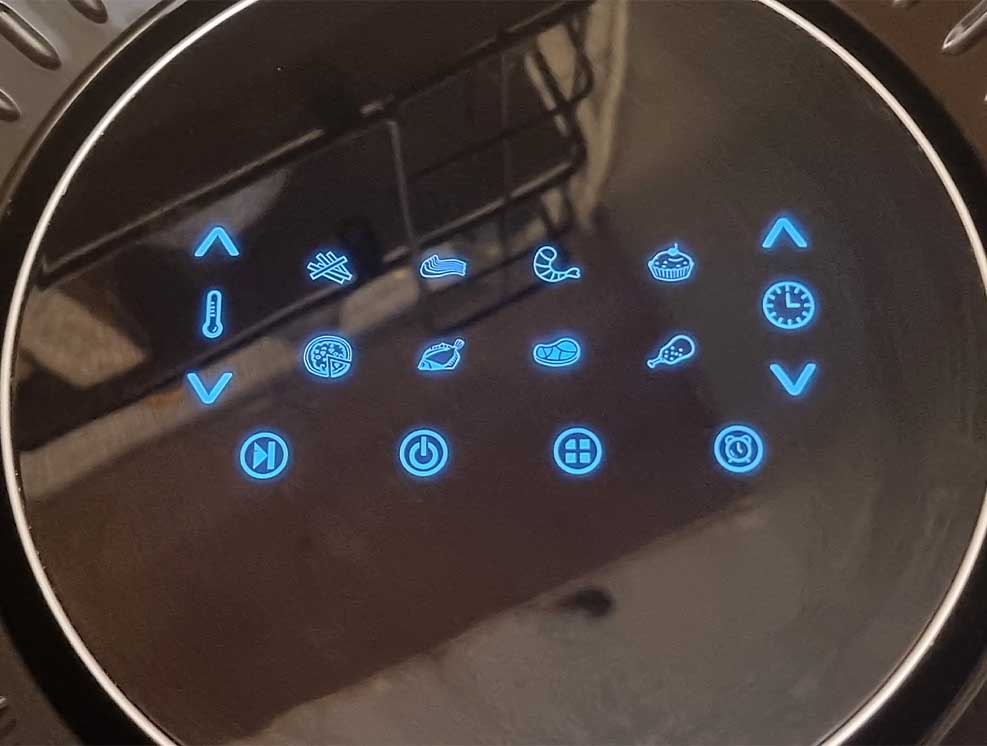 The Uten 6.9 qt / 6.5 l air fryer is really easy to use with its reliable touch controls accessible from the device's top panel. The touch buttons are really responsive and we didn't experience any trouble, unregistered presses or extensive touch latency when using the device.
As is customary with modern air fryers, the Uten 1088TS features non-stick coating on its cooking basket and removable grated tray, and indeed by default we didn't have any problems with removing leftover food or grease from it when cleaning the appliance (more on that later).
Uten 1088TS allows for using air frying temperatures for up to 180-400°F (100-200°C) and supports max cooking time of 30 minutes.

A great quality-of-life feature that can be found here is the shake reminder. After pressing the shake reminder function button (the one with an alarm clock symbol) you will be able to set an alarm to remind you to shake up and mix your food inside the air fryer's basket to allow it to cook evenly. Supported time intervals for the shake reminder are 5, 10 and 15 minutes.
The device also does have time/temperature cooking presets for 8 different dishes accessible from its top panel, with nice little symbol representation of each type of food. These presets can be freely circled through by clicking the preset button (the one with four squares on it). Unfortunately these presets cannot be edited in any way.
As most air fryers do, this one will also turn off when the basket is removed and then, when it's inserted again it will resume the cooking program. This enables you to easily stir and mix up your food anytime during the air frying process.
After the cooking process is finished, the air fryer will beep rather loudly until a dozen seconds pass or you take out the basket. The sound is easily audible and in our case it could be heard even from another room. No worries here.
The design – food basket & separable tray
In the box, besides the Uten 1088TS air fryer itself, you will find a simple separable grated cooking tray that is meant to be placed under the food you're air frying, as well as a metal stand for layering the food inside the appliance.
The grated tray is covered in non-stick coating, features a part you can use to lift it up from inside the air fryer's basket, 4 small rubber pieces on its edges that help fixing it in place inside the appliance, and as we've mentioned, a grated finish so that the possible leftover grease from the food won't get stuck to it during the cooking process.
The set should also contain a neat metal stand that allows you to stack up food (to some degree) and allow for better air flow with larger food pieces. Note that this one is missing from our product photos.
When it comes to the power cord, it is a standard non-removable power cable that comes out from the back of the device, from near the place where the hot air exhausts are positioned. It's reasonably long, and we didn't have to use an extension cord to reach our awkwardly positioned outlet.
Our tests – practical use and experience after 1 month
Dedicated to our craft, we decided to switch to the Uten 1088TS air fryer for a whole month to give you the best idea of what exactly the actual user experience with this particular appliance looks like. Here is what we found out.
The touch interface is simple and easy to use, the buttons are responsive and the presets… well we didn't really use them a lot.
The small front display on the device is bright, easily readable and it displays all the setting values during the program setup and the cooking temperature and remaining cooking time (interchangeably) during the air frying process.
High capacity and power output are one of the best advantages of the Uten 1088TS air fryer. We were able to prepare all of our favorite dishes really fast and not once we found ourselves to be lacking place inside the cooking basket.
This air fryer is relatively quiet and has a nice low hum which is non-distracting and quite pleasant sound (for a direct sound recording example click here).
Having the shake reminder on board is a really nice thing, and it proves itself to be especially useful when you leave your food cooking for the full 30 minutes and you need to be reminded to mix it up halfway through, at the 15 min mark.
The basket alongside with the supplied tray and metal stand are dishwasher safe, but we found ourselves cleaning them by hand without any trouble.
A beep signal sound that is used both for the shake reminder alarm and at the end of the cooking process is pretty loud and easily audible even from another closed off room.
The classic auto pause and resume feature works without any trouble – when you take out the cooking basket the air frying process will pause, and when you put it back in it will resume momentarily.
In our honest opinion the glossy plastic finish might not be the best choice for a kitchen appliance of this size, although this is purely a matter of preference.
Check out also: How Loud Are Air Fryers Really? – Recordings And dB Measures
Is it easy to clean? – Simple cleanup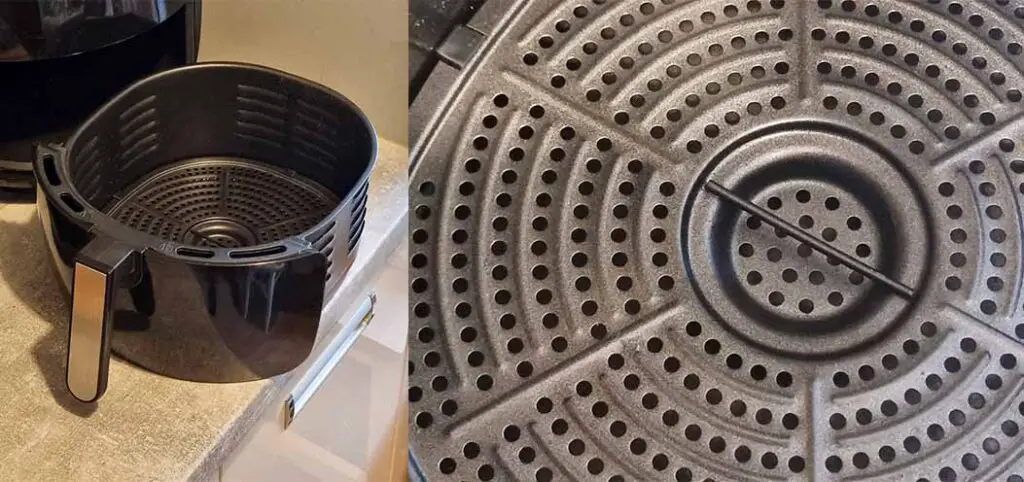 When it comes to the ease of cleanup, the Uten 1088TS air fryer features a dishwasher safe cooking basket covered in non-stick coating that ensures faster and easier removal of leftover food pieces and grease.
In practice we found ourselves to be cleaning the removable metal grate much more often than the whole basket. A neat trick here is to use baking parchment paper under the grate in a way that won't obstruct the air fryer's internal air flow. It's perfectly possible with this air fryer and it makes cleaning the appliance even easier!
Check out also: Baking Parchment Paper In An Air Fryer?
Uten 1088TS – Pros & cons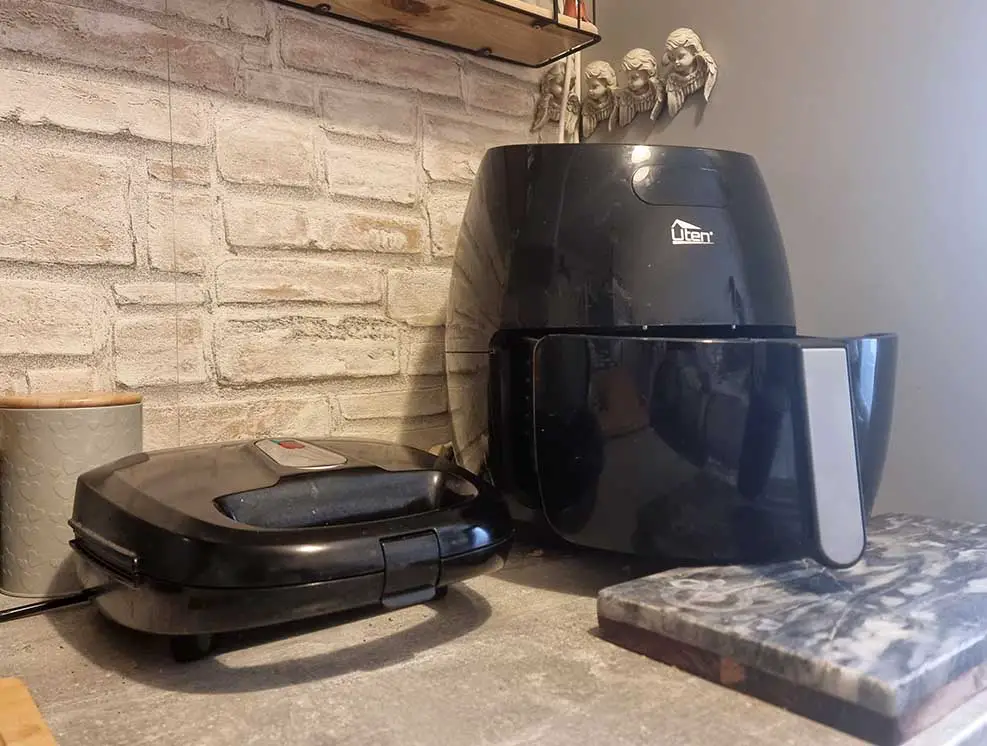 As a part of the honest summary of our own experience with the product, now we're going to list both the upsides and shortcomings of the Uten 1088TS air fryer that we noticed along the way during our tests. We hope you'll find it helpful.
Pros:
Responsive touch interface that's simple and super easy to use.
Very much affordable when compared to other air fryers of this type.
High capacity of almost 7 quarts.
Perfect for a larger family.
Easy to clean.
Both auto pause and resume features work great.
Shake reminder function is a nice addition.
Cons:
While being extremely capacious, it's also pretty bulky.
The glossy plastic finish makes its surface really reflective.
Check out also: Air Fryer vs. A Convection Oven – What's The Difference?
Price & availability
As of now, the Uten 1088TS air fryer should be readily available both on Amazon, and over on Ebay. Offering impressive capacity at a low price point, it is really worth looking into!
What can you do with a high capacity air fryer?
The first and most prominent advantage of a high capacity air fryer like the Uten 1088TS, is that when using it you will be able to prepare large batches of food at once, and if you manage it right, prepare meals even for a family of 4 in one go!
Besides that, there are countless other advantages of using an air fryer, including the possibility of oil-less cooking, achieving similar results to actually frying your food and preparing your meals even up to twice as fast as you would using a regular generic convection oven.
There are lots and lots of dishes you can prepare using an air fryer, among them our signature delicious air fried bell peppers. You can even toast bread using your air fryer if you do it right!
Feel free to click the links above for recipes. And here are even more air fryer recipe sites if we got you interested!
The final verdict – is the Uten 1088TS air fryer worth it?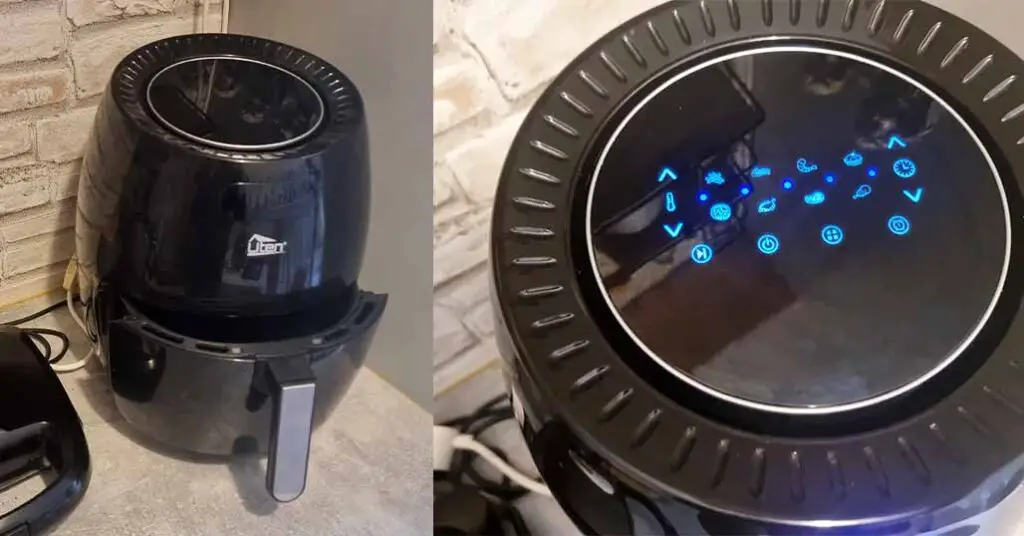 Well, now after using the Uten 1088TS air fryer for over a month, we can safely say that this appliance is definitely worth your attention. It's easy to use, super easy to clean, features outstanding capacity of almost 7 qt and a bunch of rather neat quality-of-life features on board. Moreover, what's quite surprising is that it's really cheap when compared to other air fryers of similar size!
It's a great choice provided you've got enough space on your countertop and you're ready to enjoy lots and lots of delicious air fried meals!
Grab a brand new Uten 1088TS air fryer here: Air Fryer 6.9QT/6.5L, Uten 1700W High-power 8 in 1 Appliance.