The now over 30 year old FRAKTA Carrier bag is without a doubt one of the most recognizable bags in the world. If you're moving houses, planning a college move-in, storing away a bunch of stuff, doing a enormous batch of laundry, or you simply need to transport a large amount of heavy items, the nifty blue IKEA bags are always of great help.
Many of us already have a bunch of these at our homes, but what if you desperately need a few and you don't have an IKEA store near you? Let's quickly take a look at where you can actually get IKEA bags online for a good price!
[this article features Ebay & Amazon affiliate links]
Where can you get blue IKEA carrier bags?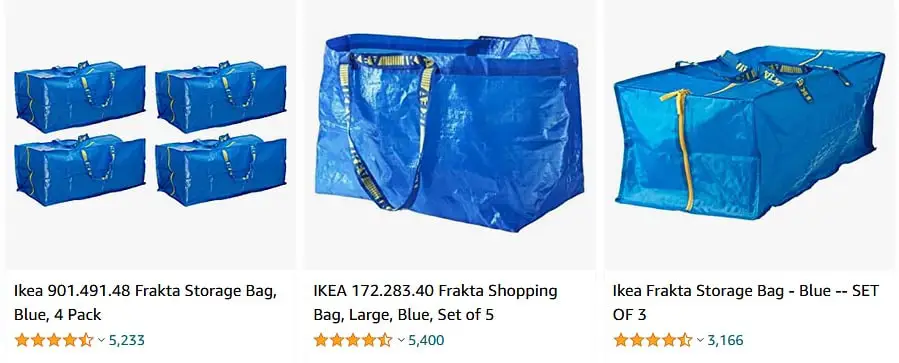 Apart from the obvious way – getting one at your local IKEA store, you can also purchase IKEA bags online, without buying any additional items.
You can get them either directly from Amazon, or on the official IKEA website. In both these places you will have an option to purchase them in larger sets.
IKEA actually has much more to offer in terms of carrying bags than the classic blue FRAKTA design (which by the way also comes in many different sizes for your convenience). The IKEA bags come in a variety of different colors and designs. There are even large capacity ones featuring a zipper!
You may find that these other designs will be better fit for your purposes than the classic FRAKTA bag!
Are the IKEA bags environmentally friendly?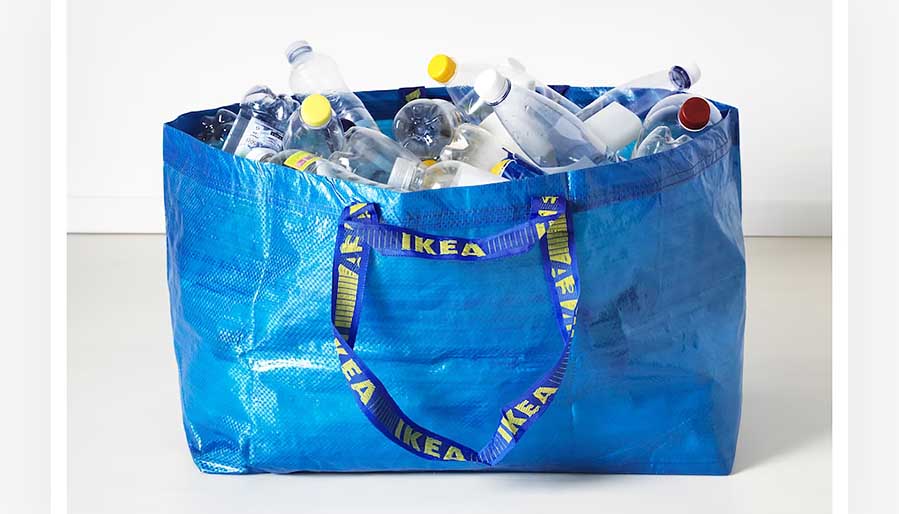 So, IKEA bags are made out of polypropylene which is essentially a plastic. But are they eco friendly in any way? Well, although polypropylene isn't exactly the most eco friendly material, the official IKEA statement is that the FRAKTA bags are made out minimum 60 percent recycled plastic. According to their climate protection policies, they are striving to make that a 100% in the near future.
Check out this article if you want to know more about the IKEA climate conservation strategies and policies, as well as tips on how to safely dispose of your damaged IKEA bags: Are Blue IKEA Plastic Bags Recyclable? – Let's Investigate! (coming very soon).
How much weight can IKEA bag hold?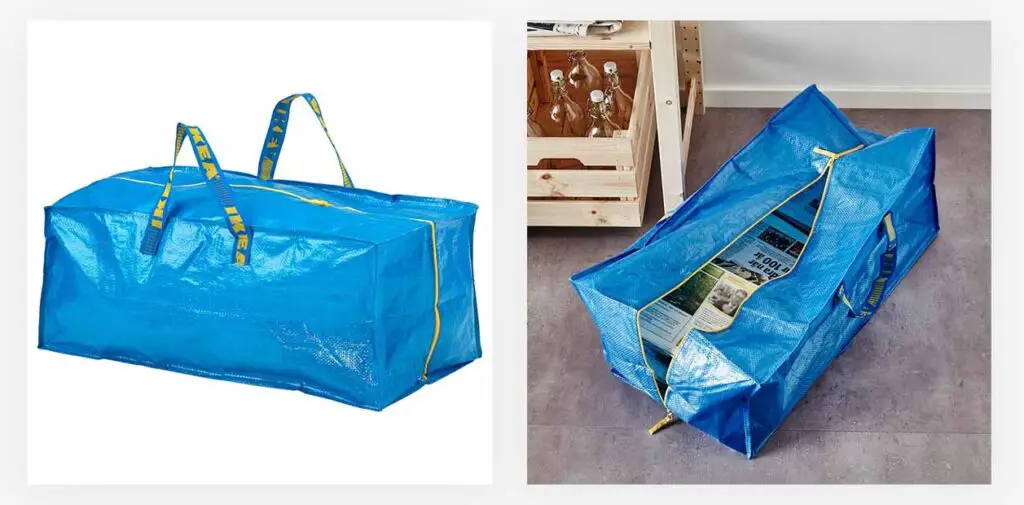 What is the IKEA bag weight limit? It turns out that it can hold up to 55 pounds (25 kg) of items. This is the official weight limit that you can find on the IKEA FRAKTA product page, however you could probably push it by a few pounds if you're careful.
While the classic IKEA bag is very much durable and can take much abuse before it gets damaged, be careful not to carry any sharp items inside it. If the bag gets pierced its structure weakens and it may become unusable.
How do you clean an IKEA bag?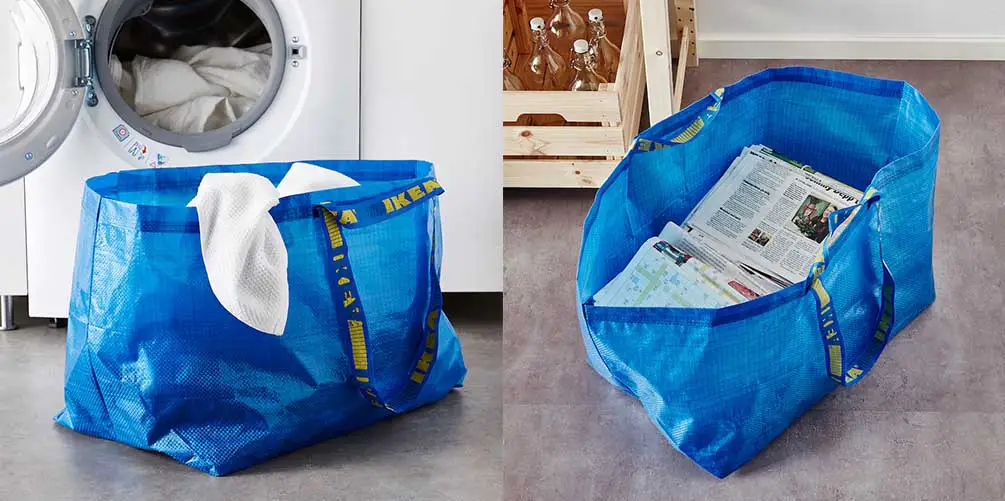 Well, we have the official answer for that. According to the IKEA website, you can easily clean your blue IKEA bags using a damp cloth, giving it a proper and thorough wipedown. You can also simply submerge the bags in water for a while and then dry them. These are both valid and safe ways to quickly clean your IKEA bags. Keep in mind though, that there are some things that you really shouldn't do when attempting to clean these types of bags.
Do not wash them in any kind of appliances, do not use bleach when cleaning them, do not attempt to iron or dryclean them, as you might risk damage both to your appliances and to the bag itself. Also, remember: IKEA bags are by design and official statement not machine washable!
Unfortunately a damaged IKEA bag, if it cannot be fixed with some flextape magic, has to be properly disposed of.
Are IKEA bags waterproof?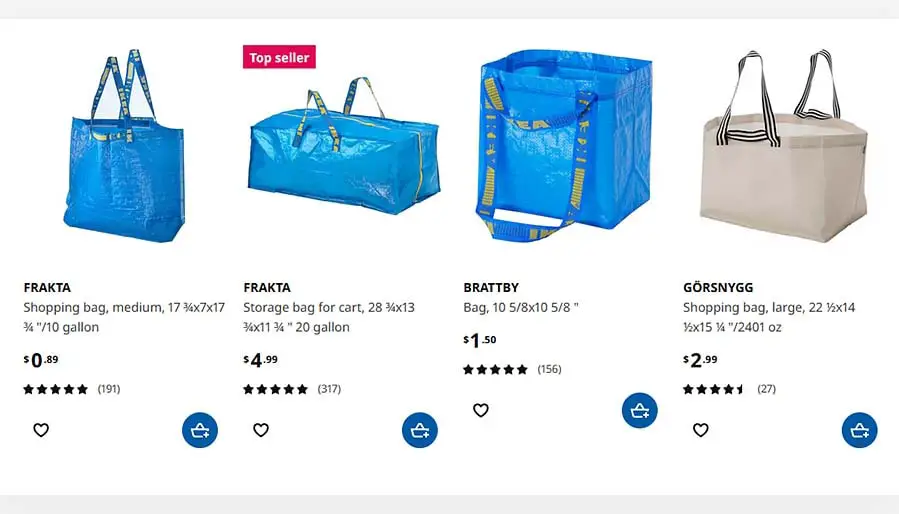 Well, yes when it comes to cleaning – you can safely rinse them in water for long periods of time and it won't cause any damage to them – just as with classic blue storage tarps. If you'd attempt to carry any liquids inside of you IKEA bag though, you might find that some of it might leak at the seams if the bag is old or damaged. For practical purposes, an IKEA bag in good condition may be able to hold smaller amounts of liquids although it certainly isn't designed for that.
In general an undamaged or new IKEA bag can be safely placed on a wet surface, without worrying about the water leaking through and getting to your stuff. Check the bottom for damage first though!
If you're worried about transporting any kind of smaller items in your IKEA bag in circumstances when they can be easily damaged by water, check out the IKEA RENSARE waterproof bag – a much smaller one, although made with the possibility of being almost fully watertight.
Alternatives to the IKEA FRAKTA bag
Here, for your convenience we've listed some worthwhile (and possibly cheaper) alternatives for the classic blue IKEA FRAKTA bag. Remember that these might be made from different materials than the original IKEA bags, and will vary in their weight limits. Be sure to check them out!
Alternatives to IKEA FRAKTA bags.