Are you looking for a best step stool for your smaller kitchen? Good well-built quality compact kitchen step stools can last you for a very long time. Small step stools are not only a great convenience, but also in a sense a necessity in some kitchens, for instance if you have cabinets that are hard to reach without a little help and you don't have much space to spare.
If you're looking for a smaller step stool or a step ladder for both adults and kids that's a perfect fit for you kitchen, look no further! We present to you 6 top thoroughly tested kitchen step stools we found worth your attention (including foldable ones!). Let's begin!
[this article features Ebay & Amazon affiliate links]
Air Fryer Buyer's Guide – How To Choose Your First Air Fryer (Quick & Easy)
How to choose a perfect step stool for your kitchen?

There are a few things you should know when planning to purchase a brand new high quality well built step stool or step ladder for your kitchen. These things have to do both with your safety and with practicality and ease of use and storage of your chosen step stool. Here are the most important things you should pay attention to when choosing a right step stool for you.
Ideally, a kitchen step stool should be:
Relatively small and preferably foldable – to save space in your kitchen and avoid problems with storage.
Easy to assemble – so that you don't waste hours on figuring out how to put this simple piece of furniture together.
Durable and sturdy – you don't want it to come apart while you're standing on it!
High enough for your kitchen needs – consider taking at least approximate measurements before purchasing your step stool if you need it to provide you access to specific areas in your kitchen.
Equipped with non-slip feet – this is especially important if you are planning to put your step stool on a slippery tiled kitchen floor.
Safe for kids – not having sharp edges or protruding parts is always a bonus part and sometimes a necessity in a house with small children.
Keep all those things in mind when choosing an ideal step stool for your kitchen. As we've mentioned, a good quality step stool can last you for long years – you just need to choose the right one!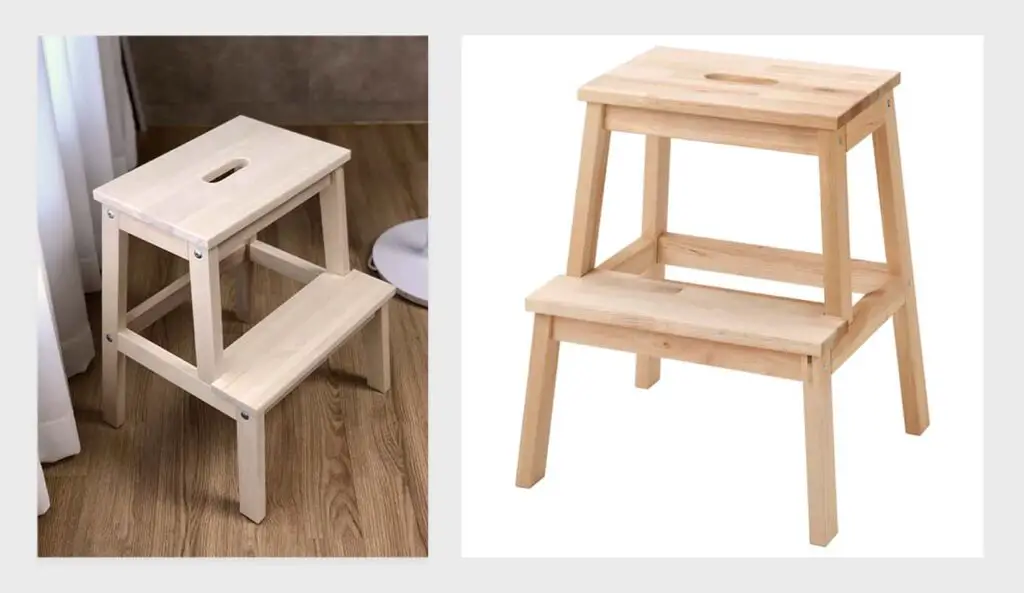 This is hands down one of the best quality and most affordable kitchen step stools on this list. It's sturdy, but also really easy to assemble and I can personally assure you that it can withstand much!
It's made from solid wood and easy to clean. Definitely the one that I recommend the most from this list based on my own personal experience with the product!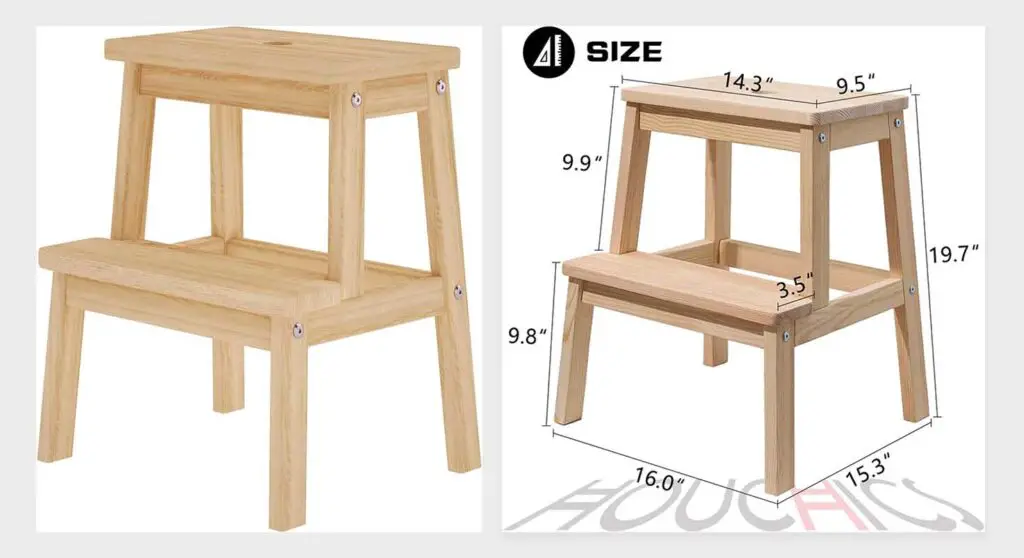 This step stool is really similar to the one from Ikea we already mentioned, it can withstand up to 400 lbs of weight and is equally easy to assemble.
A clear advantage of this one is that while the Ikea one is hard to find in different colors and it has to be painted using an appropriate anti-split paint if you'd like to change its plain wooden appearance, the Houchics step stool comes in quite a few color variants!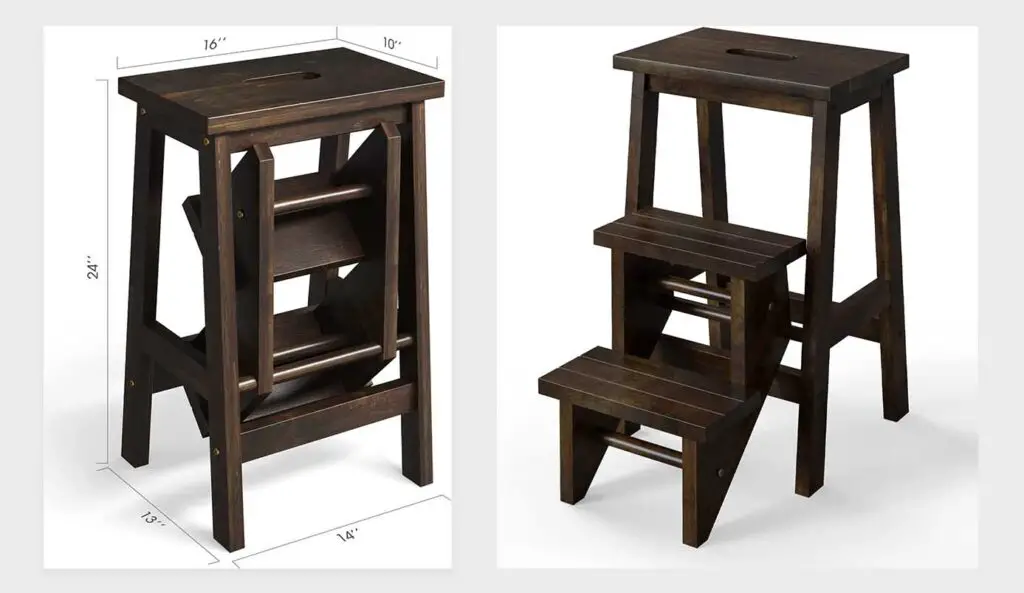 This is the first foldable step stool on this list. The 3-in-1 design is a perfect choice for those of you who are short on space in your smaller kitchens. It folds inwards making it easy to store away when it's not needed. Convenient!
It has a slightly lower weight tolerance of 200 lbs mainly because of it's sleek foldable design.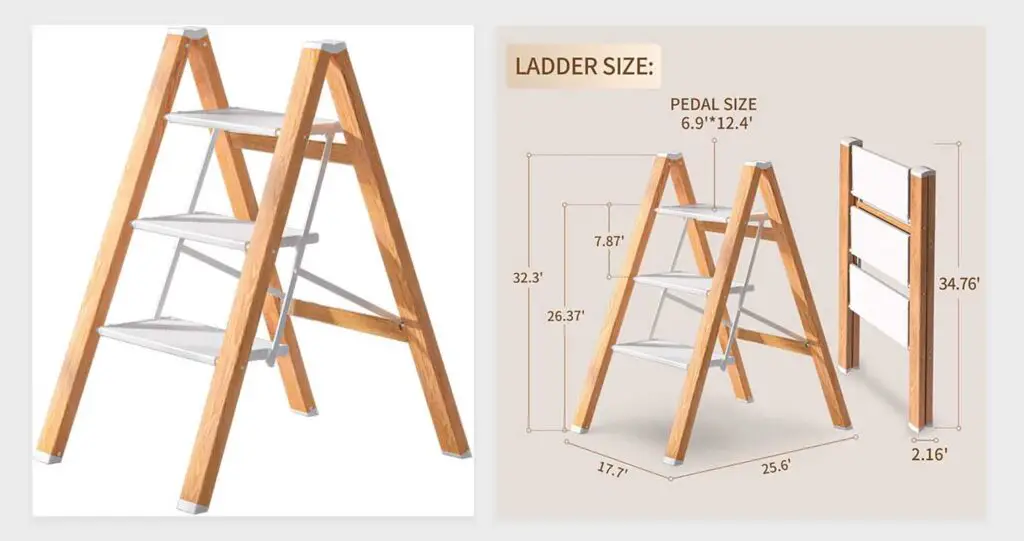 If you're looking for an ultra-portable and lightweight step stool that you can easily hide away in your small kitchen this might just be it! When folded it's only around 2.16′ wide and it can be easily slipped in between or under the furniture. It also weighs only around 8 lbs.
Despite its appearance, it's able to support up to 330 lbs. If you want to save some space that's definitely the one!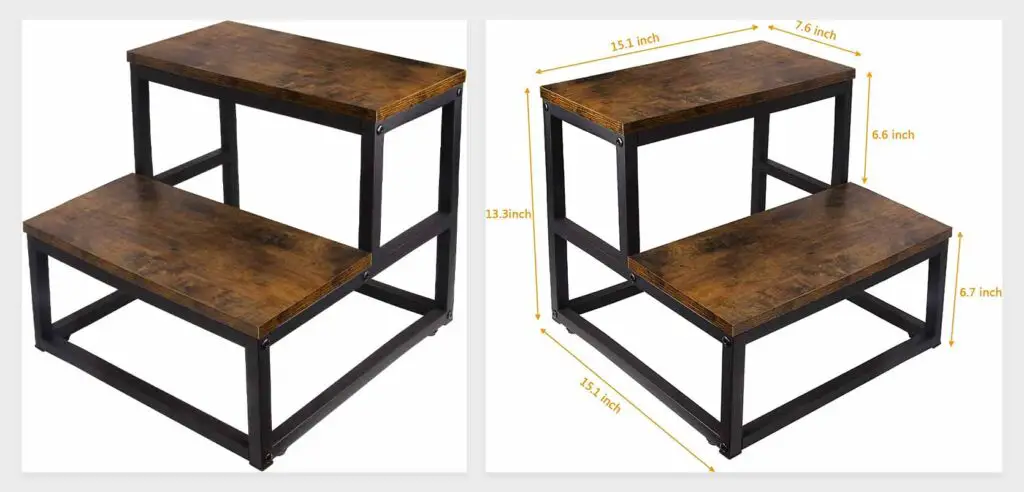 While this beast of a step stool is able to support up to 500 lbs of weight, unfortunately it's also a bit bigger than the ones mentioned on this list. If this much of a size difference isn't an issue for you, you might be interested in this one.
It's design is quite crude, but it also makes it extra durable and so, hard to damage by accident. One important side note here: you might want to get some corner protectors on this one if your have small children in your house!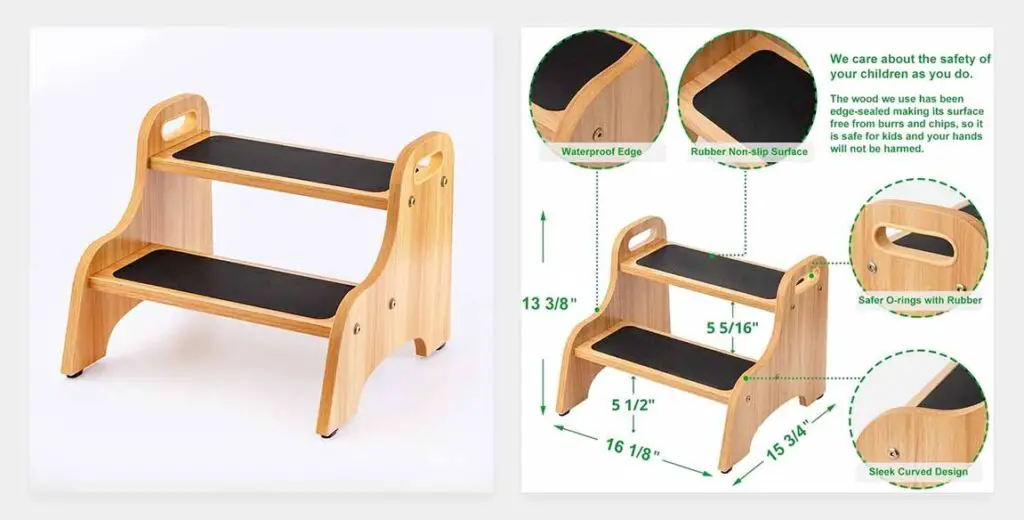 This sleek and kid-safe design has no sharp edges, features small handles, and has steps covered with a quality slip-resistant surface.
With all those safety features in place this step stool is still able to support 400 lbs of weight. All this while being made of plywood and being relatively small and easy to store.
This one is definitely worth your attention if you have small children at home. Hard to get safer than that!
How can you hide step stools in the kitchen?
If you're not resorting to any complex solutions such as step stools built into your kitchen furniture, you'll most likely be looking for a place to store your step stool while it's not in use. Well, there are quite a few creative ideas on how to hide an unused step stool in your small kitchen. Here are some of them.
In the empty space under the kitchen sink – if there is a free space under your kitchen sink you can accomodate it in various ways (in eastern Europe for example you can often find trash bins in there). Provided your step stool is small enough you can try to fit it there.
In small gaps between the furniture (foldable step stools only) – Small foldable step ladders (such as the Culaccino step ladder) can be sometimes hidden in small gaps between the furniture and your kitchen walls. If there aren't such gaps in your kitchen, you can also try to find an unused place behind the kitchen door that's usually left open, or next to your fridge.
Under the furniture (foldable step stools only) – If you own a said small foldable step ladder, there is quite a fun way you can store it away provided your furniture allows you to do so. Many kitchen cabinets have unused space under them often blocked by a wooden divider located near their bottom. If that's the case, try sliding the folded step stool ladder in the gap and then covering it again.
Out in the open (!) – Although it may seem counterintuitive, sometimes you don't have to hide your step stool at all. When it's often in use, you can also leave it as it is and in the short timespans that it's not needed use it as a footrest or a place for small common used items storage.
Outside of your kitchen – If you want to keep your kitchen uncluttered and minimalistic you might want to consider storing your step stool outside of your kitchen. If your house has a broom closet that's in a relatively close proximity to your kitchen, it's always a great idea to store your step stool there.
The conclusion – which one should you choose?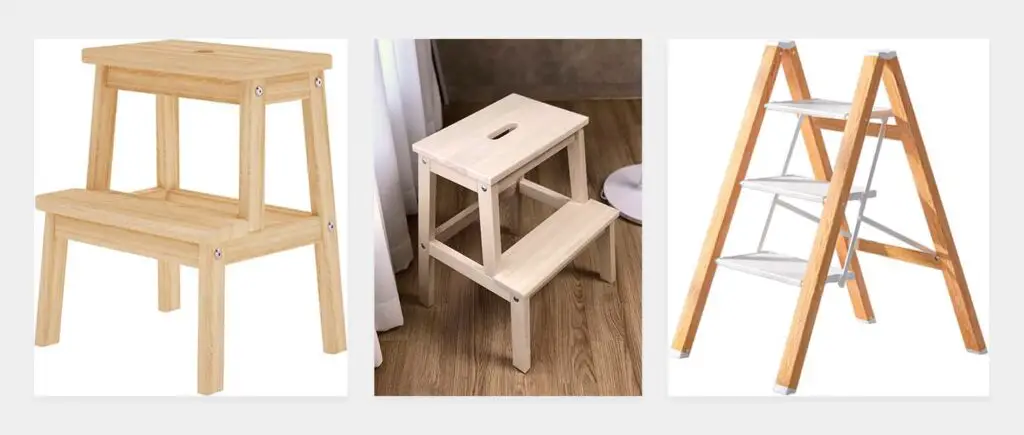 Choosing a right step stool is quite an important task. It should be safe, small enough to fit in your kitchen and high enough to let your reach all of your top cupboard shelves and cabinets. That's why you should refer to our list of things your should look out for when getting a brand new step stool for your kitchen.
Pick the one that meets all your criteria and you'll have a much easier time trying to get all your harder to reach items – guaranteed!
We hope we were able to help, until next time!