Discover the 14 professional tips on kitchen design to help you plan out your dream kitchen. From choosing the right materials to incorporating all your small appliances into the final design, this comprehensive guide covers all the things you need to know about planning out your new kitchen, or your dream kitchen remodel. Read on!
Check out also: 6 Best Small Kitchen Step Stools (And How To Choose One)
[this article features affiliate links]
1. Start with a Clear Vision – Plan it Out!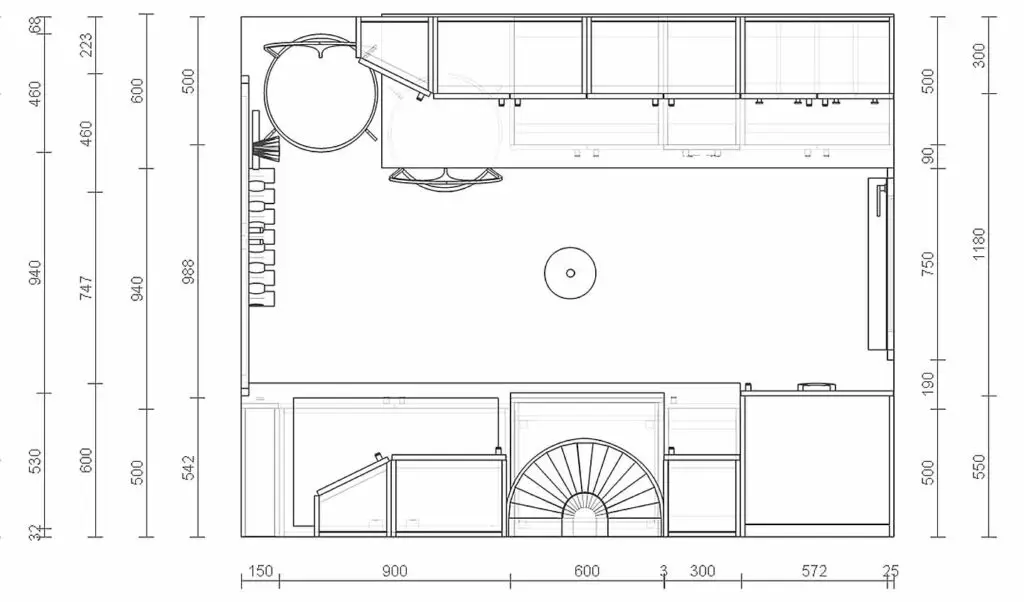 Before you start designing your kitchen, it's important to have a clear vision of what you want to achieve. Take some time to think about your overall needs and preferences, and create a plan that reflects them. The plan can be a top-down drawing of the kitchen layout, list of the things you need, or in the very first stages even a simple description of how your new kitchen should look like in the end. Here are some tips to help you get started:
| Tip | Think about… |
| --- | --- |
| Assess your needs | Think about how you use your kitchen and how you'd like your kitchen space to be planned out. Do you cook a lot? Do you invite people over often? Do you have a big family? |
| Set a budget | Determine how much you can afford to spend on your new kitchen, or your kitchen remodel/renovation. This will help you make decisions when choosing materials for your furniture and countertops, picking additional appliances, and considering other features. |
| Consider your style | Do you prefer a modern, minimalist look, or something more traditional? Think about the overall style of your home and how you want your kitchen to fit in. |
| Think about functionality | Your kitchen should be both good looking and functional. Consider how you'll want move around in the space, and think about how you can make it more efficient during the early design phase. |
By starting with a clear vision and a solid plan, you'll be able to create a kitchen that meets your needs and reflects your personal style!
2. Consider The Layout + Kitchen Islands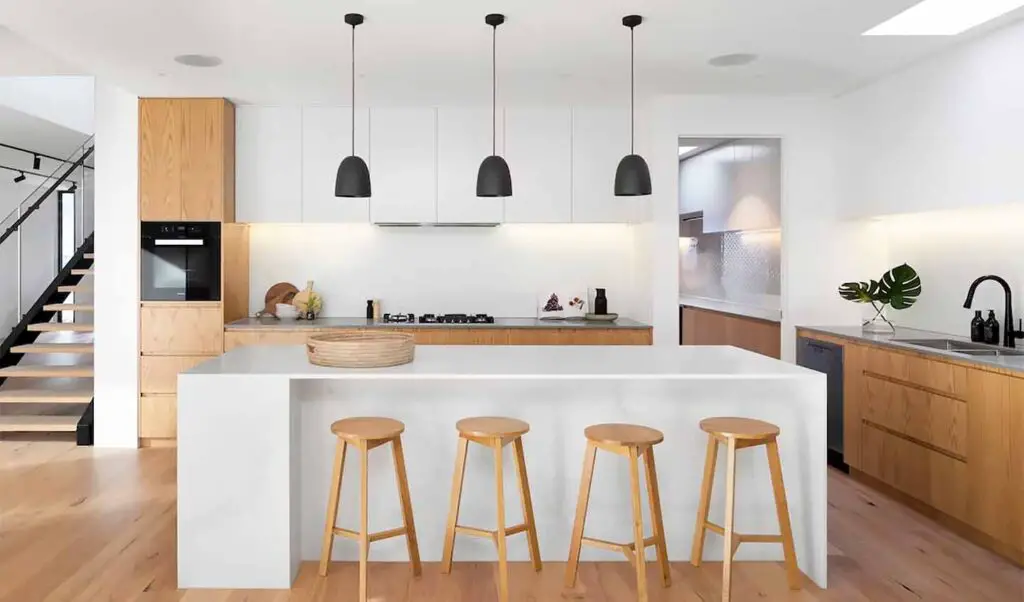 The layout of your kitchen is one of the most important factors to consider when designing your dream kitchen. A well-planned layout can make all the difference in terms of functionality and efficiency.
Consider the following things when planning your kitchen layout:
The Work Triangle: The work triangle is the area between your refrigerator, stove, and sink. It's important to make sure that this area is easily accessible and free from any obstructions.
General Traffic Flow: Consider the traffic flow in your kitchen. Make sure that there is enough space for 2-3 people to move around freely, especially if you have a large family or plan to invite many guests over frequently.
Kitchen Island: A kitchen island can be a great addition to your kitchen if you have enough space for it, as it provides additional counter space and by that it makes many kitchen endeavors much easier in the long term. Again, make sure that you have enough free space to accommodate an island without making your kitchen feel cramped.
3. Choose the Right Materials (Countertop, Floor, Cupboards…)
When it comes to choosing the right materials for your kitchen, it's important to consider both aesthetics and functionality. For example, while a marble countertop may look stunning, it may not be the most practical choice for a busy kitchen because of its relative fragility.
Here are some tips to help you choose the right materials:
Countertops: Consider durability, maintenance, and cost when choosing a countertop material. Some popular options include granite, quartz, butcher block, and laminate. Much more about choosing a countertop material here.
Flooring: Choose a flooring material that is easy to clean, durable, and slip-resistant. Some popular options include tile, hardwood, and vinyl.
Cabinets: Consider the style, material, and finish of your cabinets. Popular options include wood, laminate, and metal. Consider choosing between ready-to-assemble (RTA) cabinets and pre-assembled ones which can save you some work. Keep in mind that certain materials may require more maintenance than others. We do recommend you check the Wholesale Cabinets catalogue for more information – they ship all around the US!
Remember to also consider the overall style and color scheme of your kitchen when choosing materials. A cohesive look can make all the difference in creating a beautiful and functional kitchen space for you and your family!
You might be interested in this: 10 Popular Kitchen Countertop Materials – Pros & Cons
4. Prioritize Efficient Storage Solutions (Choice of Cabinets, Cupboards, Drawers…)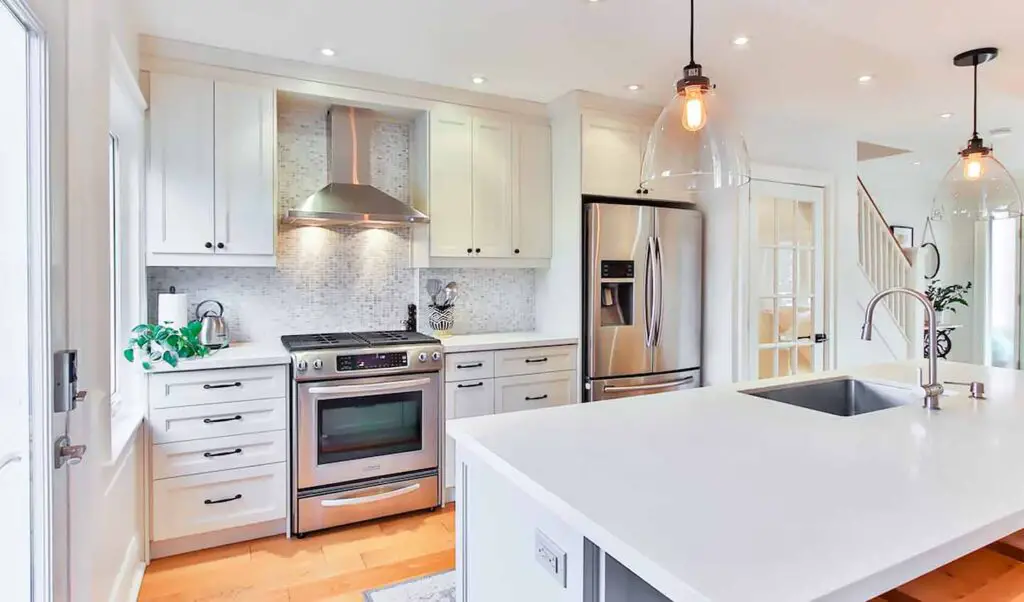 Storage space is a crucial aspect of any kitchen design. You need to plan out your storage space well to ensure that your kitchen is functional and organized. Consider the size of your kitchen and the number of items you need to store (including the new items and appliances you plan to purchase). You can choose from various storage solutions such as cupboards, drawers, and open shelves. Planning out their layout should be the first step you take after deciding on the general style of your furniture.
Cupboards & Cabinets: They are the most prominent storage solution in almost every kitchen. Kitchen cupboards can come in various sizes and designs, and you can choose a combination that will fill out the space you have on hand. You can opt for overhead cupboards, under-counter cupboards, or a combination of both. It's best to plan it out on small conceptual drawings to make sure that everything will fit together nicely.

Explore different styles and sizes of kitchen cabinets here.

Drawers: These will be used for storing smaller items such as cutlery, utensils, and so on. You can choose from various drawer designs such as deep drawers, corner drawers, and pull-out drawers. In most cases, the type of cupboard you choose will dictate the choice of the drawers that are available in the chosen cupboard model/configuration.
Open Shelves: They are a great option if you want to showcase your kitchen items. They are also a primary storage solution for items that you use frequently. You can install wider open shelves above your main countertop for best accessibility.
When choosing your storage options – cupboards, cabinets and shelves, consider the overall style of your new kitchen and pick the furniture materials, color, and design accordingly. You can also opt for a combination of materials to create a unique look, however be careful with that – too many different materials or color schemes put together can ruin the integrity of your well-thought kitchen design.
5. Don't Forget About Proper Lighting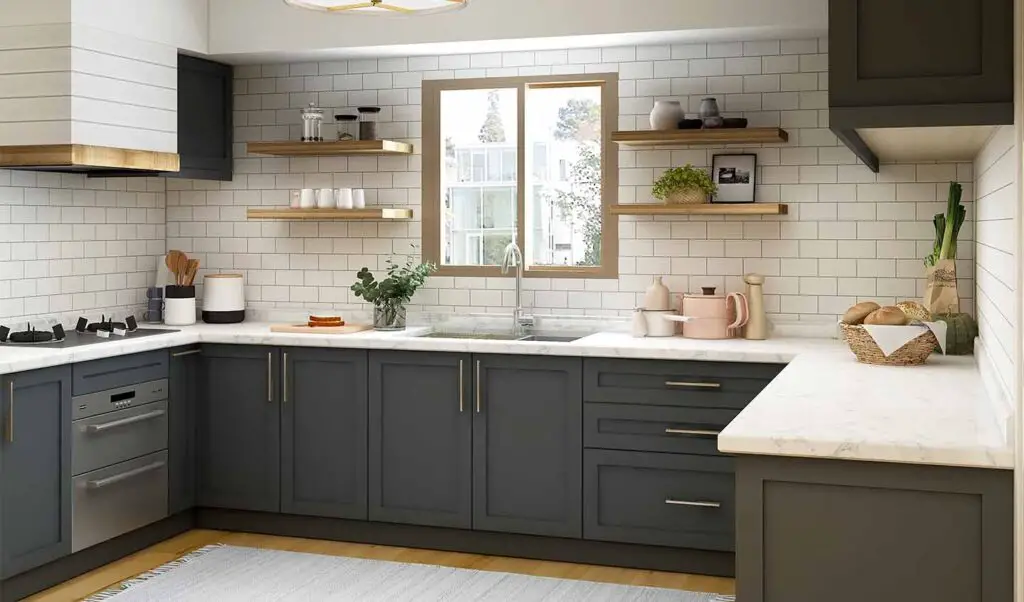 Lighting is a crucial aspect of kitchen design that is often overlooked in the early design phases. Proper lighting can enhance the overall look and feel of your kitchen while also improving its overall functionality. Consider incorporating built-in cupboard lighting, smart lighting, or other lighting options such as direct overhead lights to create a warm and inviting atmosphere in the room.
Pendant lights over the kitchen island or under-cabinet lighting can also be great options to add to both the style and functionality of your kitchen space. Don't forget to also consider natural lighting and how it can be maximized in your kitchen space. Think about how the sunlight will enter the kitchen during the day and plan out the room layout in such a way that will enable you to make the most of it as long as possible. Keep in mind that this might not be possible in all kitchen interiors and it depends on how your windows are positioned in the room.
6. Choose All Right Appliances In The Beginning
Selecting the right appliances for your kitchen is crucial for quite obvious reasons. Here are some of the main appliances that are pretty much necessary in every complete modern kitchen design. It's easy to overlook them when you focus too much on the aesthetic aspects of the room and smaller design choices in the very beginning.
| Appliance | Description |
| --- | --- |
| Refrigerator | Consider the size, style, and energy efficiency. |
| Oven and Stove | You can choose between gas, electric, or induction. |
| Dishwasher | Look out for energy and water efficiency ratings. |
| Microwave | Either cupboard/cabinet fit, or placed on your countertop space. |
| Range Hood | If needed. Choose between ducted or ductless options. |
| … | … |
Investing in high-quality appliances will not only make your life easier but also add value to your home. Choose appliances that match your kitchen's style and color scheme to create a cohesive look. Our best tip here would be to make a list of the specific appliances you need and want in your kitchen before starting the initial furniture layout design. This will make it easier to find the right place for them later on.
7. Add a Personal Touch (Posters, Photo Frames, Small Design Details)
Your kitchen should reflect your personality and style. Adding just a little personal touch to your kitchen design can make it feel more like home. You can incorporate various posters, photo frames, or various smaller decorations in your kitchen to give it a unique look.
Consider getting a colorful personalized backsplash design, customized photo wallpapers or framed photos that will match the kitchen style you've chosen. The place we really recommend for searching for photos to frame is Shutterstock.com – you can browse through their extensive collection here.
You can also add decorative items like plants, vases, or candles to your kitchen shelves or countertops. Don't be afraid to get creative, experiment and have fun with it! However, be sure not to clutter your kitchen with too many items as it can make it look messy and disorganized.
The most important thing here is not to start thinking about the details too early on. First, think about the general style and looks of your desired kitchen, then, plan out the layout and choose the furniture. Only then you should actually begin the decoration phase.
You might also like: Are Food Dehydrators Worth It? – Here Is Our Take!
8. Make the Most of Your Counter Space (Think About Your Cooking Workspace)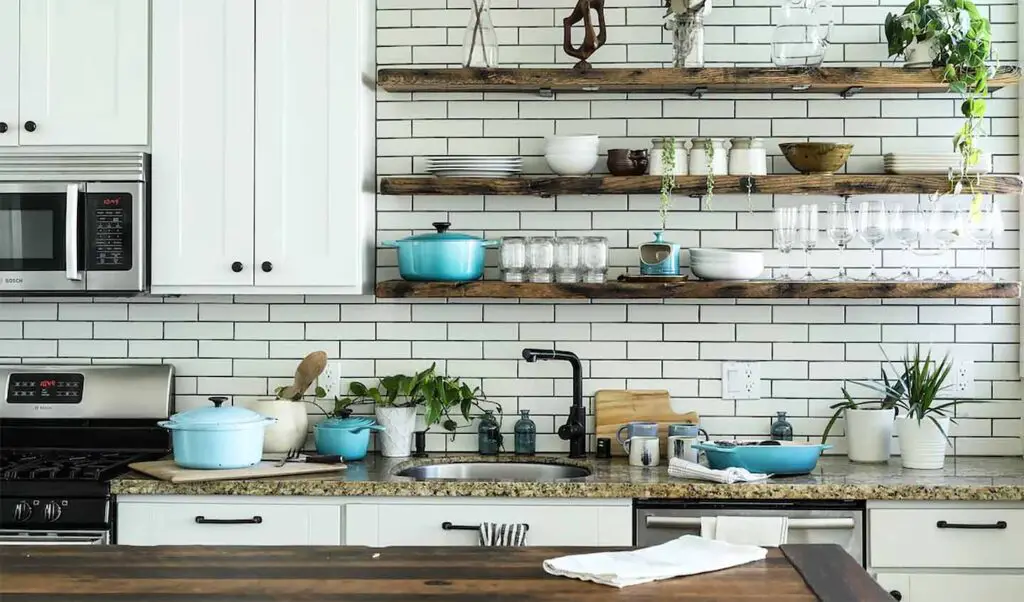 One of the most important aspects of kitchen design is maximizing your counter space. This is where you'll be doing most of your food prep, so it's important to make sure you have enough room to work comfortably.
Here are some tips to help you make the most of your counter space:
Choose the right countertop material:

Different materials have different pros and cons.

For example, granite is durable and heat-resistant, while marble is more prone to scratches and stains. Choose a material that fits your needs and budget.
Again, consider adding a kitchen island: If you have the space, a kitchen island can add valuable counter space. It also looks really nice in a big kitchen! You can also use it as a casual dining area or a place where you can gather all the supplies you need when you're cooking.
Organize your countertop: Keep frequently used items (and containers for them) within easy reach, and store less-used items and small appliances that don't have to be on the countertop at all times in cabinets or drawers. Use organizers, such as trays or baskets, to keep things tidy and easily accessible. Remember to add a proper heat protection mat to prevent accidentally damaging your new countertop with hot pans and dishes.
Think about your cooking workflow: Arrange your countertop to match the way you cook – which appliances you use the most, what kind of dishes you prepare most often. Craft your kitchen space accordingly to the way its gonna be used.
Let's move on!
9. Choose The Right Colors (Walls, Furniture, Flooring)
The right color choices can make or break a kitchen design. You want to choose colors that not only look good but also create the right mood and atmosphere. Here are some tips to help you choose the right colors for your kitchen:
Consider the size of your kitchen – If your kitchen is small, you may want to use light colors to make it feel more spacious. If your kitchen is large, you can use darker color tones to create a more intimate atmosphere. Remember that different colors will have vastly different effect on your kitchen interior. Choose them wisely!
Think about the overall style of your home – If you want your kitchen to blend in with the rest of your home, choose the colors of walls and furniture that complement your existing home decor.
Choose colors that make your furniture easier to clean – Kitchens always do get messy at some point, so in certain cases you might want to choose colors and patterns that are easy to wipe down and won't show stains easily.
Consider sticking to one leading color scheme – Sticking to a unified color scheme can help you choose colors that work well together and create a cohesive look all throughout your new kitchen.
Remember that the colors of your walls and your floor should match or compliment the colors of your chosen furniture. Many furniture sellers such as Wholesale Cabinets offer cheap cabinet door samples so that you can try and match the color of your new furniture with your interior before making a final purchase.
10. Plan Out The Outlets (For Your Convenience)
When planning your kitchen design, it's important to think about where you'll need electrical outlets. You'll want to make sure you have enough outlets in the right places to power all of your appliances and gadgets. Consider the size of your kitchen and the number of appliances you plan to use regularly. Think about the appliances that you'll want to have plugged in at all times, such as a fridge or a microwave oven.
Some things to keep in mind when planning your outlets:
Location: Think about where you'll be using your appliances and other electricity-powered kitchen gadgets. You'll want to have outlets in convenient locations, such as near your countertop workspaces or above your stovetop for a range hood.
Quantity: Make sure you have enough outlets to accommodate all of your appliances and gadgets. You don't want to be constantly unplugging and re-plugging things in.
Type: Consider the types of outlets you'll need. For example, you could include USB outlets for charging your phone or tablet somewhere away from your main countertop space, or GFCI outlets near your sink or dishwasher for safety.
Aesthetics: Think about how your outlets will look in your kitchen design. You may want to choose outlets that blend in with your backsplash or cabinet color, or opt for a sleek, modern design that stands out.
Planning out your outlets ahead of time can save you headaches down the road and ensure that your kitchen is functional and convenient to use no matter what things you need to accomplish.
11. Incorporate Other Small Appliances (And Think About Their Storage)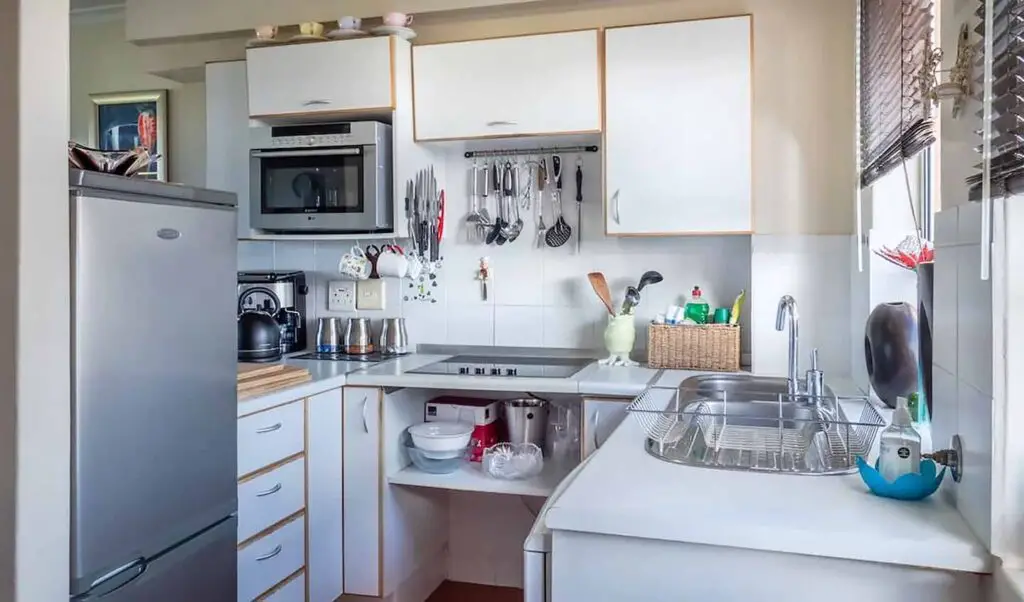 When designing your kitchen, don't forget about the smaller appliances that you use on a daily basis. These appliances can take up valuable counter space if not stored away after use, so it's important to think about storage solutions for them.
Consider incorporating built-in storage for appliances such as toasters, blenders, and coffee makers. This will not only free up counter space but also keep your kitchen looking professional, neat and organized. Food processors, stand mixers, slow cookers, blenders, juicers and so on… – all of these are great additions to your kitchen, but they need to be store somewhere when they are not in use. Keep that in mind!
12. Pay Attention To Smaller Details
When designing your kitchen, it's important to pay attention to the smaller details that can make a big difference in the overall look and feel of your kitchen space. Here are some more things your should think about:
Cabinet hardware: The hardware you choose for your cabinets can add a unique touch to your kitchen. Consider the style, finish, and size of the hardware to ensure it complements your overall design. Oftentimes you can switch between different types of hardware when selecting one particular type of cabinet design.
Backsplash: A backsplash can protect your walls from spills and splatters while also adding a decorative element to your kitchen. Choose an appropriate material and customized design that complements the countertops and cabinets, as well as the wallpaper/wall paint color you picked.
Undermount vs. Drop-In Sink: This is a decision that you will have to make – here are all the things you need to know about the two most popular kitchen sink solutions out there.
Faucet: Your faucet is not only functional but can also add a decorative element to your kitchen. Consider the style, finish, and features of the faucet to ensure it meets your needs and complements your design.
Window treatments: If your kitchen has windows, consider adding window treatments to add privacy and style to the space.
Decorative accents: Adding decorative accents such as artwork, plants, or decorative bowls can add a personal touch to your kitchen design. Choose items that complement your overall design and add a pop of color or texture to the space. As we've already said, it's best to do so when your initial design phase is finished.
By paying attention to these smaller details, you can create a cohesive and stylish kitchen design that meets all of your functional and aesthetic needs.
Check out also: Undermount vs. Drop-In Sink – Which One Should You Choose?
13. Ask Others to Evaluate the Design Choices You Came Up With
Although this might sound trivial, getting a second opinion on your kitchen design can be extremely helpful. You may have missed something or overlooked a design flaw that someone else can point out.
It's important to ask others about your design, even if the person you're asking has no previous experience in kitchen design. You can of course also find someone who has already gone through a kitchen renovation once or twice. They can give you valuable feedback and suggestions that you may not have considered!
14. Hire a Professional Designer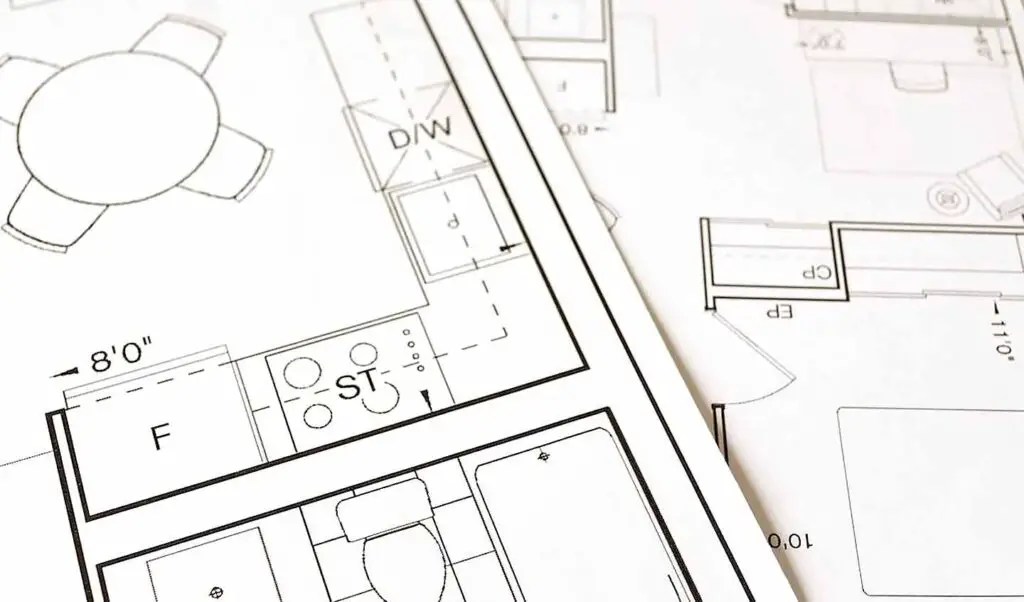 If you're feeling overwhelmed or unsure about your kitchen design, it may be time to call in a professional. A professional designer can help you bring your vision to life while also ensuring that your kitchen is functional and meets your specific needs. They can also offer valuable advice on materials, colors, and layouts, as well as provide guidance on budgeting and project management.
While it may be tempting to try to tackle the project on your own, investing in a professional designer can save you time, money, and stress in the long run. So, don't hesitate to seek out a qualified designer to help you create the kitchen of your dreams!
Don't forget about this: Undermount vs. Drop-In Sink – Which One Should You Choose?
Main article photo: Naomi Hébert