Whether you've just got your very first air fryer, or you're waiting for it to arrive, this short article will surely prove itself useful to you. Here is some great advice for new adept air fryer users, that can give you a nice headstart when it comes to air frying and prevent many beginner mistakes that you most probably would make early on. Save yourself some time and read on!
[this article features Ebay & Amazon affiliate links]
Check out also: Air Fried Roasted Bell Peppers Recipe – Quick & Easy (Video!)
1. Remember – air fryers are fast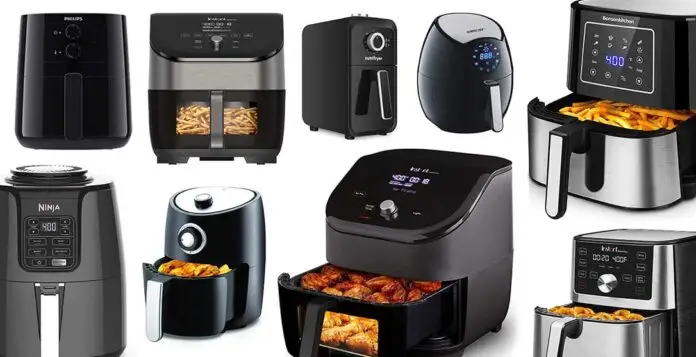 Counterintuitively, it's very easy to burn your food in an air fryer, especially if you just got one and you're experimenting with different temperatures and timings a lot (and I'm speaking from experience here).
It's always a good idea to check on your food from time to time when using an air fryer. Most, if not all air fryers actually feature safety mechanisms that will automatically turn off both the convection fan and the heater whenever you take out the food basket. If the basket is inserted again, the cooking process will resume automatically.
The only downside of checking on your food too often would be that the cooking chamber loses some amount of built up heat each time you open it and let room temperature air in.
This however is a non-significant loss as most of the time you won't check on your food more than say 2 times in a 15 min cooking session.
The bottom line is: whenever in doubt if your food is done already, take out the basket and check. It's also always a good idea to shake up the food a bit when you're at it – this will ensure that it will cook evenly. And this is the part of our next much important tip.
You might also like: Air Fried Fresh Cucumbers – No Breading! – A Quick Snack (Video!)
2. Shake it up!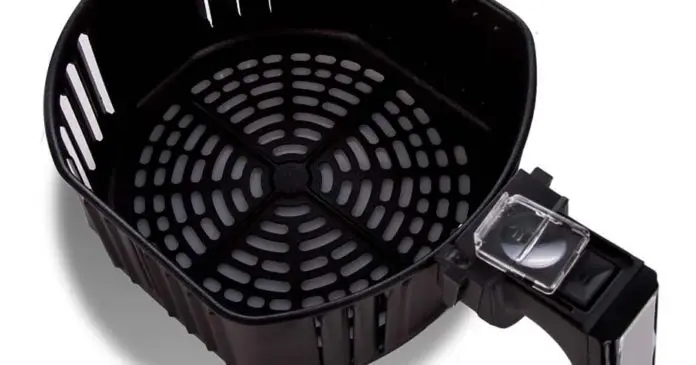 Air fryers are great as small convection ovens, but sometimes, when larger amounts of food are involved and the food is aligned in a certain way, it may not cook evenly.
In most air fryer recipes, you will find an instruction to mix up the food in the basket about halfway through the air frying process. This should generally be done with most types of food to ensure that it's cooked evenly from all sides. Stirring the basket's contents can prove itself especially useful when you're preparing things such as larger amounts of french fries that can easily cover each other.
With larger food pieces (such as larger pieces of meat) you need to make sure that you'll turn the piece over completely halfway through. Remember that the part that touches the bottom of the air fryer's basket, or the bottom of the food tray will always be less cooked than the top part exposed to the hot air stream directly.
See how air fryers do their thing: How Do Air Fryers Actually Work? – Quickly Explained!
3. Use an oil spray bottle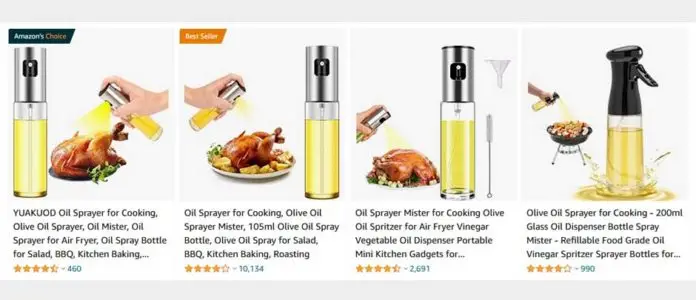 Spray the cooking basket and/or the tray with just a little bit of oil before cooking. This will not only ensure that your food won't stick to the inside of the air fryer's basket, but also add an extra bit of taste to your food without overusing cooking oil.
How To Prevent Food Sticking To An Air Fryer? – Simple Solutions!
When you're at it, you can go ahead an get yourself a simple cooking oil spray bottle. It's a really neat gadget, and it also has some other uses beyond greasing up your air fryer's basket a bit. For example, did you know that when you lubricate your sandwich maker your toasties won't stick to its surface?
An important thing here is not to use any kind of artificial non-stick coating sprays such as PAM to lubricate the cooking basket in your air fryer. These kind of substances are mostly meant for surfaces that don't feature non-stick surfaces from the get go.
If you'll keep on using them on your appliances that have been treated with such a surface in the factory, you'll risk it slowly beginning to come off and causing you much worse troubles than the food sticking to the basket. More on that here.
4. Clean the basket after each use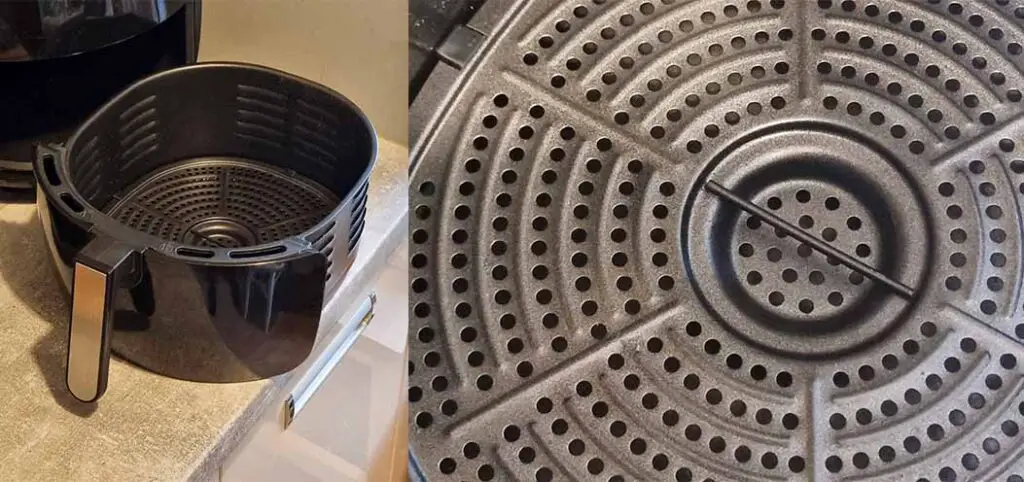 While this may sound like a tedious task, it really isn't. A simple cleanup with soap water will do. It will prevent leftover food pieces from sticking to the air fryer's basket and solidifying once they cool off causing you a problem.
Remember to do this after the basket cools down a bit. Mind that the temperatures in the air fryer can reach 400°F so you have to wait a few minutes so as not to burn yourself.
Why Does My Sandwich Toaster Grill Stick? – Quick Fixes
This is a good practice overall, not only when it comes to air fryers. Remember that regardless of the type of food in question, the leftover bits are always easier to remove while they are still slightly warm and not dry.
5. Use baking parchment paper – really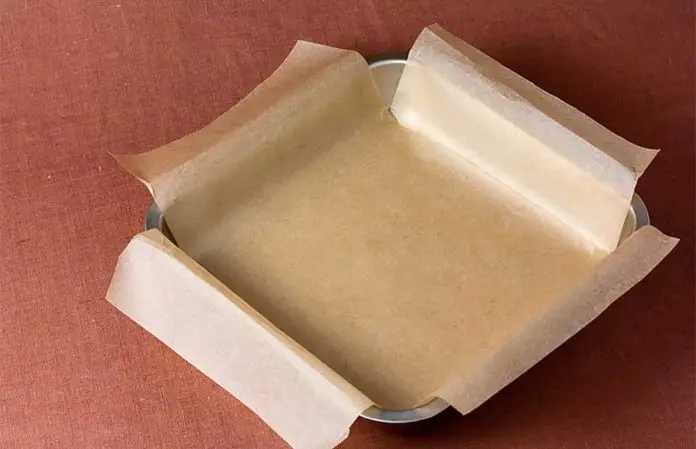 This is a tip that's often overlooked. Mainly because many people don't know that you can actually safely put baking parchment in your air fryer provided you do it properly and adhere to a few rules.
You can read more on how to use baking parchment paper in your air fryer safely and with ease here: Baking Parchment Paper in an Air Fryer – How To
The burning point of baking parchment is most of the time much higher than the temperatures that can be produced inside an air fryer. Make sure that the piece of baking parchment you're using doesn't obstruct the air fryer's internal air flow and doesn't touch any of the heating elements and you'll be just alright.
Much more on that here: Baking Parchment Paper Max Temperature – How High?
If you're still reluctant on using baking parchment in an air fryer, you really should check out pre-made pieces of parchment made especially with air fryers in mind. You can't go wrong with these!
6. Check out some of our amazingly simple air fryer recipes!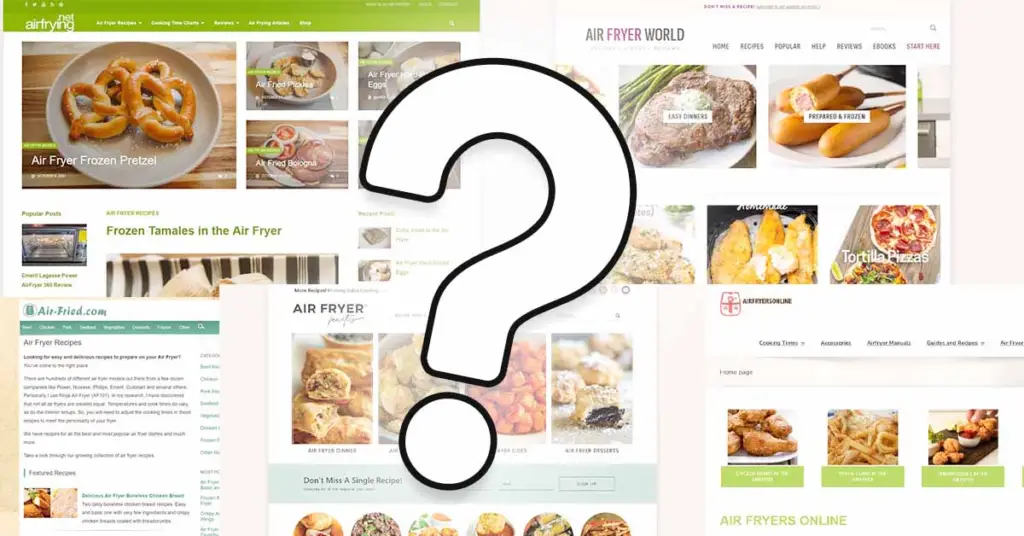 We present to you two extremely simple recipes that are just perfect for testing out your air fryer upon arrival and after the initial cleanup.
The first one is the recipe for mouth watering roasted bell peppers, and the second one, a recipe for tasty roasted cucumber chips.
Both of these don't require almost any additional ingredients or special utensils to prepare and are very simple to make – each takes just about 15 minutes in total – air frying time included!
If that's not enough for you (and it most probably isn't), feel free to check out our curated list of air fryer recipe sites which contain hundreds of great ideas for air fryer meals of varying levels of complexity. You're bound to find something for yourself there!
If you want to, you can also check out the air fryer we use quite a lot: Uten 1088TS Air Fryer Hands-On Review (XXL Capacity!)