What is the maximum temperature baking paper can handle? Can baking parchment burn? Baking paper is quite a useful and convenient invention. Whatever dish I'm making using my convection oven or my air fryer, I almost always make use of the parchment paper to prevent food from sticking and in case of greasy food minimize the mess and ensure easier and quicker cleaning afterwards. But what temperatures can baking parchment withstand? Is it safe to use at the max oven temperature? Let's take a closer look at the matter.
[this article features Amazon and Ebay affiliate links]
The most common uses of baking parchment paper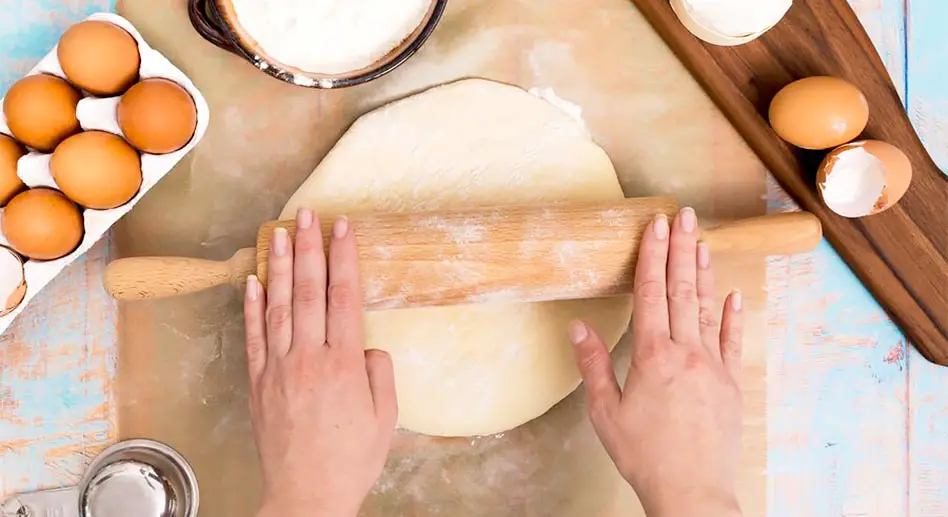 There are quite a few reasons why you might want to use parchment paper in your kitchen. The most common ones have to do with using your oven:
Using parchment paper is great for baking, but it's also perfect for preparing greasy food in your oven and it can dramatically reduce your oven cleanup time.
Food placed on parchment paper won't stick and you will be able to remove it with ease after you're done.
You can also use baking parchment paper in your air fryer, provided you adhere to a few important rules.
Now let's take a look at the max temperature recommendations when it comes to the parchment paper and its different manufacturers.
Gas Oven vs. Electric Oven (Which One Is Better For You?)
What temperature can baking parchment paper withstand?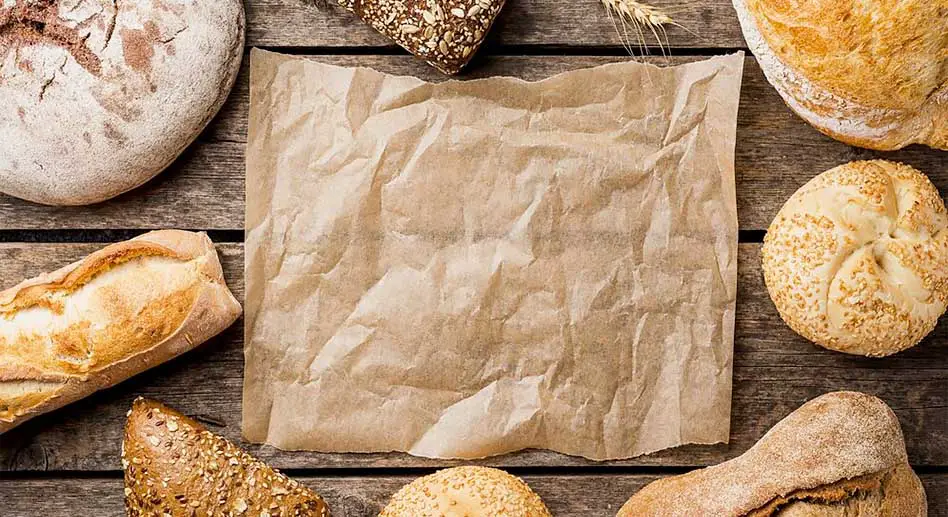 Regular parchment paper designated for baking depending on the manufacturer is able to withstand temperatures up to around 450°F / 230°C. The reason for its heat resistance is that during the production process it's treated with silicone which makes it not only heat-resistant, but also gives it it's iconic non-stick surface and moisture and grease resistance that we all know and appreciate.
If you want to be perfectly safe you can use baking parchment only in temperatures up to 400°F / 200°C.
So, how hot can parchment paper get?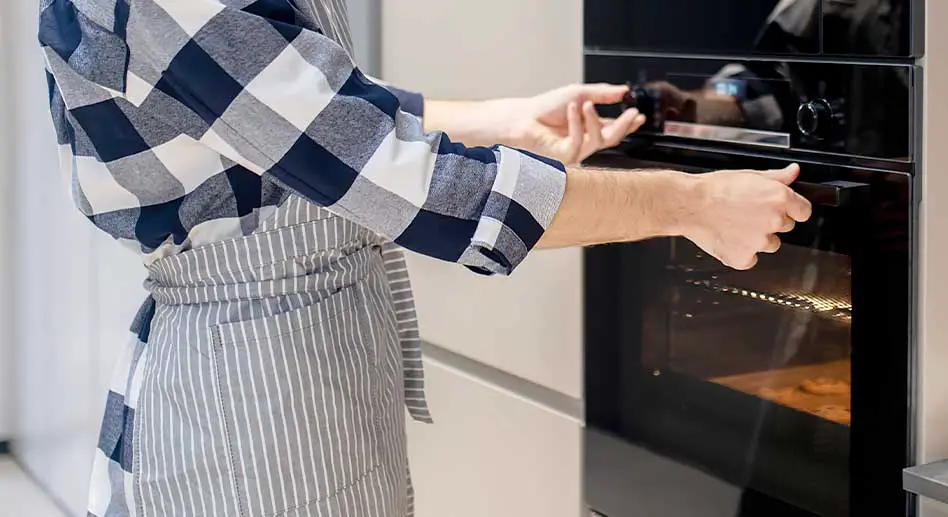 The theoretical maximum temperature for parchment paper or the baking paper temperature limit is somewhere under 450°F as stated by most baking parchment paper manufacturers. Crossing that limit might cause the parchment paper to eventually combust.
Remember, that this limit applies just to parchment paper labeled as paper for baking, it does not apply to butter paper or waxed paper which have different designated uses and will start burning much faster.
At what temperature does parchment paper burn?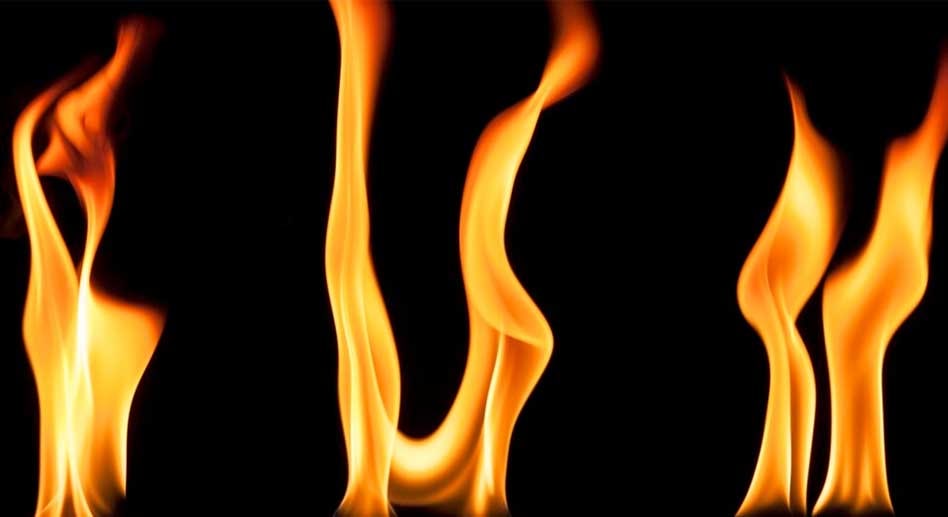 With higher temperatures crossing the 450°F / 230°C mark and approaching 500°F / 260°C, the baking paper will start to brown, blacken and eventually will burn.
Although baking parchment darkening and browning a bit in higher temperatures is usually a normal phenomenon, it might also indicate that the temperature inside your oven is approaching the parchment paper's burning limit.
The only good news is, that a good quality baking paper shouldn't emit any toxic substances when burnt.
What To Use Instead Of Paper Towels In Your Air Fryer? – click here!
What can cause parchment paper to burn in an oven?
There are a few reasons why your parchment paper might start to burn inside your oven. The most common ones are:
The temperature in the oven was set too high or got too high despite a lower setting (regular baking paper can withstand temperatures only up to around 450°F / 230°C).
Your baking parchment paper was placed too close to the heating element of the oven and in result crossed its safe temperature limit (try to use parchment paper near the center of your oven and don't place it directly under the broiler).
The baking parchment touched an open flame (this is why you should exercise caution when using baking paper in a gas powered oven).
With that being said, while quality baking parchment paper is heat-resistant up to a certain point, it can burn when the temperature around it gets too high, or when it comes with a direct contact with an open flame. Be careful!
Should the baking parchment paper get brown in the oven?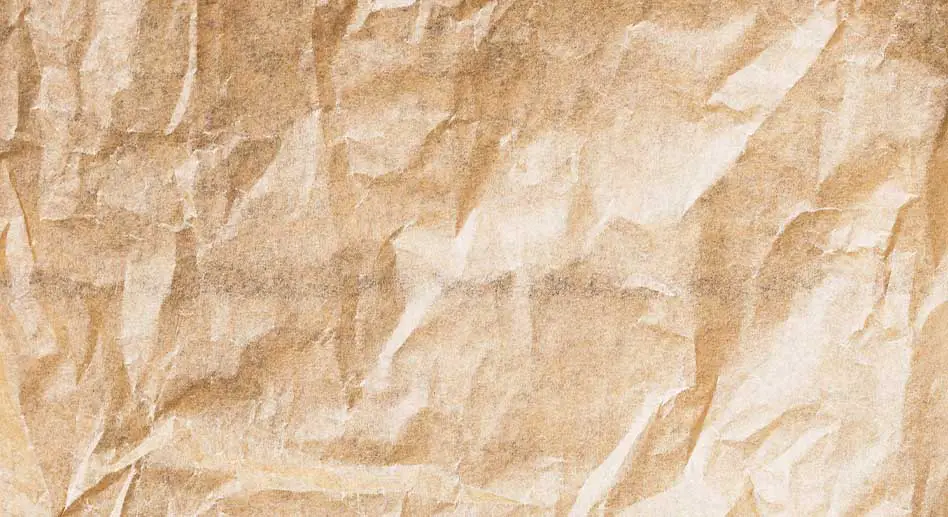 The browning and darkening of the baking parchment paper in an oven is a common phenomenon in higher cooking temperatures. Although even top quality baking paper will tend to get slightly brown the higher the temperature gets, it won't release any toxic substances during the process.
One further step above the browning of baking paper is it getting slightly black, most commonly starting from the edges. This indicates that the temperature in the oven is getting to high for the parchment paper to handle, and from this point on it may start to crumble apart and eventually catch fire if its left like this for too long.
The conclusion – using parchment paper in your kitchen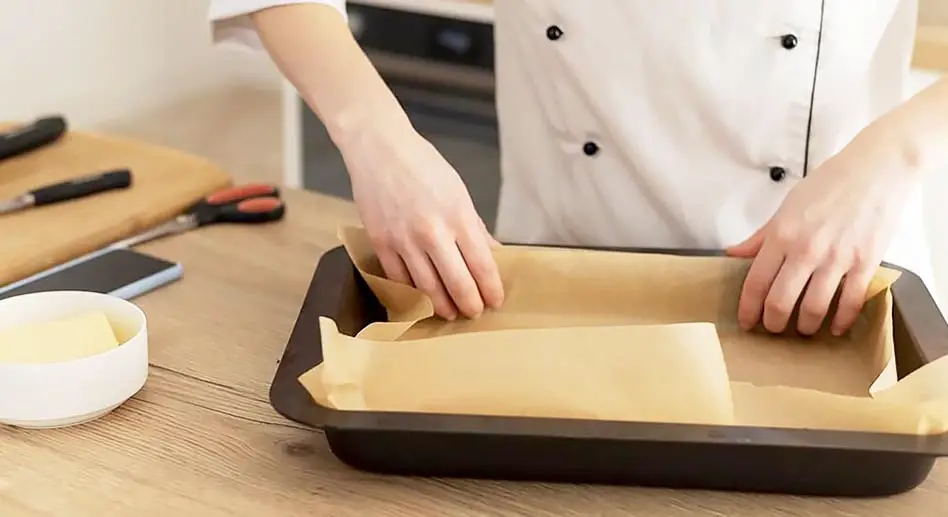 Parchment paper certainly has lots of uses that can make your kitchen endeavors easier. Although it certainly can burn, its burning point is higher than that of regular paper and high enough to ensure that it won't instantaneously combust when exposed to higher temperatures in the oven.
We hope we helped you figure out the safe temperatures for using baking parchment paper in your kitchen. If you have any further questions, ask away in the comments below. Until next time!
What To Use Instead Of Paper Towels In Your Air Fryer? – click here!
Main article photo: freepik