What is a best gift for a cheese lover or a cheese connoisseur? Well, many would say that it would be a basket full of many kinds of delicious cheese. These kind of gourmet cheese sets are getting more and more popular lately, as they make for original and "premium" feel gifts that can positively surprise most people. Should you get a cheese box or basket that will get delivered to you fast, or make your own? Let's get into detail!
Click here to skip straight into our trusted choice when it comes to cheese gift boxes!
[this article features Ebay & Amazon affiliate links]
Cheese baskets and cheese boxes for a gift?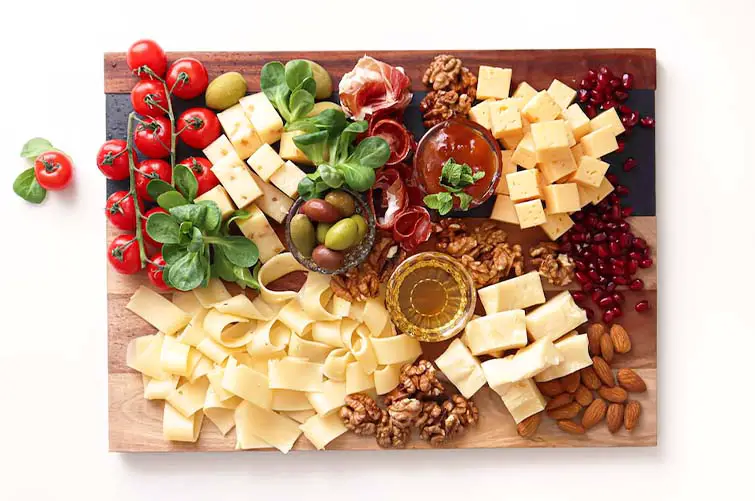 As we've already mentioned, a good cheese sample set can make for a great and premium feel gift. If you want to present someone a cheese basket, there are a lot of great quality pre-made ones available for sale, that can save you a lot of work and also help you ensure the quality and best choice of cheese.
Are cheese gift baskets worth it? For sure! The only thing you need to take into account is that whether or not the person you're planning to get a cheese box for isn't allergic to cheese in general. While this cases are pretty rare, it's still important to keep that in mind.
Are there any good pre-made cheese sample boxes out there?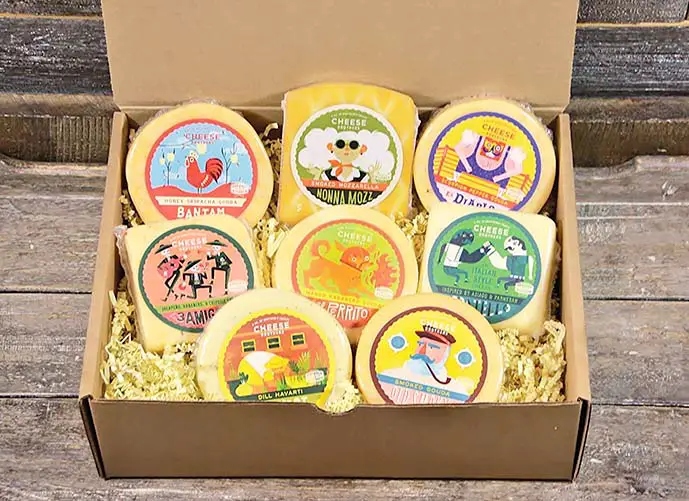 Boxes full of cheese samples made solely for tasting purposes are certainly out there, but on many e-commerce platforms they are often thrown together with cheese boxes marketed as gifts.
Needless to say, you don't have to get a cheese box as a gift. You can also just as easily get one for yourself to acquire quite a few tasty samples of different types of cheese you haven't been able to try before. If you're really a fan of cheese, you might find this a great way to acquire new tastes and broaden your horizons!
If you're interested in getting a cheesebox just for yourself, we recommend you to check out the Cheese Brothers Brotherhood Box. It's best suited for personal cheese tasting with its fine choice of cheese, quite a large size and an affordable price. Treat yourself!
For those very purposes, there are even some cheese subscription boxes available out there – you can find them after a quick Google search. Great stuff!
What types of cheese are the best for a cheese basket?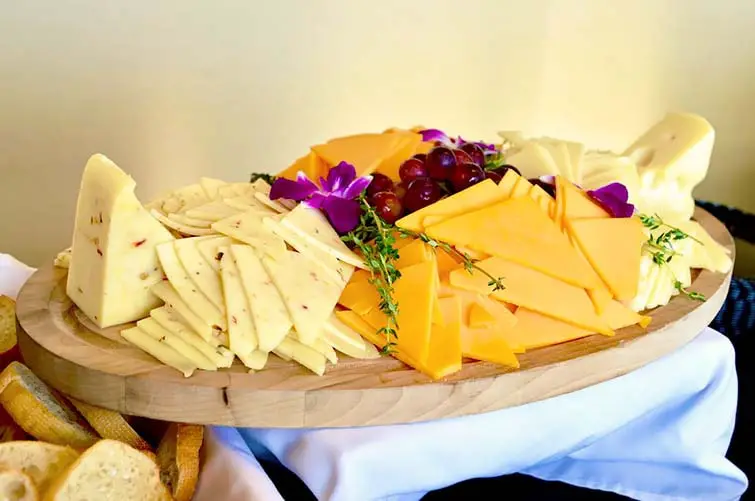 So, what kind of cheese would be the best to put in a cheese basket, cheese gift box or for a simple cheese board? We'll now list a few most popular choices when it comes to cheese suitable for these kind of tasty presents, keeping in mind both their taste qualities, price, and their longevity.
Some examples of cheese suitable for a cheese basket or a cheese board are Brie, Camembert, Brie, Burrata and Stracchino cheese (from the softer side), Gouda, Fontina and Romano cheese (from the more firm ones).
You can also add some more intense tasting Blue Cheese types, such as Gorgonzola cheese – these will also work quite nicely. All kinds of aged cheeses and smoked cheeses can also make for a great addition to a cheese board. Let your creativity roam free!
As you can see, there is quite a selection of cheese that can be put in a gourmet cheese box without worrying about it going bad too fast, or being too "common" to make a good impression on the gift recipient. If you're thinking about making our own cheese basket you can use this short list as a neat reference.
Another good thing to do, would be to take a look at the pre-made cheese boxes we listed in this article and see what kind of cheeses do they make use of. This is a great starting point if you're trying to compose your very own customized cheese set.
Cheese box gift delivery – how?
When it comes to the delivery, generally the sellers take care of the appropriate packaging of the product, and ensure that your cheese set will come to you fast and stay fresh during the transportation period.
The cheese is in most cases packed in a way that keeps it cool for the duration of transport. This ensures its freshness and allows the cheese samples to retain their taste qualities for longer.
Should you refrigerate your cheese box upon arrival?
Yes, any kind of cheese box should be put inside a fridge right after your receive it. In general it's an appropriate treatment for most kinds of cheese, regardless of whether they're placed inside a prepared gift box or not.
It's also important to mention this to a gift recipient if only it's possible. In many cases, the cheese gift boxes will also have this info written somewhere on the package.
Best cheese gift box – our choice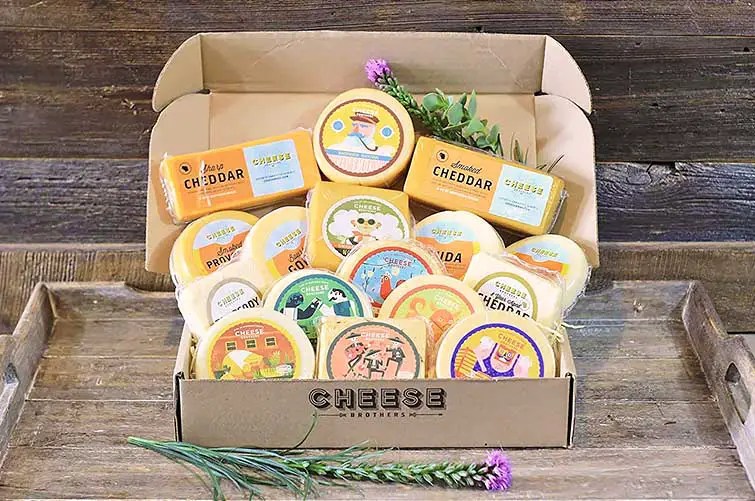 Now the time comes for our choice when it comes to a premium quality cheese box that will satisfy not only the most demanding foodies, but also will present itself really nicely when used as a gift. Here is the Ultimate Cheese Box by Cheese Brothers, which we deem one of the best cheese box / cheese basket choices here at toastnfrypro. Just take a look on the picture above!
In other Cheese Brothers boxes you can find different kinds of cheese depending on which option you'll pick. There are 18 different box compositions to choose from, some of them all-purpose, some with seasonal themes. There are a lot of options here!
After placing your order, the cheese set will be sent to you in an insulated box treated with ice packs ensuring that the cheese will stay fresh all throughout the transport.
You can also check out their classic Brotherhood Box, we mentioned earlier – it's the most popular option among the buyers with a little bit smaller cheese variation, it's also more affordable and much more compact!
Gourmet cheese gift baskets – the conclusion
So as you can see, cheese boxes can not only be a great way to introduce yourself or your friends to new kinds of cheese and a whole new world of taste, but they also can become great premium quality gifts that will leave a long lasting impression.
Besides our chosen boxes, there are a lot of other similar cheese sets available over on Amazon. If you want to dive further into the world of cheese tasting we really recommend you to do some research on the cheese subscription boxes industry – there are quite a lot of these out there!