Now that you've finally replaced that old set of kitchen knives that's seen better days, you're likely wondering what you should do with the ones you no longer need. Sure, you could just leave them in your drawer forever and forget that they exist, but since you'll probably never use them again, it's much better to dispose of them and make room for some other fun kitchen gadgets. 
However, since knives are usually pretty sharp, you may wonder if there's a specific process you must follow to dispose of them safely. Here we'll tell you everything you need to know about how to properly dispose of a kitchen knife, so you'll never wonder again if you should just throw that old knife in the trash or find a safer way to get rid of it.
Can You Just Throw Old Kitchen Knives Away?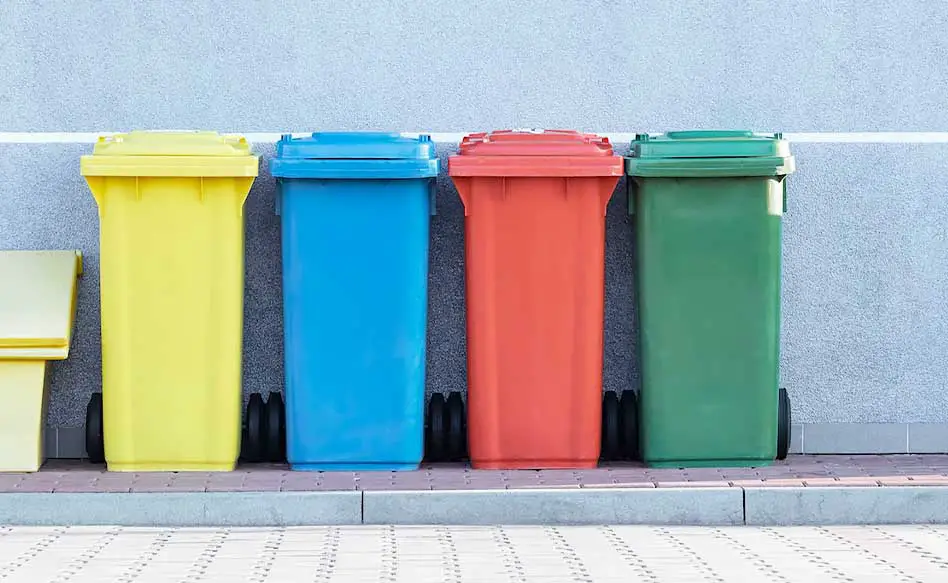 The short answer to the question is "no." The sharp edges of knives pose a safety hazard when tossed casually into general waste. They can cut through the plastic bag and cause potential injury, to yourself as you take out the trash, and for the people responsible for emptying the bins later on.
If your old kitchen knives are absolutely unusable, you can safely throw them away in the trash. We'll discuss the proper way to do that in a short while. However, before tossing them in the bin, consider some other viable alternatives, if they still have some life in them.
Alternatives To Throwing Away Old Kitchen Knives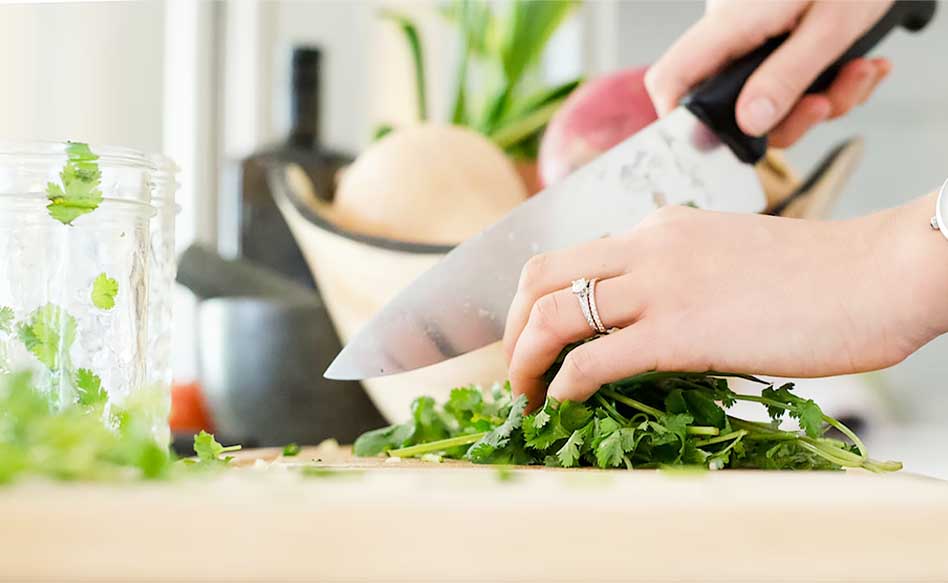 Just because you replaced your old kitchen knives with a brand new set doesn't mean they can't still have another purpose for someone else. If the knives are still in usable condition, consider donating them, selling them, or recycling them instead of throwing them away.
Find a charitable organization that accepts used household goods and donate them or simply drop them off at your local Goodwill or the Salvation Army. Of course, make sure your chosen organization accepts this type of item first. If they do, you can feel happy knowing that your once-loved knives will be put to good use by someone who needs them.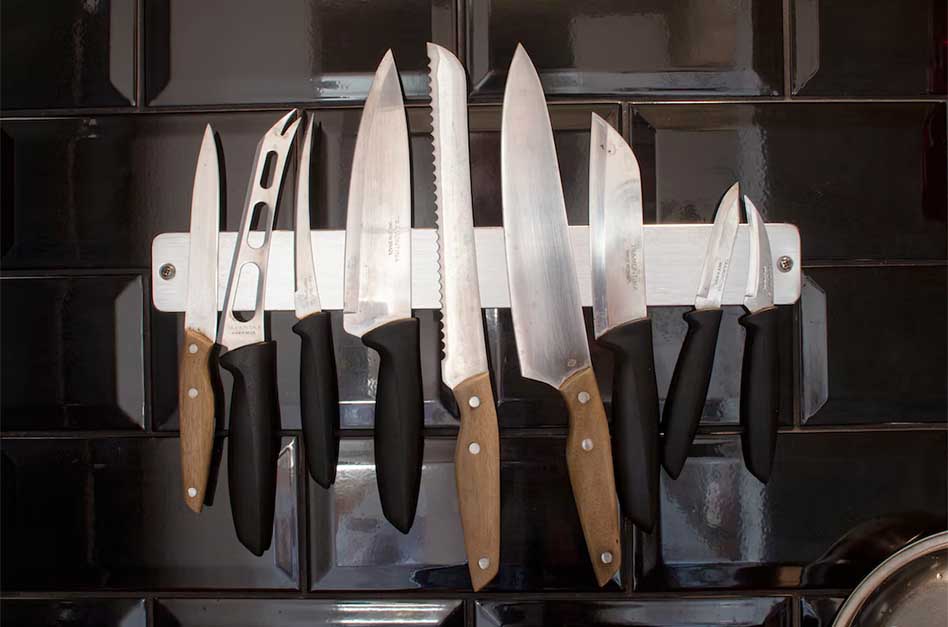 You can also consider selling your knives if they're still in pretty good condition, or of they came from a more expensive set. Create postings in several online marketplaces or neighborhood forums and see if someone wants to buy them from you for a reasonable price.
You can also try to go the recycling route as well. However, please don't put unwanted knives in your at-home recycling bin. Instead, you'll need to take them to a special scrap recycling center. You should be able to easily find one near you by searching online or visiting your city's government website.
Proper Kitchen Knife Disposal — If You Must Throw Them In The Trash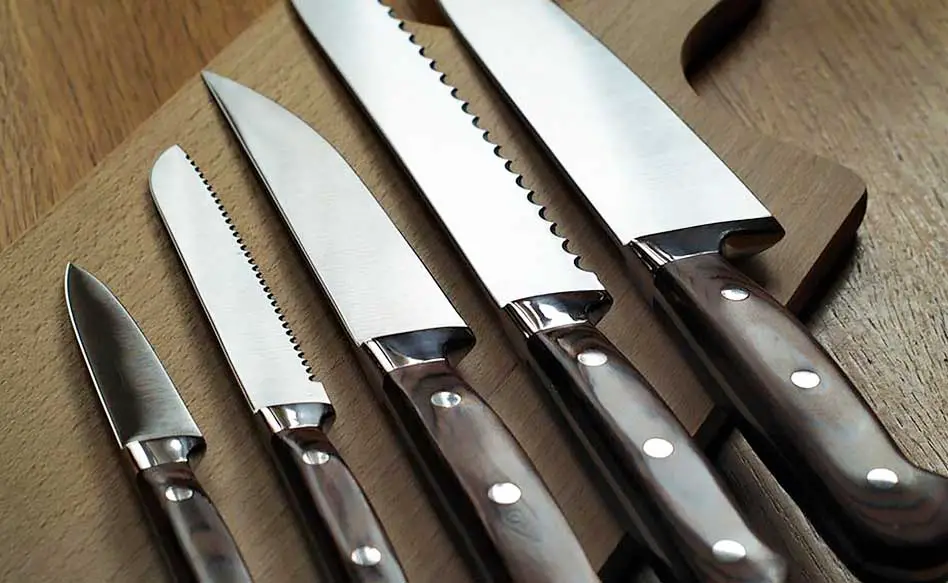 If your knives aren't destined to have a new life somewhere else because they're irreparable, unusable, or there's no place nearby to recycle them, your only option at that point would be to throw them away. So can kitchen knives go into general waste? They can only if you take the proper safety precautions.
Here are the steps you must take with each knife you need to dispose of to ensure no one gets injured.
Wrap the knife blades carefully and thoroughly. You can use newspaper, bubble wrap, or cloth—whatever you have on hand. After wrapping each blade of the knives you want to throw away, tape the wrapping securely in place.
Tape cardboard around the blade for extra security. Cut pieces of cardboard about the shape and size of the knife's blade and place them around the wrapped blade. Secure the cardboard in place with tape as well to keep it secure.
Place all of the knives in a larger cardboard box. For even more security, find a cardboard box that fits all of the wrapped knives and place them inside of it. Close the box and tape it shut so that the knives remain secured.
Write "Sharp" in marker on the top of the box, and place the larger cardboard box in the trash bin. This marking indicates to anyone who handles it that there's something potentially dangerous inside.
What About Butter Knives— Can I Just Throw Them Away?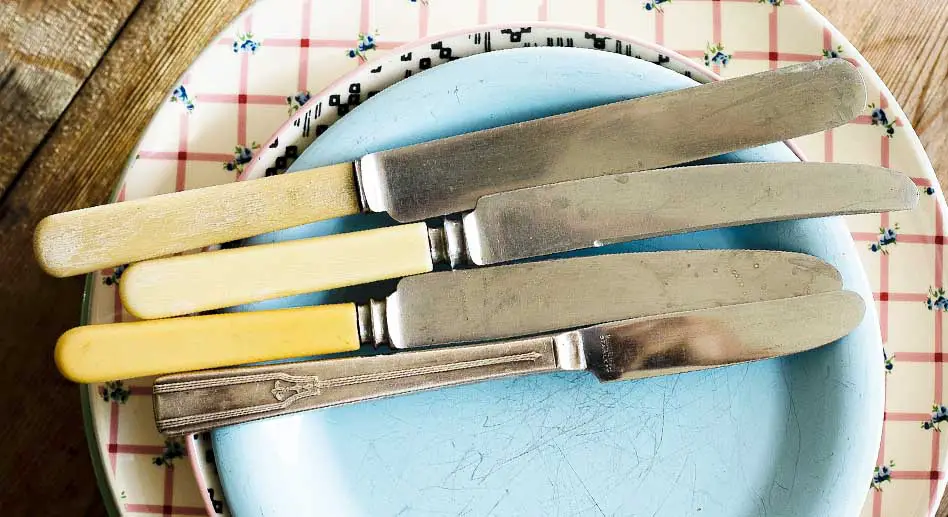 Although the blade on a butter knife is duller than other types of knives, you should still refrain from simply throwing them into the trash. A dull blade can still cause injury to others if it's unexpected or handled incorrectly.
If you need to throw away butter knives, take time to wrap the blades in a newspaper, cloth, or bubble wrap and secure the wrapping with tape. You can likely skip the step of wrapping each individually wrapped blade in cardboard but may want to put them all in an empty box and tape that shut for added safety.
Main article photo: Stoica Ionela, Gary Chan, Savernake Knives